Decentraland Price Up By 16% – Time To Buy MANA?
Please note that we are not authorised to provide any investment advice. The content on this page is for information purposes only.
Virtual reality has always been an interesting field for tech-savvy users. Decentraland's role in bringing this to reality through the power of blockchain should be a reason why you should buy MANA.
Built on the Ethereum blockchain, Decentraland uses a modern proof-of-stake (PoS) blockchain consensus algorithm that allows it to verify transactions faster and with fewer energy demands.
The project, which started as a 2D grid-styled collectibles platform in 2016, has quickly evolved into a metaverse attracting various businesses and creators. This article explores the Decentraland project and whether or not it's a great time to buy MANA tokens.
Decentraland: From 2D To 3D Metaverse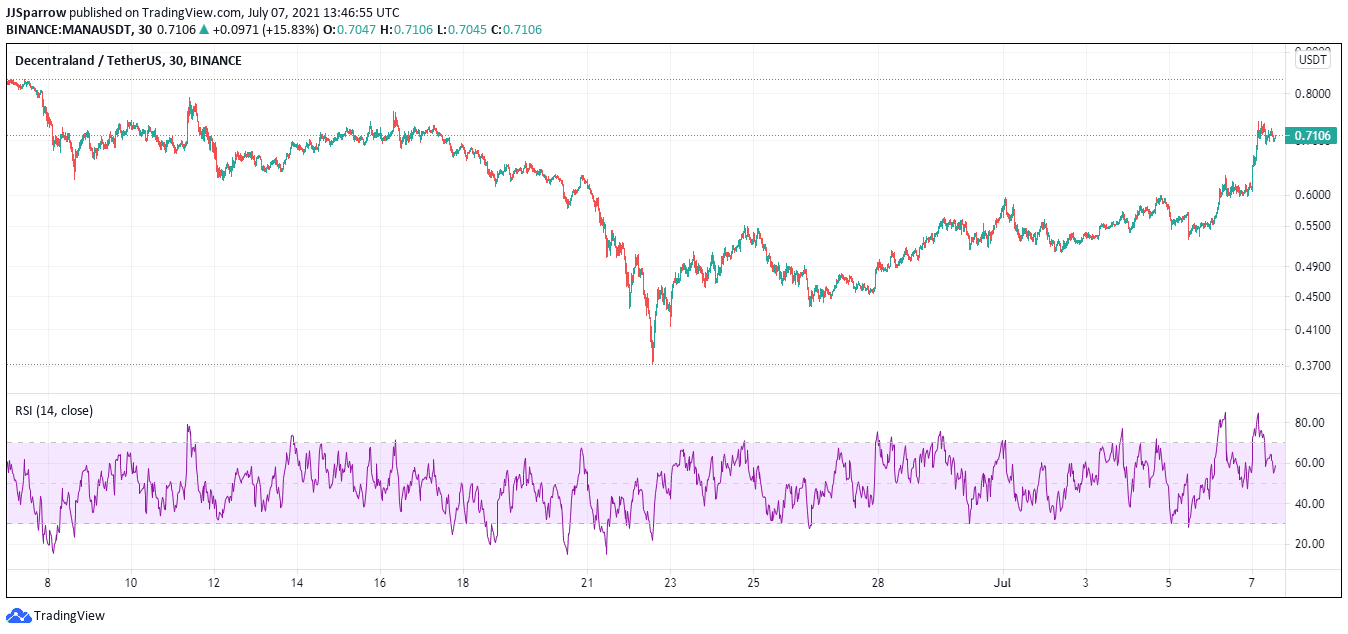 Nothing is more exciting than being able to build something that has real-world demand and doing this from the comfort of your chair. Decentraland is the crypto protocol that has radically changed how we interact with the world around us.
With virtual reality picking up steam in the last decade, Decentraland brings the concept to life. The blockchain-fueled virtual reality platform enables users to explore, create, play games, collect wearables, monetize creation, leverage land plots, and enjoy 3D building systems.
Developed by founders Esteban Ordano and Ariel Meilich, Decentraland allows users to buy virtual properties and then develop them as a virtual, online business.
Decentraland uses two native tokens, including LAND (an ERC-721 token), representing a user's stake on the platform's ecosystem, and MANA (an ERC-20 token), used for governance and payment tasks.
Decentraland is an ever-expanding ecosystem, and its gaming world is divided into over 90,000 individual parcels of LAND. Each parcel is divided into 16m x 16m (about 100 square meters).
Their owners can monetize these LAND parcels through leasing, advertising, and paid experiences. Alongside this, users can earn extra income by creating and selling items on the Decentraland marketplace for MANA tokens.
Meanwhile, the VR platform also runs a decentralized autonomous organization (DAO) for making governance decisions. MANA holders are given the privilege of voting on the direction they want the organization to take, proposing policy updates, and the type of content they want in the Metaverse.
67% of all retail investor accounts lose money when trading CFDs with this provider.
MANA: Continuing Its Winning Streak
MANA is currently 67th on the global trading chart with over $1.2 billion in market cap. Its 24-hour trading volume is up 177.63%, showing that more investors want to buy MANA.
At press time, MANA currently trades for $0.7112, up 16.898% on the daily trading chart. However, this is not the best price action of the MANA token.
Coming into the year at $0.08374, MANA surged to $1.5267, up 1,000% during the April boom. But this was not its peak as the digital token set an all-time high (ATH) record of $1.59701 on May 10 before the crypto market crash.
It subsequently fell, spiraling to a support level of $0.4649 on June 25 before catching some tailwind and rallying 50% to the upside. More investors are now noticing the VR-focused token with the wider crypto market on the path to recovery.
MANA Technical And Fundamental Analysis
This rally has played out in MANA's favor. On the trading chart, its technicals are impressive. The digital asset's 20-day moving average (MA) support is bullish, with the token trading above the indicator at $0.54430.
The relative strength index (RSI) further confirms this uptrend, with the indicator currently at 58.70.
This is a huge improvement from its June 22 numbers which saw the RSI indicating an oversold margin at 28.66.
Market analysts also believe that fortune is changing for the crypto market and for those looking to buy MANA. According to Digitalcoin, 1 MANA will go for $1.07 with a 2022 forecast at $1.23.
The token's seven-year prediction is even more bullish. Digitalcoin analysts point to $3.09. Wallet Investor puts its forecast at $1.422 for the year, while a five-year prediction stands at $4.836.
Meanwhile, Decentraland sees more adoption. In early June, blockchain protocol Boson bought $704,000 worth of virtual plot of LAND to build a virtual mall.
This investment is targeted at Decentraland's browser-based gamers who will be able to purchase digital assets they can exchange for physical goods and services.
Another round of sales saw over $913,808 invested in Decentraland. This round of purchase was done by New York-based investment firm Republic Realm which acquired a non-fungible token (NFT) of the virtual estate. Announcing the purchase, Republic Realm said that it is committed to build and develop the metaverse.
The Decentraland platform is also set to host a virtual music festival called "To The Moon." According to the organizers, this is in response to the lack of social gatherings occasioned by the global pandemic.
Major music shows like the Glastonbury have been canceled due to the widespread of the deadly coronavirus. The music event will be hosted in KnownOrigin's virtual headquarters.
Buy Crypto at eToro, the World's #1 trading platform!