Decentraland Price Up 30.36% – Time To Buy MANA Coin?
Decentraland has been trading in the green zone, this impressive performance by the meta based asset has moved investors to buy MANA
With crypto market leader Bitcoin (BTC) moving sideways, Decentraland has been one of the top gainers, though many alternative currencies (altcoins) are trading in the red zone.
Decentraland: Posting Record Highs Daily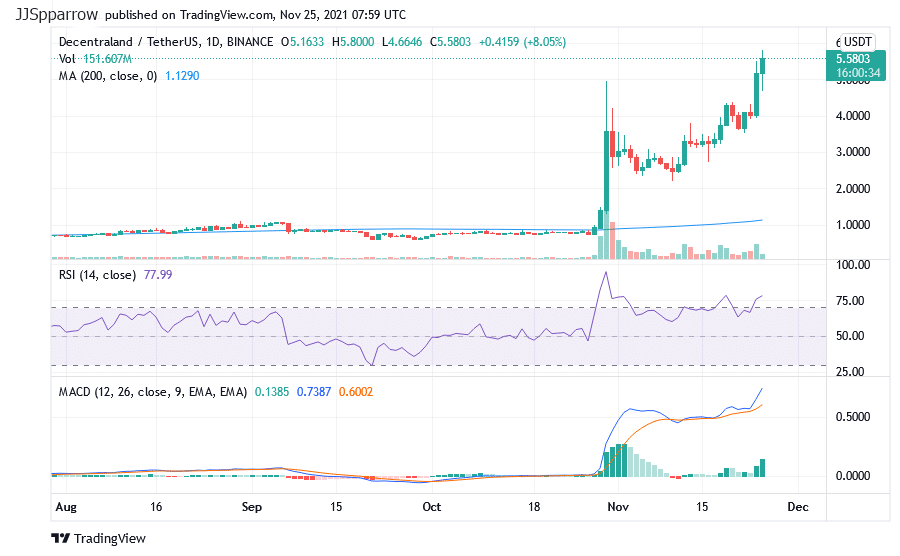 Currently, MANA is trading at $5.75, up 30.36% in the last 24 hours. Decentraland is showing a strong positive uptrend and has surged 59.46% in the past week. In the previous month, the bullish run of MANA has seen the ERC-20 token gain over 590%.
The metaverse ecosystem asset has over $10 billion market capitalisation, up 30.36% in the last 24 hours. Decentraland has recorded a trading volume of $11.1 billion, up 154.00% in 24 hours.
The digital asset recently set a new all-time high (ATH) of $5.78, and from all indicators, MANA will soon eclipse this record. This potential growth rate shows this is the best time to buy MANA and rise with the market in this impressive bull run.
Technical And Fundamental Analysis of Decentraland
The 20-day Moving Average (MA) support price of $3.52 reveals that MANA is on a bullish run. A look at the 200-day MA support price of $1.18 further reflects that MANA is likely to continue on this upward trajectory for some time yet.
The Relative Strength Index (RSI) of 77.23 reveals that MANA is trading in the overbought region. This figure presents an ideal point to buy MANA, given the strong market confidence surrounding the project.
The Moving Average Convergence Divergence (MACD) shows the green line soaring above the orange trendline, which signifies a buy order.
Stellar fundamental activities back Decentraland's impressive technical performance. These activities are geared at keeping users entertained and ensuring they get the best possible virtual gaming experience.
In a recent release, the metaverse protocol disclosed it will be playing host to a meta party called Exodus MetaSoldier non-fungible token (NFT) event set to take place today on social media platform Discord.
The event named the Exodus MetaSoldier non-fungible token (NFT) collection will allow participants the chance of winning some amazing prizes.
The event gives owners full access to an online web game, Decentraland wearables, monthly giveaways, and a future Ebook. Furthermore, attendees will also have access to an exclusive event.
This impressive price gain of MANA should not come as a surprise. Since popular social media giant Facebook changed its name to Meta last month, cryptocurrencies that belong in the metaverse niche like the Sandbox and GALA have seen their value skyrocket.
One of the reasons MANA will continue to rise is because it is the only asset of all the metaverse crypto that offers users a 3D experience. Other competitors only have a 2D gaming experience for their users.
Decentraland also hit a major landmark on November 23, when the Metaverse Group, a subsidiary of Tokens.com, purchased a patch of virtual real estate in what is the largest metaverse land acquisition to date. The virtual real estate was bought for 618,000 MANA, an equivalent of about $2.4 million at the time.
The foremost metaverse project has also become the home of the first sovereign virtual land owned by the Government of Barbados.
Decentraland is also backed by major players like Digital Currency Group, Genesis One Capital, and Fundamental Labs, all of whom have invested in the MANA project. Decentraland is on its way to the moon, and this is the right time to buy MANA.
Buy MANA at eToro from just $50 Now!