Decentraland Price Down By 11.10% – Time To Buy MANA?
Please note that we are not authorised to provide any investment advice. The content on this page is for information purposes only.
Decentraland (MANA) is one of the top blockchain-based game platforms. It has a strong presence in the virtual reality world and this may encourage investors to buy MANA.
MANA, the native asset of the Decentraland platform, has seen strong price surges recently. However, the asset declined over the last 24 hours giving investors room to lock in at a low price. Let's dive into the Decentraland project and see if the time is right to buy MANA.
What Is Decentraland (MANA)?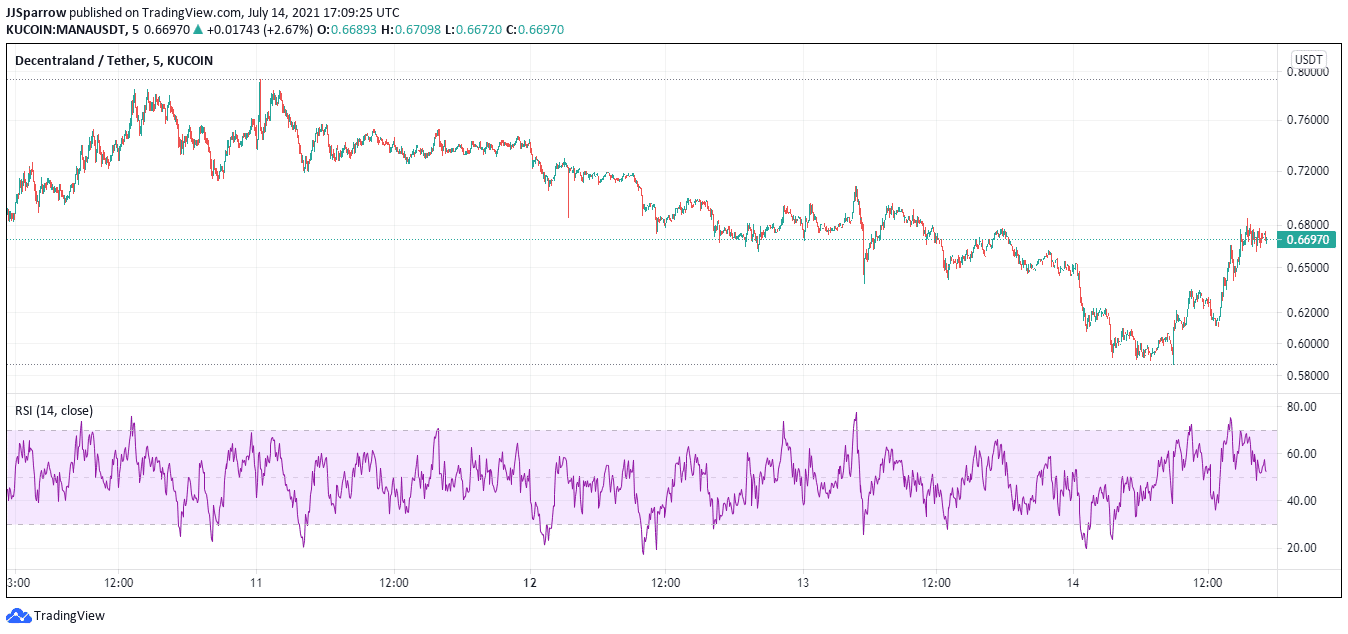 Decentraland blockchain-based game platform that is established around a virtual reality world where users can buy and sell plots of land.
These plots of land are non-fungible tokens (NFTs).
Players can monetize their land, museums, amusement parks, and even interactive games within the virtual reality realm.
Built on the Ethereum blockchain, Decentraland uses a modern proof-of-stake (PoS) blockchain consensus algorithm that allows it to verify transactions faster and with fewer energy demands.
Decentraland was launched in 2017 following a $24 million initial coin offering (ICO). It was founded by Esteban Ordano and Ariel Meilich.
The virtual platform initially launched its closed beta version in 2019 before opening it to the public in February 2020.
Decentraland uses two tokens: MANA and LAND. While LAND is an ERC-721 token representing a user's stake in the platform's ecosystem, MANA is an ERC-20 token used for governance and payment tasks.
The MANA tokens can also be used to pay for a range of avatars, wearables, names, and more on the Decentraland marketplace.
The Decentraland gameworld, also known as the Metaverse, is divided into over 90,000 individual parcels of LAND. Each parcel is divided into 16m x 16m (about 100 square meters).
The platform had about 10,000 daily active users in March, according to NBC.
Decentraland also runs a decentralized autonomous organization (DAO) structure for governance decisions. MANA toker holders control how the platform works by proposing policy updates and the type of content they want in the Metaverse.
67% of all retail investor accounts lose money when trading CFDs with this provider.
The MANA Price On A DownTrend
With a market capitalization of about $1.2 billion, MANA ranks among the top 75 most valuable cryptocurrencies on the market.
MANA is currently trading at $0.6135 and is down 11.10% in the last 24 hours. This should not deter investors because cryptocurrencies involving NFTs like MANA have been gaining momentum lately.
Investors can instead consider this as a great time to buy MANA for a bargain.
MANA started the year with a low price of $0.08374 but soon began making the climb.
The token hit $1.0643 for the first time on March 17 before hitting its all-time high price of $1.63 in April.
However, MANA declined to $0.6245 on May 23 after the crypto market crashed.
The asset subsequently fell to $0.4649 on June 25. Since then, the coin has struggled between the range of $0.5 and $0.7.
MANA's Technicals And Fundamentals
MANA currently has some strong technicals. The asset's relative strength index (RSI) now stands at 79.05, meaning that it is overbought.
MANA is currently trading below its bullish 20-day moving average (MA) of $0.6156. A breakout above that line could send it roaring to the $0.7 line. But, failure to break over that line could also mean the beginning of longer dips for MANA.
In terms of fundamentals, Decentraland recently held a MetaVerse Music Festival called "To The Moon." The festival was held in response to the lack of social gatherings caused by the coronavirus pandemic.
The festival was held in collaboration with NFT marketplace KnownOrigin, Bear NFT, and Illumino NFT at KnownOrigin's virtual space in Decentraland.
More investors are not only noticing the MANA token, but the Decentraland platform is also seeing more adoption in the sale of its virtual spaces.
In early June, Boson Protocol, a platform that automates digital to physical redemptions using NFTs, purchased a plot of virtual land.
Boson bought the land on Decentraland for approximately $704,000 in MANA tokens. It plans to build a mall to connect the virtual platform to real-world shops.
Virtual real estate investment firm Republic Realm also paid $913,000 for land on Decentraland recently.
Buy Crypto at eToro, the World's #1 trading platform!