Cosmos Price Up 12.11% – TIme to Buy ATOM Coin?
As the wider crypto market retreats, few coins have stood their ground as ATOM price has. The asset is one of a few cryptos bucking the trend of the wider market. This is no surprise. Savvy crypto investors know that crypto projects with viable use cases are always market winners. So, what's behind the continuous rise in ATOM price? Would it bottom out soon? Let's find out.
Cosmos: An Ecosystem of High-Performance Blockchains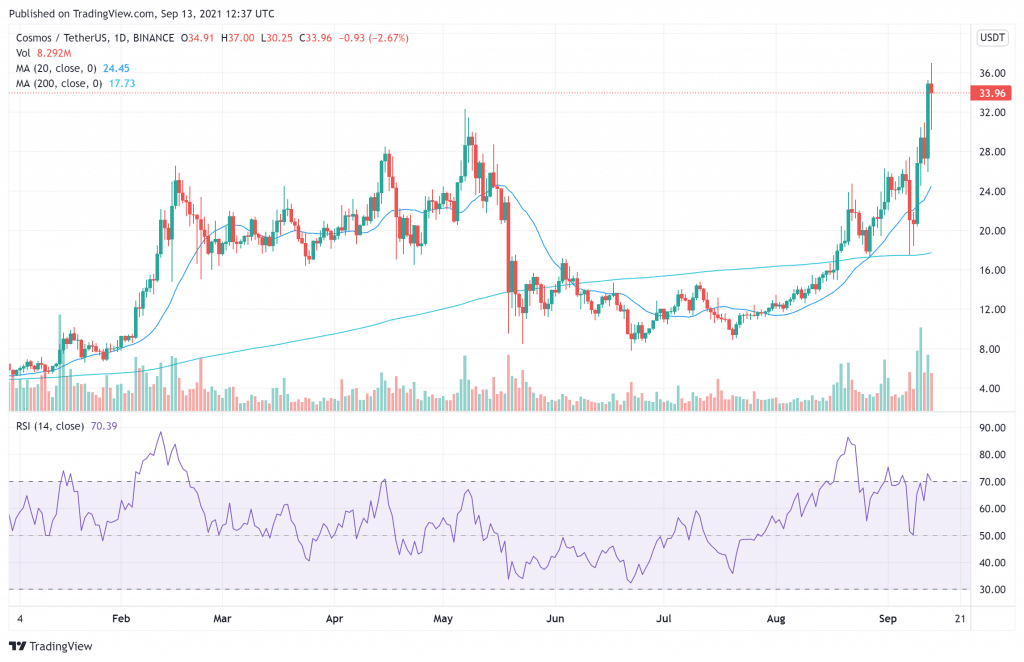 Cosmos is a blockchain platform developed in 2014.
Heralded as the "internet of blockchain" by its developers, the platform aims to create a network of other cryptocurrency networks – all united by open-source tools that streamline transaction processing.
While blockchains are incredibly similar, Cosmos is unique as it focuses on platform interoperability and customizability. Instead of just working on its network, Cosmos provides an environment where other networks can programmatically share data. There's no central authority facilitating the exchange or bringing participants together.
With Cosmos, you can create an independent blockchain – known as a "zone." Each zone is connected to the Cosmos Hub, which maintains a record of zone performance and state in real-time. The Cosmos Hub itself is a proof-of-stake blockchain, with the ATOM token facilitating activities. ATOM can be thought, staked, and traded on some of the world's top cryptocurrency exchanges
To date, over 70 applications are on the Cosmos network, using its infrastructure to run their mainnet. There is also a healthy number at the proof-of-concept stage. Cosmos has several use cases, although its primary application areas include infrastructure, privacy, finance, and social interactions.
Interestingly, the Binance Smart Chain – which itself has grown into a formidable blockchain platform – is built on the Cosmos software development kit (SDK).
ATOM: Price Movements in 2021
ATOM started trading at $6.02 in 2021. The coin has always been in the shadow of bigger names like Bitcoin and Ether, but it got a chance to shine in the first quarter. The ATOM price soon began to break bounds, capitalizing on gains in other large-cap cryptos as well.
After blitzing through several highs., the ATOM price hit an all-time high of $32.26 on May 7. The market downturn eventually came, and the ATOM price suffered a great deal. The price dropped to $10.96 on May 19, and it slipped even further to $8.48 on May 23. That marked a 73.7 percent drop in less than two weeks.
The slump continued as the market suffered through different bearish cycles. When the ATOM price eventually bottomed out, it did so $7.82 on June 22. This marks a drop of 75.75 percent since its all-time high.
While this bottom was much earlier than many other coins, ATOM wasn't exactly doing well.
The asset never eve crossed the $15 mark until August. Since then, the cryptocurrency has not looked back. The coin rose by 80.8 percent in August, and September has been good too. ATOM even broke its previous high on September 12, setting a new zenith at $37.01.
Currently, ATOM trades at $33.69 – up 12.11 percent in the past 24 hours and 32.86 percent in the past week.
ATOM: Technical & Fundamental Analysis
The ATOM price is looking quite solid technically. Thanks to its recent performance, ATOM is trading well over its 20-day and 200-day moving averages (MAs) of $24.52 and $17.72, respectively. If it can keep its performance up for the next day or two, the coin should be able to hit even more highs.
The coin's relative strength index (RSI) stands at 71.93, which is quite underbought for a cryptocurrency. The metric has been rising for the past few days, showing that investors are very confident about ATOM.
As for fundamentals, ATOM seems to be basking in the gains from late last month, when Cosmos launched Emeris – a user interface for decentralized finance (DeFi). The interface will allow users to access several cross-chain DeFi protocols on the Cosmos network and trade assets on several blockchains.
The blockchain also recently integrated Sifchain – a decentralized exchange. This integration will make it easier to trade assets between Cosmos and the Ethereum blockchain.
Buy ATOM at eToro from just $50 Now!