Cosmos Coin Price Up 9% – Time To Buy Cosmos Coin?
Cryptocurrencies have risen and ebbed in the last few weeks, and Cosmos price has also joined the volatile ride.
The crypto protocol, which aims to solve the blockchain trilemma of interoperability, scalability, and security, has seen its price drop with the broader crypto market to a May low of $12.07. However, Cosmos price seems to be rallying with the proof-of-stake (PoS) consensus protocol rising 7% in the last 24hrs.
Cosmos Coin Is 'Blockchain 3.0'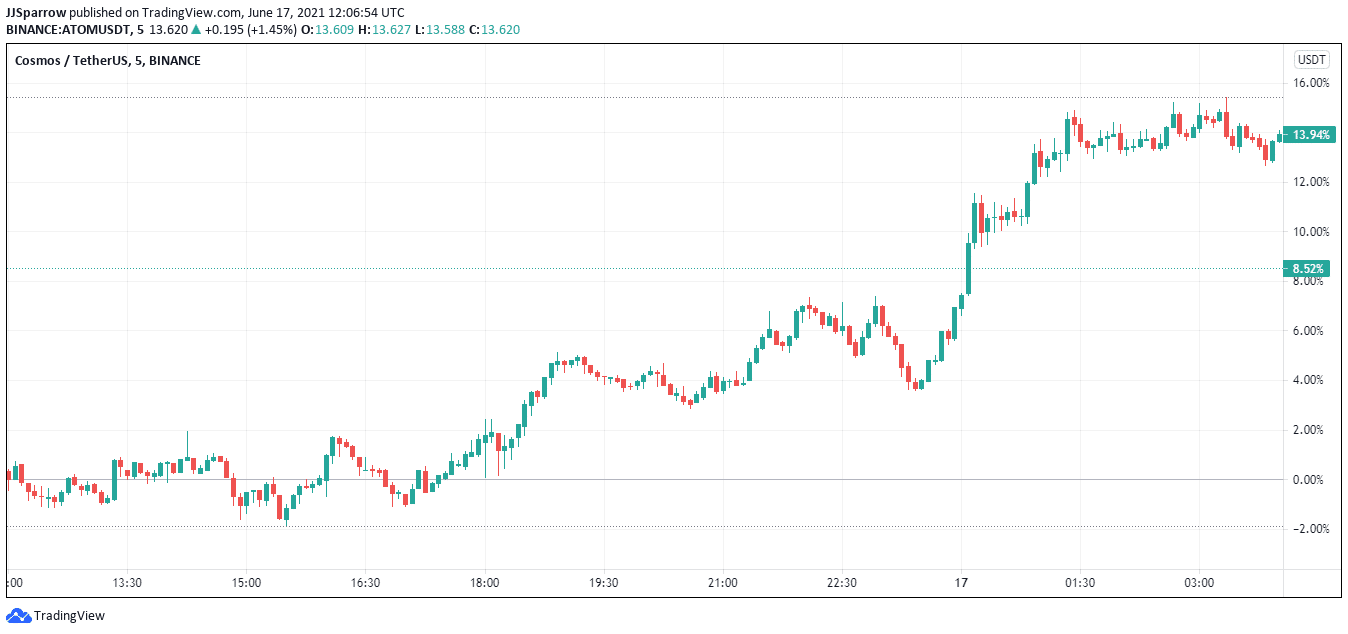 Blockchain as we know it today started with the Bitcoin whitepaper of 2008 and the full launch of the Bitcoin network in 2009.
Riding on the idea of a distributed means of recording data and transferring value, immutable data technology has become something of a fascination for many experts in the tech field.
Bitcoin was able to give back financial powers to the people, and Ethereum further improved this technology.
Launched in 2015, Ethereum took this further and made it possible to build decentralized applications (dApps) with blockchain. With the wider adoption that came with the technology, decentralized finance (DeFi) also sprung up.
Looking to Buy Cosmos Coin now? Invest at eToro!
67% of all retail investor accounts lose money when trading CFDs with this provider.
But these two crypto giants have one problem, and that is their consensus mechanism. Both rely on an archaic, although secure, proof-of-work (PoW) consensus algorithm, which consumes more power and is slow in verifying transactions.
The added demerit has seen other blockchain platforms take a share of Ethereum's market, and that is the high gas fees users have to pay to use the Ethereum network.
Cosmos, formerly Tendermint, aims to solve these problems by building an interoperable blockchain network that allows public and private blockchains to connect through its Interblockchain Communication (IBC) protocol. And this at a fraction of the cost making each dependent protocol enjoys the security infrastructure of the host blockchain.
Nicknamed "Blockchain 3.0," the Cosmos network has also launched a software development kit (SDK) on modularity to make it easier for developers to build any network by using existing lines of code. This way, they can bring DeFi applications to the market faster without starting from the bottom.
Cosmos ATOM Up 6%
Cosmos price has surged in the past 24hrs as the broader crypto market tries to break a bearish trend.
This is because crypto investors are gradually paying close attention to environmentally-friendly PoS protocols like the Cosmos network.
The crypto market saw a large chunk of its $2 trillion valuations shed after concerns were aired by Tesla boss Elon Musk about Bitcoin's energy-demanding mining process. The nascent industry was dealt a further blow by Asian giant China, claiming it was outlawing crypto mining and banning crypto payments in its region.
This has brought to the fore once-disregarded PoS protocols, and the Cosmos price has been a big beneficiary in the shift of crypto investors. Coming out of the woods from a May low of $11.74, Cosmos price has increased 4.36% on the daily charts surging to $13.79 at the time of writing.
Even though it is far below its May 9th high of $29.44 before the market crash, Cosmos price movement is mixed with ATOM trading slightly above the 20-day moving average (MA) support at $13.5.
The relative strength index stands at 47.16, showing a healthy crypto investor mindset towards the Cosmos price.
However, its directional movement index (DMI) shows the positive DMI below the negative at 16.91, pointing to a bearish market.
The moving average convergence and divergence (MACD) show a 1.05 growth with no marked difference between both trendlines.
Looking at Cosmos price future potential, we turn to the 200-day MA support for clarity. The indicator rides above the Cosmos price movement at $14.997, pointing to a bearish market.
Looking to Buy Cosmos Coin now? Invest at eToro!
67% of all retail investor accounts lose money when trading CFDs with this provider.