Compound Coin Price Up 15% – Time To Buy COMP?
For any investor, possessing the right information to buy COMP is necessary. This is because Compound is not part of the large-cap cryptocurrencies that generate buzz. However, Compound remains an exciting digital asset to watch given its unique use case in the fast-rising decentralized finance (DeFi) space.
In the last 24hrs, the COMP price has shown positive price action in a largely bearish crypto market rising along with Bitcoin. In this article, we will consider if this might be the perfect opportunity to buy COMP or not.
Buy Compound Coin at eToro, the World's #1 trading platform!
What is the Compound Protocol About?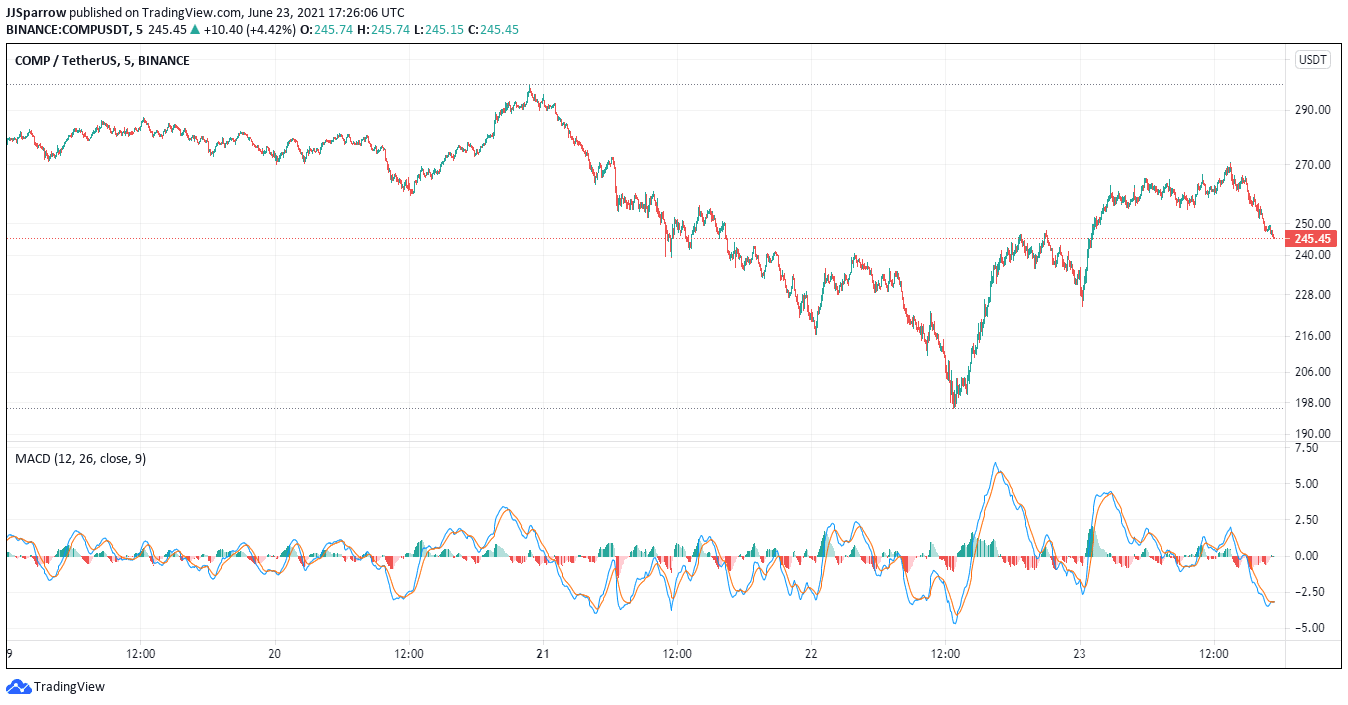 Compound is a DeFi lending protocol that is built on the Ethereum network. Compound aims to create a fully decentralized crypto-economy with no central authority. It allows crypto owners to earn interests on their holdings when they provide liquidity in the pools supported by the platform.
Compound supports the borrowing and lending of a number of virtual currencies. These include ERC-20 tokens like Dai (DAI), Ether (ETH), USD Coin (USDC), Ox (ZRX), Tether (USDT), Wrapped Bitcoin (WBTC), Basic Attention Token (BAT), and others. The decentralized protocol makes it easy for anyone with these tokens to lend and borrow crypto seamlessly.
When a user deposits any of the above tokens into a Compound pool, they get cTokens in return. These digital tokens represent the individual's stake in the pool and will be used to redeem the underlying digital assets to which it is tied to.
With time, the underlying asset price may become more valuable than the synthesized tokens and the user will be able to redeem it for the same amount of cTokens initially received.
Compound also allows users to earn annual interests, called annual percentage yield (APY), on their crypto deposits.
Compared to traditional financial institutions, interest rates are not influenced by a central authority. They are mainly subjected to market pressures of the underlying asset. This means that it is determined by the asset's supply and demand and constantly updated by a highly sophisticated algorithm.
As a result, the higher the demand for a virtual currency, the higher the interest rate that lenders and borrowers will have to enjoy and pay, respectively. This incentivizes lenders and deters borrowers from taking on too much debt.
Since it is a DeFi protocol, Compound does not observe any know-your-customer (KYC) or anti-money laundering (AML) processes making it easy for anyone to participate in the protocol.
Aside from the cTokens, Compound has a native utility token called COMP. This serves as its governance token and allows holders to vote on proposals in the platform. Despite being a governance token, COMP has risen given its exponential growth in the last few months.
At press time, Compound has over $6 billion worth of assets total value locked (TVL) making it one of the most impressive DeFi protocols in the crypto market.
What is the COMP Price?
If you want to buy COMP token, then you are in luck as it is still affordable. COMP currently goes for $245.45, with its price surging by 15.23 percent in the last 24 hours.
But this is not COMP token's best price action. Like many digital assets in the crypto market, COMP fell from its yearly high of $854.48 on May 11.
It lost over 50% of its value in the broader market crash. Even though it has looked to rally, it has not been able to break above the $450 resistance zone throughout much of this month.
Despite this, it seems the COMP price is set for a major rally in the coming days. However, this may be difficult given that Bitcoin is currently seeing negative price action. A continued fall in BTC market value could affect the uptrend trajectory of COMP price. The best option would be to monitor Bitcoin's price if you want to buy COMP.
COMP Technical And Fundamental Analysis
On the trading chart, COMP has some strong fundamentals. The digital asset's relative strength index (RSI) currently sits at 37.74, meaning it is slightly above the oversold margin and below the overbought trendline. The massive selloff in May has impacted its growth, so you can buy COMP as it rises again.
For the short-term support outlook, COMP is trading below the 20-day moving average (MA) of $313.69. A surge above this indicator could see it roaring back to the $400 range. But if it does not do this, it could lead to more slumps for the DeFi token.
On the long-term 200-day MA, COMP is also bearish trading below the indicator's $394.77 margin. Meanwhile as DeFi continues to grow, COMP price would recover accordingly.
Buy Compound Coin at eToro, the World's #1 trading platform!