Cloudflare Share Forecast January 2022 – Time to Buy NET?
Shares of American web infrastructure and website security company Cloudflare (NYSE: NET) are in the red today, after closing at $113.97 as of January 12th (19:59 EST). Cloudflare's stock has been cut in half over the past 2 months but continues to grow at an impressive rate. The shares hit an all-time high of $221.64 last November.
Cloudflare – Technical Analysis
Cloudflare's financial statement indicates a market cap of $36.669 billion with total assets worth $2.316 billion. Revenue for 2020 was at $431.06 million with a profit margin of -27.69% compared to $287.02 million in 2019.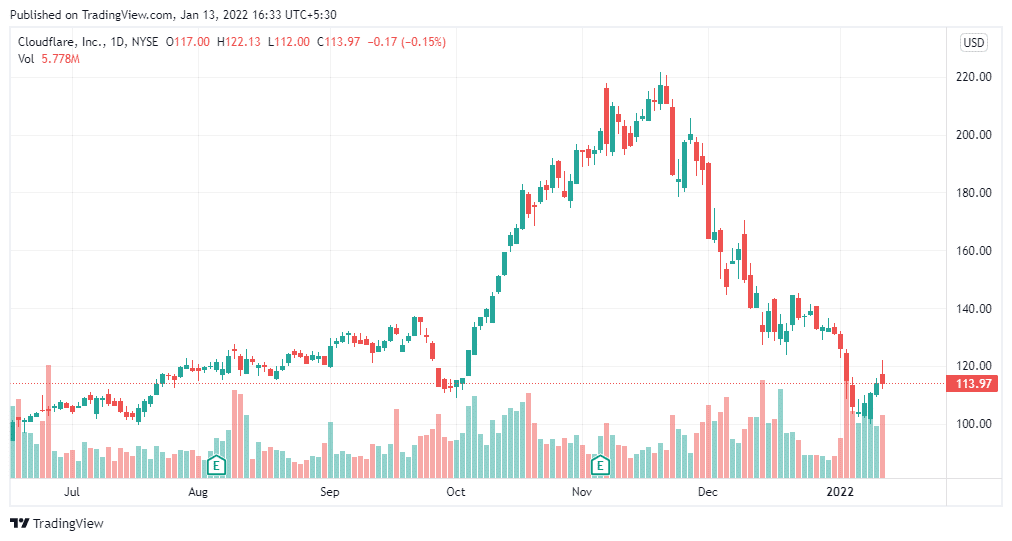 Oscillators such as Relative Strength Index (14)(35.37),  Stochastic %K (14, 3, 3)(29.58),  Commodity Channel Index (20)(−72.32),  Average Directional Index (14)(33.50) and Awesome Oscillator(−33.36) are neutral. Moving averages such as Exponential Moving Average (10)(116.63), Simple Moving Average (10)(116.17), Exponential Moving Average (20)(126.44), Simple Moving Average (20)(126.13) and Exponential Moving Average (30)(134.80) are indicating a sell action.
68% of all retail investor accounts lose money when trading CFDs with this provider.
Recent Developments
Cloudflare provides services between a website and its visitors. It provides a content delivery network (CDN) that accelerates a website's delivery of images, videos, and other media. It also provides a domain name server (DNS) service which directs website addresses to the correct IP addresses and cybersecurity service. The company provides services in 50 cities in over 100 countries while processing an average of 28 million HTTP requests every second. The organization has previously mitigated a DDoS attack that peaked at 754 million packets per second in June 2020 and a DDoS attack three times larger than any they'd recorded in August 2021.
There are two main reasons behind CloudFlare's success. Its CDN caches copies of digital media on servers that are located closer to a website's visitors enabling media-heavy websites to load much faster. The second reason is the threat posed by bots, DDoS attacks, and data breaches. Cloudflare's platform acts as an online "filtration system" instead of requiring a website's host and visitors to rely on updating their own cybersecurity software.
Cloudflare's revenue has increased by more than 50% year-over-year for five consecutive quarters and its dollar-based net retention rate has also stayed above 120% for the past three quarters. Management now expects revenue to grow 46%-47% year-over-year in the fourth quarter. While the growth rate of the company is slowing, it's in a better position compared to CDN competitors like GoDaddy, Akamai and Fastly.
Currently, both the cyber security and CDN markets are booming which makes Cloudflare better positioned. It has plenty of pricing power in an inflationary environment. However, inflation may also reduce the value of the company's future sales and profits — which is particularly painful for high-growth tech companies.
Should I Buy NET Shares?
Apart from inflation, Cloudflare investors should consider increased interest rates as a threat to the share price. Interest rates have been increased to tame inflation. But it will also increase borrowing costs for unprofitable companies like Cloudflare. It may also spark a rotation among investors to move from pricier growth stocks toward safer investments like bonds.
Cloudflare's market cap reached $69.9 billion when the shares hit record highs last November. However, this valuation was unsustainable which explains the decline in share price. Cloudflare's share price could continue sliding until its forward price-to-sales ratio reaches more sustainable levels. Cloudflare is a solid organization but not a good investment for the time being. It is a company investors should avoid as long as interest rates are increasing and inflation is rising.
Buy NET Stock at eToro from just $50 Now!