Chewy Stock Down 10% – Time to Buy CHWY Stock?
Please note that we are not authorised to provide any investment advice. The content on this page is for information purposes only.
The price of Chewy stock is sliding almost 10% in pre-market stock trading action this morning following the release of the company's financial results covering the second quarter of 2021.
Sales of the Florida-based online pet supplies retailer landed at $2.16 billion during the three months ended on 31 August resulting in a 29% jump compared to the same period a year ago while the figure was in line with analysts' forecasts for the period as compiled by Capital IQ.
Meanwhile, adjusted earnings per share for the company ended the quarter at $0.02 compared to $0.01 the firm brought back in Q2 2020 while they came in 1 cent above the market's consensus forecast.
Moreover, the management's guidance for both the upcoming third quarter and full 2021 fiscal year was exactly what Wall Street expected to see.
However, market participants may have grown accustomed to being surprised by Chewy as reflected by the latest three quarterly reports on which the company beat analysts' forecasts for both earnings and revenues.
With that in mind, could this post-earnings downtick be an opportunity to grab some shares of Chewy at a more attractive price?
In the following article, I'll take a closer look at the latest price action while also assessing the company's fundamentals to possibly answer that question.
67% of all retail investor accounts lose money when trading CFDs with this provider.
Chewy Stock – Technical Analysis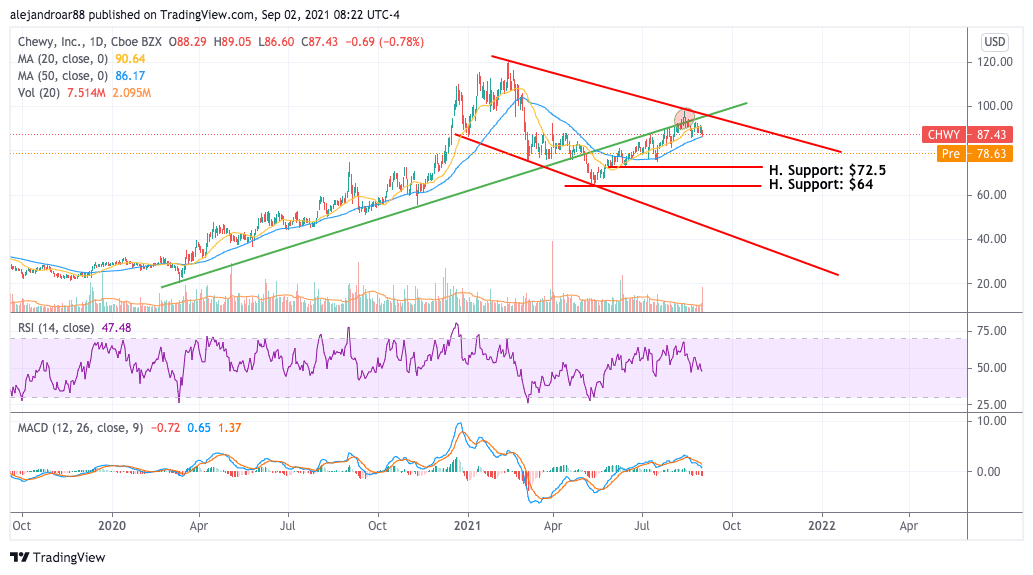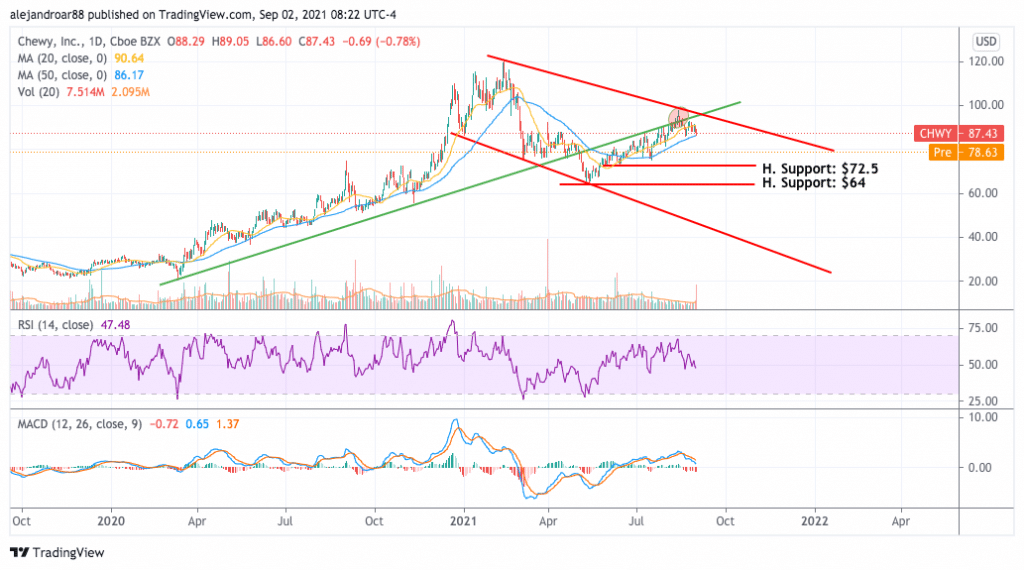 The price of Chewy stock broke a long-dated trend line back in early May 2021 while it attempted, unsuccessfully, to climb back above it multiple times in the past few weeks. This break, even though harmless at first glance, indicates that something has shifted in the market's perception about Chewy's future as the stock is no longer on an uptrend.
Meanwhile, yesterday's session was quite interesting as trading volumes were particularly high with over 7.5 million shares exchanging hands – a figure that exceeded the 10-day average by more than 3 times.
Moreover, despite the uptrend that emerged after the $64 bottom, momentum indicators have been sending negative signals in the past few days as the MACD has drifted below the signal line – traditionally a sell signal – and this move has been accompanied by steadily increasing negative histogram readings.
Moreover, the Relative Strength Index (RSI) has just moved below the 50 level and might be pushed down further if this pre-market downtick spills to the live session.
Moving forward, key supports for Chewy stock would be found at the $72.5 and $64 level. If the price bounces off any of these areas, that would result in a double-bottom bullish pattern.
However, a break below the $64 level would reinforce a mid-term bearish outlook for Chewy on the back of what could be an emerging downtrend (see chart).
Chewy Stock – Fundamental Analysis
Chewy revenues have been expanding fast even before the pandemic stroked. From fiscal year 2017 to 2021, the company's sales have grown at a compounded annual growth rate of 49.3% on the back of a steadily rising customer base.
Meanwhile, the company's gross profit margins have been evolving positively lately as they have moved from the low 20s back in 2019 to over 26% in the last twelve months.
Moreover, the company managed to trim its negative EBITDA significantly by the end of its 2021 fiscal year, with this figure landing at minus $92.5 million compared to the minus $252.4 million negative EBITDA it reported in 2020 while it has swung to positive EBITDA since the fourth quarter of 2021 and has continued to deliver positive figures since then.
This progressive improvement in the firm's bottom-line results is particularly encouraging but it also highlights that Chewy is turning into a more mature venture that may now be assessed by market participants in a different way.
In this regard, with a potentially fading pandemic tailwind playing against the company's future growth, the market may now focus more on the business's profitability and that could put pressure on Chewy's valuation as price-to-sales multiples may shrink as a result.
If this 10% pre-market drop materializes during the live session, Chewy's market cap would go down to $33 billion. At that level, the company would be trading at 3.7 times its forecasted sales for this year.
This ratio would make Chewy a particularly attractive long-term pick as the management has demonstrated its ability to grow the business at a fast pace even when the pandemic tailwind was not present and that shows that they should be capable to keep delivering promising results in the future.
Moreover, the firm's balance sheet is quite robust as its long-term debt is fairly small compared to its assets while Chewy had over $700 million in cash and equivalents by the end of this second quarter to keep financing its growth in the future while it has been generating positive and growing free cash flows in the past twelve months.
With all that in mind, Chewy currently displays the characteristics of a possibly undervalued growth stock and it could be an interesting pick for long-term investors. As per the short-term outlook, there are multiple warning signals that are pointing to a sustained downtrend in the stock.
Buy CHWY Stock at eToro for just $50 Now!