Chainlink Price Up 7.99% – TIme to Buy LINK Coin?
The market rally has helped the LINK price to kick-start an impressive jump over the past day. This continues CHainlink's fairytale journey through 2021 and could also encourage investors to pledge more money to the asset. In this article, we'll look at the fundamentals behind Chainlink and the recent jump in the LINK price.
Chainlink: DeFi's All-Important Oracle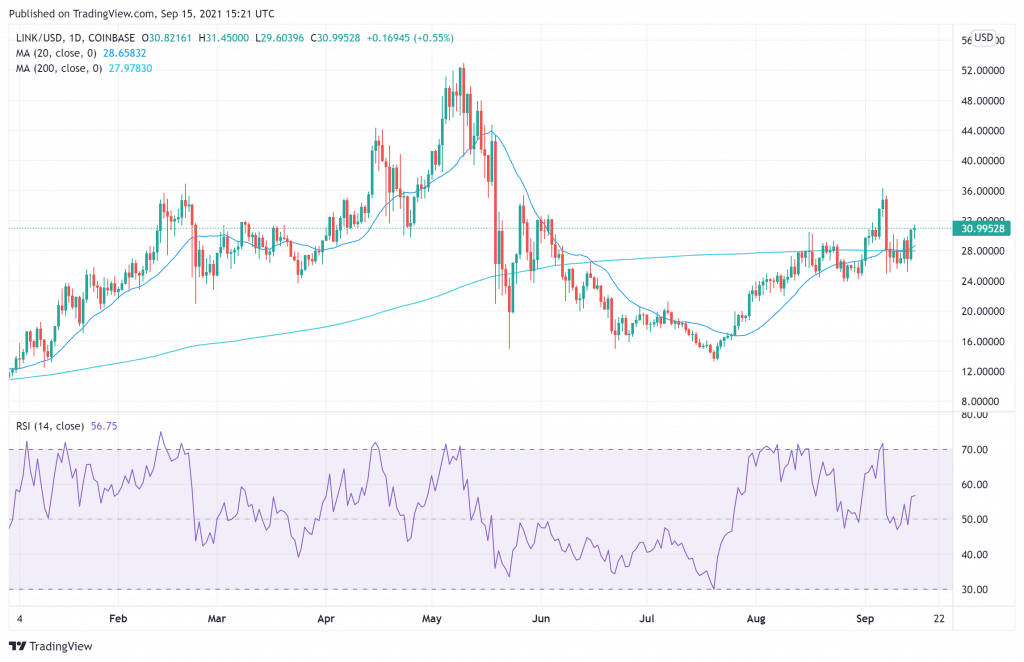 Chainlink holds an important role in the functionality of many applications in the decentralized finance (DeFi) sector. But, to understand it, it's important to grasp the concept of blockchain oracles.
A primary function of blockchain operation is smart contracts. These are essentially pre-specified agreements on a blockchain that evaluate information and execute when specific conditions are met. For smart contracts to build agreements, they need off-chain data in an on-chain format. However, it is difficult for smart contracts to connect to outside sources to get data that they can understand.
This is where a blockchain oracle comes in. This software act as "middleware" between the smart contracts and the outside world. They translate real-world data to smart contracts and vice versa. Oracles can be centralized or decentralized. The centralized ones can be compromised or hacked, just as it is with normal centralized data sources. On the flip side, decentralized oracles are more secure.
Chainlink is arguably the largest decentralized oracle network available. It provides data from off-blockchain sources to smart contracts. Besides data sources, Chainlink has also created a way to reliably and effectively offer accurate data to smart contracts on smart-contract enabled blockchains.
LINK tokens are used by Requesting Contract holders on Chainlink to pay node operators for their work. The LINK price is set by the Chainlink node operator based on the demand for their data.
Node operators can also stake LINK in the network. They deposit the coin into the network to demonstrate their commitment to it, and they get LINk tokens as rewards.
LINK: Price Movements in 2021
The LINK price started 2021 at $11.55. The growth in the DeFi space had essentially bolstered the asset. Many DeFi protocols are built on blockchains, and their smart contracts need oracles to get information. With more use came more price increases.
The market rally that began late last year ran into the early parts of 2021, and DeFi grew too. Thus, Chainlink was in demand, and the LINK price jumped significantly.
By April 15, the LINK price had increased to $44.26. The price jumped even further to $53.07 on May 10. Sadly., things wouldn't last. The market downturn came and swept it off, with LINK dropping as low as $17.84 on May 23 – a drop of 66.3 percent in less than two weeks. The decline continued, with LInk witnessing several bearish cycles.
Eventually, LINK bottomed out at $13.44 on July 20, following a market selloff. This was a drop of 74.7 percent from its high. But, this was a great opportunity to buy the dip.
After the market rally moved into full swing, LINK began to surge again. The asset's price rose by 37.6 percent in August, and September has been just as great. LINk currently trades at $31.06 – up 7.99 percent in the past day and14.95 percent in the past week.
LINK: Technical and Fundamental Analysis
While the 24-hour gains have been impressive, LINK is looking quite murky technically. The coin is barely above its 20-day and 200-day moving averages (MAs) of $28.91 and $27.86 respectively. A day or two of more gains should help it to beat these points and make bigger gains.
LINK's relative strength index (RSI) also stands at 57.20 – quote underbought for a coin on the rise. So, you can be comfortable buying it.
The Chainlink ecosystem has been pretty silent, although there has been a significant amount of excitement after Optimistic Ethereum announced the integration of Chainlink's oracle solutions to the Ethereum blockchain's layer-two services. That should grow Chainlink's adoption, especially since Ethereum remains the top choice for DeFi protocols.
Buy LINK at eToro from just $50 Now!