CELO Price Up 24% – Time to Buy CELO Coin?
For most traders, having sufficient data is necessary to buy Celo (CELO). The asset isn't one of the most popular cryptocurrencies available, and investors might not be seeing it popping on their charts of top cryptocurrencies.
However, CELO remains an interesting asset to watch out for, especially if you're the type of investor who understands the value of small-cap, high-growth assets.
The CELO price has been one of the most impressive over the past 24 hours, rising along with several others across the market. Let's see if the time is right to buy CELO or not.
Buy Celo Coin at eToro, the World's #1 trading platform!
What is Celo Coin?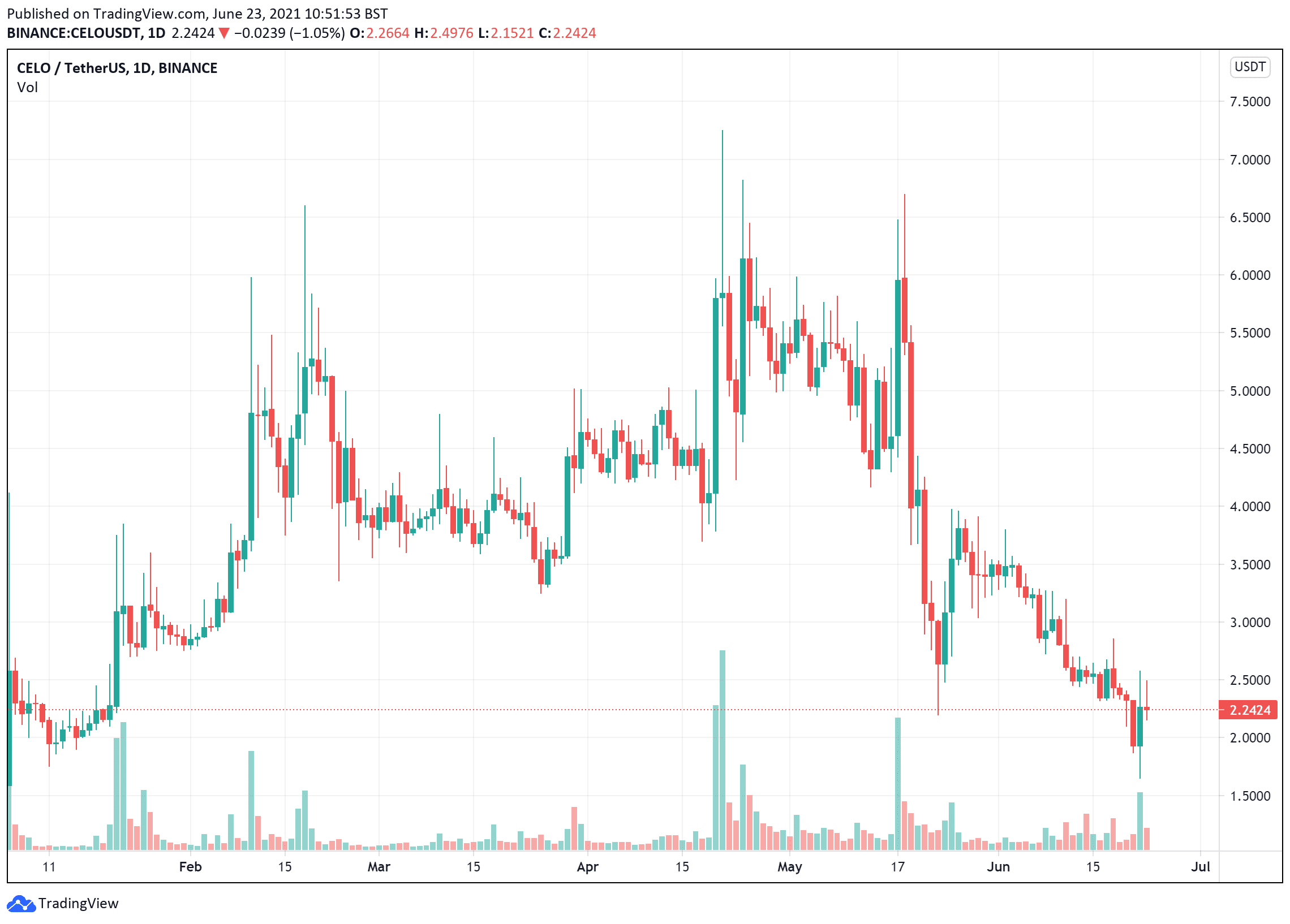 Celo is a decentralized (DeFi) platform that provides easy access to financial services for anyone who has a mobile phone. Basically, it is a blockchain that makes it easy for users to send cryptocurrencies to each other using their cell phones and phone numbers. You don't need a wallet to use CELO, and its transactions are very fast.
CELO – the token – acts as the native token for the CELO network. It is usually a medium for charging transaction fees, so a lot of its value is determined by adoption.
This year, CELO made a big splash following seed investment from Deutsche Telekom – one of Europe's largest telecom service providers. While the size of the investment isn't clear, Deutsche Telekom now has a significant amount of CELO tokens.
The company also joined the global Celo Alliance for Prosperity – Celo's ecosystem that spans over 130 members, from merchants and nonprofits to blockchain firms and payment processors.
What is the CELO Price?
If you're looking to buy CELO, you'll be excited to know that the asset is still quite affordable. The asset is currently trading at $2.24, with its price jumping by 24 percent in the past 24 hours.
Like many cryptocurrencies, CELO is trading a long way off its yearly high. The asset rose as high as $7.26 in April, and it tried to hold above the $6.5 point for as long as it could. But, CELO dropped significantly after the market crashed. It bottomed out at $1.6 earlier this week.
After seeing successive lows, there is a possibility that CELO is ready to consolidate again. However, that could also be difficult considering that many large-cap assets are struggling. A dip in the price of Bitcoin and the big guns could affect CELO. So, you want to be careful if you plan to buy CELO.
CELO Technical and Fundamental Analysis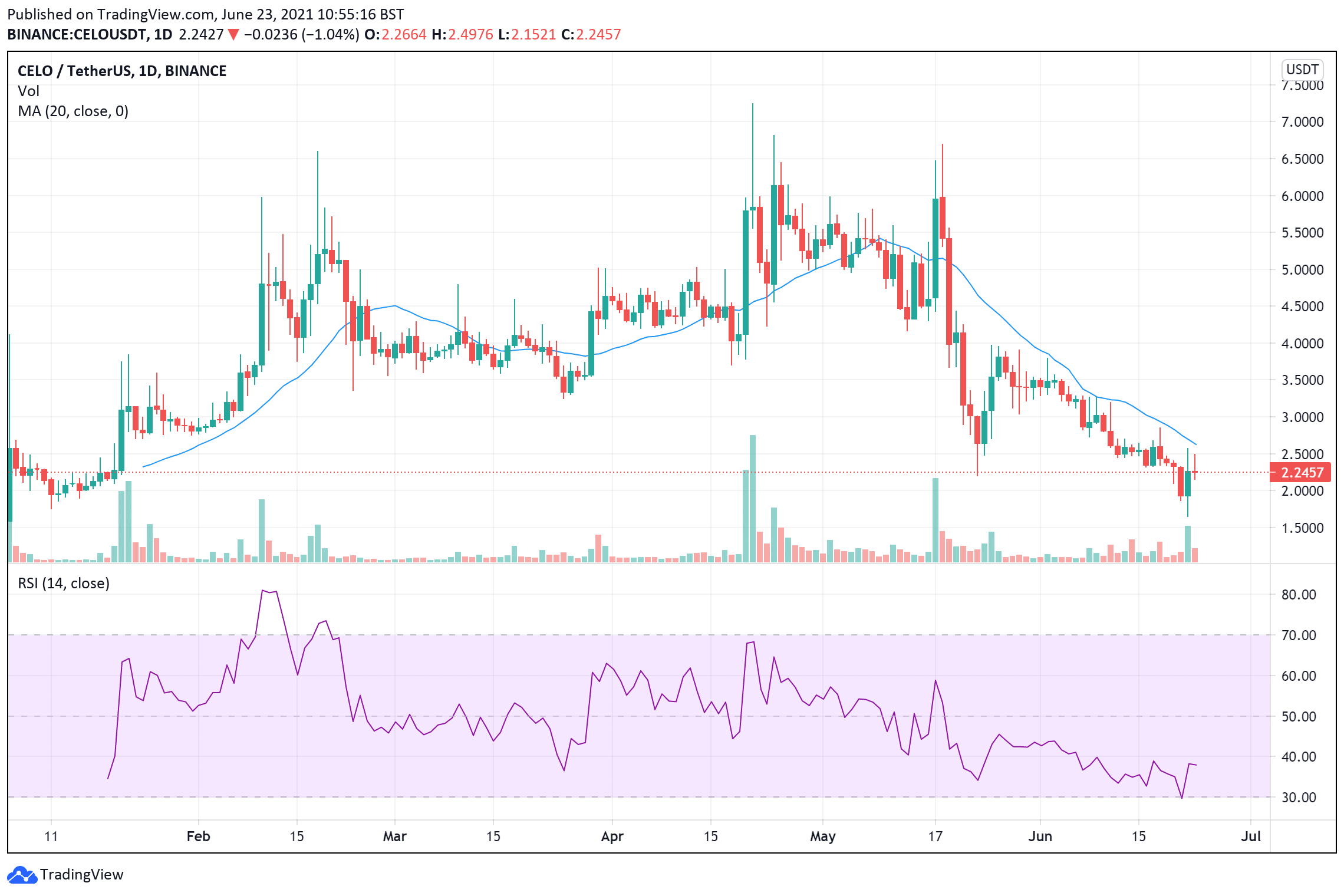 CELO currently has some strong fundamentals. The asset's relative strength index (RSI) currently stands at 37.86, meaning that it is very underbought.
The market selloff most likely affected its standing, so you could buy CELO as it builds up again.
CELO is currently trading below the 20-day moving average (MA) of $2.64.
A breakout above that line could send it roaring to the $3 line. But, failure to break over that line could also mean the beginning of longer dips for CELO.
CELO might be out of the woods for now, but the price actions of the bigger assets will most likely determine its fate at the end of the day.
As for fundamental analysis, CELO does have some big news going for it. Earlier this week, Andreessen Horowitz, one of the world's largest venture capital firms, picked T-Systems MMS validator group to delegate on the Celo network.
Andreessen Horowitz has been a long-time backer of Celo, even joining Polychain Capital and other names to run a $30 million investment round for the blockchain network back in 2019.
According to a press release, T-Systems MMS – a subsidiary of Deutsche Telekom, will run validator nodes via its Open Telekom Cloud.
T-Systems MMS will capitalize on the cloud's robust security and functionality for the project as it will also stake Deutsche Telekom's CEO tokens – as well as other Celo-based assets held by Andreessen Horowitz.
Backing from big names like Deutsche Telekom and Andreessen Horowitz has always been one of Celo's biggest selling points. At the very least, the latest news shows that these big players still believe in Celo and its potential.
CELO is also a great purchase for long-term investors looking for value. With cryptocurrencies becoming more ubiquitous, users will be looking for convenient ways to send assets amongst each other. Celo has a unique standing to meet this need.
Buy Celo Coin at eToro, the World's #1 trading platform!