Cardano Coin Price Up 7.4% – Time To Buy ADA Coin?
Please note that we are not authorised to provide any investment advice. The content on this page is for information purposes only.
Popular 'Ethereum killer' Cardano is one of the top five cryptocurrencies by market cap and this should be a good reason to buy ADA.
Even though Cardano does not command the enviable market value of Bitcoin and Ethereum, it is still a digital asset you should watch out for. This is because of its growing relevance in the booming decentralized finance (DeFi) sub-sector.
In the last 24 hours, ADA token has shown positive price action as the crypto market struggles in a bear market. In this article, we will consider if this might be the beginning of an uptrend and if you should buy ADA.
Buy Cardano Coin at eToro, the World's leading Trading Platform
What is Cardano (ADA)?
Cardano is an open-source, peer-reviewed blockchain project created to facilitate value transfer in a trustless manner. Much like the second most valuable crypto asset Ethereum, Cardano uses a layered architecture that supports smart contract execution.
Unlike the large-cap cryptocurrency, Cardano claims that its platform is both adaptive and scalable without compromising the security of the blockchain network.
Cardano uses an environmentally sustainable proof-of-stake (PoS) consensus algorithm it calls the Ouroboros mining protocol.
Cardano claims that Ouroboros is the first provably secure PoS protocol and the first of its kind based on peer-reviewed research.
Based on time-stamps (or epochs), Ouroboros consumes less energy in validating transactions on its network making it one of the most energy-efficient protocols in the cryptocurrency space.
However, the Cardano network is still under development given its strict adherence to scientific research. The development team behind the Cardano network is Hong Kong-based Input Output Hong Kong (IOHK).
Cardano is looking to displace the smart contracts dominance of Ethereum by creating a more cost-efficient and interoperable blockchain platform.
So far, it has launched smart contracts functionality and the creation of native tokens on its platform. It is currently in its Alonzo phase, which will see the network integrate its Plutus scripts into the blockchain. This will enable the deployment of DeFi applications on the Cardano network.
Cardano was founded by mathematician Charles Hoskinson who previously co-founded Bitshares and the Ethereum network.
Cardano's ADA serves as its native utility token and has seen exponential growth since the beginning of the year.
What is ADA Price?
If you want to buy ADA, its current price level should interest you. At press time, ADA presently trades at $1.34, increasing 7.4% on the 24-hour trading charts. But this is not ADA price's best price action.
The May crypto market crash affected the $42 billion crypto protocol and this saw it plummet from an all-time high (ATH) of $2.3 on May 18 to $1.46 a few days later.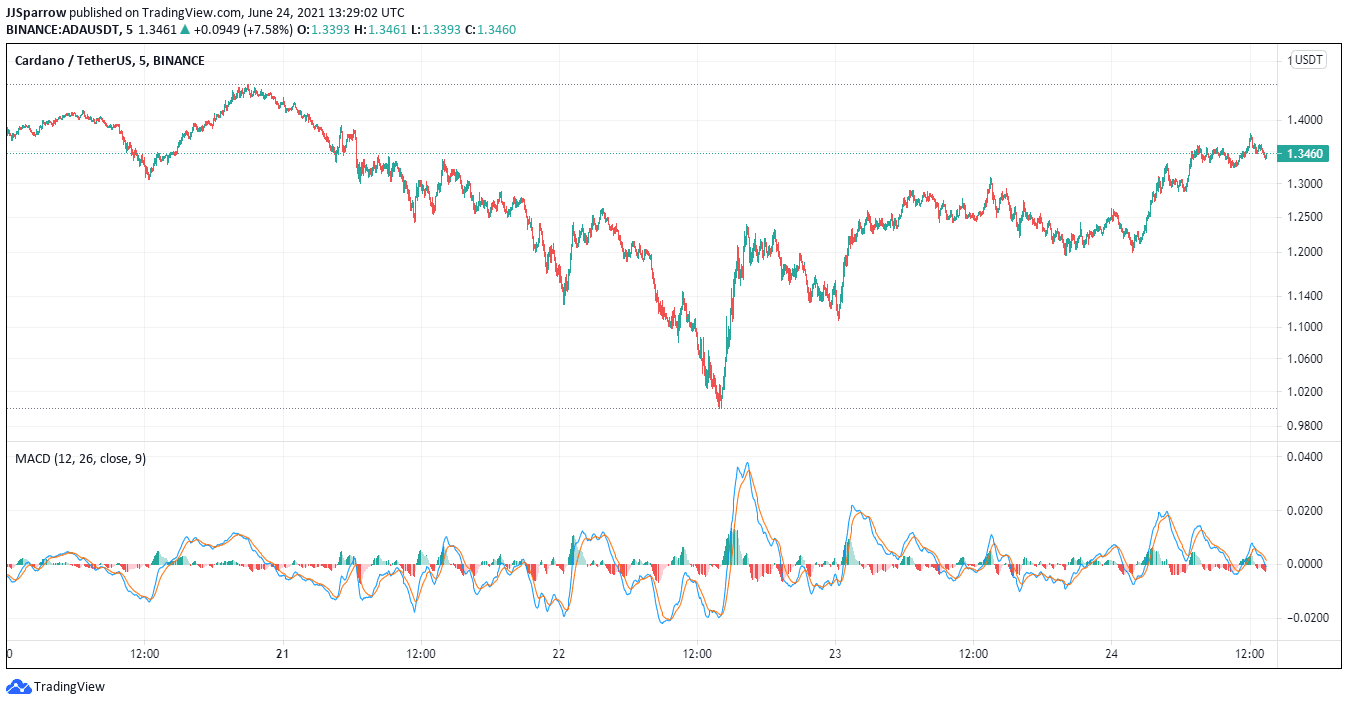 Even though it has seen some positive price action after the May crash, it has struggled to break above the $1.85 resistance zone throughout much of June.
However, it seems the ADA price may be set for a rally in the coming days. But this is highly dependent on the performance of Bitcoin currently in the red zone.
A fall below the $30k mark for BTC market value could see the price of ADA slide alongside. The best option would be to monitor Bitcoin price action if you want to buy ADA.
ADA Technical And Fundamental Analysis
ADA's price slump was primarily due to the criticism of Bitcoin mining by Tesla boss Elon Musk.
The Tesla boss, who splashed out $1.5 billion in early Feb on Bitcoin, discontinued BTC payments for his EVs.
This saw the price of the broader crypto market fall by 50% coupled with reports that China was stamping out crypto mining in its hydro-rich provinces.
On the trading chart, ADA price fundamentals are strong. The asset's relative strength index (RSI) stands at 44.63, indicating it is above the oversold margin and in a healthy buying region. The fact that investors buy ADA might make this point a good time to enter the market.
For the short-term, ADA is trading below the 20-day moving average (MA) support at $1.47. A rally above this point could lead to a breakthrough to the $1.8 range. However, if it does not do this, it could see the digital token continue to fall.
Buy ADA Coin at eToro, the World's #1 trading platform!