Blackbird BI Launches Revolutionary Online Oil and Gas Production Forecasting Tool
Microsoft Power BI makes getting answers from data easy and fast.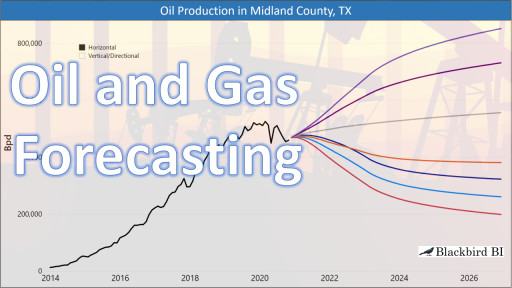 Oil and Gas Production Forecasting
Quickly see oil and gas production forecasting assumptions and trends driving U.S. supply. Permits, rigs, well starts, IP rates, decline curves, and more in our feature Power BI report.
DENVER – June 8, 2021 – (Newswire.com)

Blackbird BI, LLC today announced the availability of its featured Power BI data visualization tool called Oil and Gas Production Forecast Scenarios. This revolutionary new tool provides extensive scenario capabilities and an unprecedented county-level view of production from horizontal as well as from vertical wells. This online data report combines historic monthly production for over 650 counties with 10 forecast scenarios to help users gauge risk and likelihood of outcome.
"The purpose of Blackbird BI is to easily make sense of the vast amounts of oil and gas data that market participants struggle with every day," said Ben MacFarlane, President at Blackbird BI. "Not only do we provide an amazing resource for the oil and gas industry to better understand how rig activity impacts production at a county level, but we're also able to provide it at a fraction of what it would cost from other providers."
Key features of the Blackbird BI data platform:
Quickly see the trends and forecast assumptions driving U.S. oil and gas production.
Analyze base declines faster than your competition with Blackbird's Zero Rig case.
Easily find counties and scenarios with the most growth over the next five years.
See permits, rig counts, well starts, IP rates, decline curves, GORs and more.
"Clear assumptions and scenario analysis are vital for good planning, and we're excited to help strategy analysts, business development, market analysts and even executives analyze data easy and fast," said MacFarlane. To see a use case video or request a demo of how this new tool can provide you with a powerful view of oil and gas production, go to blackbirdbi.com.
About Blackbird BI, LLC
Blackbird BI is an energy-analytics firm committed to driving transparency in oil and gas markets in an easy, powerful, and inexpensive way. What we do is enhance business intelligence by helping analysts and executives get answers from data. How we do it is by leveraging Microsoft's Power BI for leading-edge technology at off-the-shelf pricing. The reason we do it is because data analysis is vital for businesses, but it has been too hard and too expensive for too long.
Contact: Ben MacFarlane, Blackbird BI President, (970) 231-9159, benmac@blackbirdbi.com
Press Release Service
by
Newswire.com
Original Source:

Blackbird BI Launches Revolutionary Online Oil and Gas Production Forecasting Tool