Bitcoin Sharks and Whales Rise, While Merge Remains in Highlights
Please note that we are not authorised to provide any investment advice. The content on this page is for information purposes only.
According to Santiment data, the number of Bitcoin addresses holding ten or more BTC has increased significantly since mid-February. Shark addresses rose 3.6% in the last seven months, reaching their highest level in 19 months. Due to market volatility, long liquidations totaled $45 million on September 13, setting a new weekly high. According to Coinglass data, over a long period, $168 million was liquidated in the cryptocurrency market. However, according to CryptoQuant data, exchange inflows have reached their highest since July 1.
What about a Merge?
The upcoming proof-of-stake event for Ethereum, a significant event for cryptocurrency, is currently the focus of traders' attention. According to Santiment data, traders' perception of Bitcoin has shifted in favor of the upcoming Ethereum-related events. Despite its recent increase in value, most investors continue to overlook bitcoin. Analysts at the company noticed this unfavorability. The lack of Bitcoin-related social media debates has led many investors to perceive the cryptocurrency negatively. This is one of the primary reasons behind traders' loss of confidence.
Despite the pessimism surrounding Bitcoin, Ethereum continues to attract more traders due to the increasing number of debates about the impending blockchain fork and merge. As a result, these factors have been regarded as bullish triggers for cryptocurrencies. Despite the negative perception of Bitcoin, Santiment analysts are optimistic about the coin's future growth.
Crypto Sharks and Whales
As an illustration, consider the variety of marine life in the ocean, including everything from tiny fingerlings to massive whales. The whale is the ocean's largest known fish, with only the shark coming close in size. Their enormous size means that waves on the water will be thrown off their course, changing the sea level any time they move. In this analogy, the ocean represents the market, and the wave represents the impact of rising or falling demand and supply on the price of a coin. The fishes, sharks, and whales represent those who buy and sell or those who hold assets.
A "whale" can affect the price of Bitcoin and other altcoins as a large buyer or seller in the traditional financial market. To that end, a "whale" refers to any large player in the market that has the potential to affect the price of an asset significantly. The investors with lots of Bitcoin are known as whales. They're the largest Bitcoin market investors, with over 5,000 BTC considered whales. But those with more than 500 BTC are the "crypto sharks" of the investment world.
Elon Musk, CEO of Tesla and SpaceX, is a South African who spent $1.5 billion on Bitcoin, and he is an excellent example to quote here. Elon Musk is apparently a Bitcoin "whale."
Bitcoin Prices Slips 5% in 24 Hours amid CPI Figures
The BTC/USD pair fell by about 5% in 24 hours. The US consumer price index for August was released and came in 0.2% higher than expected, causing the market to fall. The likelihood that the Federal Reserve will raise interest rates next week has increased to approximately 75% due to the rise in consumer prices. As a result, the already troubled risk-asset markets may be put under further strain.
The Nasdaq Composite Index is down about 4%, and the S&P 500 is down about 3%. According to Jurrien Timmer, global macro director at Fidelity Investments, there was no point in expecting a risk asset renaissance until the Fed stopped raising interest rates.
When the August CPI came in at 8.3%, higher than the projected 8.1%, BTC/USD promptly dropped. There has been an overshoot, which usually means inflation is not slowing down. However, the overshoot didn't prevent the consumer price index from growing at a slower annual rate of 0.2%. That contributed to a continuing downward trend in inflation.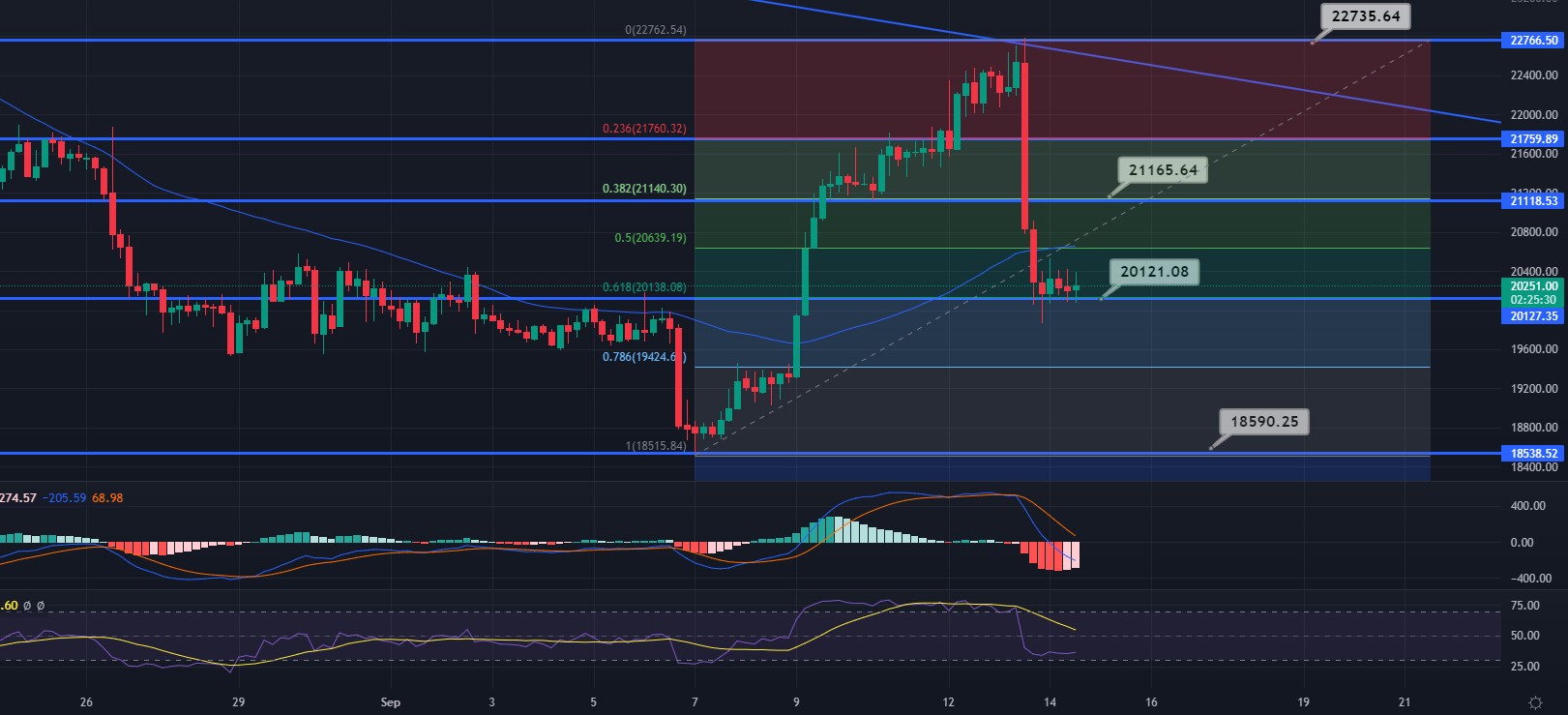 As of this writing, Bitcoin had dropped by about 5% in value, trading at roughly $20,331. As a result, Bitcoin and other risk assets began to shiver as investors piled into expecting a rate hike from the Federal Reserve next week.
Even though Bitcoin was sensitive to the Fed's decision, the price movement prevented significant losses. It was able to recover after finding substantial support at around $20,800. BTC/USD also filled the most recent CME futures gap, which occurred over the weekend and was between $21,300 and $21,500. For now, Bitcoin is likely to gain immediate support at $20,120, and a break below this can lead BTC/USD price towards the $19,450 or $18,500 level.
On the bullish side, Bitcoin's immediate resistance stays at $20,650 or $21,150.