Bitcoin Price Prediction: Why BTC Could Drive Sell-off Under $30,000?
Please note that we are not authorised to provide any investment advice. The content on this page is for information purposes only.
Bitcoin price prediction seems bearish as BTC is holding at the $30,000 support level versus the US dollar.
Bitcoin was trading at $29,993.24 and had been fluctuating between $29,000 and $31,000 for the previous four days.
Consider looking for a sell trade with a target of $25,350 or a buy trade with a target of $30,000.
The BTC/USD pair failed to stop its previous day-long declining streak and remained down around the $30,001 level. Bitcoin price prediction seems bearish as BTC is holding at the $30,000 support level versus the US dollar. To begin a decent rise, BTC needs to break through the $31,350 resistance. The Bitcoin price found support near $29,000 and began to rise again. Recently, the price broke through the $29,500 resistance zone and the 100 hourly simple moving average.
The price surpassed the $30,000 resistance level. There was a move above the 50% Fib retracement level from the swing high of $31,390 to the low of $29,060. The bulls, on the other hand, struggled to keep above the $30,500 mark, but they have failed so far. If bitcoin fails to break over the $30,600 barrier zone, it may resume its drop. On the downside, $29,650 provides immediate support. At this time, the BTC/USD is trading at 29,955.8 and consolidating in the range between 29,757.5-30,000.8.
If you're a cryptocurrency investor, you're probably curious about the future of Bitcoin. BTC is due for a bullish recovery, according to recent developments. However, a new risk in the form of a death cross has emerged, signaling the possibility of further fall. The 50-day moving average for bitcoin has just crossed below the 200-day moving average, making a death cross. The death cross on the three-day chart has traditionally resulted in a 50% downturn, according to popular crypto investor Lark Davis. If the same thing happens, Bitcoin's price could plummet again.
Bitcoin Price Review
At the time of writing, Bitcoin was trading at $29,993.24 and had been fluctuating between $29,000 and $31,000 for the previous four days. Its performance does not appear to have enough purchasing volume to propel it out of the range, leaving it vulnerable to another negative shock. Although Bitcoin has risen out of the oversold zone, the MFI remains below 20, which is in the accumulation zone but signals limited inflows. Despite rally forecasts, the death cross indicates an elevated possibility of another crash.
Spot Cryptocurrency Exchange by BitMEX
BitMEX launches a spot cryptocurrency exchange, with seven trading pairings to choose from: According to a blog post, cryptocurrency trading platform BitMEX, which previously focused primarily on derivatives, has established a spot crypto exchange, allowing consumers and institutional speculators to trade bitcoin (BTC-USD) and Ethereum (ETH-USD).
Aside from BTC and ETH, the BitMEX Spot Exchange also accepts Chainlink (LINK-USD), Uniswap (UNI-USD), Polygon (MATIC-USD), Axie Infinity (AXS-USD), and ApeCoin (APE-USD), all of which are matched against Tether, the stable coin (USDT-USD). BitMEX plans to handle more cryptos and trading pairs, including BMEX tokens, in the coming months, according to the company; this news may have a positive impact on the BTC price.
Stronger US Dollar Continues to Weight on BTC/USD
On Wednesday morning, the dollar rose in Asia. Early trading saw overnight gains in the euro and pound, excellent UK jobs data, and an overall improvement in market mood, owing to positive US retail sales data and expectations that China will lift COVID-19 lockdowns.
The US Dollar Index, which measures the greenback against a basket of other currencies, had risen 0.07 percent to 103.25. According to data, retail sales increased significantly in the United States in April 2022, with core retail sales increasing by 0.6 percent. Retail sales increased by 0.9% month over month and 8.19% yearly.
Industrial production increased by 6.4 percent year on year and 1.1 percent month on month, according to the report. Overnight, stocks rose as risk sentiment improved, and US benchmark Treasury rates rose further, recently reaching 2.98 percent. US Federal Reserve Chairman Jerome Powell also stated that the Fed would "continue to push" for tighter monetary policy until there was clear evidence of inflation slowing. As a result, the rise in the US dollar was viewed as another important factor in keeping the BTC/USD pair low.
Bitcoin Price Prediction: Daily Support and Resistance
S3 28136.2
S2 29095.1
S1 29492.8
Pivot Point 30054
R1 30451.7
R2 31012.9
R3 31971.8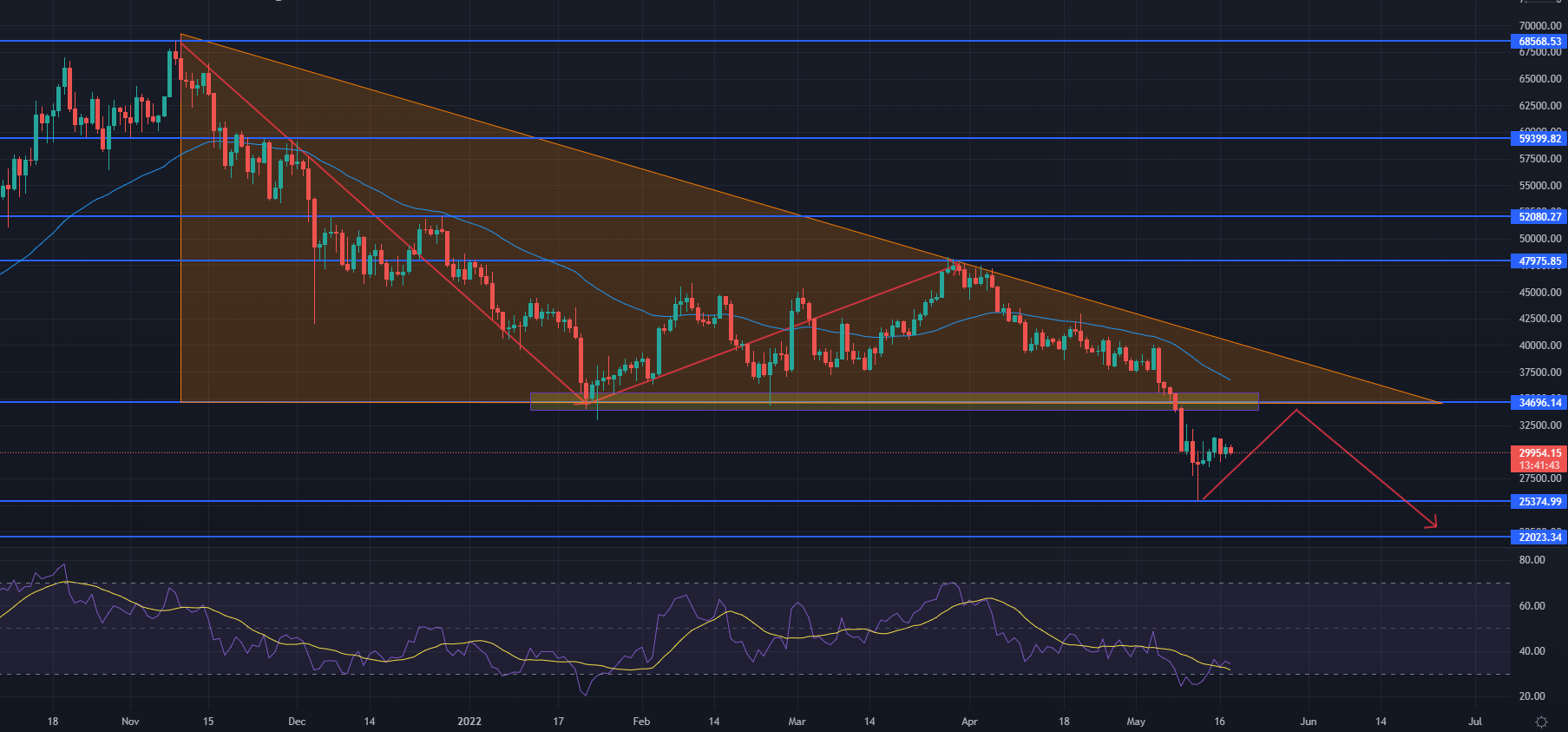 Bitcoin Price Prediction: Why $34,000 Could Drive Downtrend?
After more than three months of trading within an ascending parallel channel, the Bitcoin price has broken out. This setup is obtained using trend lines to connect the three higher lows and two higher highs formed since January 24. In contrast to the previous two retests, the third retest gradually dismantled the 200 three-day Simple Moving Average (SMA), indicating that buyers are losing control.
After a brief battle with the channel's lower trend line, BTC finally broke below it and traded around $36,431. Surprisingly, the price of Bitcoin is currently hovering around the most significant level at $34,752. A bounce off this barrier could be a catalyst for a minor uptrend that develops into an uptrend.
However, things are looking a little bleak for bulls, and a weekly candlestick close below the $34,752 psychological level will invalidate the optimism and precipitate a crash to the $30,000 psychological level.
When Bitcoin's price fell below this level in the past, it quickly recovered and closed above it. As a result, a breakdown could exacerbate selling pressure, leading to capitulation.
The primary reason for pushing BTC below the $30,000 psychological level would be to collect the liquidity. This sweep would collect the sell-stops and is most likely where the Bitcoin price will bottom. While a downturn is not guaranteed, investors should tread carefully and avoid leverage trading until the directional bias is established or a stable base is formed.
Consider looking for a sell trade with a target of $25,350 or a buy trade with a target of $30,000. Good luck!