Bitcoin Price Down by 2.2% – Time to Buy BTC Coin?
Please note that we are not authorised to provide any investment advice. The content on this page is for information purposes only.
The crypto market is currently witnessing a downtrend as major virtual currencies are trading well below their support price, including Bitcoin. But despite this lull, several investors are looking to buy BTC.
The crypto bellwether is known to make a rebound to new highs, and this presents a unique opportunity for investors to buy the premier asset and make profit when the market recovers.
BTC Price Slides Down Further Pulling The Market Along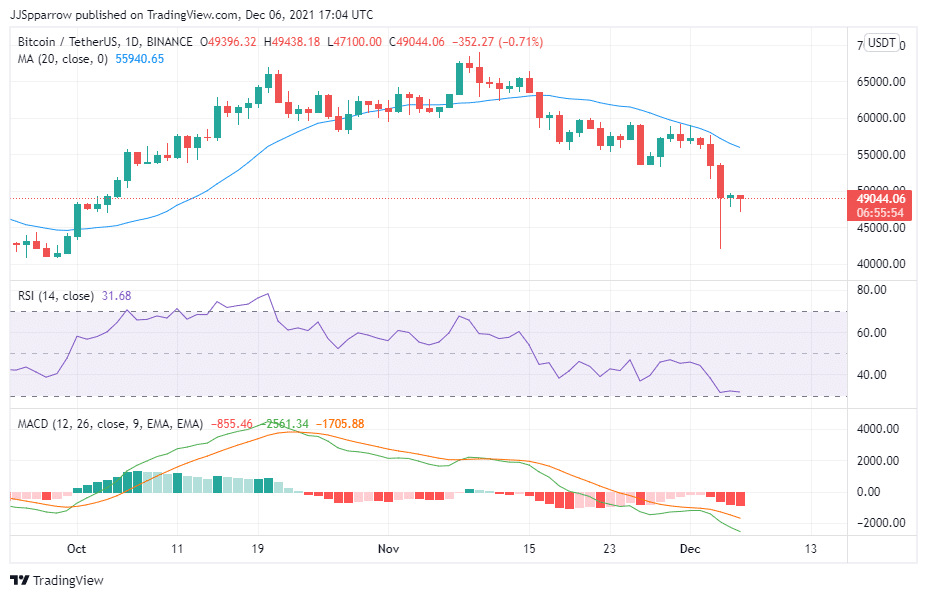 Bitcoin is currently on a bearish run, with a 2.2% decrease in the past 24 hours. At the time of writing, the price of BTC is set at $49,044.06
The premier digital asset is still maintaining the number one position in the crypto market with a market cap value of $1 trillion and a 24-hour trading volume of $35 billion, down 9.06% in the last day.
Despite these lows, Bitcoin has the unique advantage of being the first in the crypto market. Therefore, regardless of the volatility, Bitcoin is still seen as a core player in the crypto scene.
While its leverage might be gone, Bitcoin faces an uphill battle to meet and beat the price it attained when the asset hit an all-time high (ATH) of $69,044.77 on November 10. This ATH has buoyed Bitcoin despite strong bearish struggles after a major price gain.
Given this, BTC has surged 31.26% in the past six months and 69.68% year-to-date (YTD). This rise is made even more impressive with a 12-month trailing record in value of 156.05% on the upside showing remarkable growth for the decentralised currency.
Meanwhile, Bitcoin may be taking a beating, but the digital asset has continued to rebound time and time again, making it an asset for investors to buy.
Bitcoin Fundamental and Technical Analysis
Bitcoin's technical indicators point towards a bearish run in the last 24 hours, with a mid-month low of $47,281. The digital asset sits well below its 20-day Moving Average (MA) support price of $55940.65.
However, the long term indicator confirms a bullish trend as Bitcoin trades18.84% above its 200-day Moving Average (MA) support price of $46,386.01
The number one cryptocurrency has a relative strength index(RSI) of 31.68, signalling that Bitcoin is in the under bought region but moving dangerously to the oversold zone. This trend presents a good time to buy Bitcoin if you want to take advantage of the dip in price.
The moving average convergence and divergence (MACD) confirm the RSI as it portrays a bearish streak, with the orange trendline taking the lead and suggesting a strong sell signal.
Bitcoin's core value proposition still presents the foremost virtual currency as an attractive financial asset for several investors despite this temporary bearish trend.
For one, Bitcoin has strong deflationary capabilities. This feature is due to the hard-cap limit of only 21 million Bitcoins that will ever be produced, clearly ear-marking the digital asset as a great store of value.
This data has recently been brought to bear following a consumer price index (CPI) report by the United States Bureau of Labour which showed that the inflation figures were 6.2% higher for all items.
Meanwhile, the official implementation of Bitcoin as a legal tender in El Salvador has confirmed the growing adoption of the asset.
The El Salvador government has pledged to purchase Bitcoins every time the price of BTC goes down.
The president of El Salvador Nayib Bukele announced on Twitter on Saturday that the country purchased BTC 150 coins at an average price of $48,670.
Overall, the dip in Bitcoin price may be a source of panic for some, but for many, it's a rare opportunity to buy BTC for a low price and sell when the bulls come back to pasture.
Buy BTC at eToro from just $50 Now!