Bitcoin Gold Price Up By 7.10% – Time to Buy BTG?
Please note that we are not authorised to provide any investment advice. The content on this page is for information purposes only.
BTG has been on a recovery path following weeks of market downturn. Although the crypto protocol does not command a large market cap, several investors are keen to buy BTG following an 18.32% increase in the last week.
This analysis examines Bitcoin Gold, and the future growth potential that lies ahead for the Bitcoin fork.
Bitcoin Gold: Enabling Decentralized Mining Process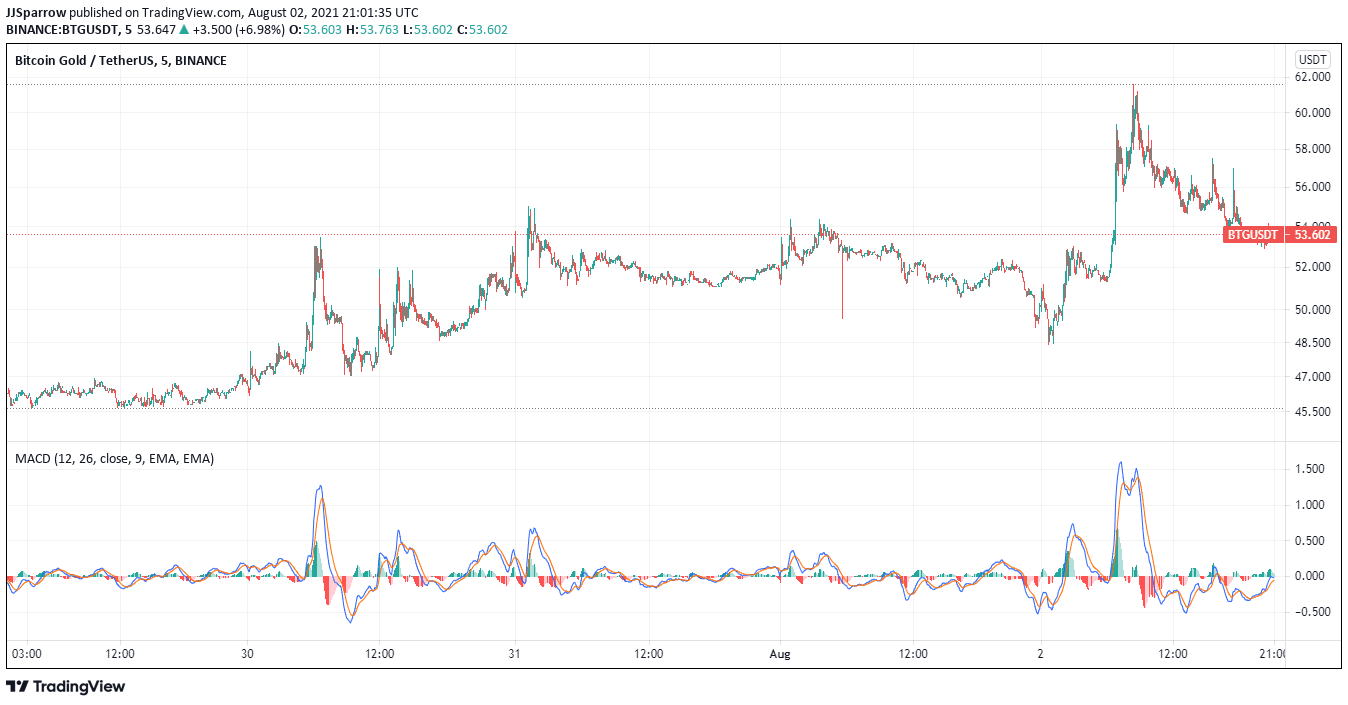 Like Bitcoin Cash, Bitcoin Gold is a fork of the popular Bitcoin network. However, its reasons for breaking away from the larger Bitcoin network are a bit queer. While crypto forks are always prompted by scalability issues or developer conflict and differences in goals, Bitcoin Gold says it wants to "make Bitcoin decentralized again."
Their argument may seem bizarre given that Bitcoin is already the decentralized blockchain network globally. The development team behind the project says that it aims to change the mining process of the Bitcoin network. The fork, which took place in Oct. 2017, saw the new group adopt a new proof-of-work (PoW) mining algorithm it dubs the Equihash-BTG.
According to Bitcoin Gold, this new protocol will dissuade specialized equipment to mine its tokens. This is meant to make it easy for standard computer hardware to mine BTG instead of major mining operations.
Aside from promulgating another mining protocol, Bitcoin Gold promotes anonymity. Unlike Bitcoin, which maintains a public ledger of all transactions on its network, Bitcoin Gold favors anonymity and does not publish transaction details or wallet addresses.
The BTG token is used for network transaction fees.
67% of all retail investor accounts lose money when trading CFDs with this provider.
BTG Price Rising With the Crypto Market
Bitcoin Gold has had to face an uncertain period like several other crypto protocols. However, it is gradually picking up steam once again as the crypto market catches some tailwinds. Is this a good time to buy BTG?
Starting the year at $8.28, BTG surged more than 200% to $113.04 on April 12 before the market correction. It subsequently dipped 2.5%, ending the month at $89.44.
It surged to a six-month high of $139.63 on May 7. However, it could not retain this price action and dipped 24 hours later to $128.76.
This volatility continued for much of May, and BTG has seen its value continue to struggle against the bearish market. Meanwhile, BTG is making a remarkable comeback at press time and is up 7.10% in the last 24 hours. It is currently trading at $55.100 and gain 0.2% in the last hour.
BTG Technical And Fundamental Analysis
BTG's current trend points to a bullish market, given that it is trading above the 20-day moving average (MA) support price of $43.353. This bull run may continue in the near term, as the crypto market recovers.
The relative strength index (RSI) is also promising, pointing to a 67.59 trendline. This is dangerously close to the overbought region. However, a strong RSI shows that many investors want to buy BTG.
Market analysts also believe that BTG has much potential. According to Wallet Investor, BTG will likely hit the $117.020 mark by the end of the year and reach $369.224 in the next five years.
BTG is also seeking to expand its community like several crypto protocols. According to a tweet, the Bitcoin Gold development recently appointed a Persian ambassador. The brand ambassador known as Pedram Kamali will cover key Middle East areas like Afghanistan, Iran, and Pakistan.