Autodesk Share Price Forecast November 2021 – Time to Buy ADSK?
Shares of computer-aided design (CAD) software-maker Autodesk (NASDAQ: ADSK) are in the red today after closing at $256.90 as of November 24th (22:51 EST). The shares have fallen despite Autodesk expectations in its fiscal third-quarter 2022 earnings report. All of this has caused some confusion among investors interested in Autodesk.
Autodesk – Technical Analysis
Autodesk's financial statement indicates a market cap of $56.48 billion with total assets worth $7.421 billion. Revenue for 2020 was $3.79 billion with a profit margin of 31.87% compared to $3.26 billion in 2019.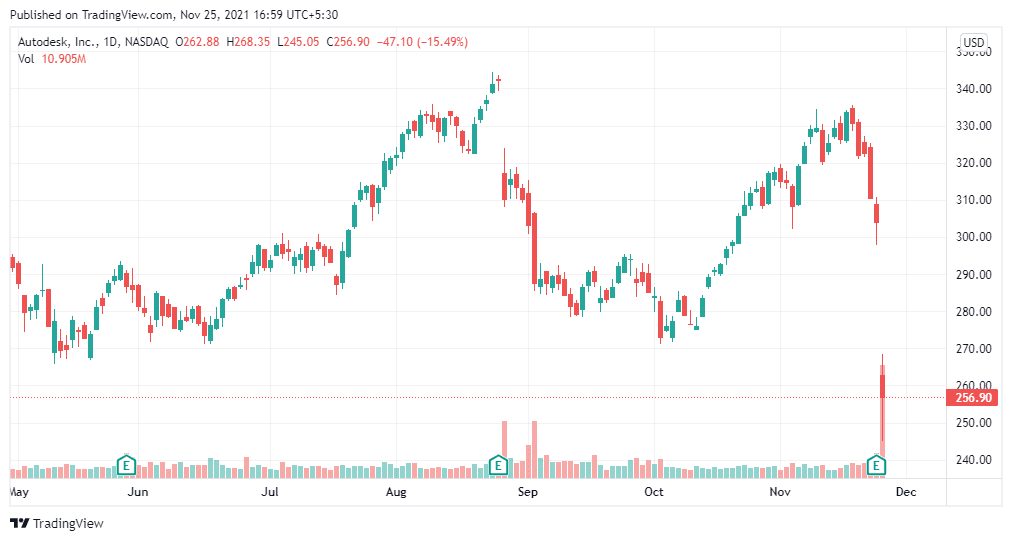 Oscillators for Autodesk such as Relative Strength Index (14)(24.13), Stochastic %K (14, 3, 3)(18.34), Commodity Channel Index (20)(−413.31) and  Average Directional Index (14)(24.71) are neutral.  On the other hand, its moving averages such as Exponential Moving Average (10)(307.53),  Simple Moving Average (10)(316.12),  Exponential Moving Average (20)( 311.41), Simple Moving Average (20)(317.83) and Exponential Moving Average (30)(310.15) are indicating a sell action.
68% of all retail investor accounts lose money when trading CFDs with this provider.
Recent Developments
Autodesk's offerings are used by almost any construction site which involves the creation of structure blueprint or rendering. It got featured recently in TechRadar's best architecture software of 2021 list where four of the eight applications were from the company. Autodesk used to sell early editions of its software that engineers or architects could use forever such as AutoCAD and Revit.  However, it has switched to a subscription model, which is creating growth. This is a great move by the company as it allows it to control how much the price will increase each year, and customers are required to oblige.
The company has revised its forecast for the January quarter for next year, as it expects revenue of $1.18 billion. Revenue for the 2nd quarter rose 16% to reach $1.1 billion. 98% of this is made up of recurring revenues, which make Autodesk a predictable business to manage. The company has plenty of room to make a profit as it has a 90% gross margin and generated $148 million in operating income and free cash flow of $186 million. Other positive metrics include a revenue retention rate of 100 to 110%, a revenue growth guidance of 19% for the fiscal year and raking in nearly $5 billion in revenue. As Autodesk trades at 46 times forward earnings, it makes it on par with the likes of Adobe. Despite not being cheap, 46 times isn't a terrible price to pay for any investor to invest in a company with predictable growth and impressive profitability.
Should You Buy ADSK Shares?
Investors should note that institutions own more than half of Autodesk which means they collectively wield significant power.  On the other hand, hedge funds do not have any significant shares in the company. Some of the institutional investors include The Vanguard Group, Inc.,  the largest shareholder with 8.0% of shares outstanding, BlackRock, Inc., the second-largest shareholder owning 7.9% of common stock, and Loomis, Sayles & Company L.P.  which holds about 4.2% of the company stock. No single shareholder has a majority interest in the company as its shareholder registry shows that the top 17 shareholders control  51%.
Insiders at Autodesk do not hold a large percentage of shares as it has a market capitalization of US$69 billion. But insiders have plenty of motivation to push the business to success as they own a combined value of $70 million.  Considering this now is the perfect time to add Autodesk shares to your portfolio.
Buy ADSK at eToro with 0% Commission Now!