Asos Share Forecast January 2022 – Time to Buy ASC?
Please note that we are not authorised to provide any investment advice. The content on this page is for information purposes only.
Shares of British online fashion and cosmetic retailer ASOS (LSE: ASC) is currently trading at 2469p at the time of writing. ASC has struggled during the latter part of 2021 with management estimating revenue growth of around 10-15% for the next financial year. There are fears around the company's profit margins which are at low levels caused by issues of labour cost inflation and other increased costs.
Asos – Technical Analysis
According to the financial statement released by Asos, the market cap of the company is at £2.507 billion with total assets worth £2.885 billion. Revenue for 2021 was at £3.91 billion with a profit margin of 3.28% compared to £3.26 billion in 2020.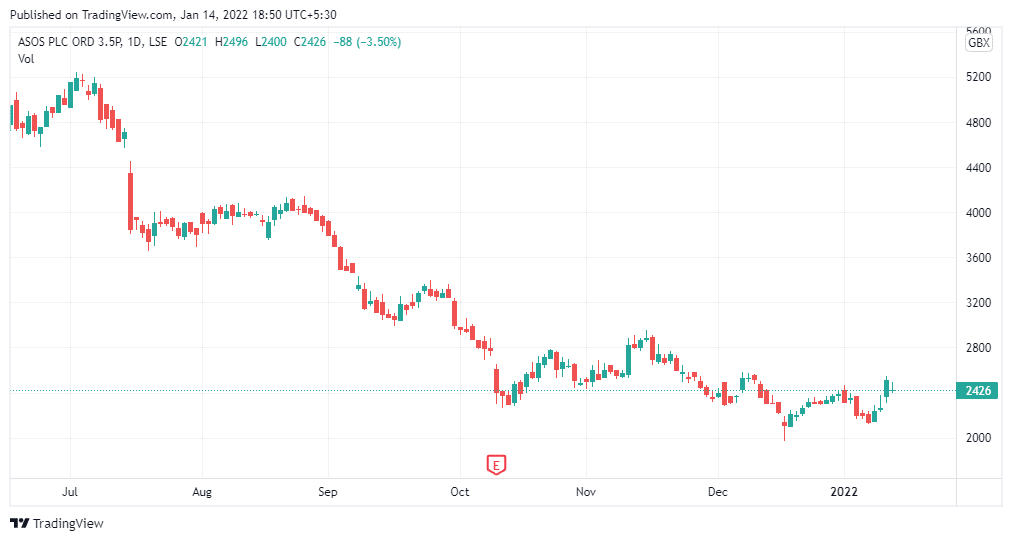 Oscillators such as Relative Strength Index (14)(56) and Stochastic %K (14, 3, 3)(70) are neutral. Moving averages such as Exponential Moving Average (10)(2331), Simple Moving Average (10)(2306), Exponential Moving Average (20)(2329), Simple Moving Average (20)(2285) and Exponential Moving Average (30)(2358) are indicating a buy action.
68% of all retail investor accounts lose money when trading CFDs with this provider.
Recent Developments
In April 2020, Asos was accused by some staff and workers unions of failing to adequately enforce preventative measures in their Grimethorpe, Barnsley site during the pandemic. The company refuted these claims and was found to be complying by the Barnsley council.
Asos' marketplace announced that it would stop charging commission rates on small business transactions to provide support through the pandemic.
Asos has had a rough 2021 with the share price down 52%. The company on the other hand has done quite well which has not been reflected in the share price. Asos completed some major acquisitions such as Topman, Topshop, Miss Selfridge, and HIIT. The combined £265 million purchase of these established brands, which generated a combined £ 1 billion in revenue in 2019.
It is possible that Asos will push £6bn in sales by 2023 thanks to the opening of a state-of-the-art warehouse in Lichfield, Staffordshire during August of 2021. There was a revenue increase by 22% with 3 million. There were new customers in the existing active customer base of 26.4 million people. Global supply chains saw a threat in 2021, with the six-day blockage of the Suez canal.
Asos management announced that they expected profits before tax in the year 2022 to be between  £110 million and £140 million. Considering that its adjusted profits before tax for 2021 were £193 million, this is no small squeeze. Investors were in for a surprise when Nick Beighton stepping down as CEO.
Beighton became the CEO from CFO in 2015 and has seen the company grow from less than 200 people to 3000 employees at the moment. He was instrumental in increasing turnover of £220m at his time of joining to £3.9bn in the year to 31 August 2021. After his exit, CFO Mathew Dunn took the additional role of a chief operating officer. Senior independent director Ian Dyson is currently still leading the search for a new CEO.
Should You Buy ASC Shares?
Many investors think Asos will slow down from a growth perspective in 2022. But the share price doesn't always reflect company performance. The shares are currently trading at 17 times earnings. The company employs a relatively low amount of debt in their operations and consistently has gross profits in excess of 45%. So you can buy ASC shares at a bargain price at the moment.
Buy ASC Stock at eToro from just $50 Now!