Apple Reportedly Restricts External AI for Employees Over Fears of Data Leaks
Please note that we are not authorised to provide any investment advice. The content on this page is for information purposes only.
The Wall Street Journal reported that Apple has restricted the use of external AI apps like ChatGPT for employees amid fears of data leaks.
Sources told the Wall Street Journal that along with AI apps, Apple has also barred the use of GitHub's Copilot which helps automate writing software codes.
The iPhone maker is concerned about a potential data leak. Notably, earlier this month, Samsung also temporarily banned the use of generative AI apps by employees after some staff uploaded sensitive data on ChatGPT.
Notably, the reports come shortly after OpenAI announced the ChatGPT app for Apple app stores and said the Android versions would follow soon.
Apple reportedly bans external AI apps for employees
Apple is also working on AI as tech companies see a big opportunity in the industry. However, there are concerns – including those related to data privacy and fraud.
Apple CEO Tim Cook alluded to AI risks during the company's earnings call for the fiscal second quarter of 2023 earlier this month.
Cook said, "I do think it's very important to be deliberate and thoughtful in how you approach these things."
He added, "And there's a number of issues that need to be sorted as is being talked about in a number of different places, but the potential is certainly very interesting."
Apple beat fiscal second-quarter earnings estimates
Apple reported revenues of $94.8 billion in the quarter that ended April 1. While the sales fell 3% YoY making it the second consecutive quarter of decline – they were ahead of the $92.96 billion that analysts expected.
Looking at the business segments, iPhone sales came in at $51.3 billion which is higher than the $50.5 billion in the corresponding quarter last year. The metric was significantly higher than the $48.84 billion that analysts were expecting.
iPhone sales held off relatively well in the March quarter and fell to 58 million units as compared to 59 million units in the corresponding quarter last year.
In contrast, data compiled by Counterpoint Research showed that global smartphone shipments tumbled 14% YoY in the first quarter of 2023 – with Apple's shipments falling the least among all major companies.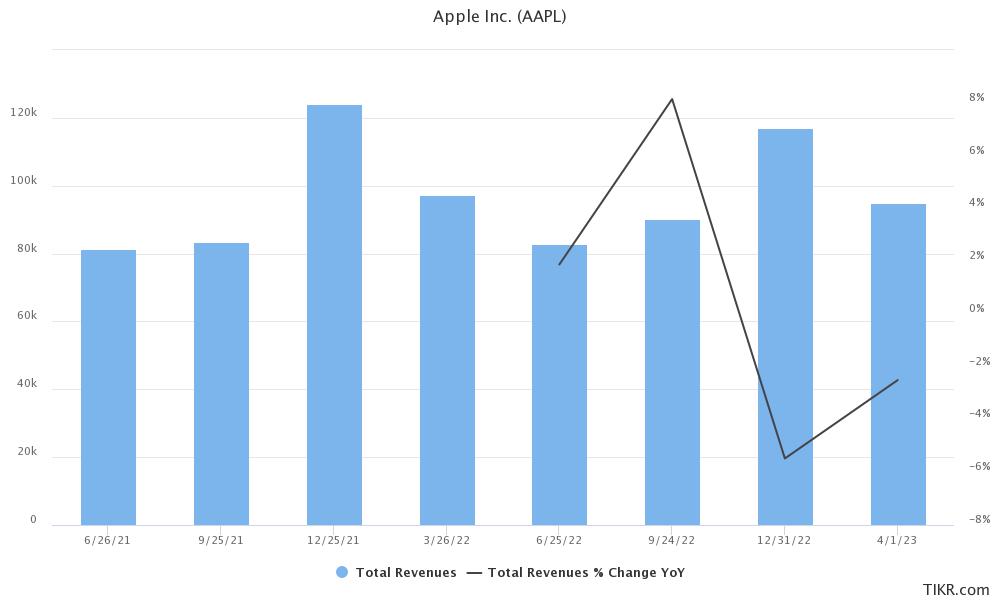 AAPL is diversifying its supply chain
Apple is diversifying its supply chain and sees India as a key sourcing destination. Notably, over the last month, Foxconn – which is Apple's biggest contract manufacturer – has committed millions of dollars to expand its footprint in India.
During the fiscal second-quarter earnings call, responding to a question on shifting supplies from China, Cook said, "We're investing in the U.S. We're investing in a number of other countries as well. And so, we make products everywhere."
he added, "We'll continue to invest everywhere. And we'll continue to look for ways to optimize the supply chain based on what we learn each and every day and week and so forth to ensure that we can deliver the best products and services for our customers."
Calls for AI regulations are rising
Meanwhile, Apple restricting the use of external AI apps like ChatGPT does not come as a surprise as several companies including JPMorgan Chase have restricted employees from using the app.
Also, even countries are looking at ways to regulate AI. In the US, OpenAI CEO Sam Altman testified before the Senate earlier this week over risks associated with AI.
UK's competition watchdog has also launched an initial investigation into AI – while the EU is looking at announcing comprehensive AI regulations later this year.
That said, Goldman Sachs believes that AI could lift S&P 500 earnings by 30% or more over the next decade.
Not all are convinced about AI though and Berkshire Hathaway vice chairman Charlie Munger sees it as a "hype."
Berkshire Hathaway is the second largest Apple stockholder and the conglomerate added more shares last year.
Warren Buffett on Apple
During Berkshire's annual meeting earlier this month, Buffett yet again praised Apple and said it's the "better business" than any other that Berkshire holds.
He added, "Apple has a position with consumers where they're paying 1,500 bucks or whatever it may be for a phone. And the same people pay $35,000 for having a second car, and [if] they had to give up a second car or give up their iPhone, they give up their second car. I mean, it's an extraordinary product. We don't have anything like that that we owned 100% of, but we're very, very happy to have 5.6 or whatever-it-may-be percent, and we're delighted every 10th of a percent that goes up."
He also regreted selling some shares a couple of years ago.