Alibaba Stock Drifts Towards 52-Week Lows After Shelving IPO of Cloud Segment
Please note that we are not authorised to provide any investment advice. The content on this page is for information purposes only.
Alibaba (NYSE: BABA) stock which fell over 9% yesterday is trading lower in US price action today also and drifting towards its 52-week lows after it spooked markets by shelving the IPO plans of its cloud divisions.
In March, the Chinese tech giant announced a business restructuring and said that it would become a holding company while splitting into the following six business units – all of which have the ability to consider capital raising and separate listings.
Cainiao Smart Logistics which holds Alibaba's logistics business.
Taobao Tmall Commerce Group which has Alibaba's online shopping platforms like Tmall and Taobao.
Global Digital Commerce Group which houses the company's international e-commerce operations including AliExpress.
Cloud Intelligence Group which would include the company's lucrative cloud and AI business.
Local Services Group which is the company's food delivery and mapping businesses.
Digital Media and Entertainment Group which houses the company's streaming operations.
It also looking to list its cloud business and in September it said that it would spin off its logistics arm Cainiao Smart Logistics Network Ltd listing it in Hong Kong.
Alibaba Scraps Plan to List the Cloud Business
Meanwhile, while releasing its fiscal Q2 2024 earnings, Alibaba said that it has scrapped plans to list the cloud business "in light of uncertainties created by recent U.S. export restrictions on advanced computing chips. Instead, we will focus on developing a sustainable growth model based on emerging AI-driven demand for networked and highly scaled cloud computing services."
Notably, the US has banned the exports of high-end chips to China which might hamper the AI ambitions of Chinese tech companies.
During the earnings call, Alibaba said, "when we announced the full spin-off, we were looking at a way to sort of a financial engineering way to show the value of the business." It however added, "But the circumstances have changed. And right now, rather than focus on financial engineering, we rather focus on figuring out how to grow the cloud business."
Cainiao IPO plan on track
Meanwhile, Alibaba said that plans to list Cainiao are on track even as it emphasized: "while the success of an IPO transaction is subject to market conditions and relevant approvals, we're confident of the business fundamentals of our logistics unit."
Notably, Hong Kong-listed shares have sagged this year and have underperformed other major markets amid the turmoil in Chinese property markets.
Meanwhile, the scrapping of Cloud Intelligence Group's IPO was a dampener for markets as analysts were expecting the business to be valued between $41 billion to $60 billion – for context, Alibaba's current market cap is just around $200 billion.
Alibaba to pay dividends
Alibaba said that it generated free cash flows of $27 billion in the last 12 months and had around $63 billion in cash and cash equivalents on the balance sheet at the end of September. It stressed, "Alibaba has never been in a better financial position to invest for the growth of our businesses."
Meanwhile, the company also initiated a dividend of $1 per ADS (American Depository Share) which would mean a cash outflow of around $2.5 billion, and noted that it has another $13 billion available under its share buyback plan. However, the company ruled out a special dividend to lower the cash on the balance sheet.
It said, "Our priority in cash deployment in the following order: firstly, in innovation for growth; secondly, reduce total shares outstanding to achieve accretive earnings per share through stock repurchases; and three, reward long-term investors via an annual dividend."
As part of the capital management exercise, Alibaba is also looking to monetize its non-core assets. It said, "Our balance sheet carries USD 67 billion in equity, securities and other investments as well as investment in equity method investees. In addition, we have operating businesses that tie up capital but generate low growth. Not all of these investments are core to — not all of these investments are core or strategic to our business. We are evaluating creative ways to monetize the value of these assets in order to return value to shareholders."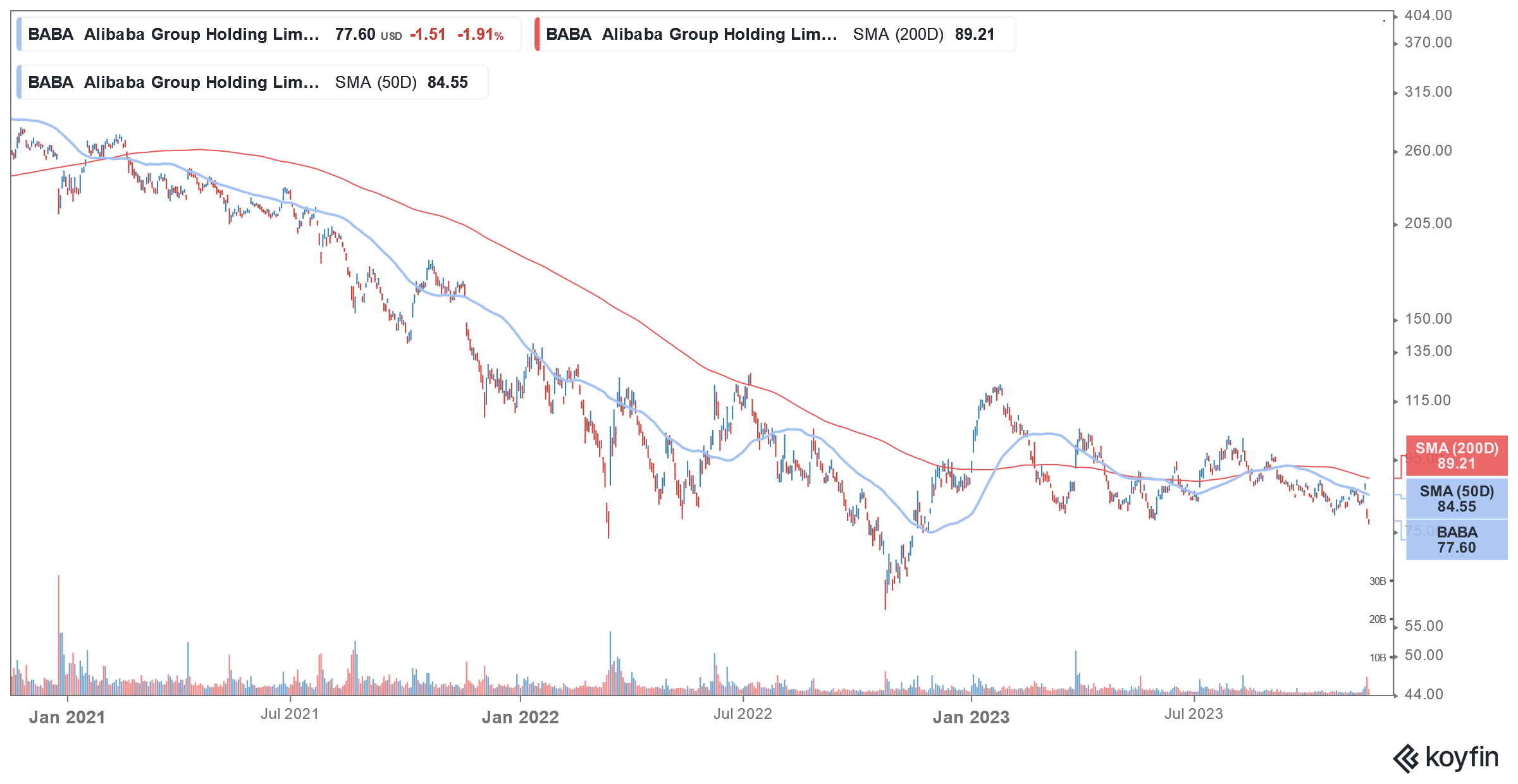 Jack Ma would continue to hold Alibaba shares
Meanwhile, even as Alibaba's market cap fell by around $21 billion yesterday and some reports suggested that the company's cofounder Jack Ma is looking to trim his stake, his office clarified that he hasn't sold any shares despite a "preset conditional plan to do a partial sell-down for the future."
His office clarified, "We believe the current stock price is below its fair value." Last year, BABA stock hit its all-time low amid China's controversial zero-COVID policy and the rising US-China tensions.
Many US fund managers now find Chinese stocks "uninvestable" after the tech crackdown. Cathie Wood of ARK Invest is among those who sold off Chinese stocks in 2021 amid the tech crackdown.
Wall Street trims Alibaba's target price after scrapping of cloud IPO
Meanwhile, after Alibaba announced the scrapping of the IPO of its Cloud business, several analysts lowered the stock's target price. Morgan Stanley for instance lowered its target price from $150 to $110 while removing it as a top pick.
Kevin Net, head of Asian equities at Tocqueville Finance said that he was "taken aback" by the announcement and added, "My initial thoughts are that the whole corporate restructuring announced in May could be at risk."
Notably, BABA shares had soared after the company announced the restructuring in March so the reversal in stock price following the scrapping of cloud IPO is understandable.
According to Willer Chen, research analyst at Forsyth Barr Asia. "The first annual dividend looks like a compensation to shareholders. However, it may not fully offset the shock given the higher value of cloud unit."
Meanwhile, Alibaba is also battling slowing growth in China and while its revenues in the September quarter rose 9% YoY and were in line with estimates, it missed bottomline estimates.
China's economic rebound this year hasn't been to the scale that economists were expecting and even the sales at this year's annual 11:11 Chinese shopping holiday were tepid as compared to what we have seen historically.