Alibaba Stock Down 19% in July – Time to Buy BABA Stock?
Please note that we are not authorised to provide any investment advice. The content on this page is for information purposes only.
Alibaba stock is down 19% so far in July as negative momentum for Chinese stocks has accelerated on the back of the latest hostile regulations applied to private tutoring companies in the country.
With the stock trading 42.5% below its 52-week high of $320 per share, is the valuation attractive enough at the moment to justify the risk of entering a long position in this current environment? The following article takes a closer look at Alibaba's fundamentals and technical setup to see if the margin of safety is large enough to justify an investment in this Chinese e-commerce giant.
67% of all retail investor accounts lose money when trading CFDs with this provider.
Alibaba Stock – Technical Analysis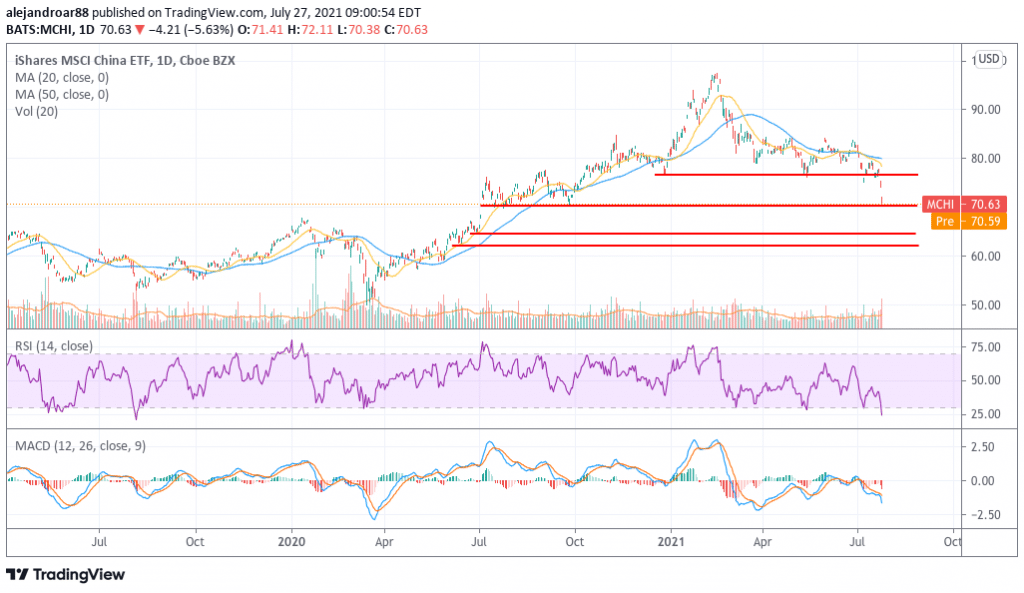 The price of Alibaba stock has broken below an important area of support found at the $190 level while it could now be heading to retest its March 2020 lows. It seems that market participants are being fairly pessimistic about the firm's future as a result of the hostile attitude that Xi Jinping's administration has adopted toward multiple large companies in the country and that could result in significant short-term losses.
If the stock moves to its March lows of $170 per share, that would result in a total downside risk of 7%. Meanwhile, momentum readings are fairly depressed, with the Relative Strength Index (RSI) plunging to its lowest levels since May this year while approaching the lows seen in December only a month after the founder of the company, Jack Ma, disappeared after the suspension of the Ant Group initial public offering (IPO).
Trading volumes in the past three days show that a significant selling spree has taken place, with volumes exceeding the 10-day average on each occasion while yesterday has been perhaps the worst of the three as 55.7 million shares exchanged hands – more than 3 times the daily average.
The short-term outlook remains bearish for Alibaba but a technical rebound could be expected in the following days as the selling may have already gone too far as per the firm's fundamentals.
Alibaba Stock – Fundamental Analysis
Alibaba's total revenues have more than tripled in the past four years, moving from $37.8 billion back in 2017 to $106 billion by the end of last year as online shopping volumes have exploded. Meanwhile, the firm managed to reverse the latest downtrend in its revenue growth rates last year on the back of the pandemic tailwind.
Gross margins for Alibaba, however, have been deteriorating, moving from 57.6% back in 2018 to 41.3% by the end of last year. Moreover, the company's EBITDA and net margins have also been suffering as they have declined from 37% to 18% and from 26% to 21% respectively during that same period.
By the end of last year, diluted GAAP earnings per share landed at $8 per share and they have been growing at an average rate of 45% in the past three years. Moving forward, analysts are expecting to see earnings growing at a slower pace of around 25% per year and this makes the stock quite attractive at its current forward P/E multiple of 21.
Meanwhile, Alibaba's balance sheet is quite robust, with the company reportedly holding $73.8 billion in cash and equivalents by the end of its last fiscal year that fully cover its long-term debt of $25 billion.
Based on the company's outstanding track record of revenue and profitability growth and its currently depressed valuation, the margin of safety for this stock at its current levels is at least 30%.
Despite the presence of these political and regulatory risks, it seems highly unlikely that China will adopt a similar stand toward e-commerce businesses as it did with private tutoring companies – which is perhaps the biggest fear at the moment.
It would be more plausible to expect that the country will increase the level of oversight applicable to tech companies while it could force Alibaba to spin off some of its units as a result of anti-trust concerns.
If that happens, the bullish case for Alibaba would remain intact as the company has proven its ability to grow its top and bottom-line results at a pace that makes the current valuation multiples seem too conservative.
However, for those who may decide to take a long position on the company at the moment, it might take some time for the stock to climb back to its previous highs as the market will need more information about the extent to which regulators are willing to intervene.
Buy Stocks at Cedar FX, the World's #1 trading platform!