Airbnb Stock Up 4% in August – Time to Buy ABNB Stock?
Please note that we are not authorised to provide any investment advice. The content on this page is for information purposes only.
The price of Airbnb stock has gone up almost 4% since August started as the firm is heading to report its financial results covering the second quarter of the year next week.
Even though Airbnb stock has recovered after bottoming at around $130 per share, the price remains trading well below its 52-week high as the pandemic situation continues to take a toll on tourism businesses.
Could this be an opportunity to buy Airbnb shares at a point when it is trading 32% below its all-time high? In this article, I'll take a closer look at the firm's fundamentals and most recent price action to possibly answer that question.
67% of all retail investor accounts lose money when trading CFDs with this provider.
Airbnb Stock – Technical Analysis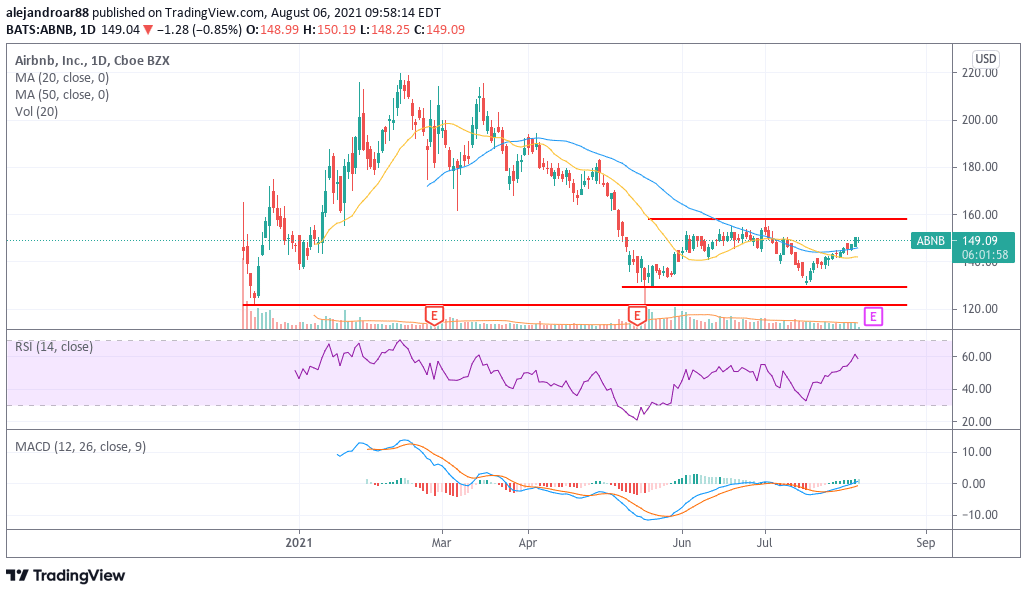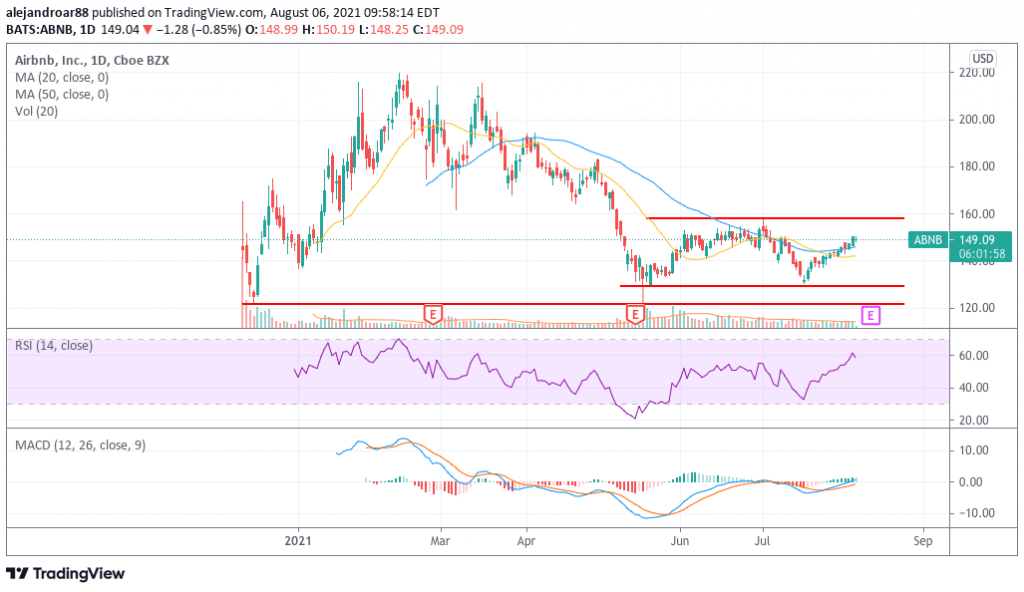 The price of Airbnb stock has bounced strongly off the $130 level in the past few weeks, with this move resulting in the confirmation of a double-bottom pattern for the shares. However, the stock will be soon facing an important resistance at $158 that would possibly determine the direction of the price action moving forward.
Momentum oscillators at the moment point to a bullish short-term outlook for Airbnb ahead of the release of its earnings report, with the Relative Strength Index (RSI) already reversing its latest downtrend while the MACD has just emerged to positive territory for the first time in months.
Meanwhile, the stock has broken above its short-term moving averages – a sign that the tide is turning in favor of bulls – while volumes remain fairly closer to the 10-day average – which points to increased buying interest toward the issue.
Based on these readings, the outlook for Airbnb looks bullish and it is highly likely that this latest uptrend will move to tag the $158 resistance, which would result in a 5.3% short-term upside potential for ABNB stock.
Moving forward, Airbnb's quarterly results will be a key driver for the firm's future price action and the key levels of support to watch would be $130 and $121 in case the stock reverses its upward course as a result of a disappointing quarterly report.
Airbnb Stock – Fundamental Analysis
Before the pandemic stroked, Airbnb was managing to grow its top-line results at an accelerated pace, moving from $919 million back in 2015 to $4.8 billion by the end of 2020 at a 51% compounded annual growth rate (CAGR).
During that same period, gross margins for the firm have been fairly stable at around 75% while operating losses were progressively trimmed from 2015 to 2018 when the firm reported an operating profit of $18.7 million, but then they slid to minus $501 million in 2019 while losses accelerated to $3.59 billion by the end of 2020 as a result of a surge in stock-based compensation expenditures associated with Airbnb's initial public offering (IPO).
However, the company's adjusted EBITDA stood fairly flat by the end of 2020 compared to a year ago despite these higher losses, landing at minus $250 million compared to the negative $253 million the company had reported in 2019.
Airbnb did not provide guidance for 2021 citing the significant uncertainty caused by the virus situation as the primary cause for this decision. As a result, analysts' forecasts for Airbnb are fairly disperse, going from $3.4 billion to $6.3 billion for 2021, while earnings per share for the firm are expected to land in a range between minus $3.74 and minus $0.96.
If Airbnb manages to produce revenues of $5.5 billion – which is the consensus estimate for this year – that would result in a 14.5% jump compared to 2019 and a 63% advance compared to last year due to the lower comparative baseline.
At its current price of $148.8 per share, Airbnb is being valued at $92 billion or 16.7 times the firm's forecasted sales for 2021.
The company's solvency is fairly robust as it only has around $2.3 billion in long-term debt on assets of $12.4 billion including $6.6 billion in cash. This debt includes $2 billion in a 0% convertible issue that should have zero effect on the firm's earnings-generation capacity.
Since Airbnb has struggled to deliver profits for investors regardless of its impressive top-line growth, valuing the company at the moment is fairly complicated and would primarily involve assigning a value to its user base, online platform, and other intangible assets.
Based on how other industry-disruptive services are being valued, the current forward P/S multiple is not necessarily unrealistic but it does open the door for a lot of volatility in the stock price as market participants struggle to estimate the intrinsic value of the firm.
At the moment, the consensus price target for Airbnb is $170 with the lowest estimate sitting at $120 and the highest at $210 – a wide range that points to Wall Street's diverging views about the value of the company.
Meanwhile, 17 out of 35 analysts currently covering the stock are bullish while two hold a sell rating for Airbnb stock as per data compiled by Seeking Alpha.
Buy Stocks at Cedar FX, the World's #1 trading platform!