Advanced Micro Devices Stock Up 4% in January – Time to Buy AMD Stock?
Please note that we are not authorised to provide any investment advice. The content on this page is for information purposes only.
The price of Advanced Micro Devices stock has started the year positively as it has surged 4% so far in January following some upbeat forecasts about the semiconductors industry for 2022.
A report from Euler Hermes released on 3 January stated that semiconductors sales in 2022 are poised to experience a 9% jump.
Higher prices resulting from the ongoing chip shortage crisis are favoring a positive outlook for semiconductor companies in 2022.
In this regard, Citigroup analyst Christopher Danely stated: "We believe pricing will continue to drive upside due to the extended lead times". Meanwhile, Goldman Sachs said that AMD stock was among its top semiconductor picks for 2022.
A pad on the back from analysts seems to be explaining the latest recovery in the price of AMD stock following the stock's decline back in December.
What could be expected from this semiconductor stock in this new year considering the many tailwinds that have been lifting its performance lately? In this article, I'll be assessing the price action and fundamentals of Advanced Micro Devices stock to outline plausible scenarios for the future.
67% of all retail investor accounts lose money when trading CFDs with this provider.
Advanced Micro Devices Stock – Technical Analysis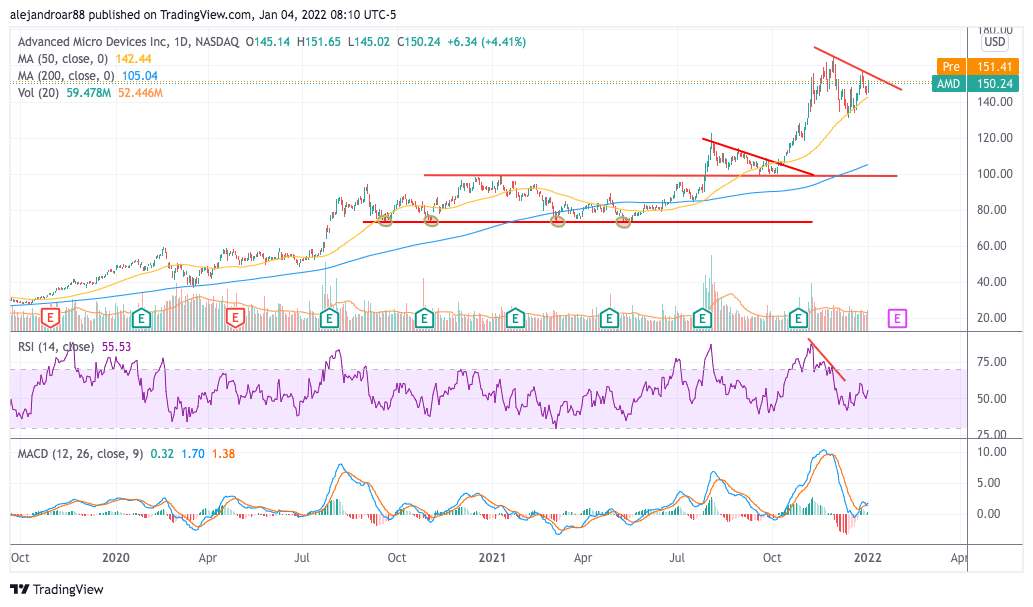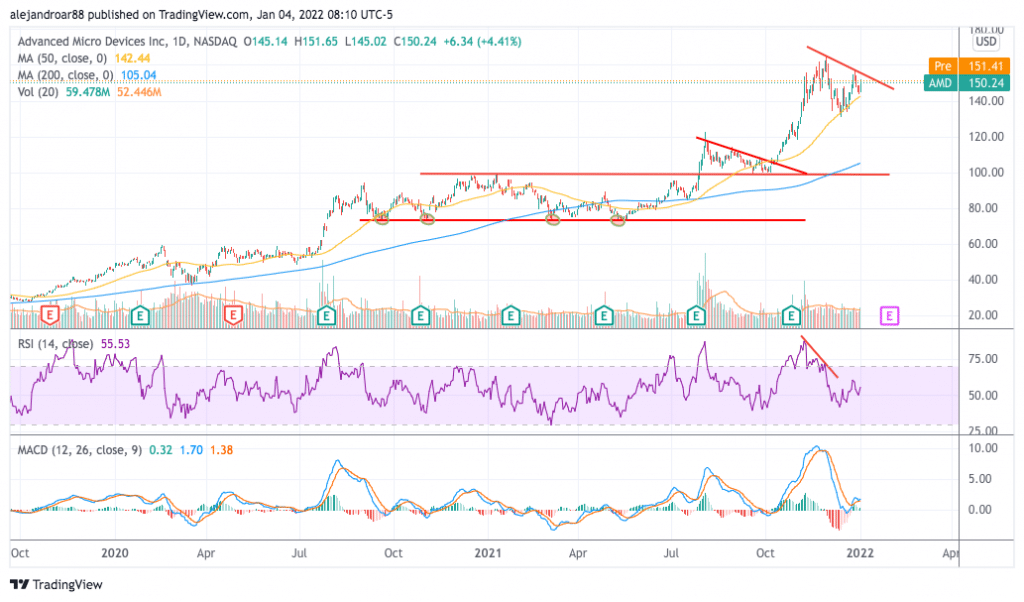 Back in late November when I last wrote about AMD, I highlighted that a bearish divergence emerged following the pronounced uptick that the stock experienced on the back of news that the company was manufacturing chips for Facebook (FB) – now known as Meta.
The divergence played out as expected as the price went on to decline nearly 15% in the weeks that followed while finding support at the 50-day simple moving average on multiple occasions.
However, this late-December recovery did not manage to make a higher high and that is favoring a neutral-to-bearish outlook for AMD stock.
Momentum indicators have declined significantly starting with the Relative Strength Index (RSI) which stands at 55.5 after peaking at 84 in November while the MACD has dived to 1.7 after rising above the 10 level back then as well.
Even though these indicators have faced a dramatic drop, they are not yet supporting a full-blown bearish outlook for Advanced Micro Devices stock.
Moving forward, the 50-day simple moving average remains the most important support to watch. A decline below this marker could lead to a drop toward the 200-day simple moving average – which is currently standing at $105 per share.
On the other hand, if the stock manages to climb above the $160 level on the back of these latest positive news, the outlook would turn bullish as the current downtrend will be reversed.
Advanced Micro Devices Stock – Fundamental Analysis
Multiple sources have stated that the global chip shortage could last until the end of this year or even spill over to the beginning of 2023 and this supports a bullish outlook for AMD from a fundamental perspective as the firm will retain its pricing power for what remains of the year at least.
Analysts' forecasts for the firm are favoring this view as revenues are expected to experience a 19% jump compared to this year's forecasted figure.
Meanwhile, the company's track record before the pandemic started was already quite positive as sales grew from $4.3 billion in 2016 to $6.7 billion by the end of 2019.
Operating margins have been evolving positively as well moving from minus 9% back then to 20.5% in the past twelve months as higher business volumes have allowed AMD to produce positive bottom-line results.
In 2019, diluted earnings per share stood at $0.3 per share and this figure is expected to land at $2.64 in 2021 and $3.32 per share by the end of this year. Based on this last estimate, the stock is trading at a forward P/E ratio of 45x.
AMD has taken advantage of its positive financial performance in the past few quarters to reduce its long-term debt to zero while the company could be on track to produce at least $3.2 billion in free cash flows this year.
Considering the temporary nature of the tailwind that is currently enhancing the performance of the company, the risk of a downturn in the mid to long-term is rather elevated and the valuation at the moment seems stretched from a fundamental perspective.
With this in mind, investors should proceed with caution if they are considering buying AMD stock at its current levels as the market seems to have priced most of the short-term upside already. This increases the stock's downside risks and creates the perfect scenario for a decline if (and when) news about an improvement in the industry's conditions start to come in.
Buy AMD Stock at eToro with 0% Commission Now!