Aave Price Up By 8% – Time To Buy AAVE?
Decentralized finance (DeFi) has boomed in the last few months. This has been due to its innovative way of providing financial services through smart contracts without relying on any central authority.
One of the most prominent is the non-custodial Aave protocol, enabling users to earn interests on deposits and borrow digital assets. With the Aave blockchain platform dominating 15.68% of the fast-rising DeFi market space, could this be a great time to buy AAVE?
Aave: Top DeFi Dog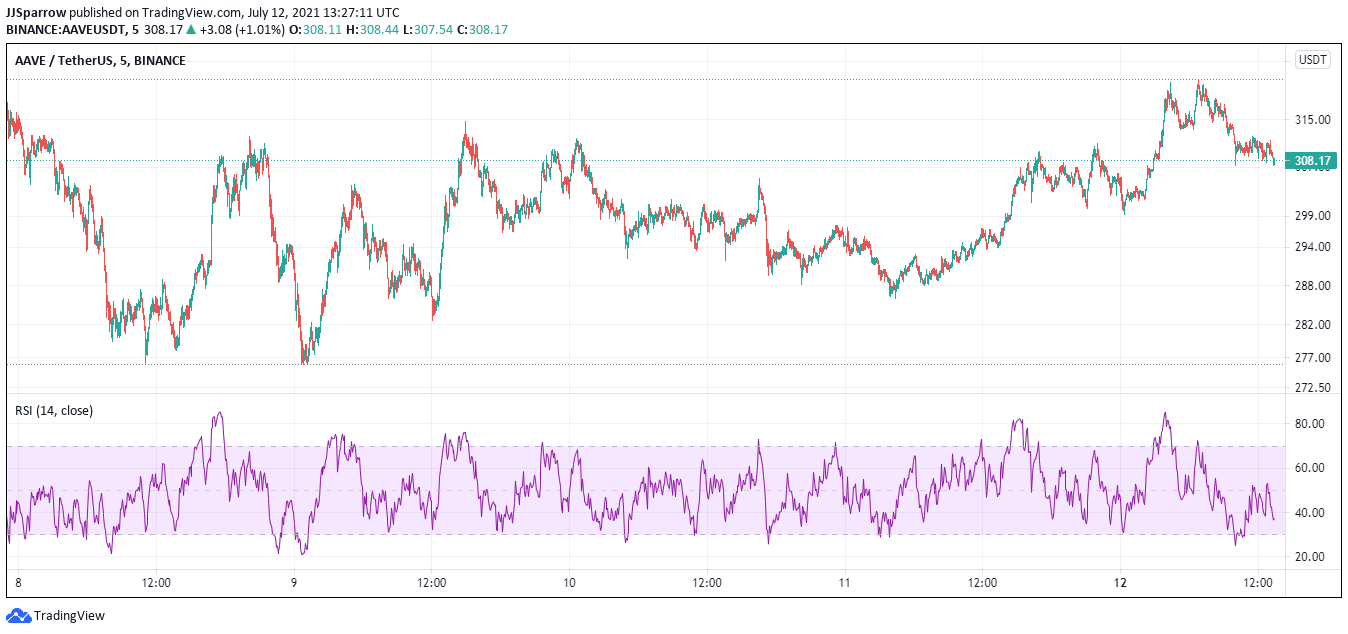 DeFi is a nascent industry, with the sub-sector becoming a major hit in 2020. However, the nascent space has received immense interest and posted impressive returns.
Unlike the traditional financial space, DeFi provides financial services on a public decentralized blockchain network, promoting financial inclusion and cutting out intermediaries like banks and brokerages. It also cuts out demographic difficulty making it possible for anyone to participate from anywhere in the world. Another remarkable attribute is that DeFi does not require any form of identification before you can make use of the platform.
Aave blockchain is one of such protocols, and it enables users to earn interest when they provide liquidity in any of its several liquidity pools. Borrowers can also use their crypto assets as collateral to borrow from these liquidity pools through a flash loan.
Aave provides a platform where lenders and borrowers can easily negotiate terms without needing a third party. This is great as both can easily save on the extra cost the presence of an intermediary may incur.
Launched in 2017 as ETHLend, Aave is one of the first DeFi protocols and allows users access to over 20 digital assets, including ETH, USDC, USDT, MANA, MKR, and several others.
To hedge against overborrowing and volatility, each pool on the Aave blockchain sets aside a certain percentage of the reserves as a hedge. This also enables a lender to withdraw their funds at any time without having to wait for a particular period.
Another major plus of using the Aave protocol is that users choose between fixed and variable interest rates. AAVE is the native token of the lending protocols, and token holders enjoy discounted fees while using the platform. It also serves as the governance token.
67% of all retail investor accounts lose money when trading CFDs with this provider.
AAVE: Rallying With The Market
The crypto market has seen much volatility in the last two months, but it seems like the bulls are coming home for pasture. Occupying the 27th position on the global most valuable crypto ranking chart, AAVE is also rallying with the broader cryptocurrency market. It has over $4 billion in market cap, and its 24-hour trading volume is up 50.30%.
At press time, AAVE is trading at $316.52, up 8.31% on the daily trading chart. This rally has seen more crypto investors want to buy AAVE.
But this has not been a smooth sail for the top DeFi token. Coming into the year at $88.14, AAVE traded at $512 on Feb. 10, increasing more than 5,000% in just one month. But this was just a shadow of what is to come.
AAVE token surged to an all-time high (ATH) of $651.72 on May 18. However, it could not sustain this parabolic rise due to market pressures orchestrated by the slump in Bitcoin price. It subsequently fell to a mid-year low of $176.72 on June 22. However, it has traded more than 50% higher than its opening year trade on Jan. 1.
July has been a month of recovery for the broader crypto market and AAVE, which has grown 40% from its previous low, and this has seen more investors buy AAVE.
AAVE Technical And Fundamental Analysis
On the trading chart, the digital asset is trading above the 20-day moving average (MA) support price of $257.86. Its relative strength index (RSI) is 58.17, indicating it is above the oversold region and below the overbought level.
Market analysts are also rooting for the crypto asset, with Wallet Investor predicting that it will surge to $843.501 by the end of the year. The five-year forecast puts the token at $3086.280.
The Aave protocol is also seeing growing adoption with popular Bitcoin ATM operator CoinFlip providing support for the ERC-20 token across its 2,500 Bitcoin ATMs spread across the US.
In addition, the crypto protocol is planning to launch a permissioned blockchain platform to attract institutional interests. Made known in a webinar, CEO Stani Kulechov said that this step was pre-empted by huge demand for the services.
This new service rollout will see corporate giants earn 2.1 to 3.2% in rewards with little risk.
Also, Aave is launching the first crypto-centered retirement account with iTrustCapital, which will see users fund their retirement account with their crypto holdings. Named Crypto IRA/401K, users will be exposed to several crypto assets and hold physical gold in their retirement account.
Buy Crypto at eToro, the World's #1 trading platform!