5 Undervalued Shares to Buy for June 2021 – Good Time to Buy Shares?
It is as good a time as any to make investments in the stock market. Several sectors of the economy are bouncing back from the coronavirus pandemic, and the top companies in these sectors are setting themselves up for big gains. However, investors will also want to capitalize on current market trends to maximize their earnings.
As it always is, the top rule of stock trading is to buy low and sell high. Investors spend a significant amount of time working on how best to maximize their returns, and one of the best ways to do so is to find undervalued shares and invest in them before they take off. This act is known as value or growth investing.
Of course, the concept of undervalued shares can mean different things to different investors. Two investors with unique strategies can examine a single equity and interpret its valuation differently. On one hand, an undervalued stock can be one that has been sold off due to an overreaction to an earnings report. On the flip side, an undervalued stock could just be one with a lot of unrealized potential.
Either way, the goal of undervaluation is to show that a stock's current price doesn't accurately capture its true valuation. Whatever the interpretation, undervalued shares are those whose values have significant room to grow.
With that in mind, the current stock trading landscape is filled with several undervalued shares. We've compiled a few of them, providing investors with an opportunity to make sizable returns.
1. VIACOM/CBS (NYSE: VIAC)
ViacomCBS is one of the most popular media and entertainment companies in the world. The company has a sprawling media empire, with the CBC Television Network being its crown jewel.
The primary undervaluation for VIAC came in January when ViacomCBS got caught up in the Archegos Capital Management margin call. For the first part of the year, several investment banks handling trades for the hedge fund sold some of its positions in ViacomCBS. The firesale, which occurred in March, created a dip in the company's stock, causing it to plummet from a high of $101.44 to $39.78.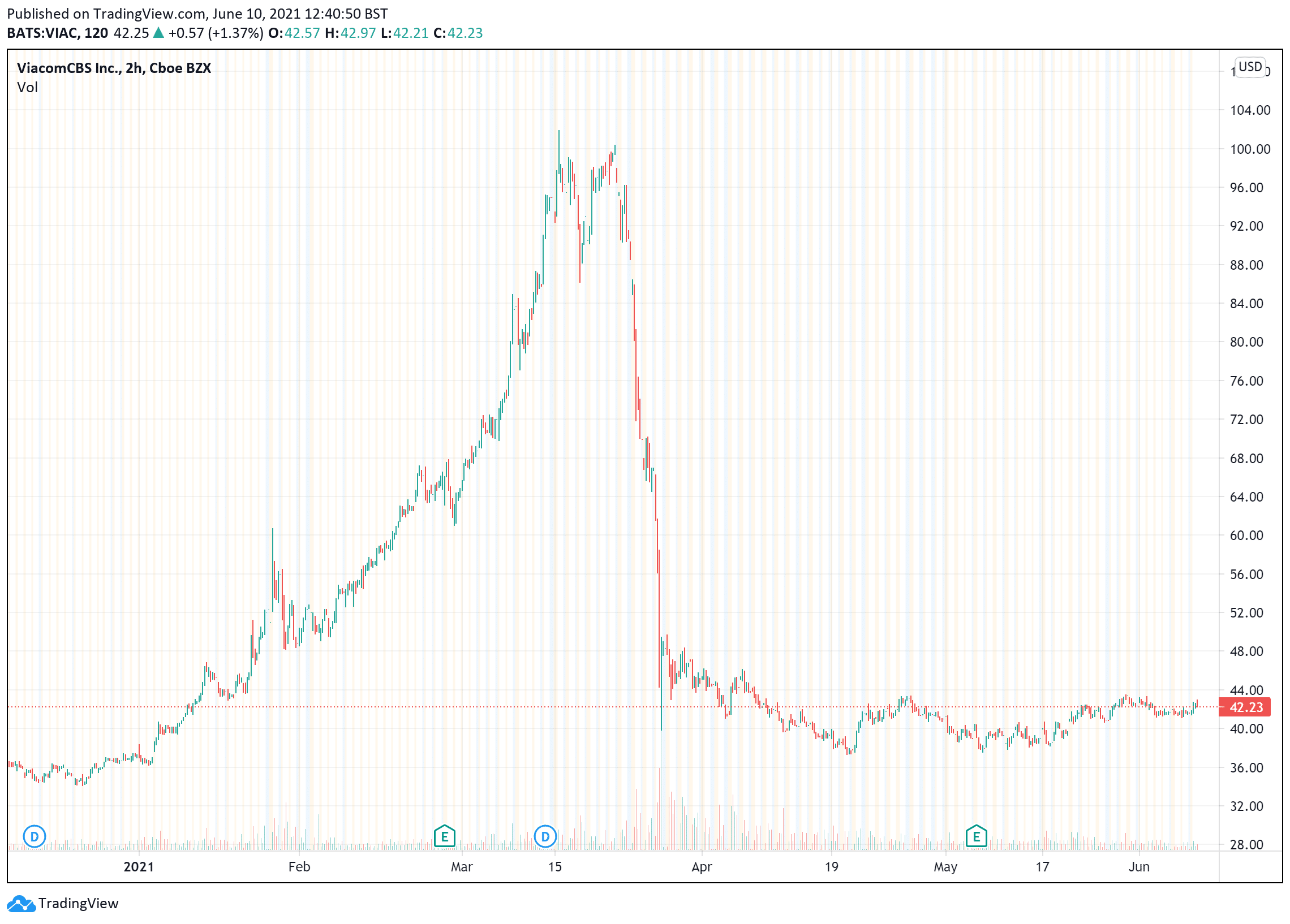 Despite being a mistake on the investment banks' part, VIAC took a big hit. The stock has been trying to climb since then, and it has already gained 6.21 percent to currently sit at $42.25.
It is worth noting that this mistake happened at the time when VIAC was poised to break out. The climb back to its March high will be long, but it also presents an opportunity for investors to get on the train now.
ViacomCBS is currently working on several updates, including its streaming product – Paramount+. With many people still at home, streaming is a goldmine for any company with enough quality content. Companies like Netflix and Disney have already hit the jackpot, but there is an opportunity for ViacomCBS as well.
Estimates suggest that Paramount+ will have up to 70 million customers in its first three years. With a current P/E ratio of 9.32x, ViacomCBS is also relatively affordable compared to some of its competitors.
2. Ford Motor Company (NYSE: F)
Anyone with even remote knowledge of the stock trading scene knows Ford Motor Company. It is one of the world's largest and most valuable automobile manufacturers, with an expansive fleet of utility vehicles, sports cars, and trucks.
Ford's stock has fared relatively well in 2021. It is only a few points off its 2021 high of $16.51, and its current $15.48 price marks an 82 percent jump from its 021 entry point of $8.47. Ford also seems to have put its struggles of 2020 behind it, showing that the company has benefited from the gradual easing of lockdowns and return to business activity.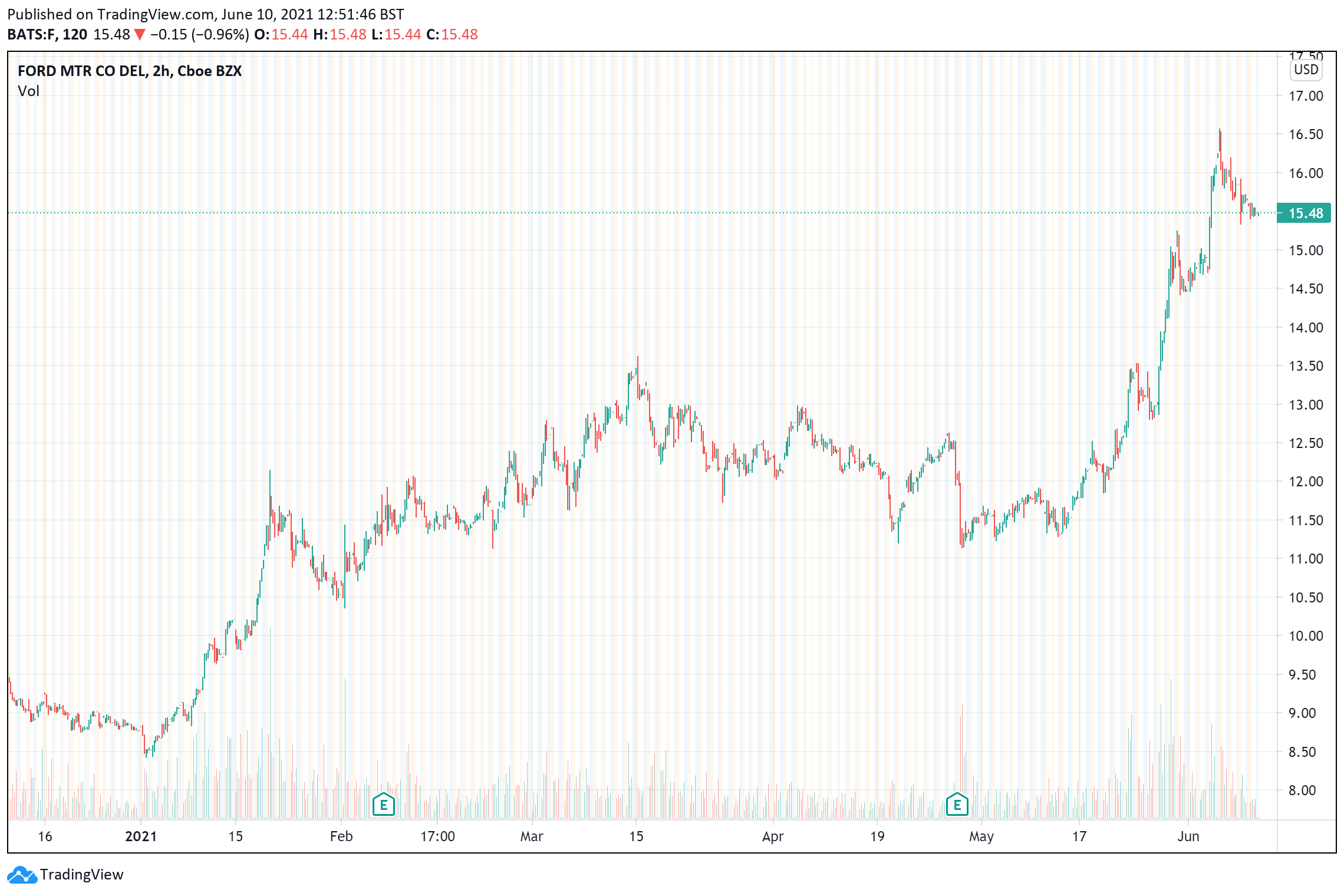 We included Ford on our list of undervalued shares because of its recent foray into the electric vehicles (EV) space. The company has been on a bit of a resurgence in the past nine months, under the leadership of CEO Jim Farley. Ford already introduced a redesigned version of its flagship F-150 truck, as well as an electric Mustang sport utility vehicle. Both were well-received.
Ford's numbers for the year have continued to impress. The company reported $3.3 billion in profits for Q1 2021 – its highest quarterly profit haul since 2011. Its current stock range is also its highest since 2015.
The company now seems to be doubling down on the EV strategy. Reports confirmed this month that Ford already produced more electric Mustangs in 2021 than gas-powered versions. Even with all of this, Ford still seems undervalued. The company's P/E ratio stands at 15.60x – a bit off from the industry average. The company's ability to capture more market share in EVs will mark a growth opportunity for investors.
3. Qualcomm Incorporated (NASDAQ: QCOM)
Qualcomm has become a giant in the digital space. With telecommunications products seeing greater demand, the company's chips and incorporated circuits have also become a necessity.
Currently, however, Qualcomm seems to be striking gold. Its chips are a key component of the 5G revolution, which many mobile phone manufacturers look to capitalize on. The company's stock price has struggled a bit, as shown below
However, its performance since it bottomed out due to the coronavirus pandemic has been encouraging nonetheless. Qualcomm has delivered an impressive 58.1 percent gain from June 2020, moving from $84.04 to $132.89 presently.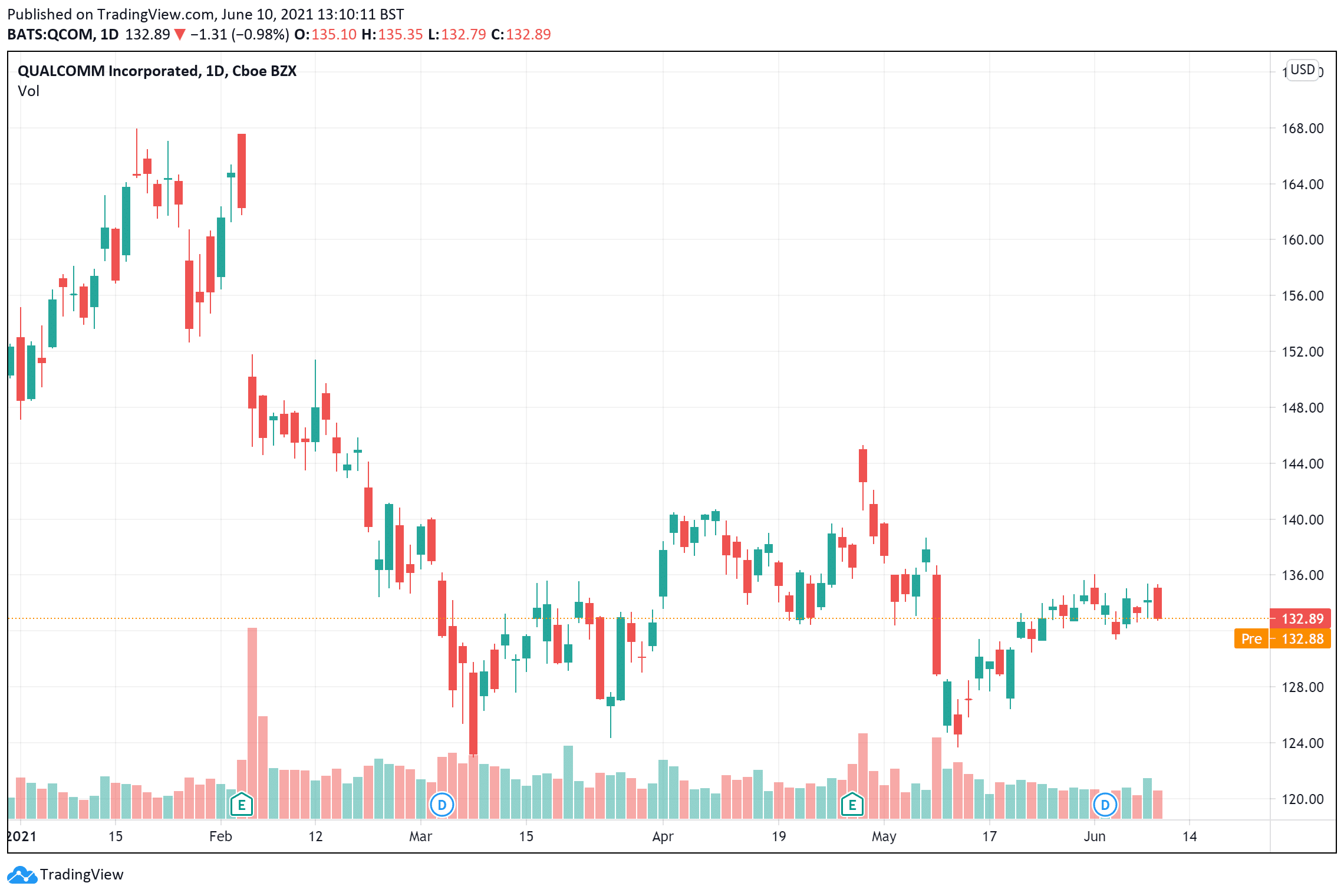 It is impossible to deny the company's struggles in 2021. QCOM hast railed the S&P 500 index and the PHLX Semiconductor index. While both indexes have jumped by 13 percent, QCOM has retreated by fairly the same percentage.
Despite this, the company could be headed for a major jump. Qualcomm's leadership in 5G is a significant advantage, and increased revenues from the technology's growth cycle will come in handy for the firm. If Qualcomm can remain a major contributor to 5G, the company should be well-positioned for a significant rise.
4. The Boeing Company (NYSE: BA)
Boeing enjoys significant upside for having its hand in two cookie jars – aerospace and defense. It has managed to become one of the biggest names in both industries. With its subsidiaries, Boeing develops, designs, builds, sells, and services aircraft worldwide – for both military and commercial purposes.
If you've flown a plane, you've probably flown a Boeing.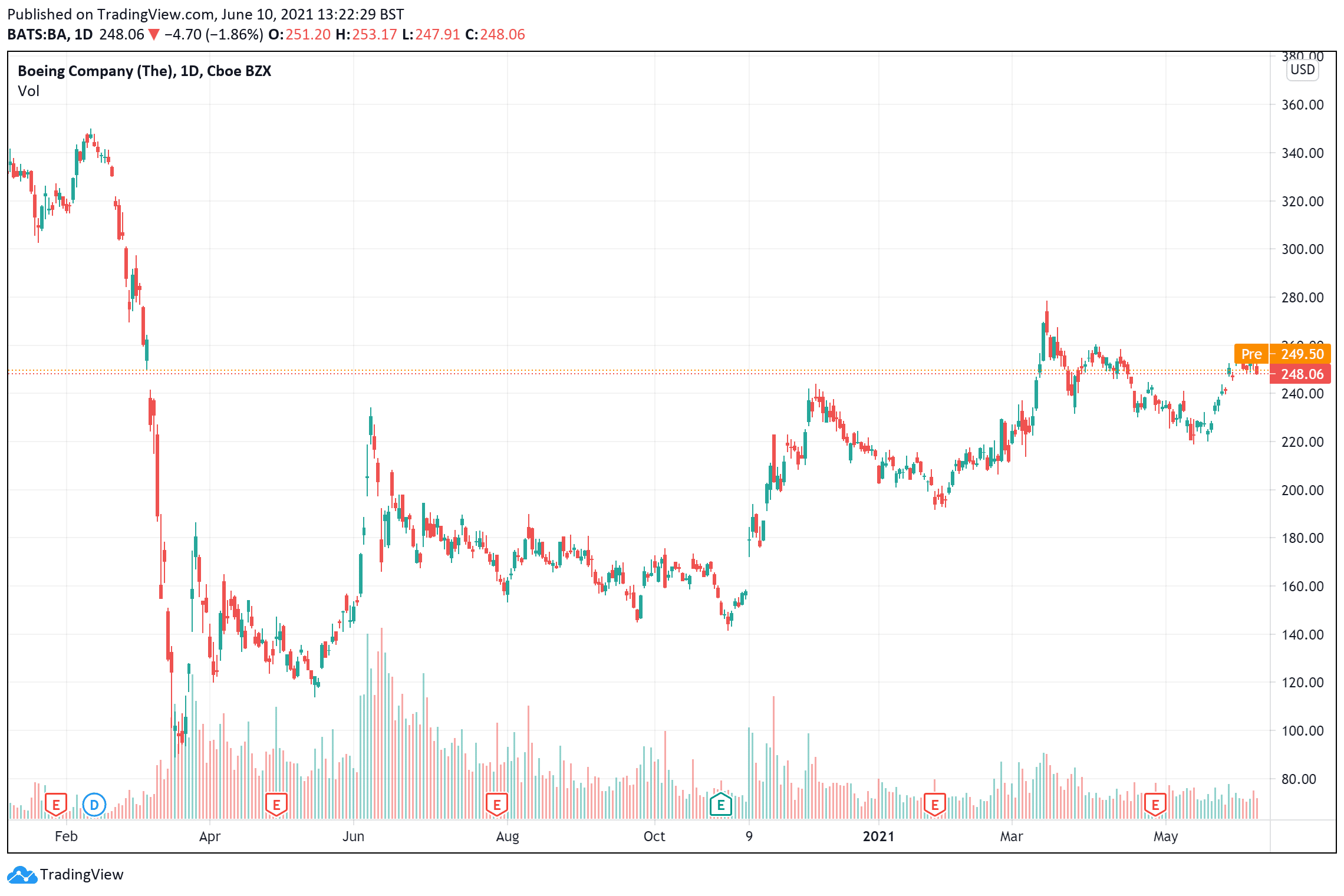 Boeing took a significant hit in 2020, with travel being shut as a result of the coronavirus. Travel was grounded, and fewer companies required aircraft maintenance. BA bottomed out at $101.69 on March 18 last year, and the stock has been steadily climbing.
The company's stock has risen 16 percent so far this year, jumping from $212.67 to a current price of $248.06. With travel becoming more frequent, Boeing looks set to take off. The stock is still down from its 2020 high, representing more upside ahead for investors.
5. Verizon Communications (NYSE: VZ)
Verizon is one of the country's largest telecommunications companies, so it needs no introduction.
The company has had an impressive 2021, starting with its commitment of $45 billion to 5G spectrum in February. Along with AT&T, Verizon managed to eke out as a big winner in the Federal Communication Commission (FC) contract, which was worth a total of $81 billion. Verizon will be able to use the airwaves to build 5G networks and gain a prominent market share.
If anything, that alone will cement Verizon as a 5G leader and put it in a position to benefit as the technology gradually gains ubiquity.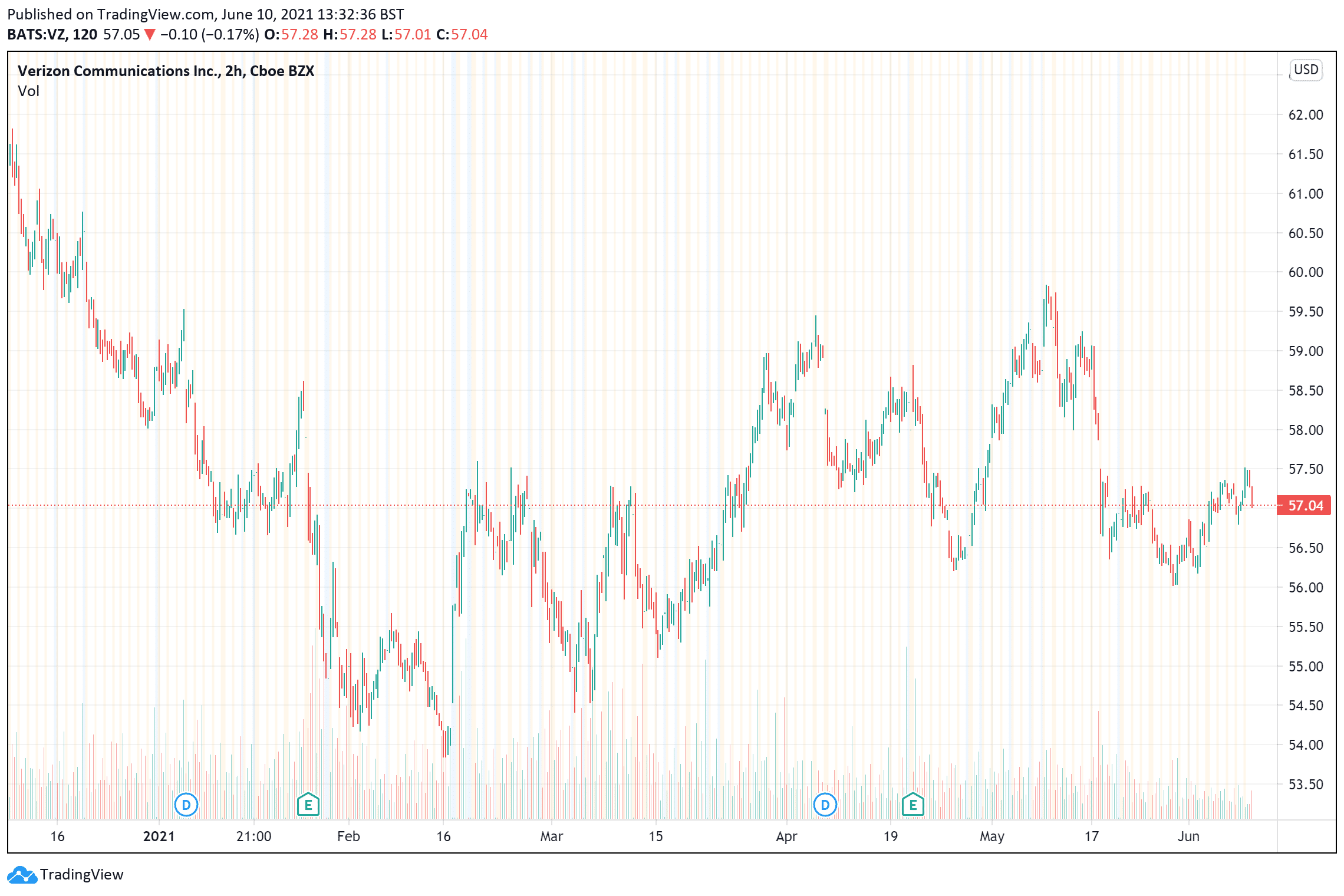 With all of this, it is worth noting that Verizon's stock has struggled this year. The stock began the year trading at $58.09, and its current $57.05 price is a 4 percent drop from the yearly high of $59.77. Still, hopes for increased 5G dominance should carry Verizon to more highs over time.
Verizon's current P/E ratio is 12.51 – much lower than those of many competitors. This signals a massive undervaluation. The firm announced fresh dividends on June 2, paying out $10.23 billion in dividends. It also committed to increasing dividend payouts by the end of the year.
Where To Buy Undervalued Shares
The best place to buy undervalued shares is from a regulated online broker like eToro. The online broker makes it easy for traders to buy undervalued shares including over 200 others.
Opening an eToro account is painless and free. Its KYC process takes just minutes and the fees are pretty affordable. Once you deposit funds into your account, you'll be all set to buy undervalued shares.
Looking to buy undervalued shares now? Invest at eToro!
75% of all retail investor accounts lose money when trading CFDs with this provider.