5 Commodities To Buy In June 2021
With the global economy slowly climbing out of the coronavirus pandemic, demand for goods and services is starting to pick up once more. All of these gains are helping to boost the price of the top commodities to watch out for. An analysis from Kiplinger projects that the United States GDP should grow by an impressive 6.2 percent in 2021, while Fitch Ratings has upgraded growth estimates for the global GDP to 6.1 percent.
All of these show significant opportunities for commodities like gold, silver and others. But, how do you pick? What are the top commodities to add to your portfolio? To help you out, we have a list of some of the best commodities to buy as we enter the second half of the year:
1. Gold
Gold headlines our list of the best commodities to buy as we look towards June. The precious metal's price rose to $1,909.90 on June 2 – its highest price in five months. Following a brief slip below the $1,700 point in March, the gold market is rebounding rather nicely.
Amongst other things, gold continues to enjoy the investor sentiment surrounding traditional stocks and bonds. It will take at least the rest of the year before the global economy bounces back from the coronavirus, and many investors would prefer to wait out that storm by choosing any of the best commodities to watch out for.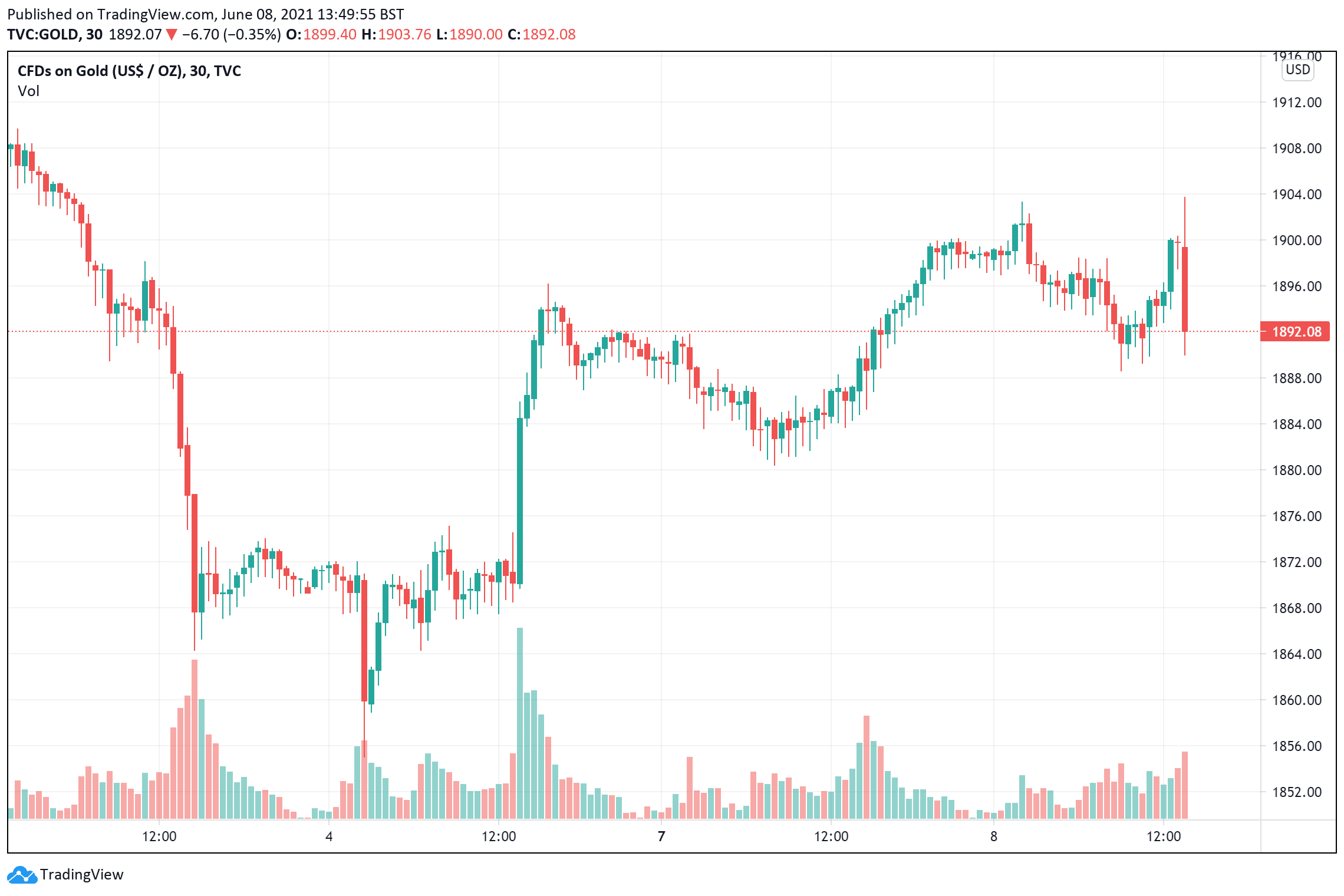 While gold's price has been balking under pressure since it crossed the $2,000 mark in August 2020, it seems to be rebounding just fine. With fears of rising inflation looming, investors might be willing to buy even more.
2. Crude Oil
Brent Crude is doing pretty well again, zooming past the $70 mark last month. This is the first time the commodity is hitting that mark since May 2019.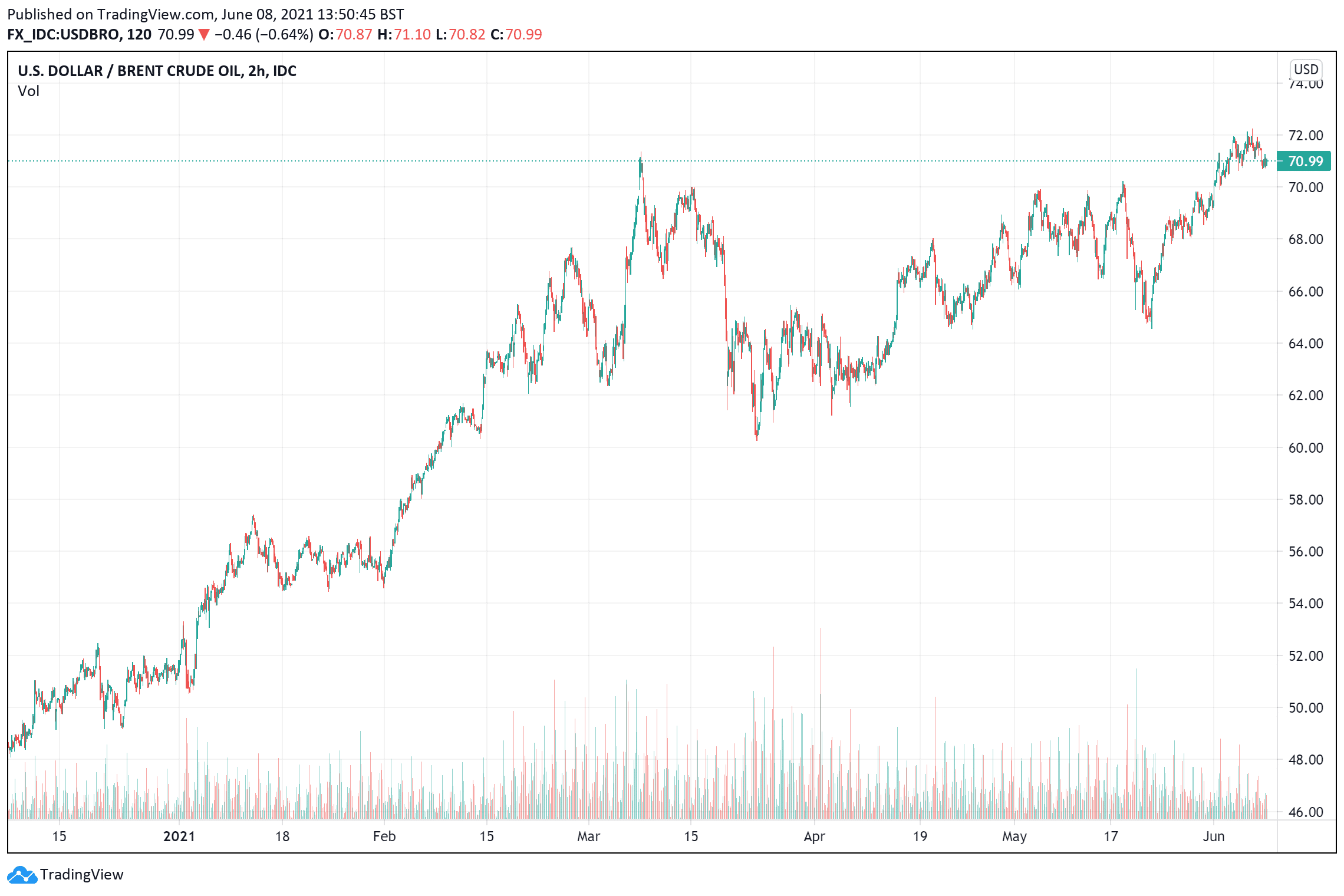 Demand for petroleum-based products has been rising again as lockdowns get eased and people start the process of going back to normal. The return of travel is expected to lift that demand even higher in the second half of the year. Price directions for Brent crude so far in 2021 have been very bullish.
Anyone in search of the best commodities to watch out for will want to keep an eye on crude oil.
3. Copper
Copper is used for different industrial purposes, from making electrical cables to manufacturing construction materials. In more ways than one, copper's price moves according to the direction of the global economy.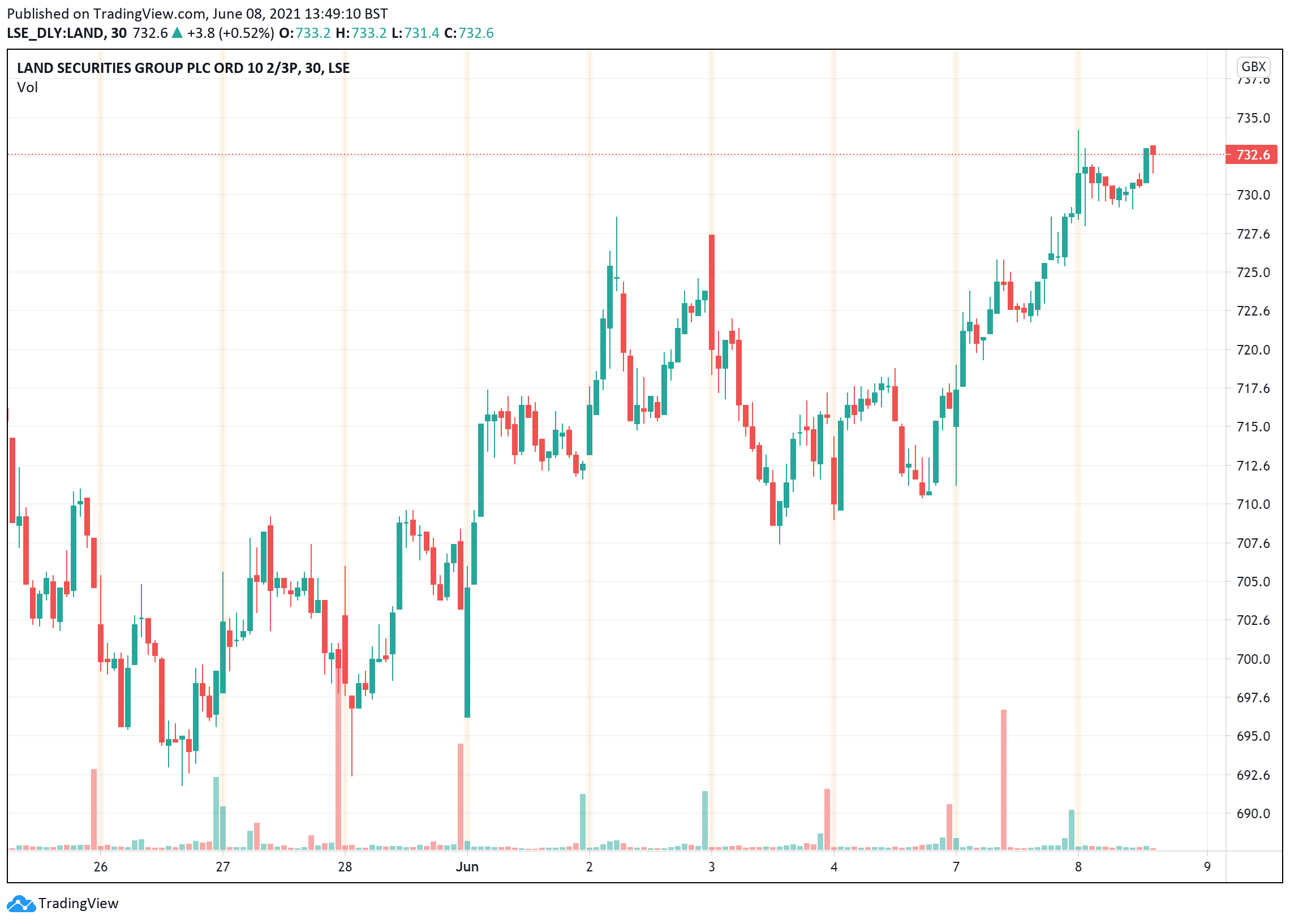 Currently, copper's use in electrical wires seems to have more of a bullish sentiment. Electric vehicles use a significant amount of copper in their wiring, and increased demand for these vehicles means that copper demand is rising as well. The same goes for solar and wind power systems.
Copper futures for June 2021 have been on a significantly bullish trend, and there is optimism that this will continue in the medium term at least.
4. Natural Gas
Natural gas has been performing well in 2021. Natural gas is a safe and eco-friendly alternative to fossil fuels, and the discovery of natural gas deposits in areas like Turkey and other major water bodies means that investor attention will be turning to this commodity over time. With natural gas, changes in weather forecasts can lead to price volatility. With multiple states expecting higher temperature-driven consumption, natural gas prices are expected to rise. Last week, the prices of natural gas rose higher to settle above $3.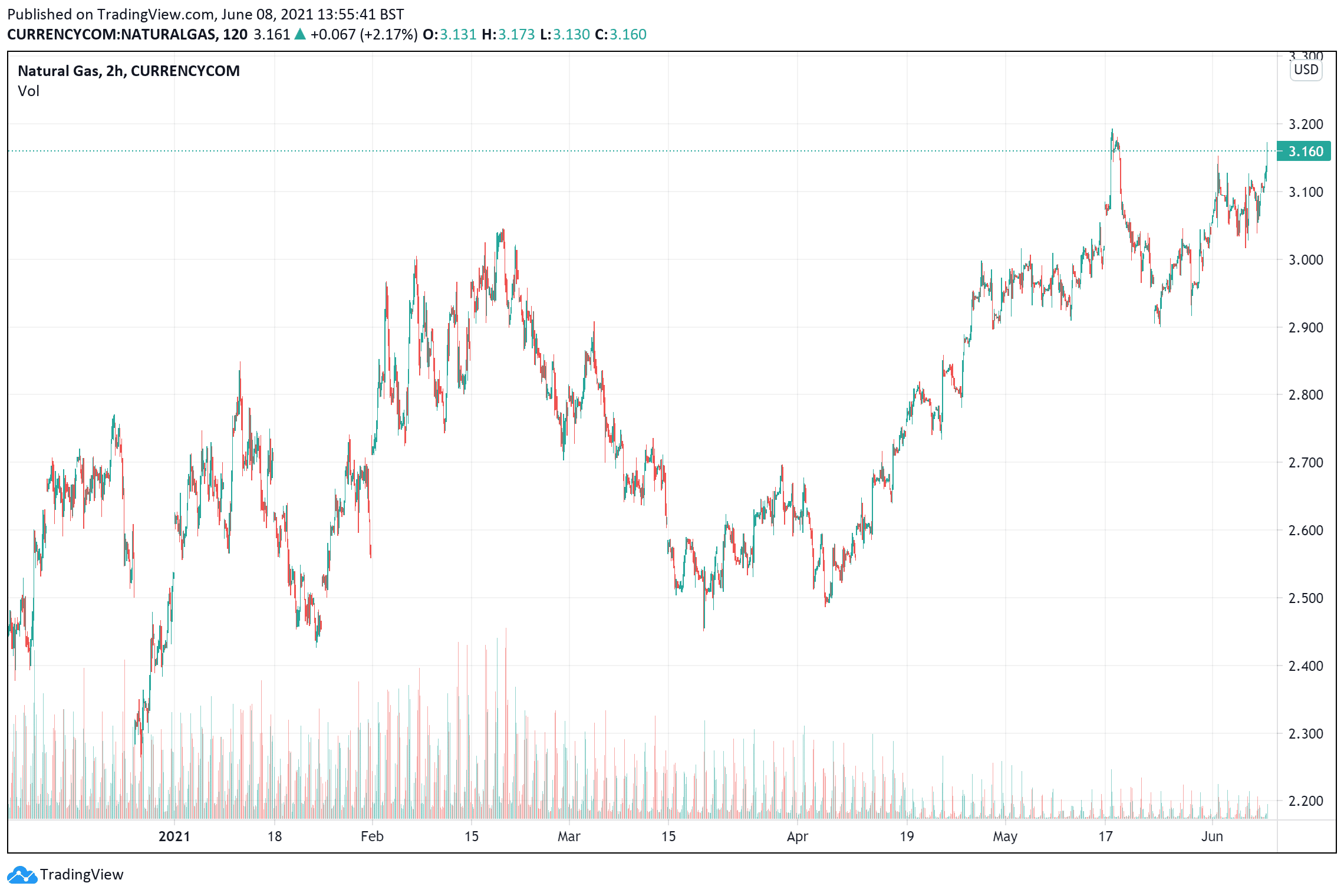 With an overwhelmingly bullish trend, natural gas is definitely one of the best commodities to buy for anyone looking into the long-term.
5. Silver
Like gold, silver is another major commodity to monitor. The asset took a significant dip in April, and it is currently in recovery mode.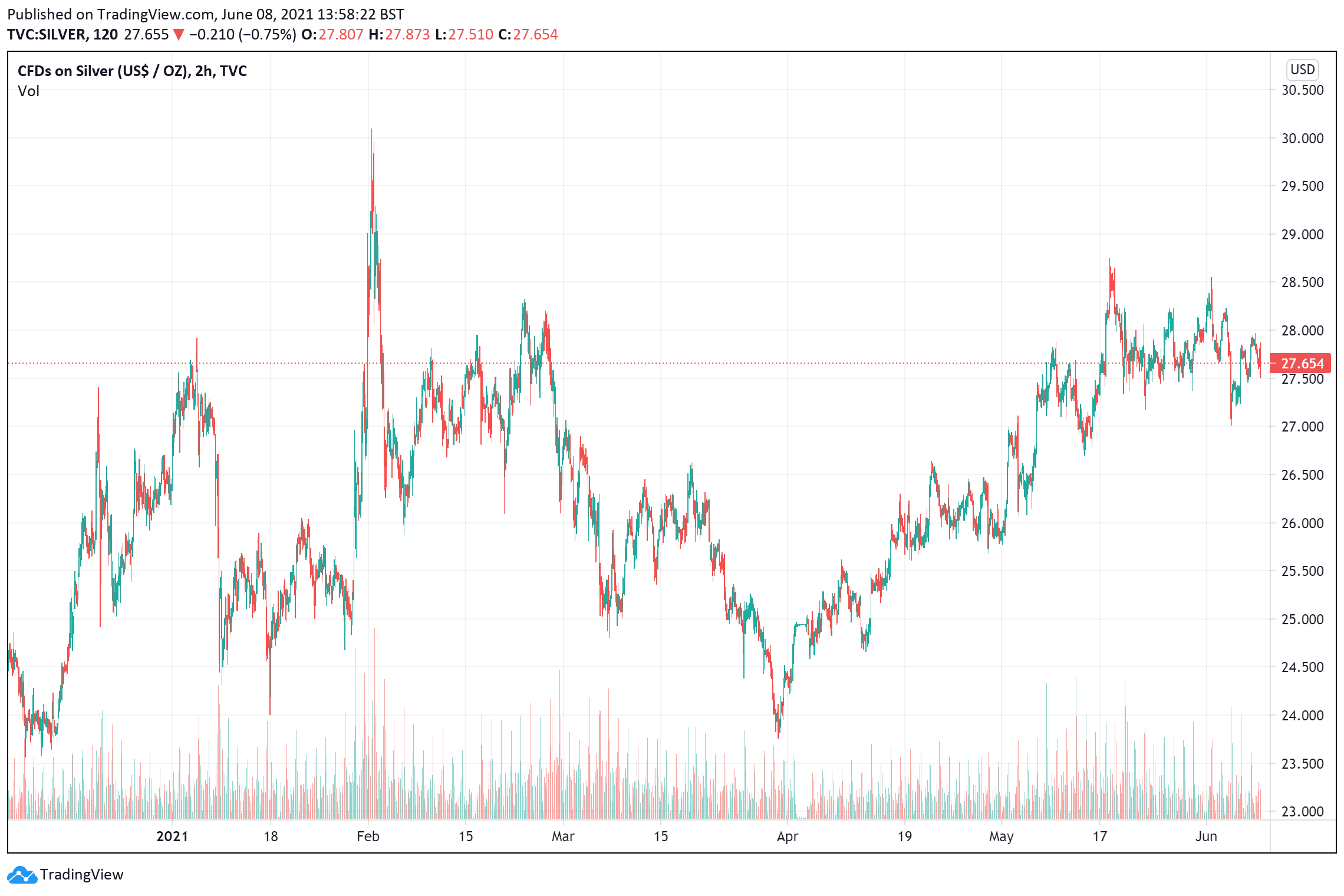 Silver bulls love to tout the asset's benefits, including the potential for higher returns than gold and the ability to serve as a store of value. Alternative investments are all the rage amid inflation fears, and silver is looking very attractive.