5 Best Stocks Under $5 To Buy In June 2021
Investors always look for the best opportunities to earn money – even if it means buying stocks for under $5 and watching them blow up. The stock market is roaring to life again as companies continue to improve their operating capacity and trying to put the ghost of the coronavirus behind them.
If you're an investor, you're definitely out looking for earning opportunities across the board. Everyone hopes to find undervalued stocks and ride them to full profitability. So, if you can get stocks for under $5 and lock in before it lifts off, you could pretty hit the jackpot.
With that in mind, we have some impressive stocks that sell for very cheap and which you could capitalize on right now:
1. Massroots Inc (OTC: MSRT)
Massroots is a tech company that looks to connect cannabis lovers. The cloud-based network allows cannabis lovers to share content, follow their favorite dispensaries, and connect with each other.
The company's stock started 2021 on a high but soon ran into a bit of a struggle period. As the chart below shows, Massroots began 2021 trading at $0.005. It hit a new high of $0.057 on January 19, but it struggled to rise until late May. it bottomed out at $0.017 on April 13, but it has since risen remarkably since then.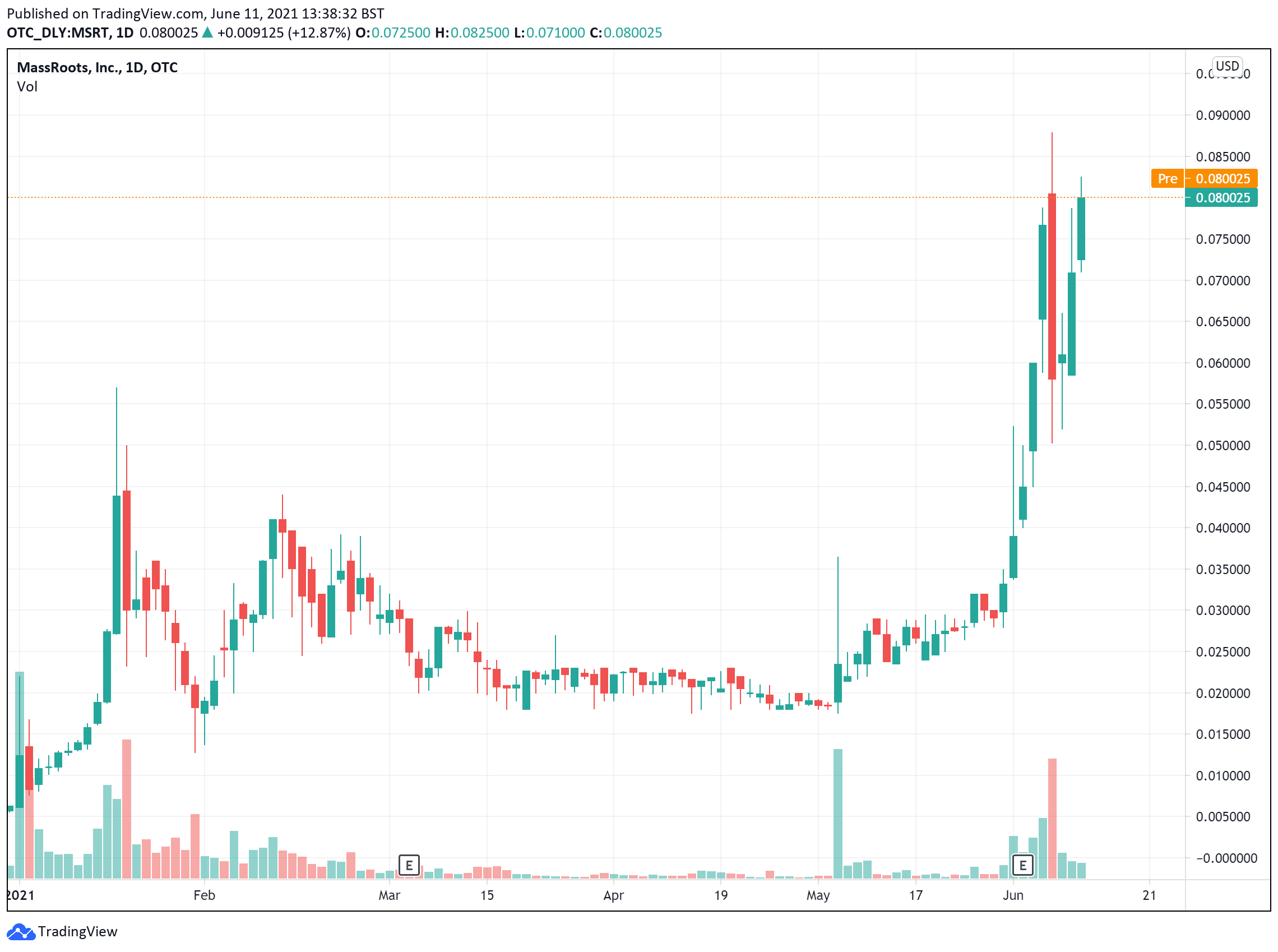 With a current price peg of $0.080, MSSTR is just a few points off its all-time high of $0.087 – which it set on Monday. When it comes to penny stocks, MSTR is one of the best out there. The company recently announced the acquisition of Empire Services Inc. – a move that will help it grow its revenues.
2. Pennsylvania Real Estate Investment Trust (NASDAQ: PEI)
This company is essentially what it says on the box – a REIT. However, it focuses more on real estate for shopping malls.
Earlier this month, PEI was riding a 19 percent gain when hedge fund manager Will Meade named it in a tweet as a "mall REIT that is now one of the cheapest reopening plays left." in minutes, PEI jumped by 14 percent.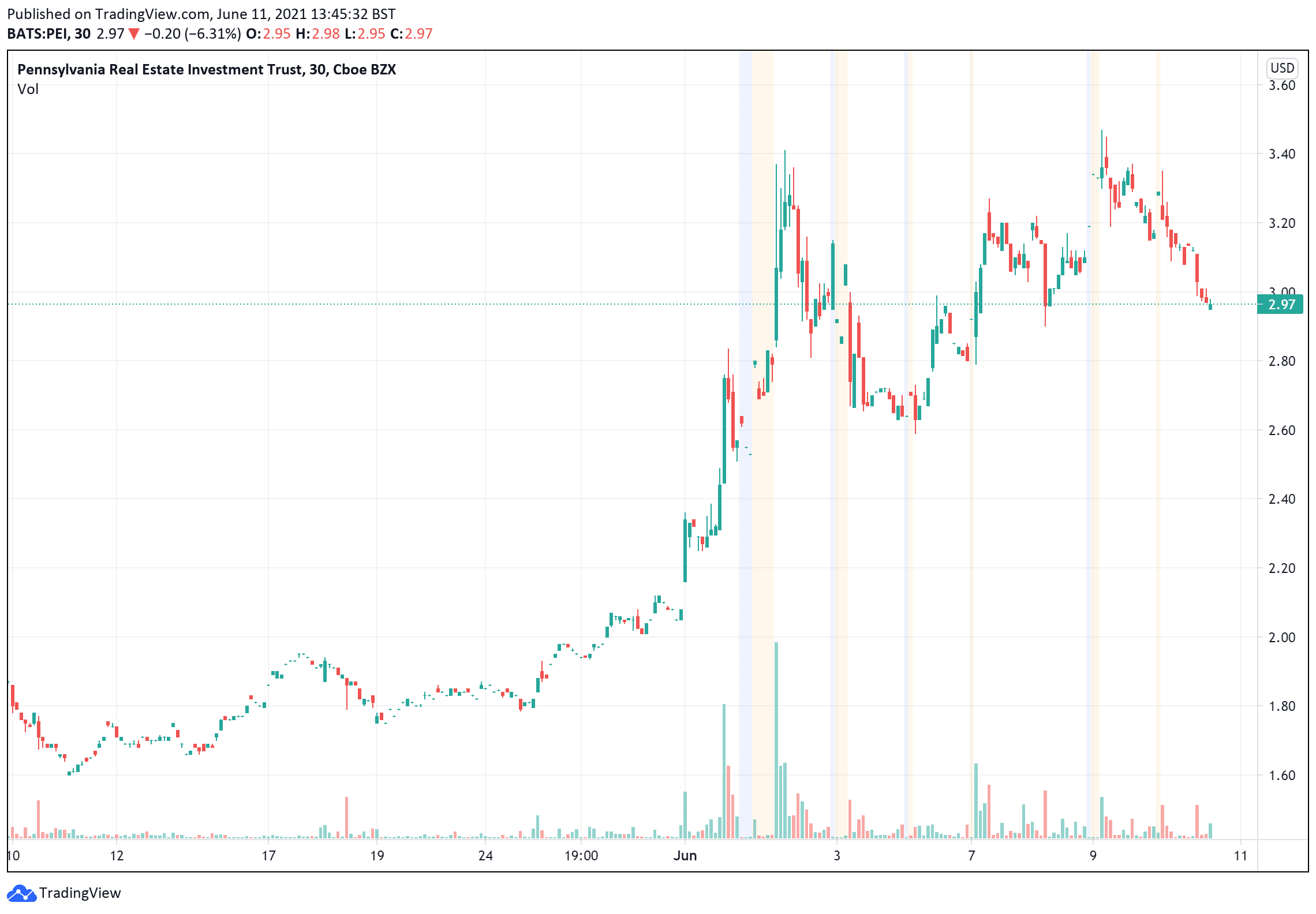 PEI is a bit of a higher-priced spiker. Investors will do well to keep an eye on it for potential buy dips. The stock came close to its 52-week high on June 1, but it couldn't break through. Still, any breakout at this point could set it up for bigger gains.
3. Electrameccanica Vehicles Corp (NASDAQ: SOLO)
Electrameccanica Vehicles Corp. is an electric vehicle manufacturer based out of Vancouver. It's another diamond in the rough stocks for under $5, especially with so much upside.
Beyond manufacturing vehicles, Electrameccanica also develops custom-built cars. The firm announced in March that it would start work on a technical engineering center in Phoenix, Arizona, essentially kicking off its expansion into the United States. The Arizona facility will produce up to 20,000 vehicles annually and employ about 500 workers.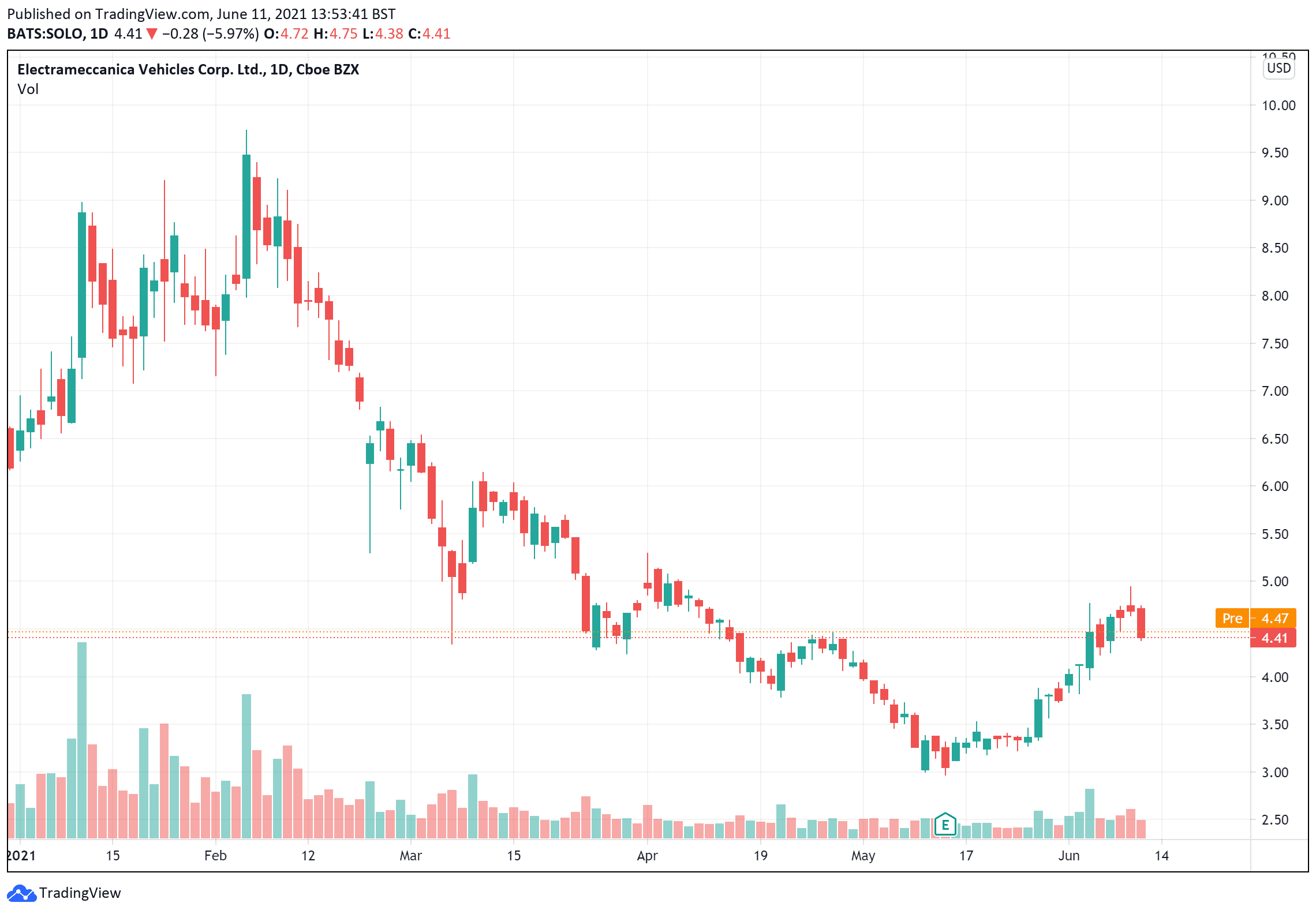 As for SOLO, the stock looks to be on the rebound. It hit a YTD high of $9.77 in February, but that led to a lengthy slide that bottomed out at $2.96 on May 13. The stock's current price of $4.41 is a 48 percent increase from the bottom, and there is a lot of upsides available for SOLO.
4. LiveXLive Media (NASDAQ: LIVX)
Next on our list of best stocks under $5 is LiveXLive Media – a California-based digital media company. LiveXLive digitizes live events, allowing people to watch from the comfort of their homes. It also provides a global market for on-demand audio, video, live streaming, and podcast content.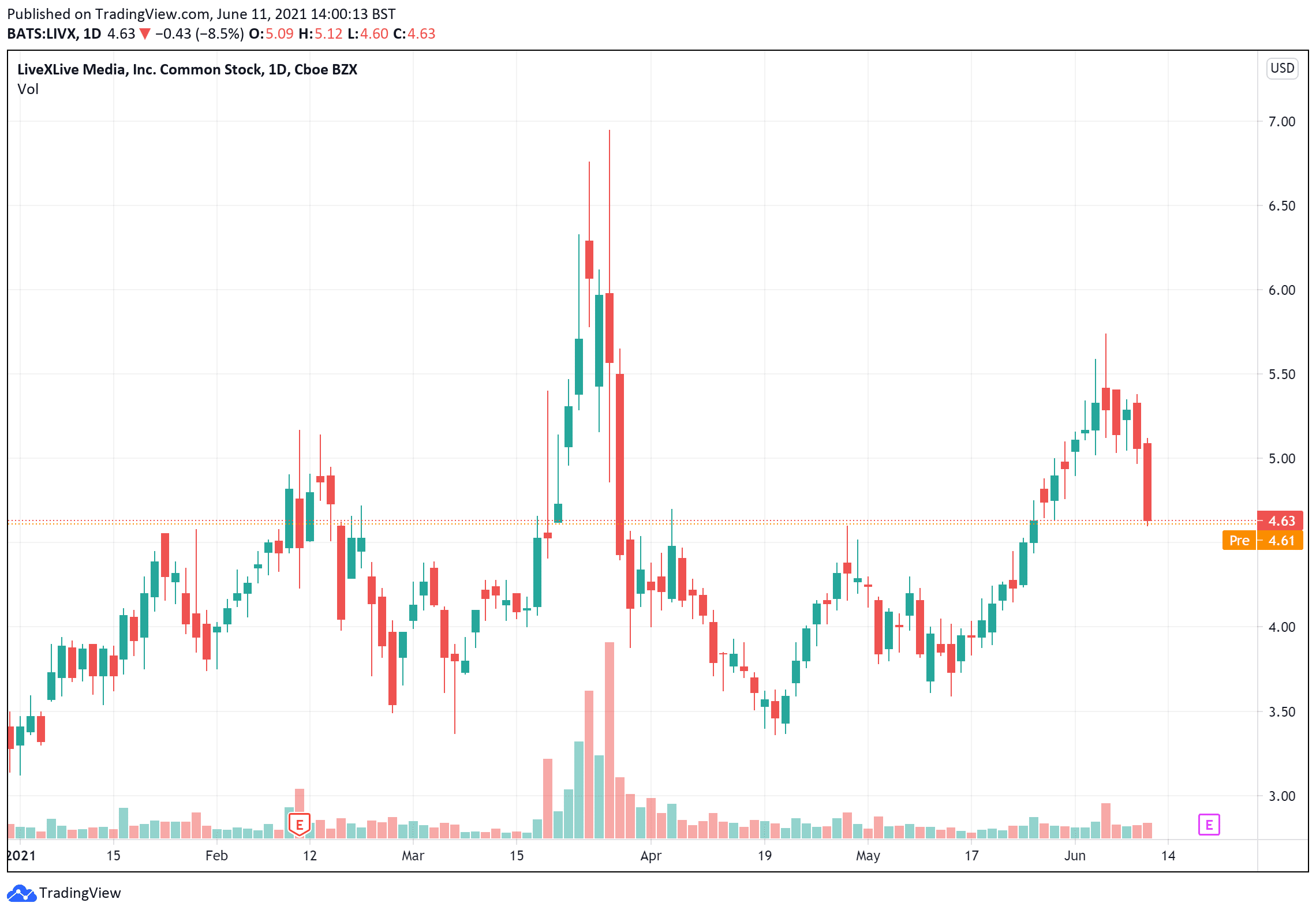 LiveXLive had an impressive Q4 last year, with $9.9 million in revenues. Subscription revenues were also seen to have jumped, with paying subscribers increasing by 250 percent to 849,000. LIVX has jumped by 103 percent in the past year.
Following a slump in March, LIVX is now working on recovery. The stock bottomed out at $3.36 on April 20, making its current $4.63 price a healthy 37.7 percent gain.
5. BioDelivery Sciences International Inc . (NASDAQ: BDSI)
Last but not least is BioDelivery Sciences International. The North Carolina-based firm develops and sells pharmaceutical products for several chronic conditions. With pharma stocks seeing a surge in 2020 amid hopes of a coronavirus vaccine, BDSI has done pretty well for itself. The stock has dropped below its 2021 entry point of $4.23, but it is currently in the early stages of a recovery from its bottom of $3.04.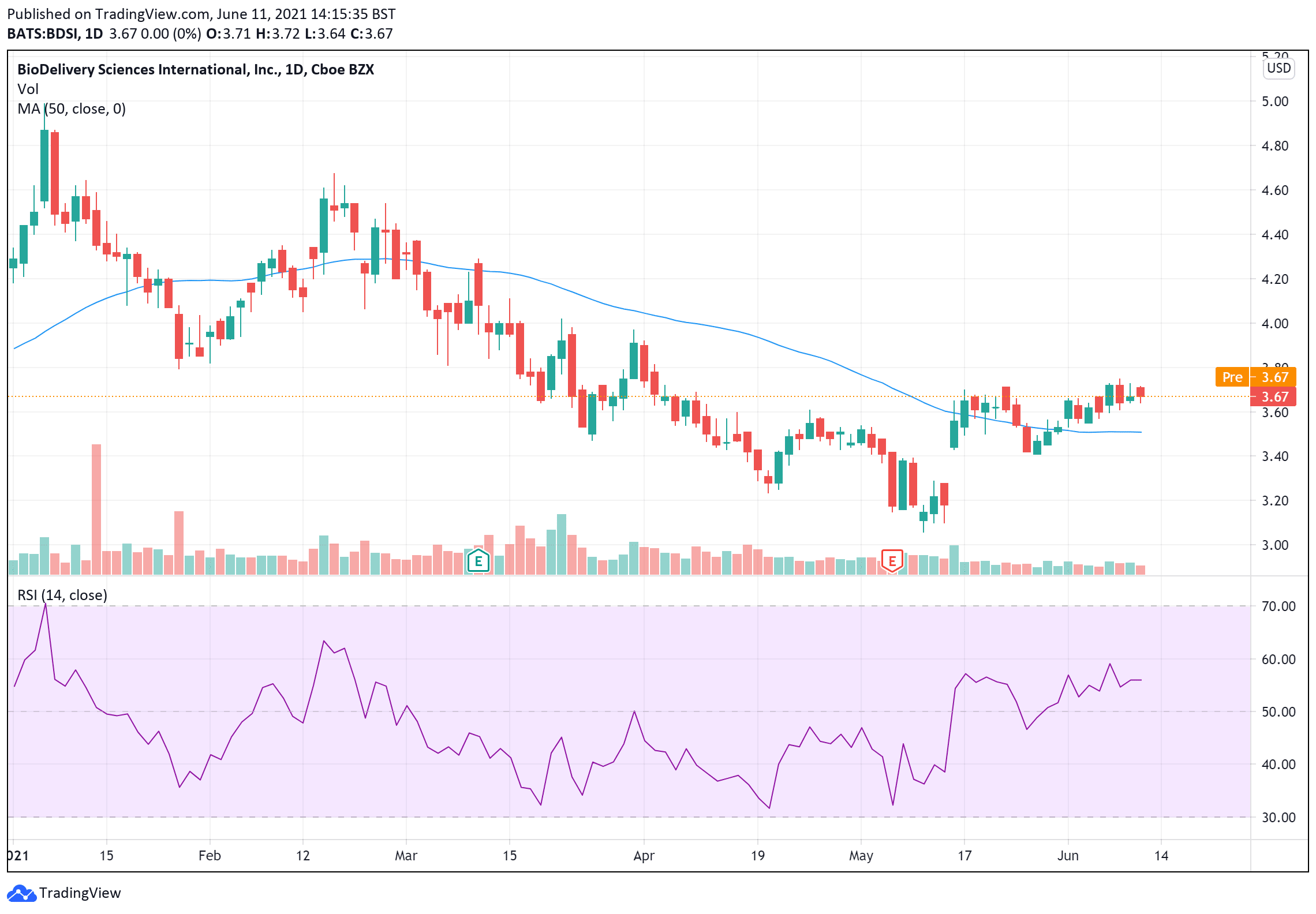 With a current price of $3.67, there is a lot to be optimistic about. The asset is well above its 50-day SMA, and its RSI also shows that it isn't overbought – both bullish signs to look forward to.
Looking to buy stocks under $5 now? Invest at eToro!
75% of all retail investor accounts lose money when trading CFDs with this provider.