5 Best Healthcare Stocks To Buy In June 2021
Coronavirus has heavily influenced all financial markets, but when it comes to healthcare stocks, the exponential growth has given many investors a once-in-a-lifetime opportunity to maximise their finances and reach their goals. Whether it's the prevention of a global pandemic or to treat any certain disease, the healthcare industry is never going to be irrelevant.
Below we have the 5 best healthcare and medical stocks and reasons to keep an eye on them in June 2021: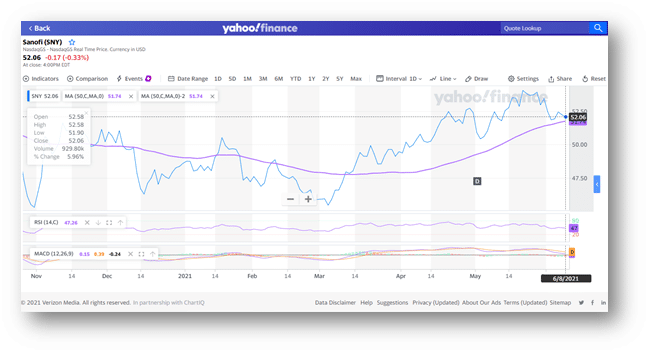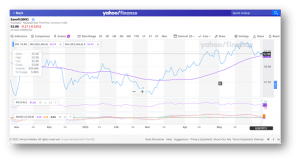 Sanofi is a research and development giant in the healthcare sector which operates primarily through pharmaceuticals, vaccines, and consumer healthcare.
After CEO Paul Hudson emphasised Sanofi's commitment towards developing a successful COVID-19 vaccine last week, SNY stock has been enjoying a positive outlook in the stock market. Experts believe that the trend is going to bear fruits in Q4 when the company is supposed to "play its part" in the words of their CEO.
According to the company's financial statement, its $131.9 billion market capitalisation has a dividend yield of around 2.6%. Annual income figures say that Sanofi's profit margin has already reached 34.17% with a net income of $14.04 billion this year which is more than 26% of the previous year. The upcoming earnings report is scheduled for July 29 after which SNY is expected to gain some more stability.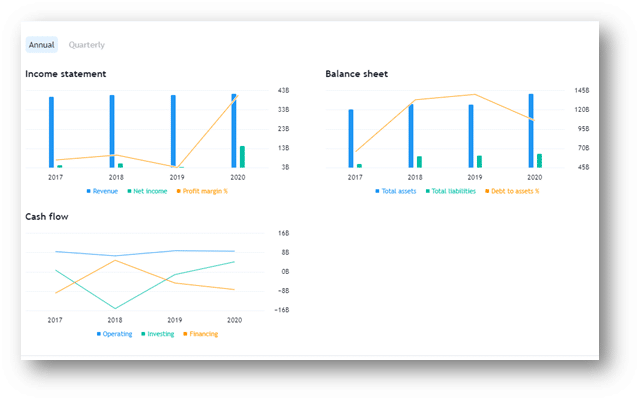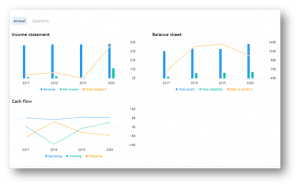 However, technical indicators and current price action of SNY tells a different story altogether.
Reliable oscillators like RSI (47.26), Momentum (-1.61), and MACD level (0.15) point towards a NEUTRAL action so does the other moving averages like EMA (52.50) and SMA (52.70). Sanofi stocks closed on NASDAQ for the day at an individual price of $52.06 with a downtrend of (-0.33%).
2. Johnson & Johnson (NYSE: JNJ)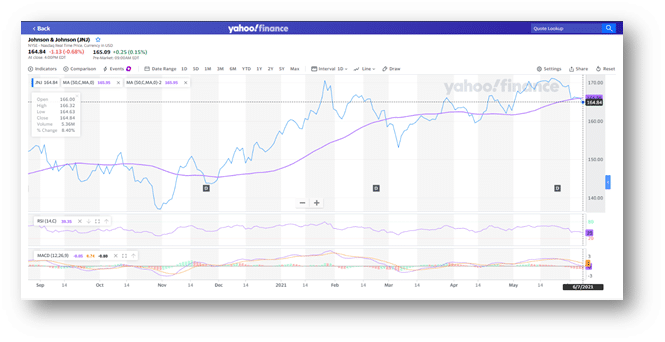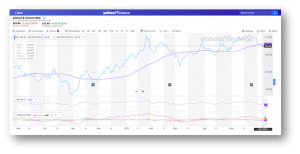 Johnson & Johnson, with a $437B market cap, is expected to be at the centre of all medical stock action in June 2021.
None of the 1,100 similar stocks listed on major U.S. exchanges like NYSE and NASDAQ come any close to JNJ's stellar performance. As reported a few days ago, the company is all set to deliver 3 million COVID-19 vaccines to Brazil soon.
At the moment, this major pharmaceutical company is nearly a month away from releasing its next earnings report.
According to JNJ's annual income statement, the company has seen $14.7 billion net income at a profit margin of 17.82% which is not too different from the past year. A quick glance at the financial data indicates that the medical stock company has 63.82% debt to assets while total liabilities are close to $111.62 billion.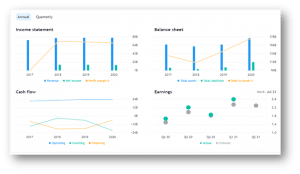 From its technical analysis, it is clear to see that JNJ has been trading at a -1.13% low, maintaining $164.84 with some of the reliable oscillators such as RSI (39.3), EMA (167.07), SMA (167.63), MACD (-0.05) indicating sell action. The stock has given countless market participants, a chance to buy between 161 and 165 levels in order to secure profits in the long term.
3. Veeva Systems Inc. (NYSE: VEEV)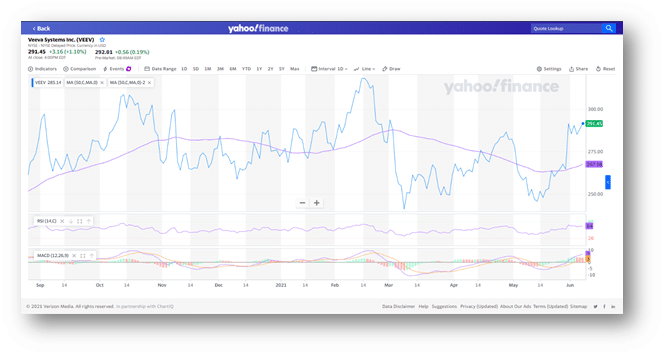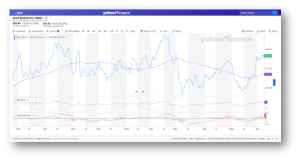 Veeva Systems is best recognised as the leading provider of software solutions to the global life sciences industry.
This particular medical stocks company is also responsible for bringing products to the market quickly and efficiently. The stocks have already been up by approximately 30% since 2020. According to the company's reassuring earnings report, total revenue has increased 29% which is a good sign for investors.
Out of the other healthcare stocks that are currently high in demand, VEEV is continuing to climb irrespective of the market conditions. With a $44.05 billion market cap, VEEV is poised to go even higher in the days to come if the current status holds.
Price per share on NYSE is up by 1.1% and inching closer to $291.45. According to the company's income statement, as seen in the below figure, the net income has reached $380 million this year ($79 million more than 2019) with a profit margin of 25.94%.
Veeva Systems' financial statement reveals that its next earnings report date is due on September 2.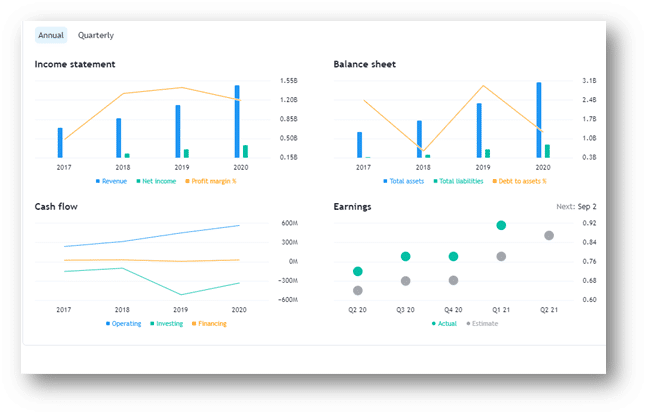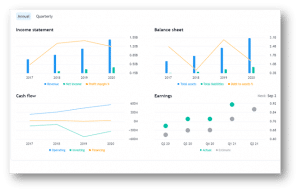 In terms of technicalities and price action, VEEV is in the BUY zone for those who are interested in making a profitable investment in one of the top healthcare stocks for June 2021.
Top indicators such as Momentum (31.14), MACD level (6.61), EMA (280.59), SMA (265.80), and RSI (64.37) are pointing towards a buy action to make the most out of the current market condition.
4. Vertex Pharmaceuticals (NASDAQ: VRTX)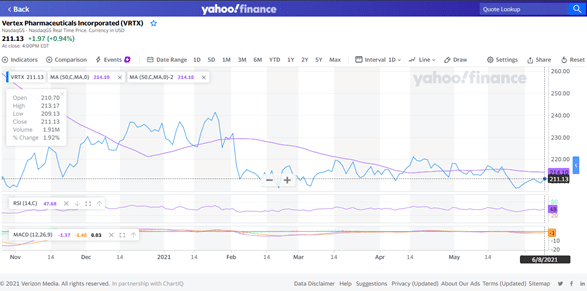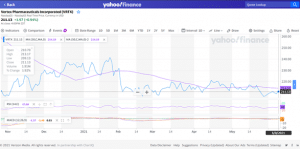 Vertex pharmaceuticals is a U.S-based medical company involved in the biotechnology industry which is specialised in developing therapies for cystic fibrosis.
Recently VRTX closed at a -0.58% move and yet Wall Street veterans are expecting great things from the company as the date of the earnings report inches closer. VRTX quarterly revenue is being estimated at around $1.72B by many which are up by 12.5% from the previous year's figure.
Vertex pharmaceuticals' total market capitalisation is valued at approximately $54.14 billion at the moment. The market and several of VRTX investors have been waiting for its next earning report which is expected to release on Monday, July 28. Though the income statement says that profit margin of Vertex pharmaceuticals this year (43.67%) is still less than its 2018's figure (68.76%) but it has nearly doubled its revenue from $3 billion to $6.21 billion.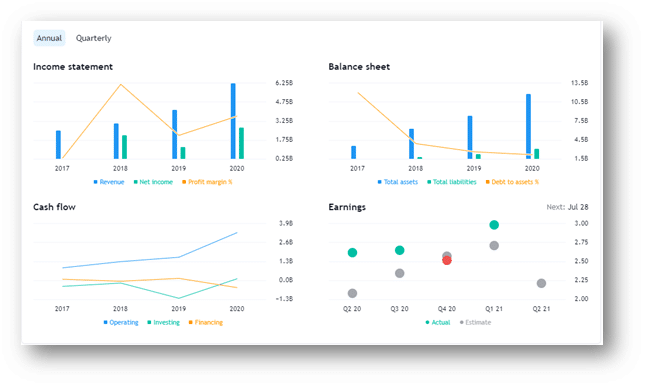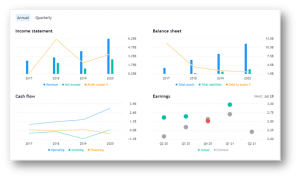 VRTX closed on NASDAQ reaching the price of $211.13 and added $1.97 due to a 0.94% uptrend during the market closing hours. The price movements signal a strong SELL action for market participants who have been wanting to profit from VRTX. The following graph indicates Momentum (-0.09), RSI (47.68), MACD (-1.37), SMA (209.29), and EMA (210.41) for VRTX.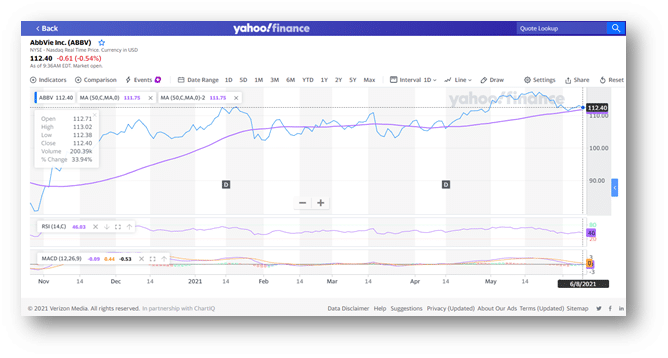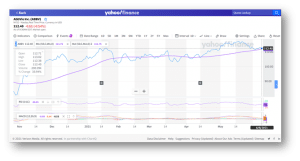 AbbVie is no less than a pharma giant whose stocks have been in great demand since the beginning of 2021.
During the first quarter, the company revenue has grown by 2.2% to somewhere beyond $190 billion. Besides owning one of the most successful commercial drugs in the world, AbbVie is closing on its acquisition deal with Allergan, better known as the company behind anti-wrinkle drug "Botox."
Glancing through the fundamentals of Abbvie's financial statement reveals that although the company's present profit margin (9.95%) is lower than the past year (23.57%), there is a chance of it reaching safe levels by the next earnings report release date i.e. July 23. The debt to assets percentage for Abbvie (91.3%) might seem high but when we consider its past performances, the stress transfers to its total market capitalisation value which is $198.45 billion at present. Currently, ABBV is trading at $112.46 going down by -0.64%.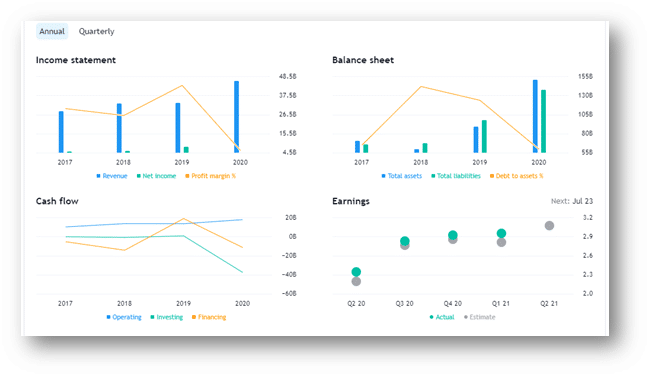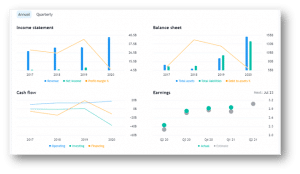 While considering ABBV's price action, it is safe to say that it is in the neutral zone. Although various dependable indicators like EMA (113.19) and SMA (113.19) spell out a "SELL" action for investors of ABBV the overall indication is neutralised by current levels of RSI (48.54), MACD (-0.02), and Momentum (-3.11).
Conclusion
Even though in the previous year medical stocks have failed to keep up with other markets, the sector continues to rise amid the pandemic during the first quarter of 2021. The rising trend of some of the above-mentioned stocks can be rewarding for highly responsive and watchful investors. With that in mind, experts have reasons to believe that these stock picks would be driving the market through the second quarter and therefore, are worth investing in.
Where To Buy Healthcare Stocks
With over 100 brokers to choose from, you'll go crazy if you try each and every one of them! Economy Watch have already shopped around and found eToro to be the best option.
You can register with this trading platform in less than 10 minutes – just have your details ready and they'll do the rest.
Looking to buy Healthcare Stocks now? Invest at eToro!
75% of all retail investor accounts lose money when trading CFDs with this provider.
Note: All figures and values included in this article were recorded at the time of writing and does not represent real-time data.