5 Best Electric Vehicle (EV) Stocks to Invest in December 2021
Please note that we are not authorised to provide any investment advice. The content on this page is for information purposes only.
Electric vehicle (EV) stocks have been quite volatile in 2021. There has been some upwards momentum over the last month after the COP26 summit. The passage of the infrastructure bill in the US also led to a spike in EV stocks, especially the charging infrastructure companies.
Then we also had stellar listings from Rivian and Sono Motors both of which delivered good listing gains with the latter more than doubling on debut. The electric vehicle industry is an attractive investment opportunity given the global shift towards zero-emission vehicles. Here are five EV stocks that look good buys in December.
Tesla (NYSE: TSLA)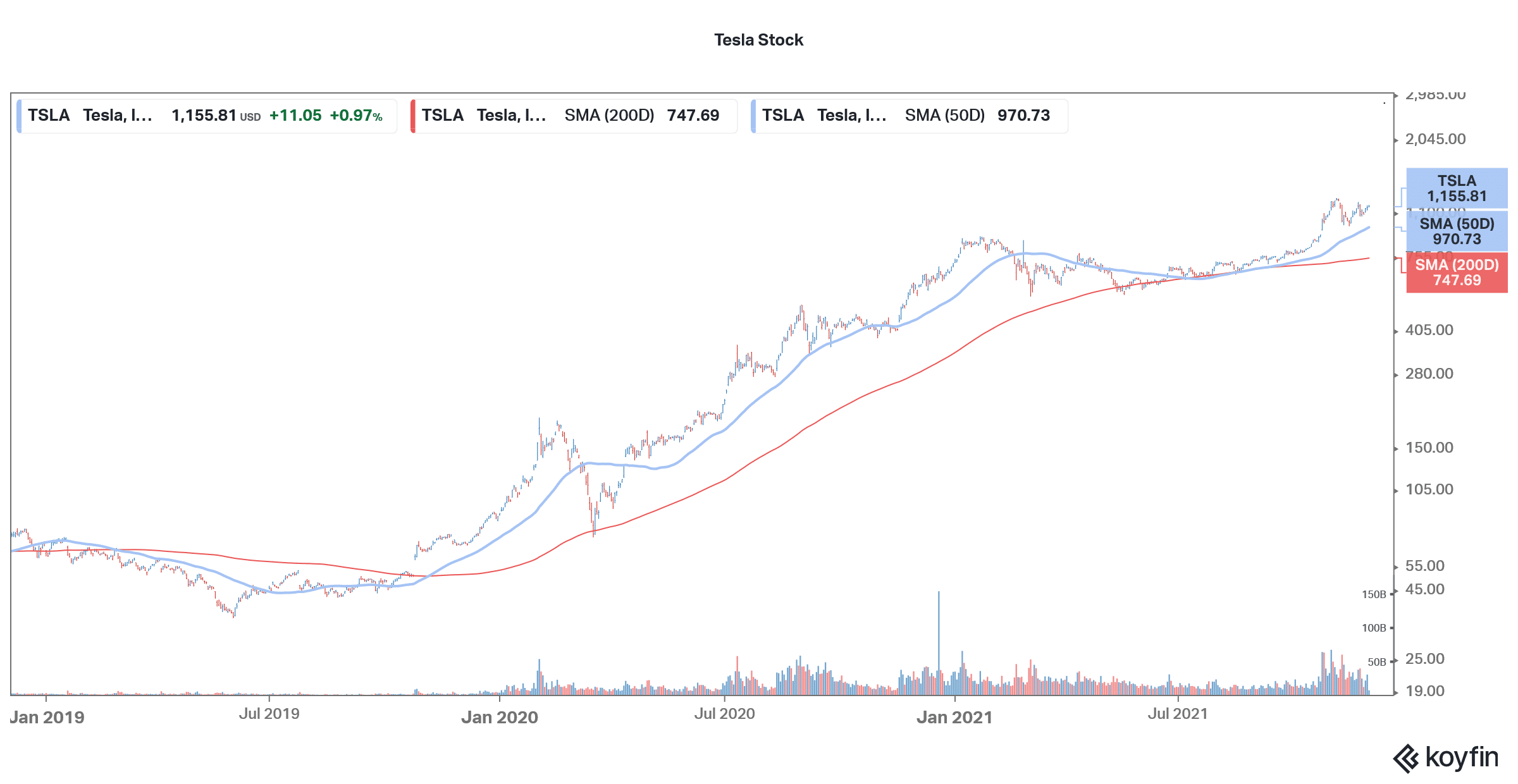 Thinking about electric vehicles, Tesla would undoubtedly be the first name that comes to mind for the majority of investors. The company is the global leader in the EV industry and other startup EV companies aspire to become the next Tesla. The Elon Musk-run company has proved the critics of Tesla, as well as electric vehicles wrong. Today, all automakers are committing billions of dollars towards electric cars. As for Tesla, it has become the first automaker globally to command a market cap in excess of $1 trillion.
Tesla is the largest EV company
Tesla delivered almost half a million cars last year and its current annual run rate is nearly a million cars. Only about five years back, the company was selling a few thousand cars every year. It sold its millionth car last year only. The company has surprised even the most pessimistic of analysts with its execution and managed to deliver a record number of cars in the third quarter despite the crippling global chip shortage.
While some analysts continue to see Tesla as overvalued, the stock has defied pessimism. If you are looking at exposure to EV stocks, Tesla should definitely be on your radar. If the company can deliver on services like fully autonomous cars and robotaxis, it could end up becoming the biggest company globally by the end of this decade.
68% of all retail investor accounts lose money when trading CFDs with this provider.
Sono Group (NYSE: SEV)
Sono Group, which plans to commercialize its solar-powered electric cars went public last month and priced the IPO at $15. The stock more than doubled on the listing day but has since fallen and now trades near the IPO price.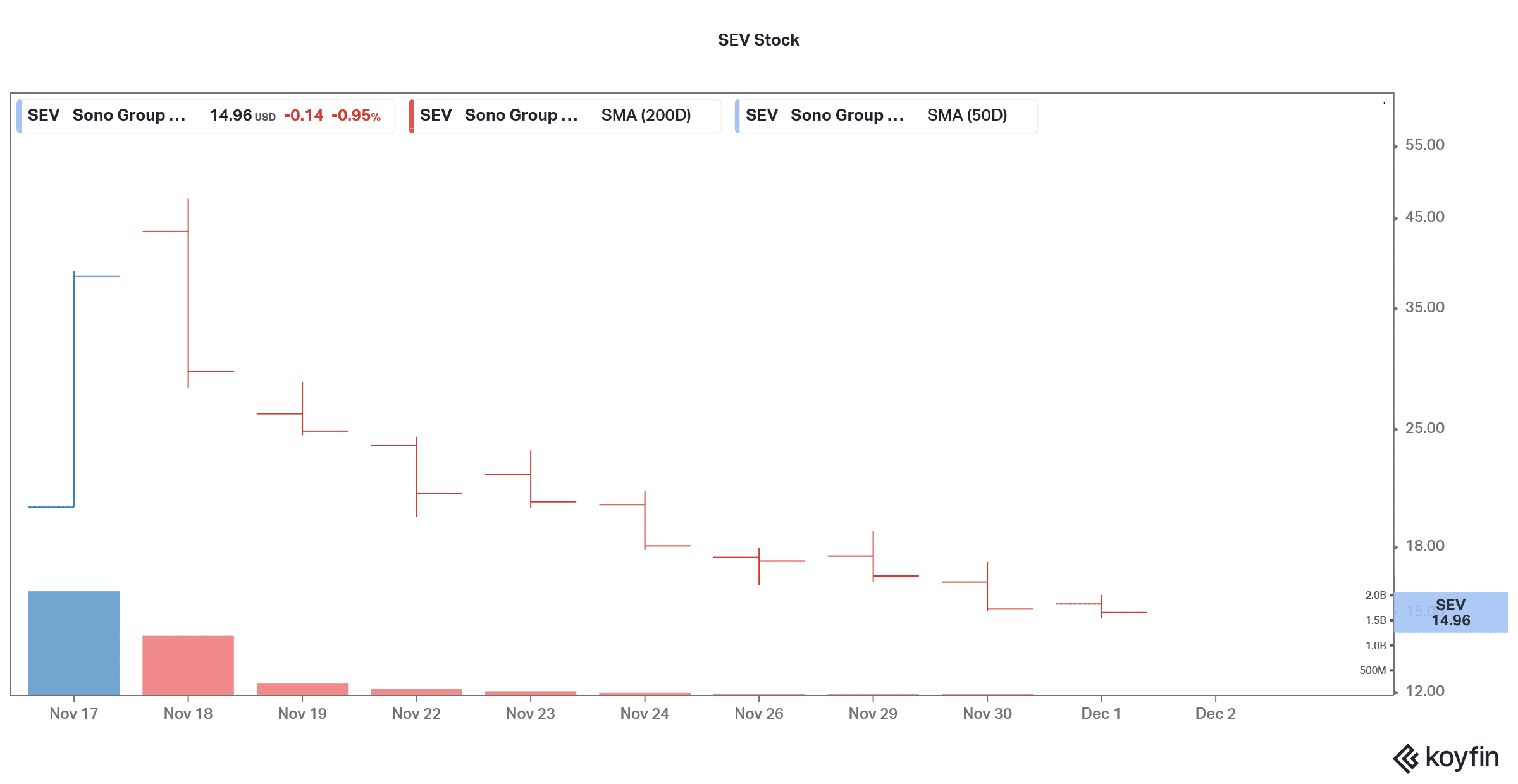 Sono is a good EV stock to play solar-powered vehicles
According to Sono, its first model names Sion adds an average of 69.5 miles of weekly charge from solar energy. The range can be as high as 152 miles per week. The car can deliver a range of 190 miles on a single charge which is lower than most other companies offer. However, the additional solar range is the USP for Sion. While companies like Toyota and Hyundai offer embedded solar panels in some of their models, and startup EV company Fisker is offering solar panels as part of its upcoming Ocean SUV, the range is much lower than what Sono is targeting with the Sion model.
All said, Sono Group could deliver good returns over the long term if the company can successfully commercialize its cars. Electric cars with embedded solar panels can find good resonance with green energy enthusiasts as they are more environmentally friendly than other electric cars which eventually rely on electricity generated from fossil fuels, including coal.
68% of all retail investor accounts lose money when trading CFDs with this provider.
Gores Guggenheim Inc. (NYSE: GGPI)
GGPI is set to merge with Polestar, which is an electric vehicle company backed by Volvo. While some of the startup EV companies are yet to deliver their first cars, Polestar already has two running models and expects to add more models over the next three years. The implied market cap of Polestar is much lower than that of Rivian and Lucid Motors even as both these companies only recently started to deliver vehicles. Looking at the valuation disconnect; it looks like a good EV stock to buy and hold for the long term.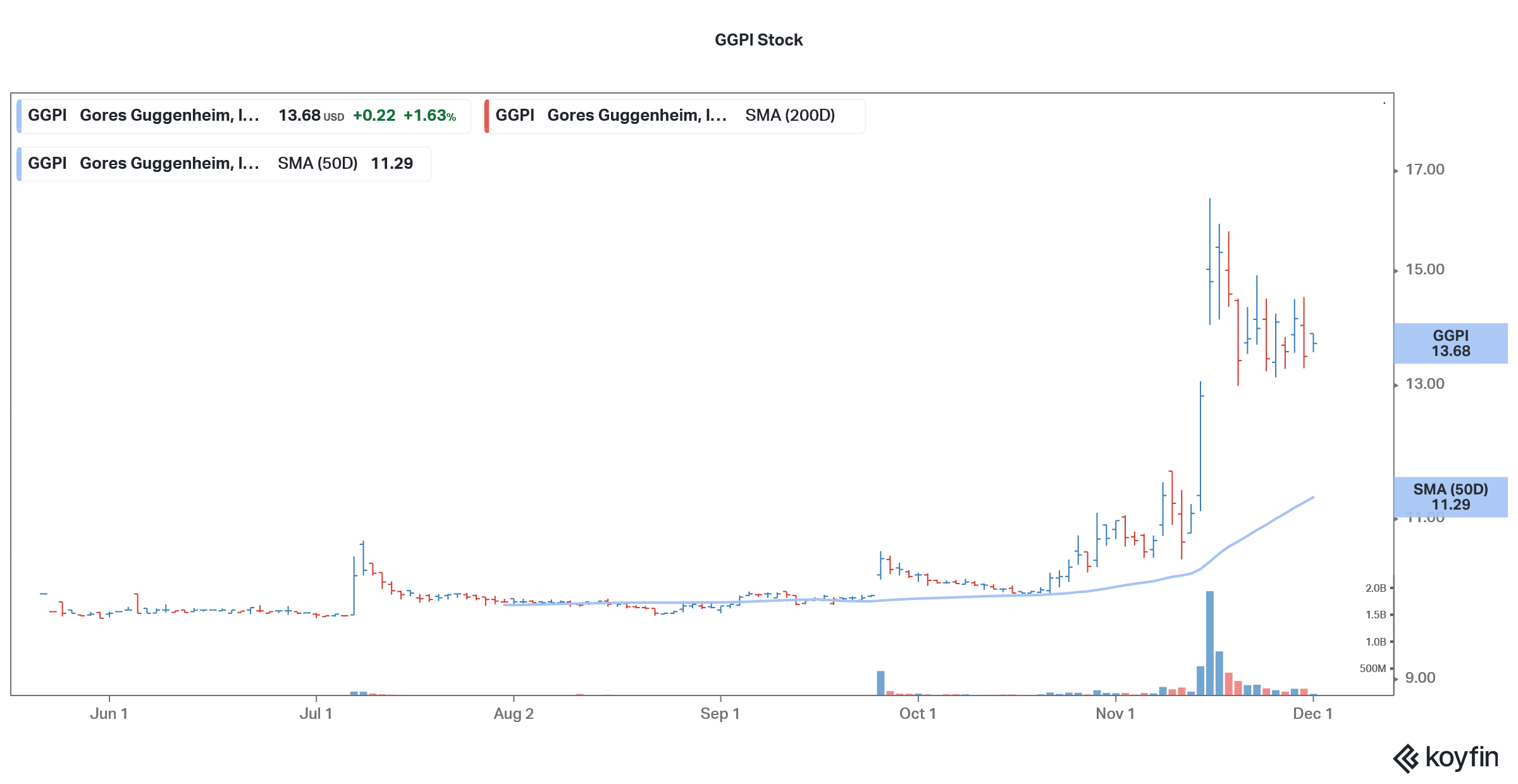 Polestar would be an EV stock worth watching
Polestar could be an EV stock worth watching once it completes the SPAC merger. The execution risk for Polestar is lower than many of the startup electric vehicle companies and the backing from Volvo is another added advantage. Overall, GGPI looks like a good SPAC stock to buy ahead of its merger with Polestar.
68% of all retail investor accounts lose money when trading CFDs with this provider.
Fisker (NYSE: FSR)
Among the startup EV stocks, Fisker looks like a good bet. Last month, Fisker Ocean won the inaugural zero-emission vehicle award which was dubbed THE ZEVAS at the LA Auto show. Notably, Ocean is the first model from Fisker and would be produced by its production partner Magna in Austria. For its second model named Project PEAR, FSR has partnered with Foxconn.
Fisker would begin the deliveries of its Ocean SUV from the fourth quarter of 2022. The company has priced the Ocean SUV beginning $37,499 which looks quite competitive. The starting model would have a range of around 250 miles. The higher-end model would cost around $65,000 and would have a range over 350 miles.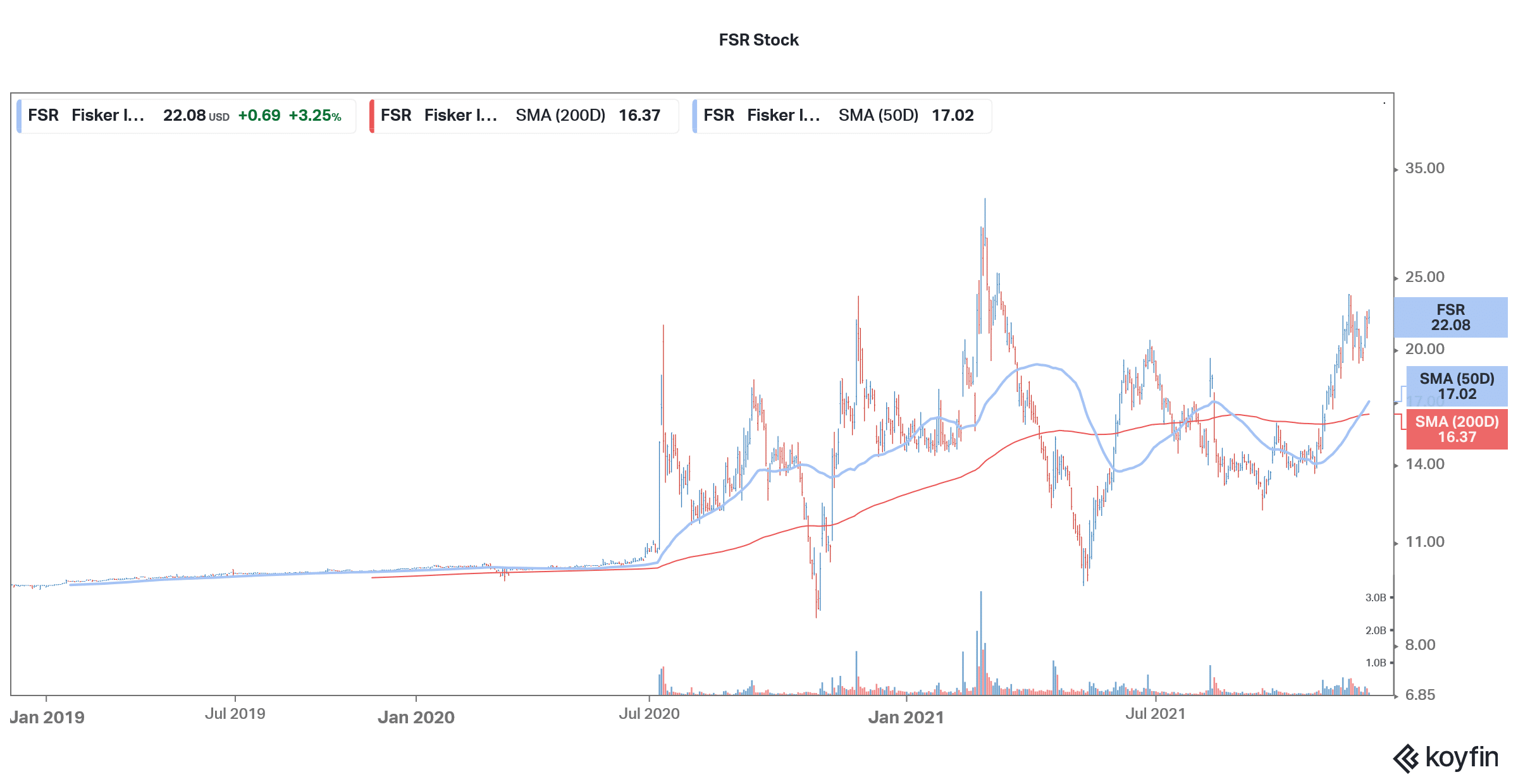 Fisker is a good startup EV stock to buy
Notably, for the batteries, Fisker has partnered with battery giant CATL which would supply different batteries for its cars. The partnership with industry leaders like CATL and Magna makes FSR among the best startup EV stocks to buy in December.
68% of all retail investor accounts lose money when trading CFDs with this provider.
NIO (NYSE: NIO)
NIO has underperformed Chinese EV stocks in 2021 and the underperformance looks somewhat unwarranted. The stock now trades at attractive valuations considering its strong brand in the domestic Chinese market.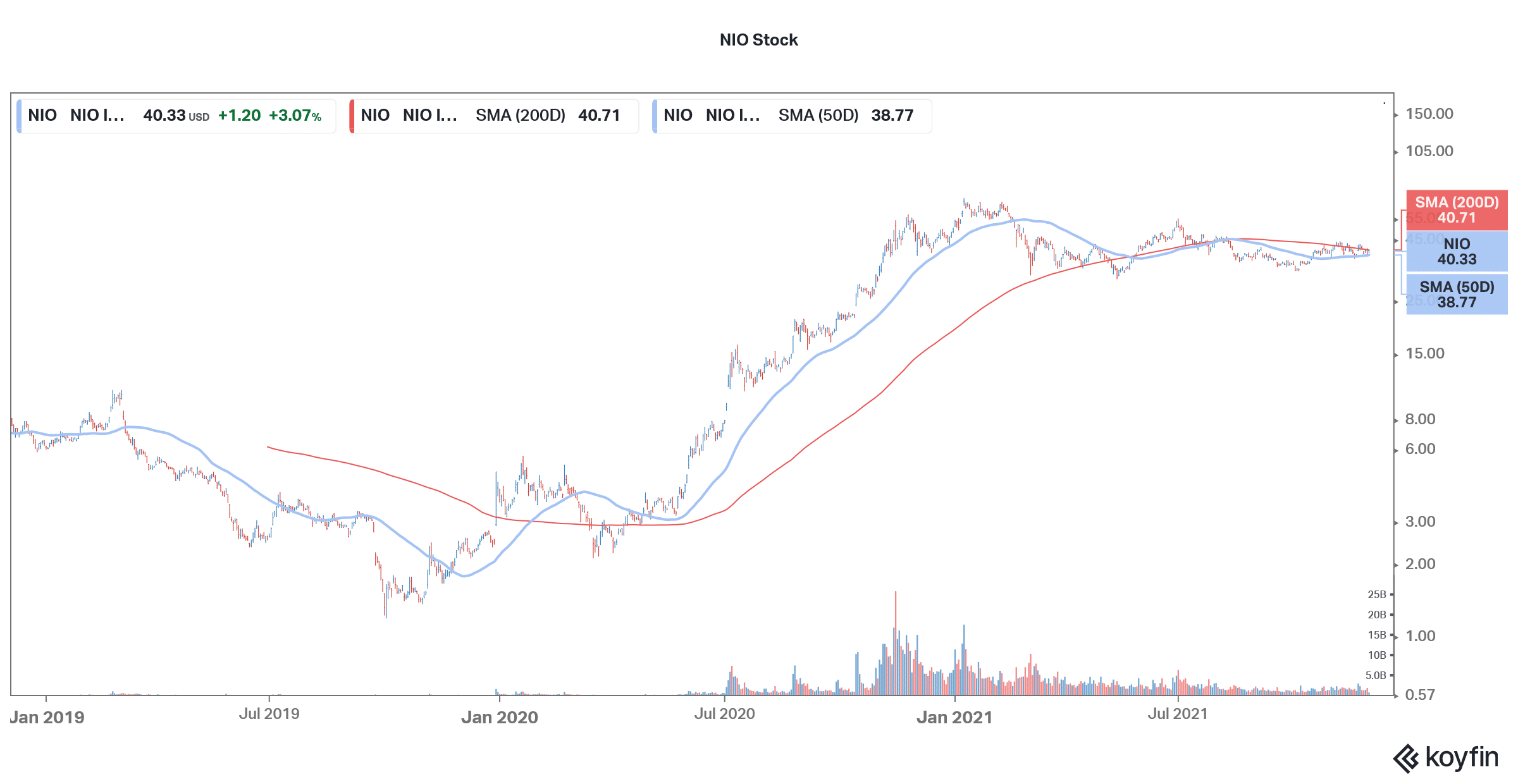 NIO's premium brand positioning makes it a differentiated Chinese EV stock to buy. The company also has the tacit support of the government and it bailed out the company last year when it was facing a survival battle. China has also created a subsidy category for companies that provide battery replacements service where only NIO qualifies. By providing the battery replacement service, NIO is able to bring down the initial vehicle cost as the buyer can buy the car without the battery.
Wall Street analysts also find NIO as an EV stock worth buying
The consensus view is also bullish on NIO stock. In October, Goldman Sachs had upgraded the stock and sounded optimistic on its upcoming ET7 sedan. "The price point makes ET7 China's most expensive car model ever launched by domestic manufacturers, strengthening Nio's brand equity in the premium space," said Goldman Sachs in its note. The upcoming NIO day could be another catalyst that could take NIO stock higher.
Buy NIO Stock at eToro from just $50 Now!