5 Best Dividend Shares to Buy for June 2021
The stock market hit a bit of a snag in May. For the first time in months, the NASDAQ index saw a momentous drop, losing 5 percent of its value in just two days. After it bottomed out at 156.98, the index began rising again, leading to increased confidence among investors.
The S&P 500 index also dropped last month, moving from 4233.40 on May 7 to 4,056.56 on May 13. That masked the single worst day for stocks since the year began, although the index has managed to rally and is now testing its May highs again.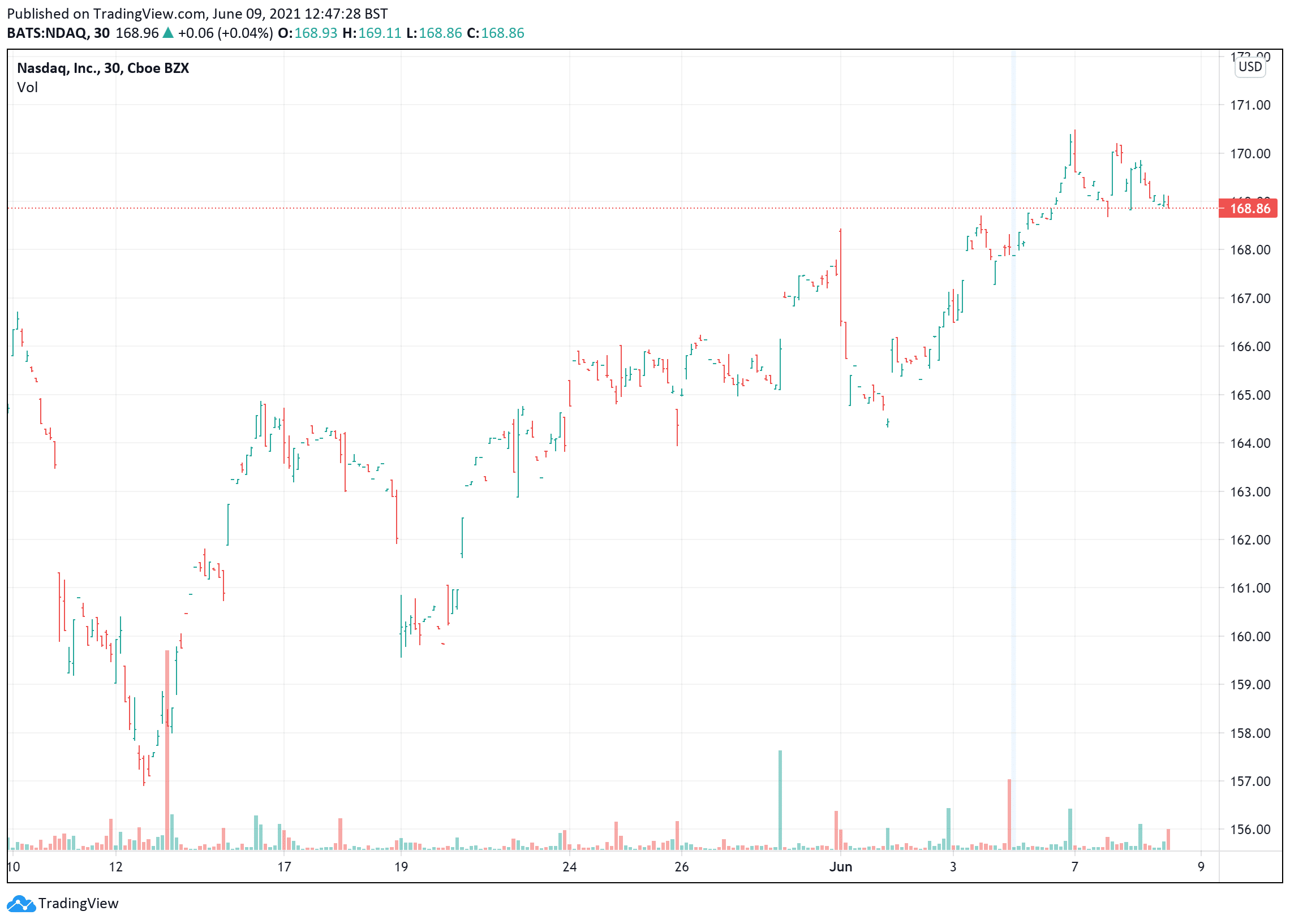 Dwindling performances last month came from fears of inflation rising in the United States. The consumer price index jumped 4.2 percent in April 2021, compared to April 2020.
Inflation fears have also jumped as the Biden administration continued to spend money on fighting the coronavirus, infrastructure, tax reform, and economic easing. As the United States continued to battle its way out of the pandemic and its economic effects, several unwanted consequences have arisen.
Investors are especially scared that increased spending could further weaken the economy. However, many are looking into different asset classes to hold up their wealth and wait out the storm. While stocks have firmed up as we approach the middle of the year, May's rocky run – as well as a bit of a dry patch in March – means that investors might want to hedge their wealth with dividend shares.
Income-driven investors have always sought dividend shares. However, selecting the right companies will require some work. A ripe dividend stock needs to have strong fundamentals, a record of increasing share payouts, and current bullish trading activity. With that in mind, here are some of the most intriguing dividend stocks to consider:
1. International Paper Company (NYSE: IP)
With rising fears of inflation, buying dividend shares in materials producers seems to be a good idea. These companies continue to see high demand, and International Paper Company is one of the shining beacons of this industry.
Based in Memphis, Tennessee, International Paper Company is the world's largest pulp and paper company. While paper might not be a high-tech product, IPC has done a good job of consolidating the industry over the past few years. Now, it enjoys the benefit of being a market behemoth.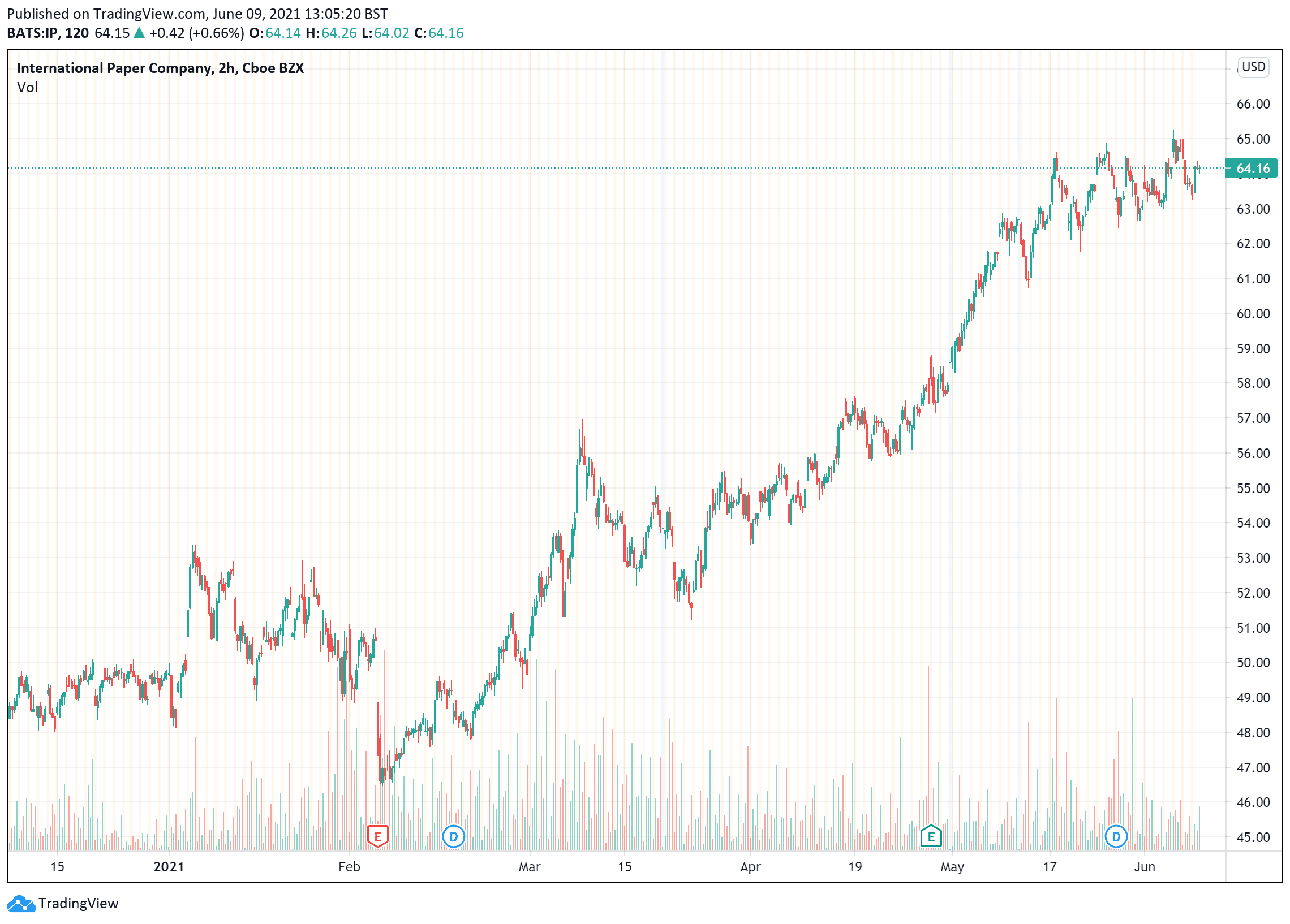 Since paper remains in demand – from toilet paper to the boxes used by Amazon for shipping – orders for IPC remain strong. The company's stock has definitely been on the rise, recovering from a February downturn that saw it drop to $46.65 and jumping to a current price peg of $64.09.
ICP has been especially impressive over the past three months. The company's stock is up 14.96 percent, showing big wins even while major indexes are down.
Lastly, ICPO has a history of increasing dividend share payouts, according to data from Street Insider. With 3.2 percent yields in the last payout date and $0.5125 a share, the company is standing on solid ground.
2. Interpublic Group of Companies (NYSE: IPG)
The Interpublic Group of Companies is an advertising conglomerate with roots dating back to over a century. The company has grown through several high-profile mergers and acquisitions, and it has now become a dominant force in digital marketing and consumer advertising.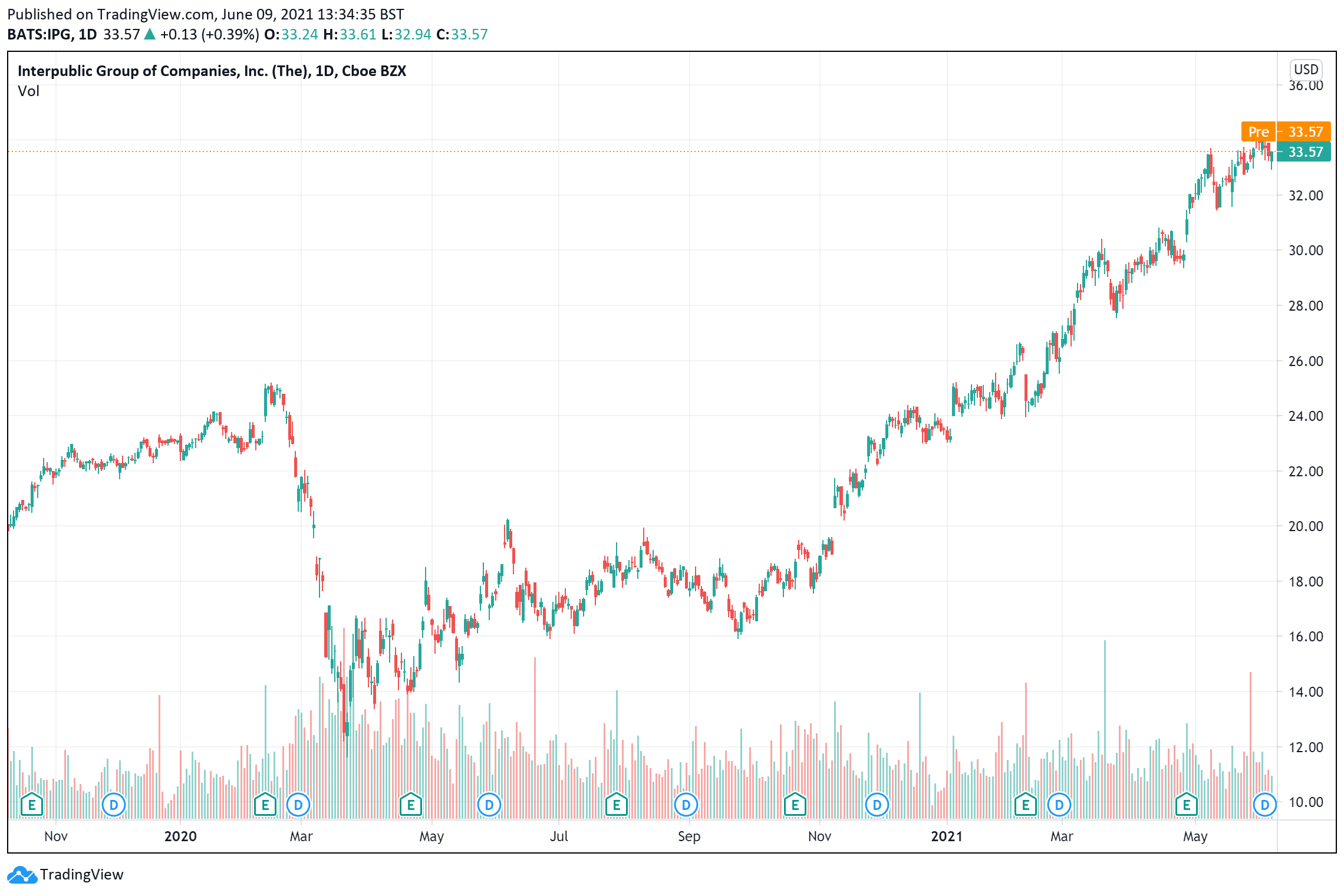 IPG shares have managed to withstand the market downturn as well. They've been bullish all year, moving from $23.72 to $33.57 since the beginning of the year. In fact, the company's shares have more than doubled since the middle of last year, showing that the company is getting back to its pre-COVID days.
As for dividend share payouts, IPG has done pretty well. Data from NASDAQ shows that the company paid out $0.27 per share to investors earlier this month – a significant increase from the $0.255 it paid last year. In the past five years, quarterly dividends have jumped 80 percent.
3. Nutrien (NYSE: NTR)
Like the International Paper Company, Nutrien benefits from being in an industry that is essential to daily life. The Saskatoon, Canada-based company is the world's largest producer of potash and the third-largest nitrogen fertilizer producer.
With over 2,000 locations serving agricultural industries, Nutrien has footprints in the United States, Australia, Canada, and all of South America. The rising global population and diminishing farmland availability have made it important to have high-quality fertilizer products, and Nutrien is here to meet that need.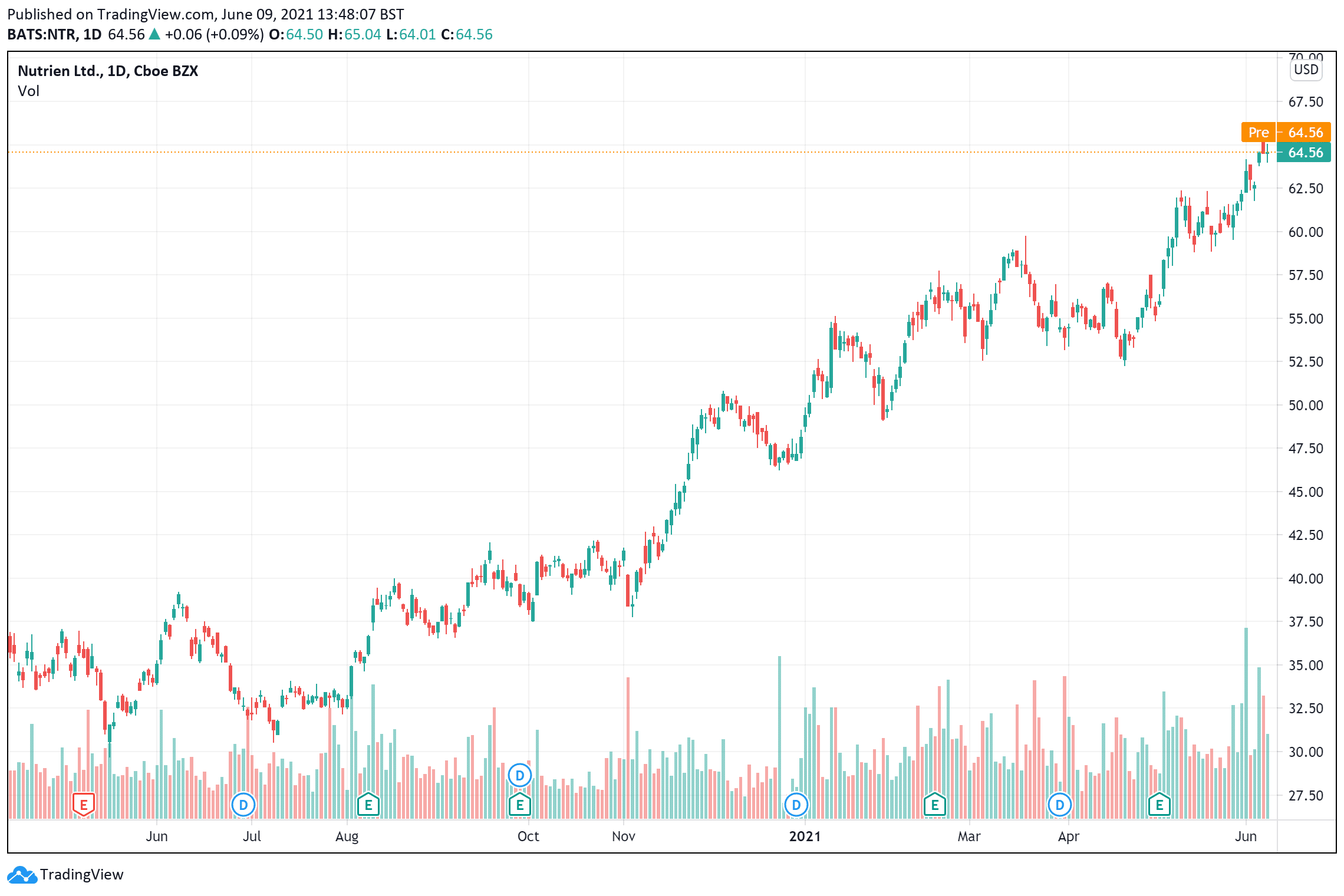 With these trends set to go into the long-term, Nutrien is poised to benefit immensely. The company's stock has been on an uptrend of late overcoming a bit of a downturn in May to finally snap upwards. NTR has risen by 18 percent in the past three months, currently sitting at $64.56.
When you move the chart to the 12-month average, you will find that the company has done much better as it edges closer to a 100 percent raise.
Dividend yields for Nuitrien have jumped by 80 percent in the past four years, according to NASDAQ data. The company currently provides annual dividend shares yield of 2.09 percent with a P/E ratio of 59.78.
4. PetroChina Company Limited (NYSE: PTR)
PetroChina Company Limited is the listed arm of the China National Petroleum Corporation – China's state-owned oil and gas company. Crude oil prices are currently on the rise, with the Brent crude index rising past $70 last month for the first time in 18 months.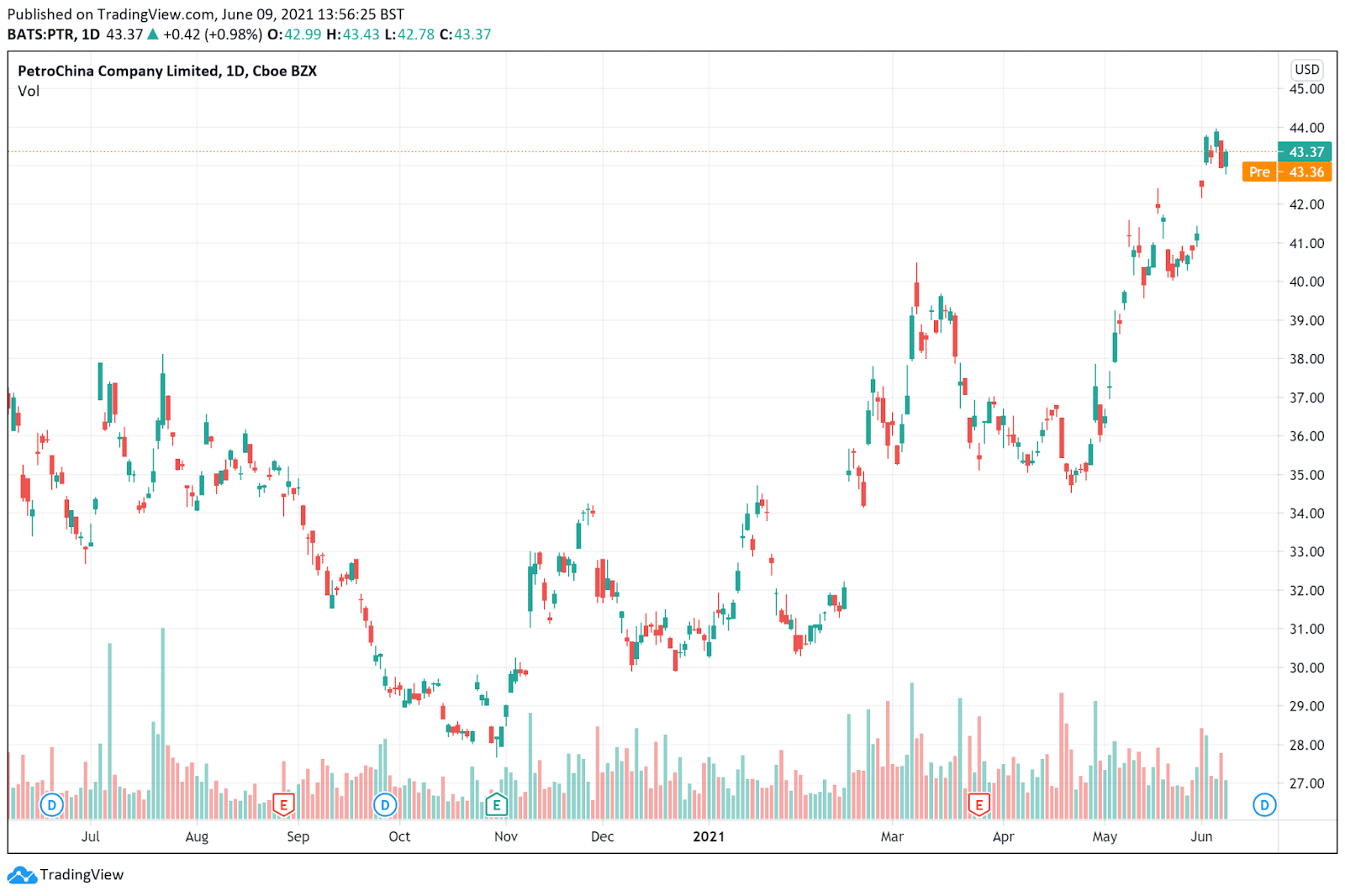 With more countries lifting restrictions and travel back to pre-COVID levels, oil demand is about to shoot up to the roof. PetroChina has the benefit of being plugged directly into the energy-hungry Chinese economy. So, while inflationary trends might be on the rise, PetroChina could benefit from that.
Investors understand that. PTR is riding a yearly high, overcoming a March slump and consolidating higher since the early parts of last month.
Dividend yields have also been impressive. PetroChina will pay $1.182 in dividend shares this month, up from $1.117 last year. 3.73 percent in dividend yields is sure to entice investors.
5. Franklin Resources (NYSE: BEN)
Franklin Resources Inc. is a California-based hedge fund and holding company with over $1.4 trillion in assets under management. The company might not be as high-profile as several top Wall Street names, but investors will do well to note it.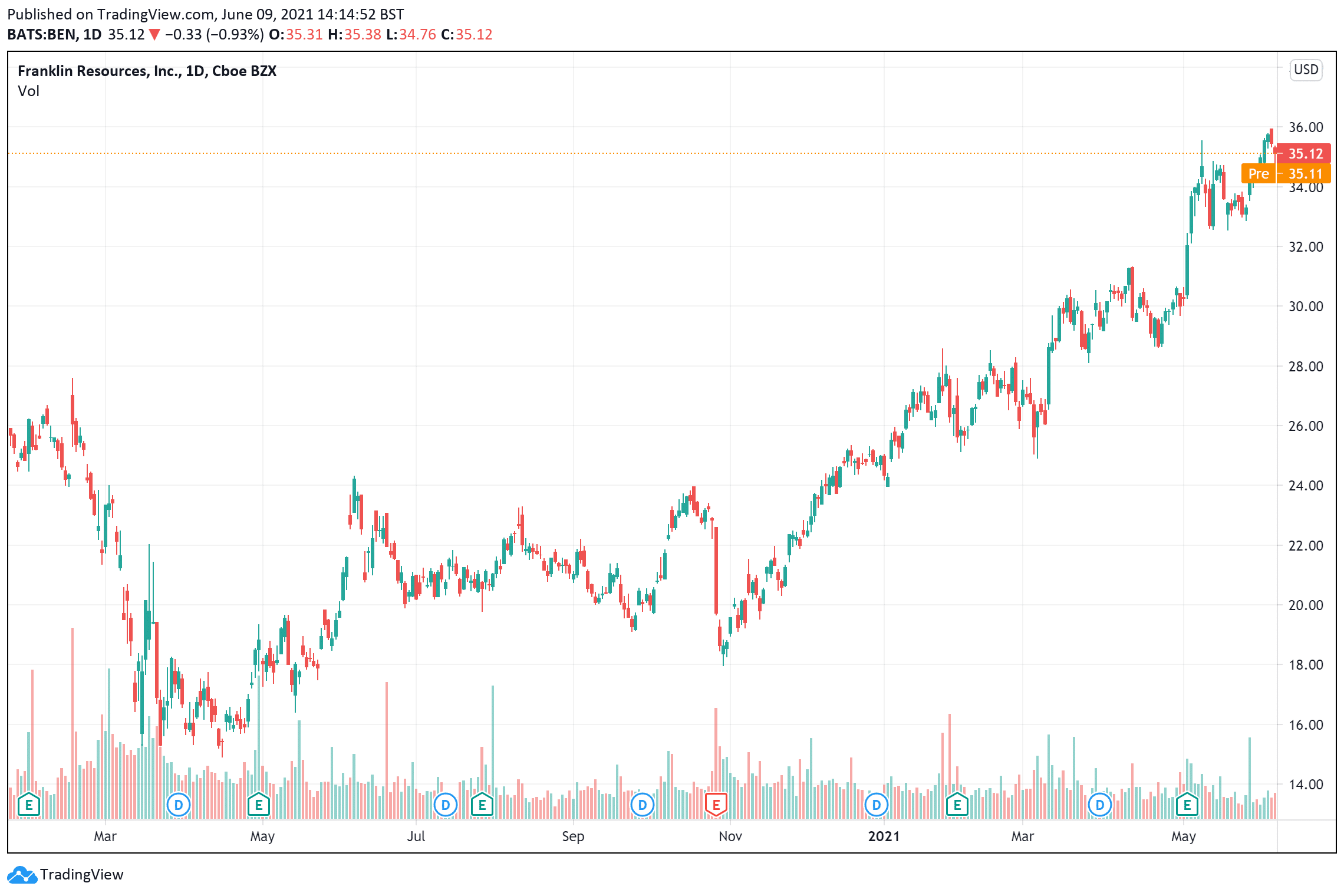 BEN has done well in 2021, jumping 43 percent already to settle at $35.11. It already eclipsed its pre-COVID levels, meaning that its activity is definitely bullish.
Franklin Resources stock has also been increasing dividends – for 40 years running. The most recent dividend payout, which took place in March, was for $0.28 a share. The company provides 3.13 percent in yield percentages.
Where To Buy Dividend Shares
The best place to buy dividend shares is from a trading platform such as eToro. Using eToro, you can buy each share referenced above including over 200 others.
Opening an eToro account is fast and ID verification takes just minutes, making it quick and easy to start buying. After depositing funds into your account, you'll be all set to buy dividend shares.
Looking to buy dividend shares now? Invest at eToro!
75% of all retail investor accounts lose money when trading CFDs with this provider.