5 Best Cyclical Stocks to Buy in June 2021
Cyclical stocks have outperformed in 2021 amid the strong economic recovery. However, some of the cyclical stocks have seen selling pressure recently. What're the five best cyclical stocks to buy in June 2021?
To begin with, we should understand what are cyclical stocks. In simple terms, these are the stocks of companies whose business is cyclical and is dependent on the economic cycles. These companies see a spike in earnings in an economic upcycle while their earnings plummet when the economic cycle turns for the worse. Many times, cyclical companies post losses in the downcycle.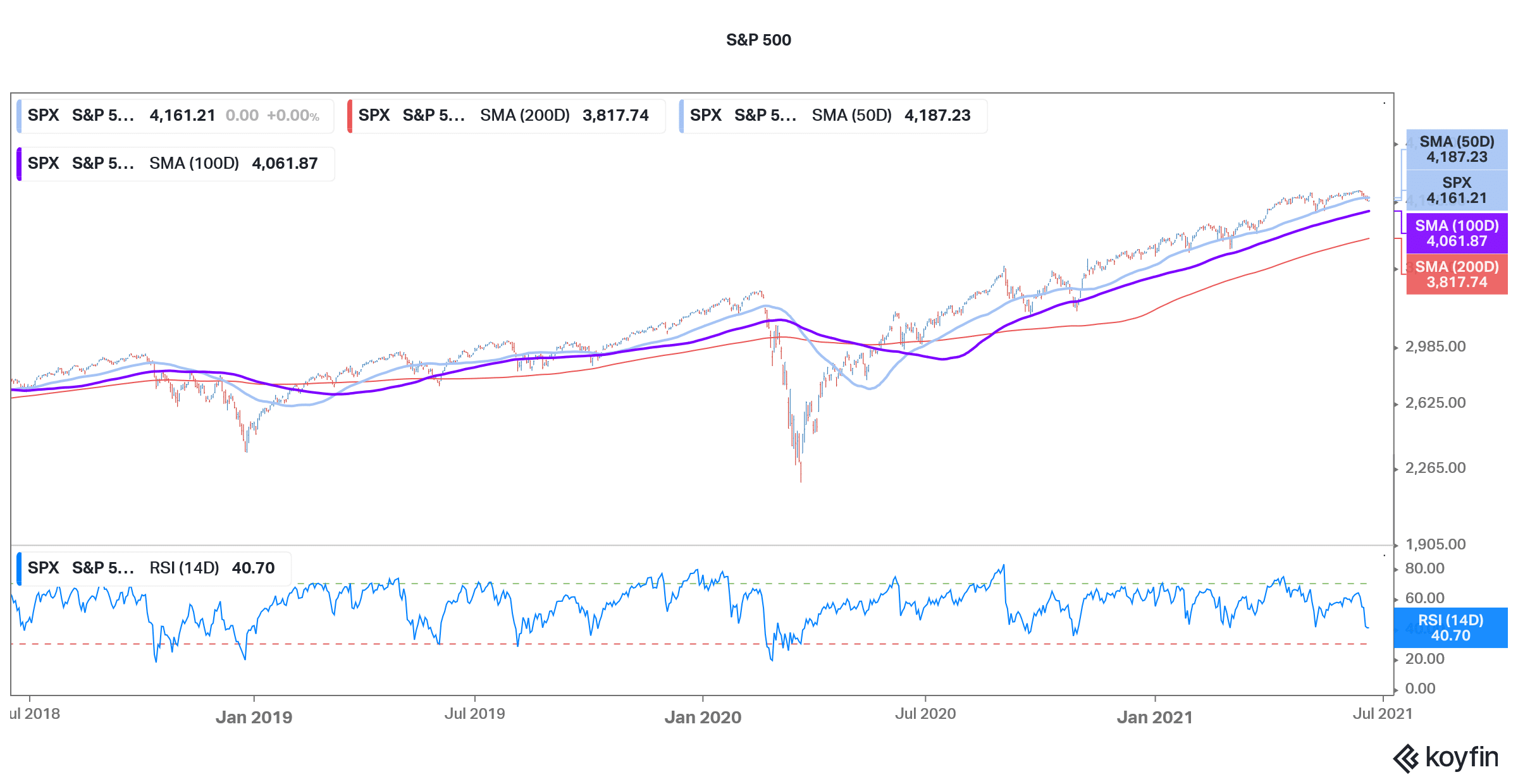 The global economy is in an upswing and is recovering sharply from the 2020 lows. Stock markets globally are doing well and the S&P 500 has hit a new high. However, US markets are off their highs amid rate hikes fears as the Federal Reserve dot plot showed two rate hikes by 2023. That said, the strong economic recovery should help buoy market sentiments. Cyclical stocks are generally high beta and rise or fall more than the broader markets. Let's now dive into the five best cyclical stocks that look like good buys now.
1. Freeport-McMoRan (NYSE: FCX)
Freeport-McMoRan is the world's largest publicly traded copper miner. The stock is down over 24% from the 52-week highs amid the correction in copper prices. While copper prices hit their all-time highs earlier this year, they have retreated from the peaks. China, which is the world's largest copper consumer and importer has said that it will release some metal from its state reserves which put pressure on prices.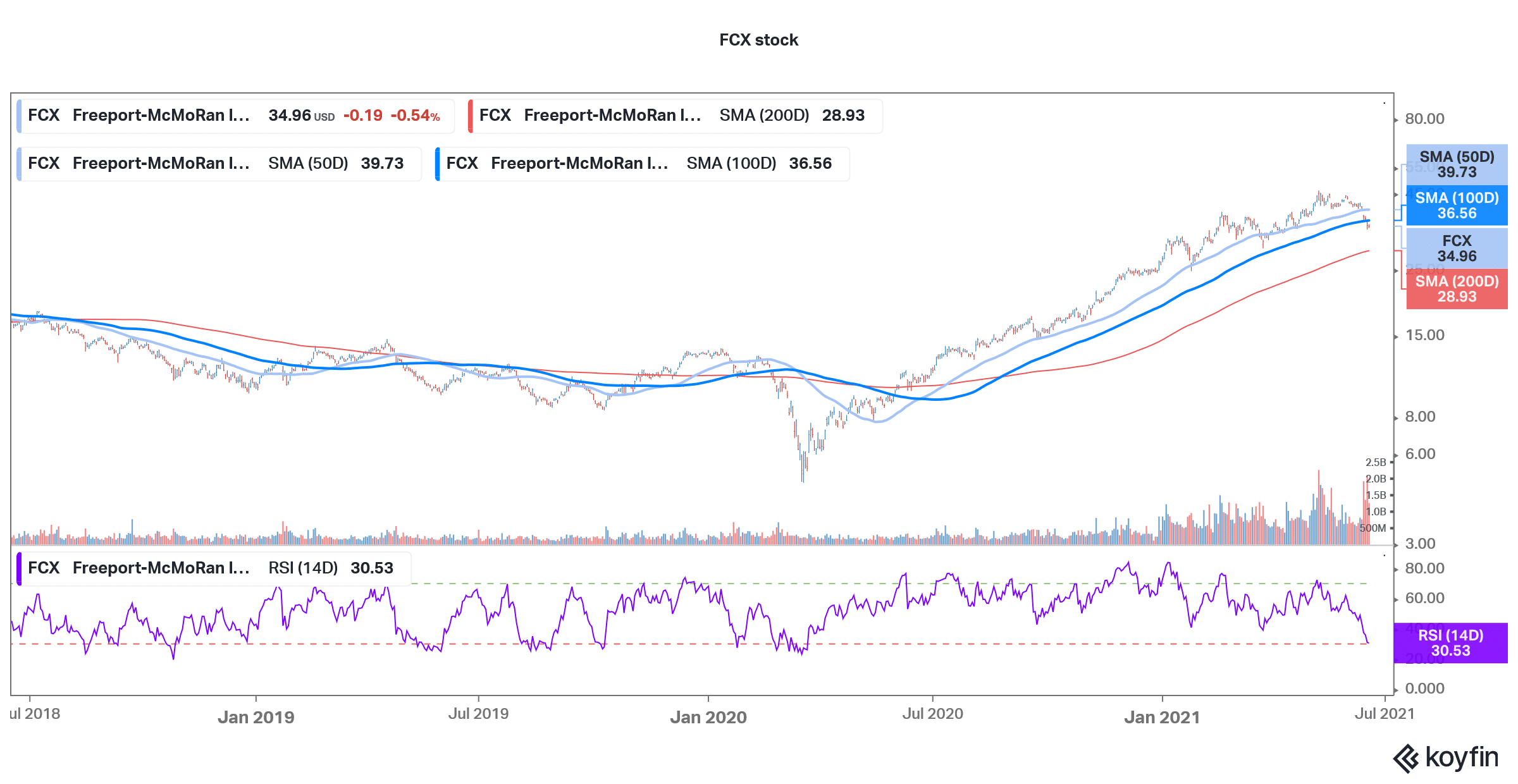 Looking at the technicals, FCX stock is looking bearish on the charts. It has fallen below the 50-day SMA (simple moving average) and 100-day SMA. Both these have been strong support channel for the stock. However, the stock looks oversold as its 14-day RSI (relative strength index) is 30.5 which is near the oversold levels of 30.
From a fundamental perspective, the long term outlook for copper looks strong amid demand from electric vehicles and renewable energy both of which have a higher copper intensity. FCX has an increasing production profile that will support its revenues and profitability in the medium term.
The company's balance sheet is also in much better shape now. The stock trades at an NTM (next-12 months) EV (enterprise value)-to-EBITDA multiple of 6x which looks attractive. Overall, FCX looks like a good cyclical stock to buy and play copper's long-term outlook.
67% of all retail investor accounts lose money when trading CFDs with this provider.
2. Ashford Hospitality (NYSE: AHT)
The hospitality business is cyclical in nature and last year was particularly bad for the sector as hotels across the globe were shut due to the COVID-19 related restrictions. Even after the economies reopened travel demand was subdued. Now, with a large portion of the US population inoculated against the coronavirus, travel demand has increased.
Ashford Hospitality is a Dallas-based REIT that invests in high-end hotel properties. AHT has brands like Marriott, Crowne Plaza, Hilton, Sheraton, and Hyatt, as part of the portfolio. Marriot and Hilton are the leading contributors to the company's EBITDA.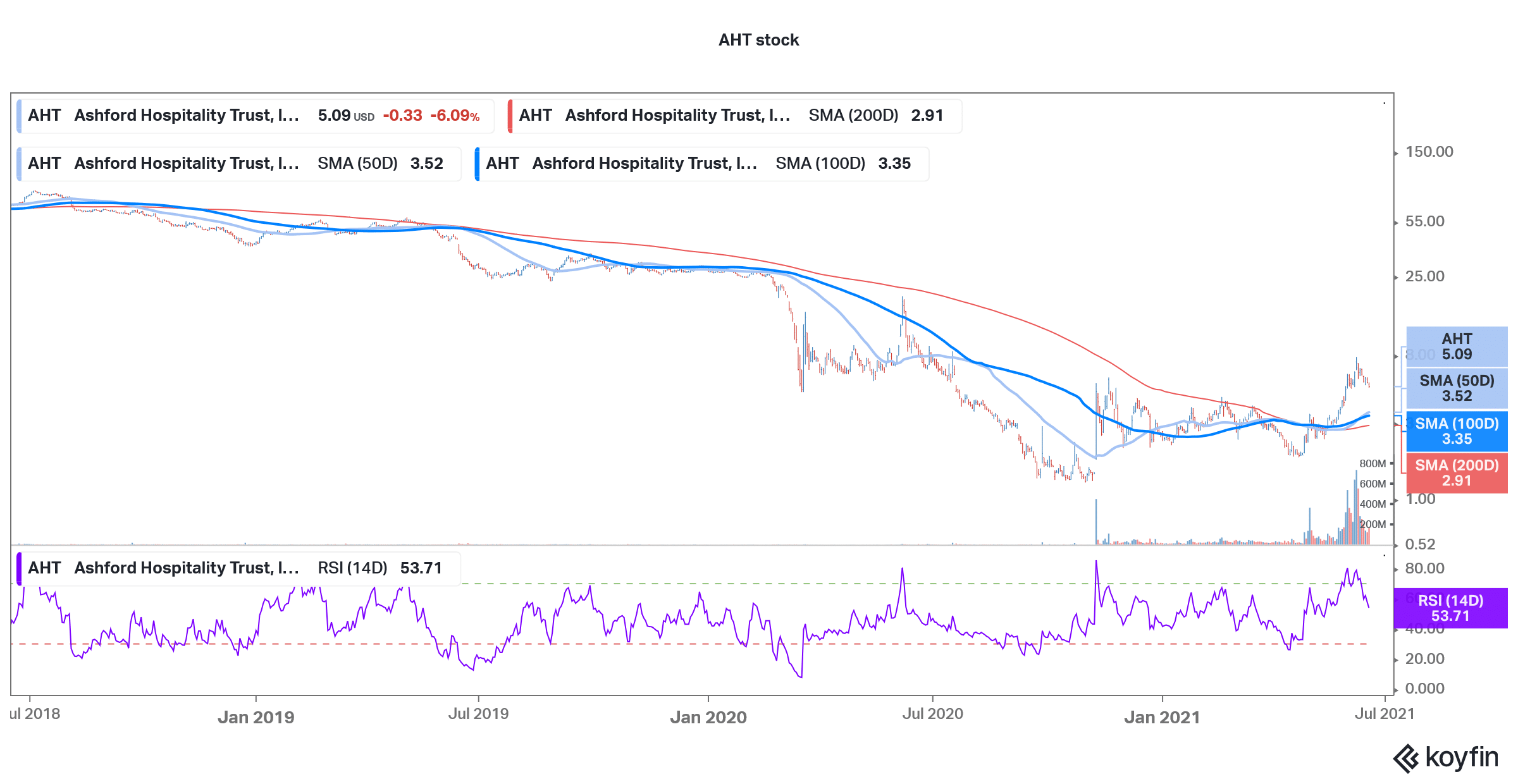 As people get comfortable with travel, demand for the hotel industry is expected to pick up. There is an undeniable pent-up demand for outdoor entertainment and it is visible in the recent data points.
AHT stock is up 67% over the last month but is down sharply from its recent highs. The fall in AHT stock could be an opportunity to take new positions in this cyclical stock. The stock is trading above its 50-day, 100-day, and 200-day SMA which is a bullish indicator. The 14-day RSI is neutral with a reading of 53.7.
AHT stock trades at an NTM EV-to-EBITDA of 31x which looks reasonable. With travel demand picking up, AHT looks like a good cyclical stock to buy now. The company has also taken several measures to strengthen the balance sheet and has converted some preferred shares to common shares. While it has led to dilution it has also led to a fall in expenses.
67% of all retail investor accounts lose money when trading CFDs with this provider.
3. Nucor (NYSE: NUE)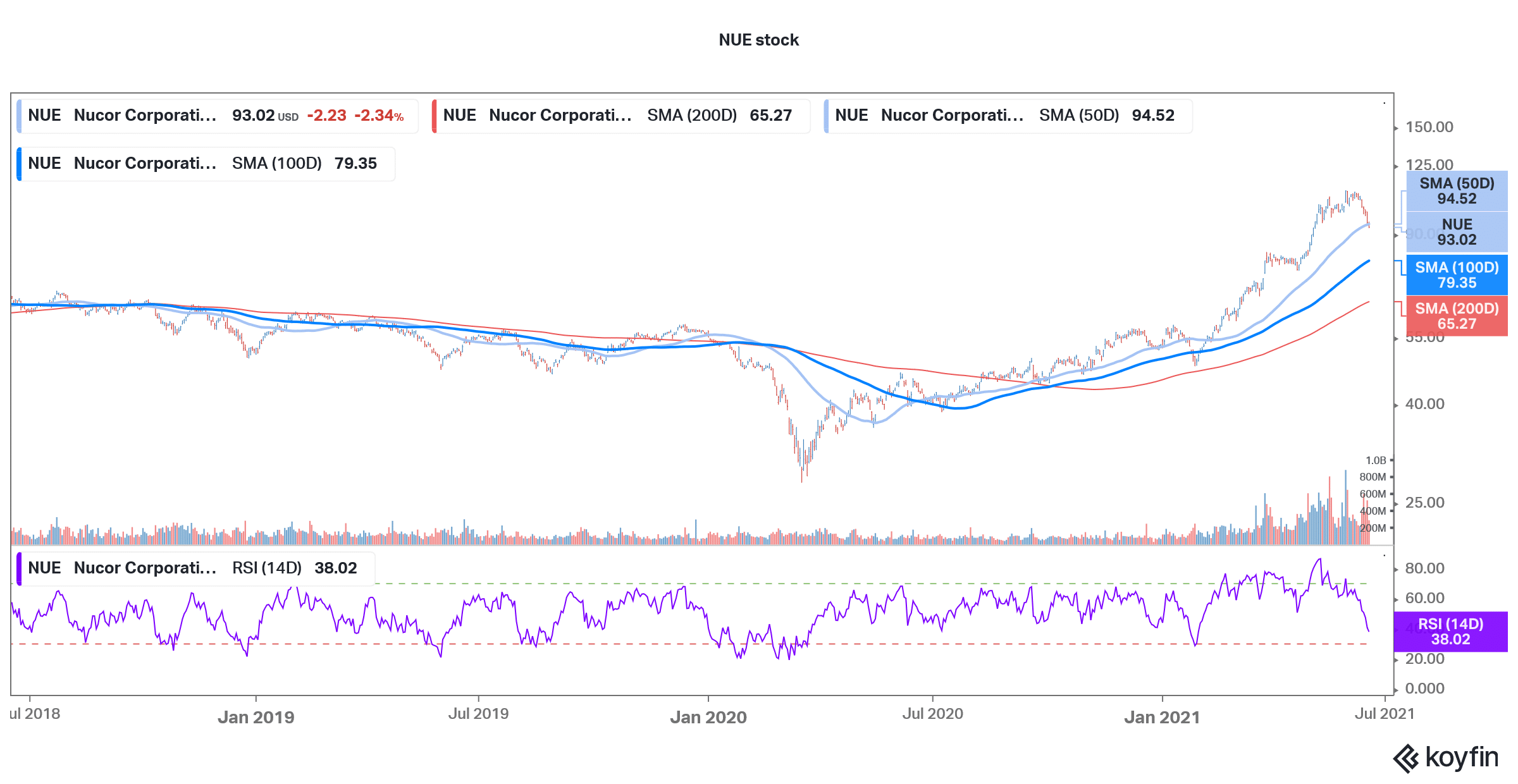 Nucor is the largest US-based steel producer. The steel industry is highly cyclical in nature. However, the industry is currently going through a cyclical upswing. US steel prices are near their all-time highs supported by strong underlying demand. Also, the Section 232 tariffs imposed by President Donald Trump are still in place that has provided pricing power to US steel companies. There is a risk that President Biden will relax the tariffs on some countries. However, given the steel industry's political clout, he might have to take a balanced decision.
Nucor has a diversified portfolio of long and short steel products. It has integrated operations and also runs scrap processing and downstream steel operations. The stock pays a regular dividend which it has increased every year. Nucor could be among the biggest beneficiaries of Biden's infrastructure plans as it has good exposure to long steel products used in non-residential construction.
Nucor trades at an NTM EV-EBITDA multiple of 4.1x which looks attractive. The stock has fallen below its 50-day SMA amid the recent correction in its stock price. However, given the still booming US steel markets, Nucor looks like a good cyclical stock to buy now.
67% of all retail investor accounts lose money when trading CFDs with this provider.
4. Ford (NYSE: F)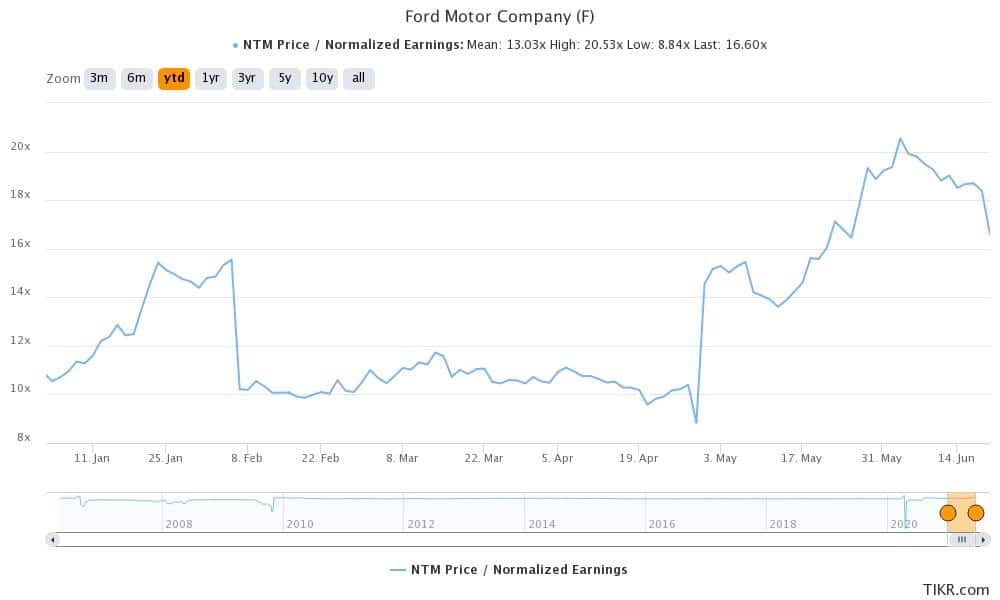 The automotive industry is also cyclical in nature. Auto stocks were battered in 2020 amid the COVID-19 related restrictions. However, automotive stocks have rebounded in 2021 amid the recovery in cyclical stocks. Ford, the second-largest US automotive company, has gained 65% so far in 2021 and is among the top 10 S&P 500 performers.
The outlook for Ford stock still looks bullish. Along with a play on the cyclical theme, legacy automakers like Ford and General Motors are also a play on their electric vehicle plans. Ford has doubled down on its electric vehicle plans and is launching several electric models including the F-150 pick up which has been America's best-selling pick up for decades.
Ford trades at an NTM PE multiple of 16.4x. While the multiples seem high it's because of the depressed earnings in 2021. Earlier this year, Ford said that it expects its pre-tax profits to be $2 billion lower than the previous guidance due to the chip shortage situation. However, the company's earnings should improve next year. Also, as the electric vehicle plans unfold, it could see further expansion of multiples. Ford is looking bullish on the charts and is trading above its 50-day and 200-day SMA. The stock meanwhile is getting near overbought levels with a 14-day RSI of 61.
67% of all retail investor accounts lose money when trading CFDs with this provider.
5. Bank of America (NYSE: BAC)

The banking sector is also cyclical in nature and the sector was under pressure in 2020. However, banking stocks are outperforming in 2021 even as they saw some selling pressure after the Federal Reserve's meeting. Bank of America is the second-largest US bank and looks like a good stock to buy and bet on the economic recovery.
BAC stock has found support near the 100-day SMA even as they fell below the 50-day SMA amid the sell-off. Looking at the fundamentals, the stock trades at an NTM PE multiple of 13.1x which looks reasonable. BAC stock looks like a good cyclical stock to buy now. The increase in long-term interest rates and the continued economic recovery is positive for the banking sector.
67% of all retail investor accounts lose money when trading CFDs with this provider.