5 Best Chinese Stocks to Buy in November 2021
As an asset class, Chinese stocks have been out of favor with markets and many leading fund managers have either trimmed their exposure or exited them altogether.
The apathy towards Chinese stocks is not tough to understand. The Chinese economy is slowing down as is reflected by most economic indicators. Add the changed socio-economic environment under the leadership of Xi Jinping and investors have valid reasons to be wary of Chinese stocks.
Notably, while global markets have recovered from the lows of the 2008 Global Financial Crisis, China is among the rare major markets which are still below the 2007 highs. However, it is not all over for Chinese stocks, and some of them appear good buys. Here are the five best Chinese stocks that you can buy in November 2021.
JD.com (NYSE: JD)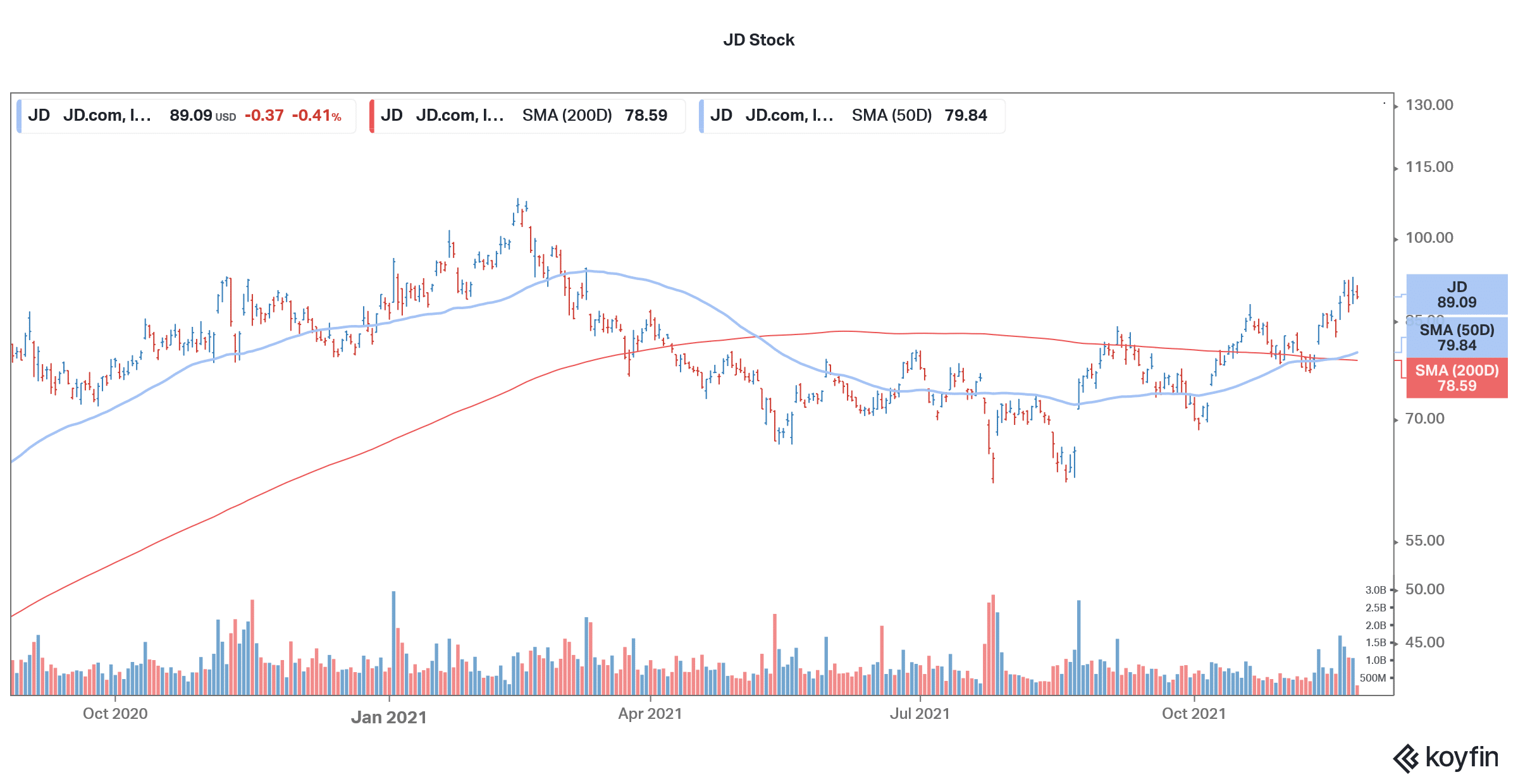 Chinese e-commerce and tech giant JD.com look a good Chinese stock to buy in November. Incidentally, Morningstar sees JD.com s a better stock to buy as compared to Alibaba. "Among our e-commerce coverage, we prefer JD over Alibaba as there is more clarity on the long-term margin improvement at JD versus the level of margin decline for the next few years at Alibaba," said Morningstar in its note.
Morningstar finds JD.com as a good Chinese stock to buy
Wall Street analysts also share Morningstar's optimism toward JD stock. Of the 47 analysts covering the stock, 45 have rated it as a buy while two analysts have a hold rating. Its median target price of $104.83 is a premium of 17.8% over current prices.
Notably, Chelsey Tam, senior equity analyst at Morningstar, is bullish on JD as they expect the company's margin to improve. According to Tam, "JD's customers use JD's first-party e-commerce platform for its more reliable inventory stocking, quality delivery, and authenticity of goods."
All said JD.com is among the Chinese stocks to play the e-commerce and tech sector in China.
68% of all retail investor accounts lose money when trading CFDs with this provider.
Alibaba (NYSE: BABA)
While Morningstar prefers JD over Alibaba, BABA too looks like a good Chinese stock to buy in November 2021. To be sure, Alibaba has been the poster child of China's tech crackdown. Last year, BABA's co-founder Jack Ma had made critical comments about the country's financial system. Post that, not only was the IPO of Ant Financial blocked by the Chinese government but Ma himself wasn't seen in public for months. However, since then, the company has been making several overtures to the authorities.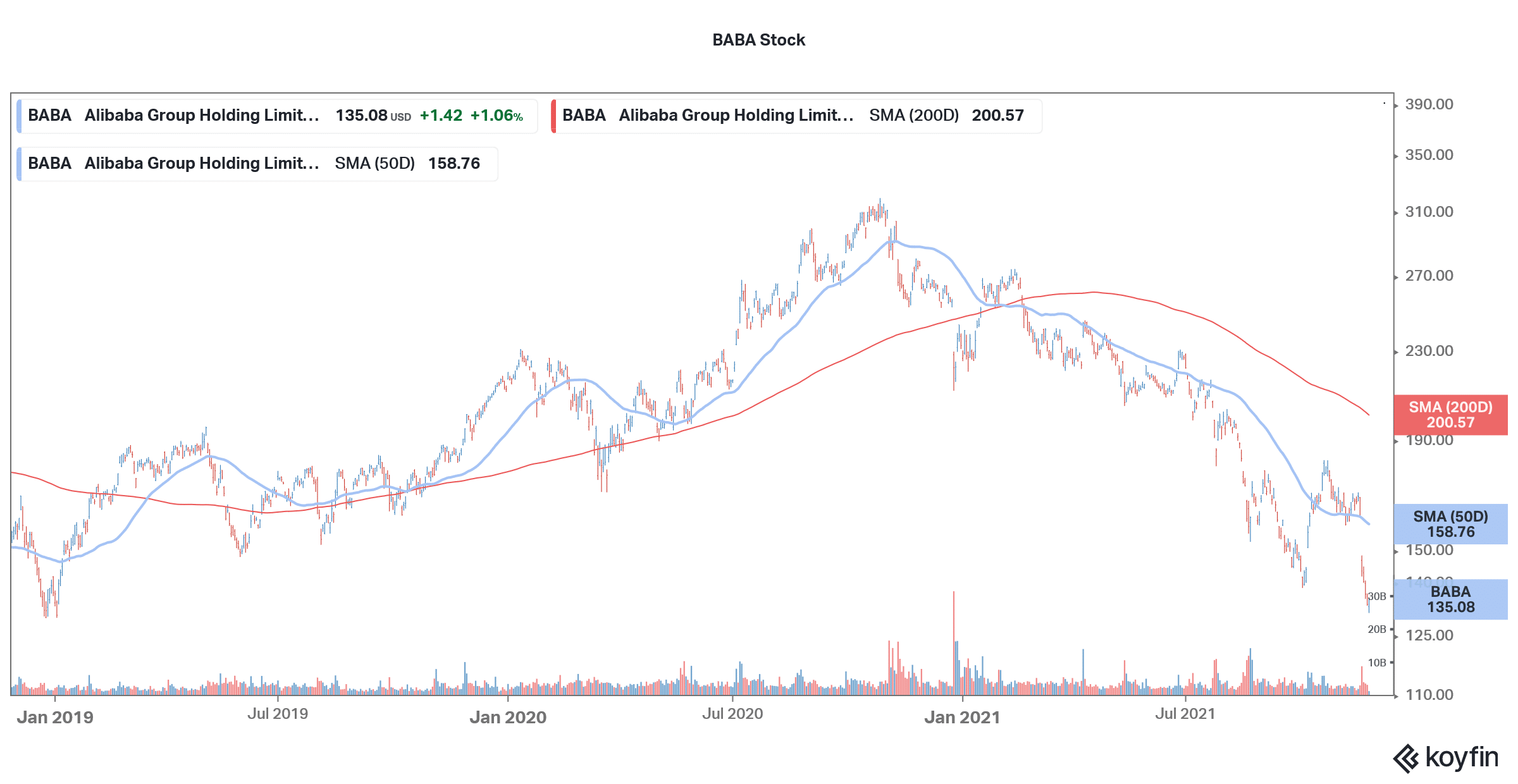 Alibaba has been making overtures to the government
It agreed to pay a $2.8 billion fine to settle the antitrust case. In September, Alibaba had announced that it would invest $15.5 billion by 2025 to promote common prosperity in China. The investment, which is voluntary, comes amid the push by the Communist government to address the growing wealth inequality in the country.
Chinese stocks have been under pressure on slowdown concerns
Meanwhile, while concerns over China's tech crackdown have somewhat abated, for now, BABA, as well as some of the other Chinese stocks have been under pressure on concerns over a slowdown in the Chinese economy.
BABA's fiscal second-quarter 2022 exemplified the slowdown risks for Chinese stocks. That said, the valuations seem to be factoring in the expected slowdown. As concerns over China's crackdown ease, the country might see more investment from foreign investors. BlackRock, which is the largest asset manager globally, has said that it is trimming exposure to India while adding Chinese stocks.
Inflows from foreign funds should help support the price action in Chinese stocks. Also, if you want to make a long-term bet on the Chinese economy, BABA looks among the best bets
68% of all retail investor accounts lose money when trading CFDs with this provider.
Xpeng Motors (NYSE: XPEV)
Chinese EV (electric vehicle) stocks are another attractive asset class especially after underperforming their US-listed peers over the last year. XPEV looks like a good Chinese stock to buy in November as the company expands its operations internationally.
XPEV has already operations in Norway and expects to enter Denmark, Sweden, and the Netherlands next year. The company has outlined ambitious plans of selling half of its cars in international markets. While it may seem a tall task at this moment, it is very much achievable considering the impetus towards electric cars globally.
XPEV is a good Chinese EV stock to buy
Xpeng Motors has also unveiled the new G9 flagship smart SUV which is the company's fourth model. Also, it is advancing on autonomous driving and robotaxis which could be the real value add for investors. Incidentally, Tesla's CEO Elon Musk believes that most of the company's valuation comes from the software business, which includes the FSD (full-self driving) and the yet-to-be-launched robotaxis.
The valuation of XPEV and other Chinese EV stocks looks attractive when compared with their US peers. Overall, XPEV looks like a good Chinese stock to buy in November and play not only the Chinese but also the global EV industry.
68% of all retail investor accounts lose money when trading CFDs with this provider.
NIO (NYSE: NIO)
NIO is another good Chinese stock to buy in November. The stock has underperformed EV peers badly in 2021 amid short-term headwinds. However, its long-term growth trajectory looks strong.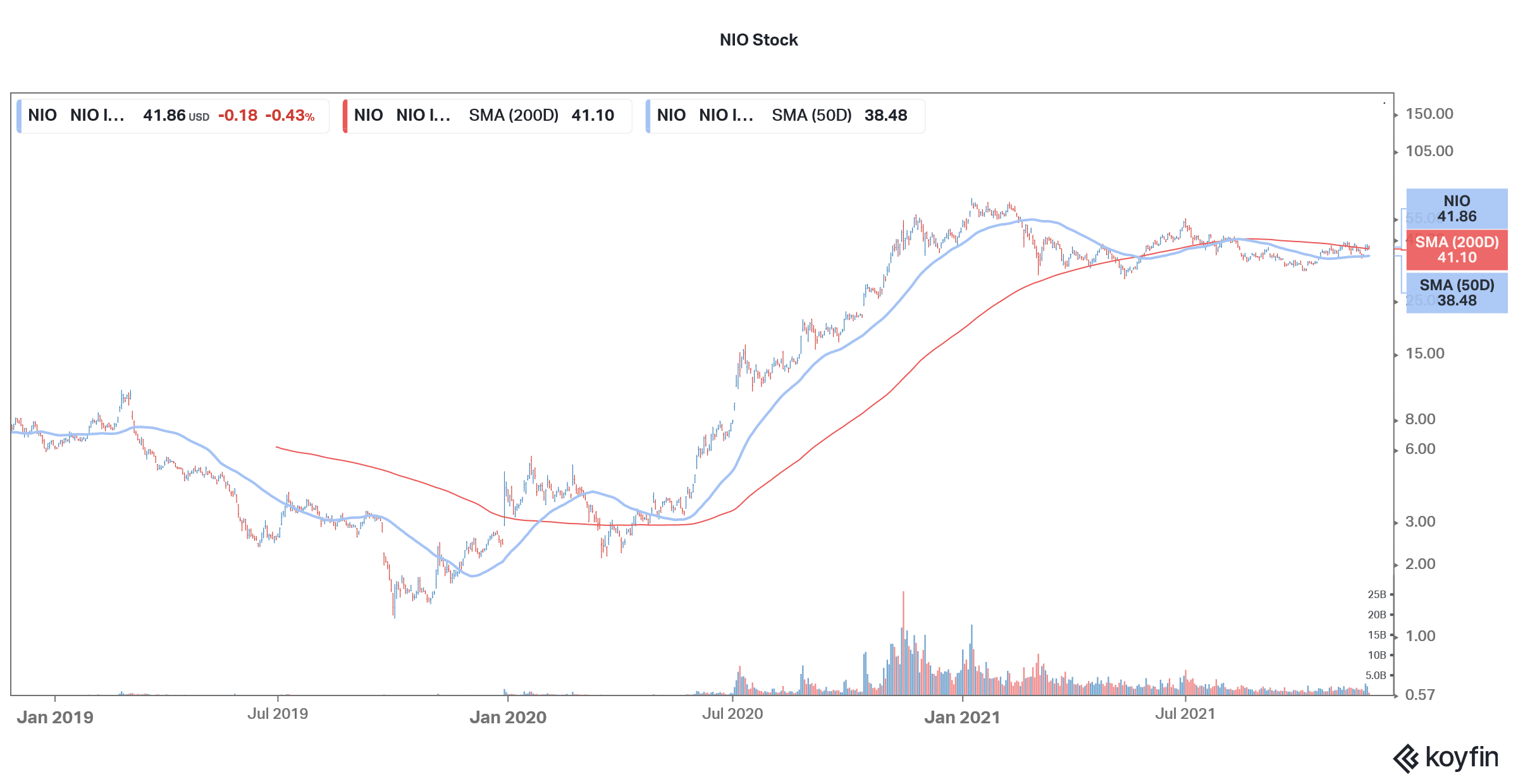 NIO is a good Chinese stock as it has support from the government
NIO has the tacit support of the Chinese government and the country has a special subsidiary category for battery swapping where only NIO qualifies. The country also bailed out the company when it was waging a survival battle last year. China plans to increase the EV penetration in the country to 25% by 2025 which bodes well for domestic EV companies.
Over the long-term launch of new models and entry into new markets will drive value for investors. NIO has already announced an expansion in Europe beginning with Norway and hinted at targeting Germany next.
Wall Street analysts are also bullish on NIO and its valuations look attractive as compared to other EV stocks. NIO looks among the best Chinese EV stocks to play the luxury EV industry in China, which is the world's largest market for electric cars.
68% of all retail investor accounts lose money when trading CFDs with this provider.
The iShares China Large-Cap ETF (NYSE: FXI)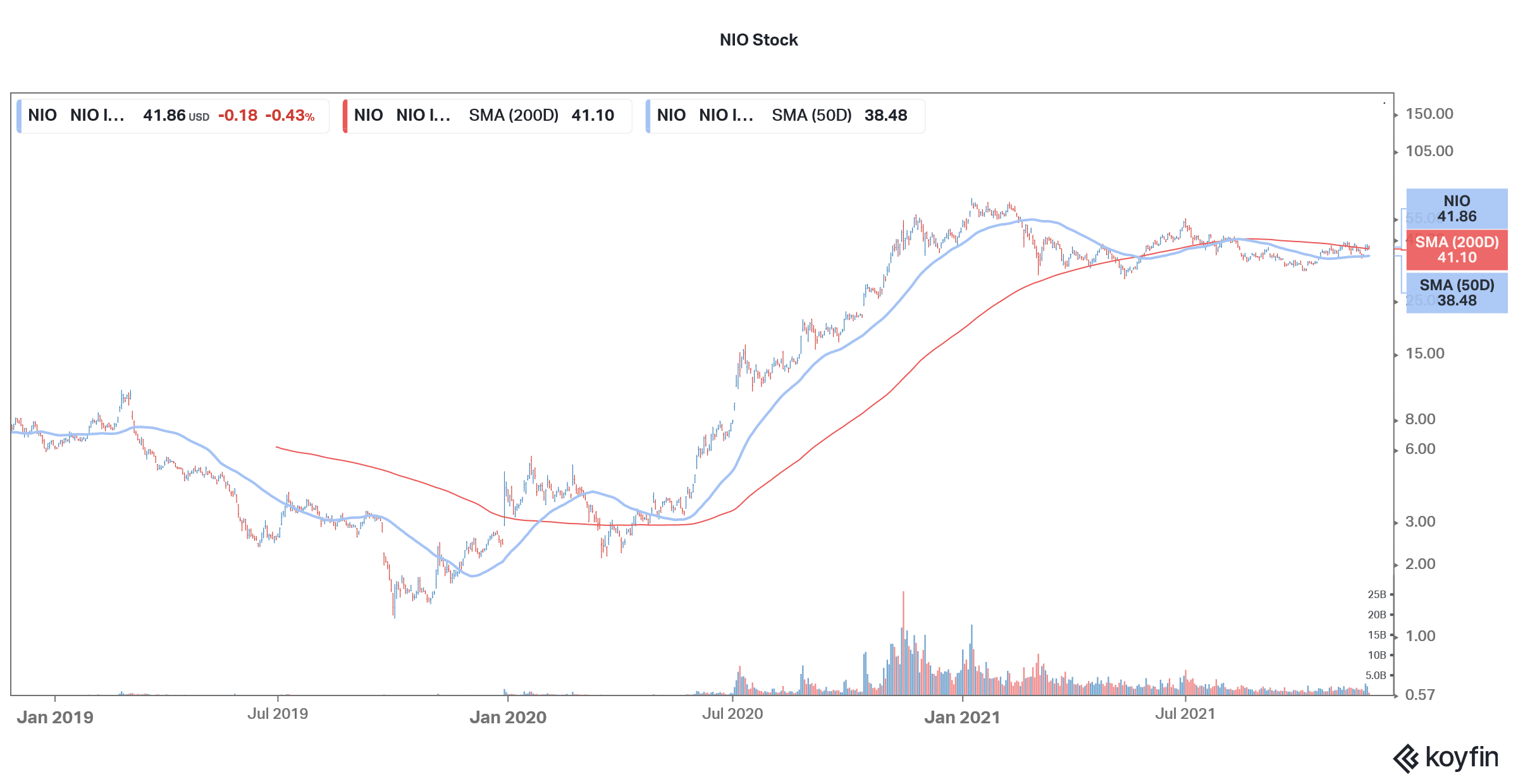 If you want diversified exposure to Chinese stocks, you can do so through an ETF. FCX gives you exposure to the fifty largest Chinese companies. ETFs can be a good investing strategy especially for investors who lack the time or analytical skills to pick individual stocks. The charges in an ETF are much lower than active funds, which is among the prime reasons for their popularity.
Buy FXI ETF at eToro from just $50 Now!