Quantstamp Price Prediction – Quantstamp Forecast 2021, 2022, 2025 & 2030
The growth of smart contracts has meant that scalable security is a genuine concern for developers. As more complex contracts are written, there is a greater chance of bugs wreaking havoc on the code. This is where Quantstamp comes in – an exciting protocol that audits smart contracts on the developer's behalf.
In this article, we explore our Quantstamp Price Prediction in detail. We'll discuss how Quantstamp is used and the token's future before highlighting where you can invest in cryptocurrency right now – with no commissions!


Quantstamp (QSP)
Price
Quantstamp Price Prediction 2021 to 2022
Our Quantstamp stock forecast will discuss all of the elements that affect the token's price, ensuring you can make an informed investment decision. However, if you're just looking for a brief outline of our Quantstamp prediction, the points below highlight our analysis for the months ahead.
One Month – The current Quantstamp price seems to be creating a small bull flag on the daily chart. If this bull flag breaks to the upside, we could see Quantstamp reach $0.08 within the next month.
Three Months – The resistance level around $0.085 may prove hard to break, so be prepared for a struggle in this area. However, if Quantstamp closes past this level, we may see a push up to $0.11 over the next three months.
Start of 2022 – The beginning of the year can sometimes be slow for cryptos, so we may not see any considerable swings in Quantstamp's price. That being said, we'd expect the bullish momentum to persist, with Quantstamp reaching $0.13 by early 2022.
67% of retail investor accounts lose money when trading CFDs with this provider.
Quantstamp Price History – the Story of 2021 So Far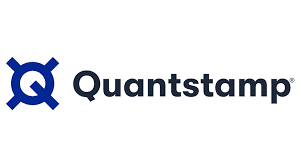 If you've read any of our other cryptocurrency price predictions, you'll understand the importance of researching the crypto and its uses before investing. This is no different for Quantstamp, as this protocol operates differently from other options on the market. With that in mind, let's discuss Quantstamp and how price reached this point.
In its most basic sense, Quantstamp is a platform designed to audit and improve the security of smart contracts. As smart contracts become more advanced, the likelihood of bugs being present also increases. These bugs can be very harmful and can even cause smart contracts to lose funds, reducing the developer's credibility.
Quantstamp looks to solve this issue by automatically scouring the code of smart contracts and finding areas of weakness. Developers can purchase audits such as this through the use of Quantstamp's 'QSP tokens', which are the platform's native cryptocurrency. Not only is QSP used to purchase audits, but the token is also used to reward those who run nodes, which allows the audit to occur.

QSP is an ERC-20 token, meaning that it is housed on the Ethereum (ETH) blockchain. However, this doesn't mean that Quantstamp only offers its services to decentralised applications (dApps) on this platform. In fact, Quantstamp aims to be 'blockchain agnostic', meaning their services can be used on various blockchains. Notable platforms that have benefited from Quantstamp's auditing include Polkadot, Cardano, Chainlink, Binance, and more.
Overall, the element of human error is something that will always be present when creating smart contracts, meaning that the service that Quantstamp offers should continue to be in demand going forward. The ecosystem that Quantstamp has developed is appealing to all stakeholders, as it allows smart contracts to be audited whilst still providing a return for node operators. As more people buy Cardano and other smart contract platforms, we'll likely see Quantstamp's usage increase.

Looking at the price chart, we can see that the QSP price live trickled along with low momentum for most of the past few years. There was a notable spike in September 2020, although this bullish momentum was short-lived. The real impetus came in February 2021, when the price of Quantstamp rose by over 449% in the space of two months.
However, similar to the previous spike, this bullish momentum wasn't sustainable, and QSP's price fell by over 82% in the following months, reaching a low of $0.025. Recently, we have seen a gradual price increase in QSP, with a high in September followed by another high in October. This could be the beginning of an uptrend, which is why people are starting to pay attention to QSP.
Quantstamp Price Forecast
As you can see, Quantstamp offers a very different service to most cryptocurrency platforms – although this service is necessary to promote safety within the ecosystem. However, before you buy cryptocurrency, it's essential to understand the factors that may affect the coin's price. With that in mind, let's analyse the technical and fundamental elements of this Quantstamp price prediction.
Technical Analysis
As we noted earlier in this Quantstamp prediction, the coin price is currently creating a small bull flag on the daily timeframe. This pattern tends to occur just before a bullish impulse. Furthermore, as QSP has shown some upwards momentum in recent weeks, these factors combine to provide optimism that another push isn't too far away.

67% of retail investor accounts lose money when trading CFDs with this provider.
Looking a little deeper, we see that QSP is trading above the 50-day and 200-day EMAs. These indicators measure the average price of QSP over the past 50 and 200 trading days, creating a line that highlights the current trend. As QSP is trading above both lines, this is a sign that the overall trend is bullish over the medium and long term.
However, it's worth noting that QSP did spike up to $0.085 in early October and immediately retreated, creating a large wick on the daily chart. This indicates that $0.085 may be a strong resistance area, so price could rebound from here. On the other hand, if we see a solid close past this level (and maybe even a retest), it'll give added confidence that QSP is heading back to the highs of May 2021.
Fundamental Analysis
According to CoinMarketCap, Quantstamp has a market cap of just over £44m, making it the world's 597th largest crypto at the time of writing. The circulating supply of QSP is around 713.8m, with the total supply being 976.4m. The trading volume of QSP is minimal right now, totalling $873,798 over the past 24 hours.
These figures highlight how small QSP is compared to other digital coins such as Bitcoin (BTC) and Ethereum (ETH). Furthermore, one critical point to note is that this isn't a significant concern to developers. Quantstamp's whitepaper clarifies that this token isn't to be used for speculative purposes and that the developers will gladly sell it to pay for operational costs. This is a major reason QSP isn't favoured as much and explains why the price is low.
Quantstamp Price Prediction 2025 – Long Term Outlook
With all that in mind, let's turn our attention to our Quantstamp forecast for the long term. It's difficult to say whether Quantstamp will be a profitable investment, as the platform's whitepaper specifies that this isn't a security and shouldn't be used to speculate on. Furthermore, as the developers are happy to liquidate their holdings to raise funds, downward pressure will also be placed on price.
The historical data shows that QSP does have the capacity to generate attractive returns to investors. However, these price increases are likely random and won't correlate with any meaningful adoption by larger platforms. Thus, it isn't easy to make a solid case to hold QSP over the long term.

However, there are some signs of hope concerning this platform's growth. Recently, Quantstamp has begun working with Solana to secure the blockchain's infrastructure. Solana has an exciting future ahead of itself in the DeFi space – so the fact that Quantstamp is being trusted to audit the platform speaks volumes about the service.
Overall, though, there's a lot more to it than exciting partnerships when it comes to investing in cryptocurrency. This platform seems to be designed to offer an in-demand service, and that's it. The fact that Quantstamp's developers aren't emphasising price appreciation is a major stumbling block for investors – with this element likely to hold Quantstamp back in the months and years ahead.

With that in mind, our Quantstamp price prediction 2025 is conflicted. On the one hand, the platform does offer a service that will be needed even more in the future. However, as long as the creators continue to sell their holdings, major bullish movements will be unlikely. That being said, we believe QSP could hit $0.20 by 2025.
In addition, our Quantstamp price prediction 2030 follows a similar vein. By this point, smart contracts should be everywhere, and Quantstamp shouldn't have a shortage of partnerships. If the developers can make significant changes to how QSP operates, we could see the token reach $0.50 by 2030.
Quantstamp Price Chart
As this Quantstamp prediction has highlighted, the auditing services offered by the platform are extremely valuable and will likely grow increasingly popular in the years ahead. However, just because their service is useful doesn't mean that QSP will experience a 'bull run'. Thus, it's challenging to make a case for people looking to invest £1,000 UK in QSP.
67% of retail investor accounts lose money when trading CFDs with this provider.
However, if you were only looking for a short-term play, then there may be an opportunity in the market right now. As we mentioned earlier, the price seems to be creating higher-highs and lower-highs on the daily chart – a sign of a strong uptrend. There is a key resistance level around $0.10, which is likely where price would begin to struggle. So, if you are happy taking on a little risk, there are potentially around 60% returns to be made in the short term if price reaches this point.
Where to Invest in Quantstamp
The final element of this Quantstamp forecast focuses on the investment process. At present, most stock brokers will not offer QSP as a tradeable asset simply because it is so small and the trading volume is so low. Due to this, you'll have to use a licensed cryptocurrency exchange if you wish to invest in QSP.
These exchanges allow you to use FIAT currency (e.g. USD) to invest in QSP or exchange stablecoins (such as USDT) into QSP. However, the process can seem a little daunting, especially if you are new to the crypto market. That's why we recommend using eToro if you're looking to gain some experience trading before using exchanges.
eToro is regulated by the FCA, ASIC, and CySEC, three of the most widely respected organisations in the industry. This ensures that all users are protected and can trade safely. What's more, eToro is covered under the FSCS, which means that users are insured up to £85,000 if eToro goes bankrupt.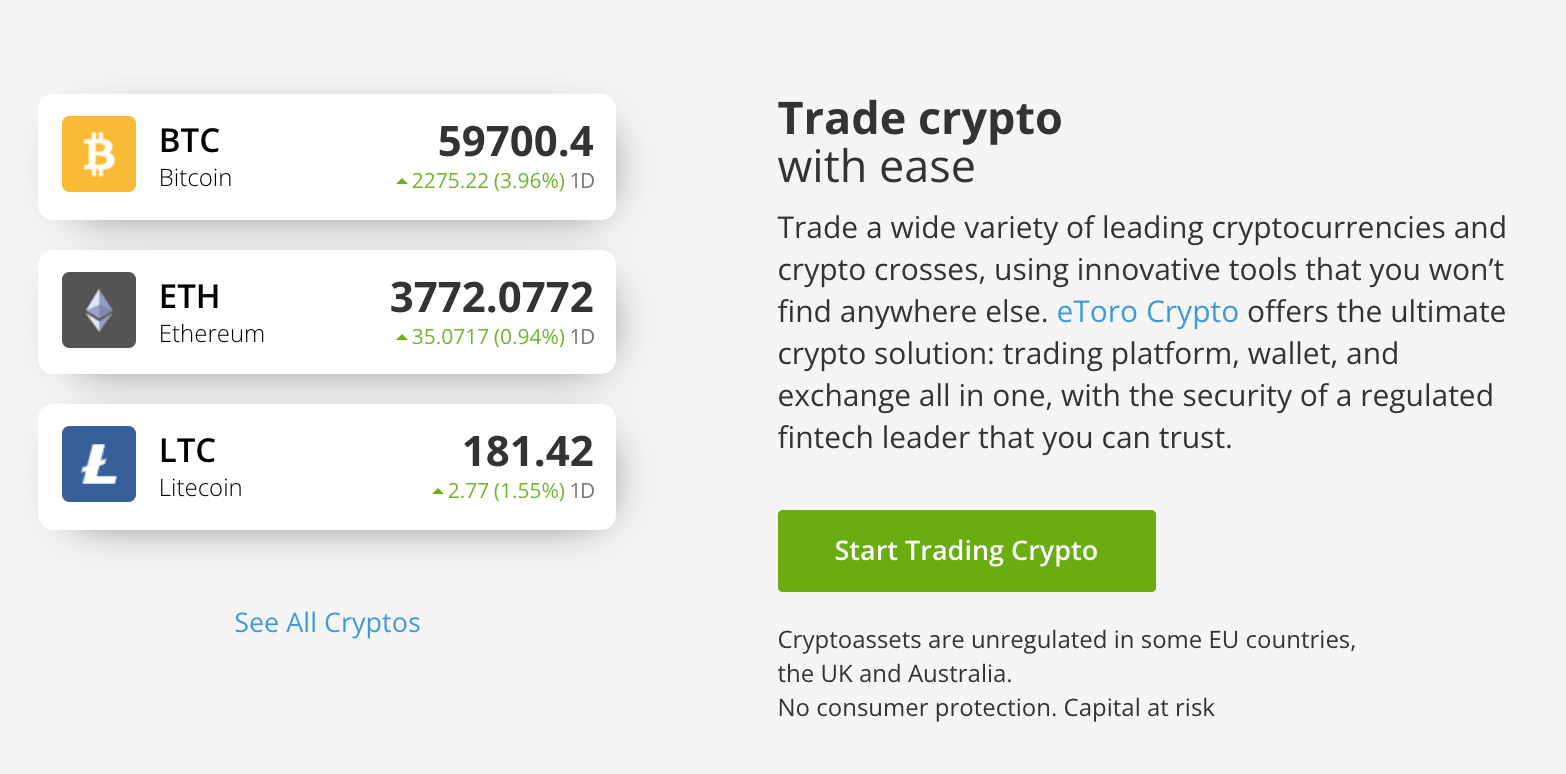 We recommend eToro due to the platform's 0% commission structure. This is at odds with other platforms that tend to charge a fee when you place a trade. Aside from charging no fees, eToro also don't charge any deposit fees or monthly account fees.
Finally, eToro offers a wide selection of cryptos to choose from, making it one of the best CFD brokers in the market. Traders can open positions from as little as $50 (£37) and benefit from fractional investing. Finally, beginner traders can even use eToro's free demo account feature, providing valuable experience before trading for real!
Quantstamp Price Prediction – Conclusion
In summary, our Quantstamp forecast has discussed what this platform is and how it operates before analysing the token's future. There's no doubting that Quantstamp offers a valuable service – yet the lack of hype combined with the troubling notes in the whitepaper has hampered QSP's progress. If there can be some significant changes to the way QSP works in the future, there may be more hope for this coin – but as of right now, there are probably better options out there.
So, if you'd like to invest in cryptocurrency today, we'd recommend using eToro. eToro offers commission-free trading on a variety of cryptos, all from a minimum of $50. Moreover, eToro is regulated by numerous top-tier organisations, ensuring you're as safe as possible on the platform.

67% of retail investor accounts lose money when trading CFDs with this provider.
FAQs
What is the price of Quantstamp right now?
What drives the price of Quantstamp?
Where can I buy Quantstamp?
Why is Quantstamp going up?
What will Quantstamp be worth by 2022?
What will Quantstamp be worth in 2025?