LUNA Price Prediction – LUNA Forecast 2021, 2022, 2025 & 2030
You may or may not have heard of the term 'stablecoin' banded about when discussing cryptocurrencies. These coins have a unique use case within the sector and could be vital in the years ahead. LUNA is one cryptocurrency that enables the use of the Terra stablecoin, ensuring that it can be used by individuals and businesses alike.
In this article, we'll discuss our LUNA Price Prediction in detail. We'll explore what LUNA is and the token's future outlook before highlighting where you can buy cryptocurrencies today – with 0% commissions!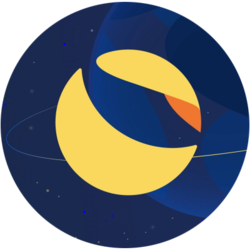 Terra (LUNA)
Price
LUNA Price Prediction 2021 to 2022
Before we dive into this LUNA stock forecast, it's a good idea to get a brief overview of the key points that we noted through our analysis. With that in mind, the points presented below highlight our LUNA prediction 2021 for the upcoming timeframes, ensuring you have a rough outline of this coin's outlook.
One Month – The LUNA price live has been climbing steadily since July 2021, reaching an all-time high on October 4th 2021. Due to this, we estimate that LUNA could hit a valuation of $50 over the next month.
Three Months – The uptrend that LUNA's price is in is solid, giving us optimism about future price movements. If this trend can continue, we project that LUNA could reach the $70 level within the next three months.
Early 2022 – Although there will likely be some pullbacks along the way, the overall bullish trend in LUNA shows no signs of stopping. Due to this, our LUNA forecast estimates that this altcoin could reach a valuation of $85 by early 2022.
67% of retail investor accounts lose money when trading CFDs with this provider.
LUNA Price History – the Story of 2021 So Far
As you'll know, if you were to buy Bitcoin, it's crucial to understand the asset you're investing in before placing a trade. This is especially important with LUNA, as this cryptocurrency works slightly differently than others. With that in mind, let's explore what LUNA is and how price reached this point.
Firstly, LUNA is one of the native tokens used by Terra, which is a protocol created by Terraform Labs that offers a whole host of stablecoins. The Terra ecosystem currently provides stablecoins pegged to various 'traditional' currencies, such as USD. These stablecoins are crucial components of the cryptocurrency market. They allow transactions to be completed using digitalcoins without worrying about the price fluctuations inherent in crypto.
Terra's most popular cryptocurrency is 'TerraUSD', also known as 'USDt'. This coin is pegged to the US Dollar and follows a 1:1 ratio. This is where LUNA, Terra's other cryptocurrency, comes into play. To maintain this 1:1 ratio, there must be some form of collateral; otherwise, the price will fluctuate too far from where it needs to be. If this were to happen, it would effectively prevent TerraUSD from accomplishing its purpose.

So, to maintain the 1:1 ratio, LUNA is used as collateral to back up TerraUSD (and other stablecoins on the ecosystem). If there were excess demand for TerraUSD, its price would rise, meaning it wouldn't be a 1:1 ratio anymore. When this happens, investors will sell their LUNA coins for TerraUSD, thereby increasing the supply of TerraUSD. Due to the law of supply and demand, TerraUSD's price will drop and return to the ratio it needs to be.
This also works the opposite way, so you can clearly see how LUNA is integral to retaining the stablecoin's 1:1 ratio. Furthermore, LUNA holders can also stake their coins on the network and earn a return, which is essential as if there was no reason to stake, then investors would sell their LUNA, which would affect TerraUSD's price.

Due to Terra's stablecoins, the protocol is ideal for decentralised finance (DeFi) projects. This hype around Terra has helped the LUNA price in recent months, as the price increased a remarkable 1123% from May 2021. The LUNA price reached an all-time high of $49.45 on October 4th 2021, and has slightly pulled back from this at the time of writing.
The current LUNA price is in a strong uptrend, which is excellent news for bullish investors. Overall, the use case for Terra LUNA is vital to the crypto market and could help facilitate many transaction types – meaning this token is looking good for the months and years ahead.
LUNA Price Forecast
Now that you've got an understanding of what LUNA does, let's dive into our LUNA forecast. When you buy cryptocurrency, it's a good idea to explore technical and fundamental analysis elements to ensure that you're aware of what could affect the price. With that in mind, let's look at these two factors in detail in relation to LUNA.
Technical Analysis
As you can see from the price analysis below, the price of LUNA has been steadily trending upwards for quite some time. Higher highs are being followed by higher lows, which is a strong bullish signal. Furthermore, the price eased past the resistance level at $43 and has recently set a new high.

67% of retail investor accounts lose money when trading CFDs with this provider.
The price of Terra is closely linked to the cost of LUNA, so this increase will be met with optimism by everyone associated with the protocol. LUNA has recently created a new resistance level at $48 and has pulled back slightly. This pullback could provide an excellent opportunity to invest at a lower price point, thereby paving the way for more significant returns.
Notably, LUNA is trading above the 50-day EMA, which measures the average price over the past 50 trading days. This EMA gives a good idea of the trend – so if the price is trading above it, it means that the asset is pretty bullish at present. This factor adds more confidence to the bullish forecast presented in this LUNA price prediction.
Fundamental Analysis
According to CoinMarketCap, LUNA has a market cap of just over $17 billion. This makes it the 11th largest cryptocurrency in the world right now, nearly breaking into the top 10 to be alongside major coins such as Bitcoin (BTC) and Ethereum (ETH). Over $1.2 billion of LUNA was traded in the last 24 hours, highlighting how popular this coin has become.
Recently, Terra's Columbus-5 upgrade went live, which aims to improve the Terra ecosystem dramatically. Yields on staking were increased, and deflationary pressure was added to LUNA coins, which led to more investors becoming interested in the asset.
Another thing to note is that the Terra algorithm will soon partner with Solana and Ethereum, meaning that TerraUSD will be accepted on these platforms. This is a significant boost for Terra, as the more connected it is with other blockchains, the more attractive the asset is for investors. As more partnerships get added, it will ultimately help LUNA's price.
LUNA Price Prediction 2025 – Long Term Outlook
People who invest in cryptocurrency tend to have a long-term outlook, as the market is still in its infancy, so it exhibits some severe volatility at times. Our long-term outlook for our LUNA prediction is pretty bullish, as we believe this coin will play a significant role in the area of decentralised finance (DeFi) in the future. As more and more companies begin using cryptocurrency, they'll undoubtedly need a stablecoin to help them – which is where Terra comes in.
One thing to note is that Terraform Labs is based in South Korea, with Do Kwon as the co-founder and CEO. Although Terra has expanded into Singapore, it still doesn't have a considerable following and user base in Western countries. So, if Terra were to meet its capabilities, Terraform Labs would have to begin marketing Terra and Luna appropriately in the UK and the US, as these are colossal target markets to capitalise on.

Overall though, stablecoins will likely become an integral part of the ecosystem in the future. Large companies will not want to transact in Bitcoin or other coins, as the price fluctuations are too large. Therefore, they will require a stable version such as TerraUSD to use – which is excellent news for the price of LUNA too!
With that in mind, our LUNA price prediction 2025 anticipates a significant price rise. As Terra expands into other markets across the following years and partners with other blockchains, the usage of TerraUSD and other stablecoins will go up. Due to this, we estimate that LUNA could reach a valuation of $100 by 2025.

In addition, our LUNA price prediction 2030 is also optimistic. By this point, vast portions of our society will likely be blockchain-based. Stablecoins will also be an essential part of society, leading us to estimate that LUNA could be valued at $150 by 2030.
LUNA Price Chart
As with all of our cryptocurrency price predictions, it's a good idea to look at the price chart and put everything together. Due to LUNA's valuable use case, it makes for a good investment for investors who have a long-term outlook. Furthermore, the recent update to the protocol highlighted that Terra's founders are ensuring the platform's users are rewarded admirably by increasing staking rewards.
These rewards can essentially create a passive income stream for investors. This promotes the holding and staking of LUNA, which is a crucial part of the ecosystem. Ultimately, this will translate to the price chart as LUNA becomes more in-demand, pushing price higher.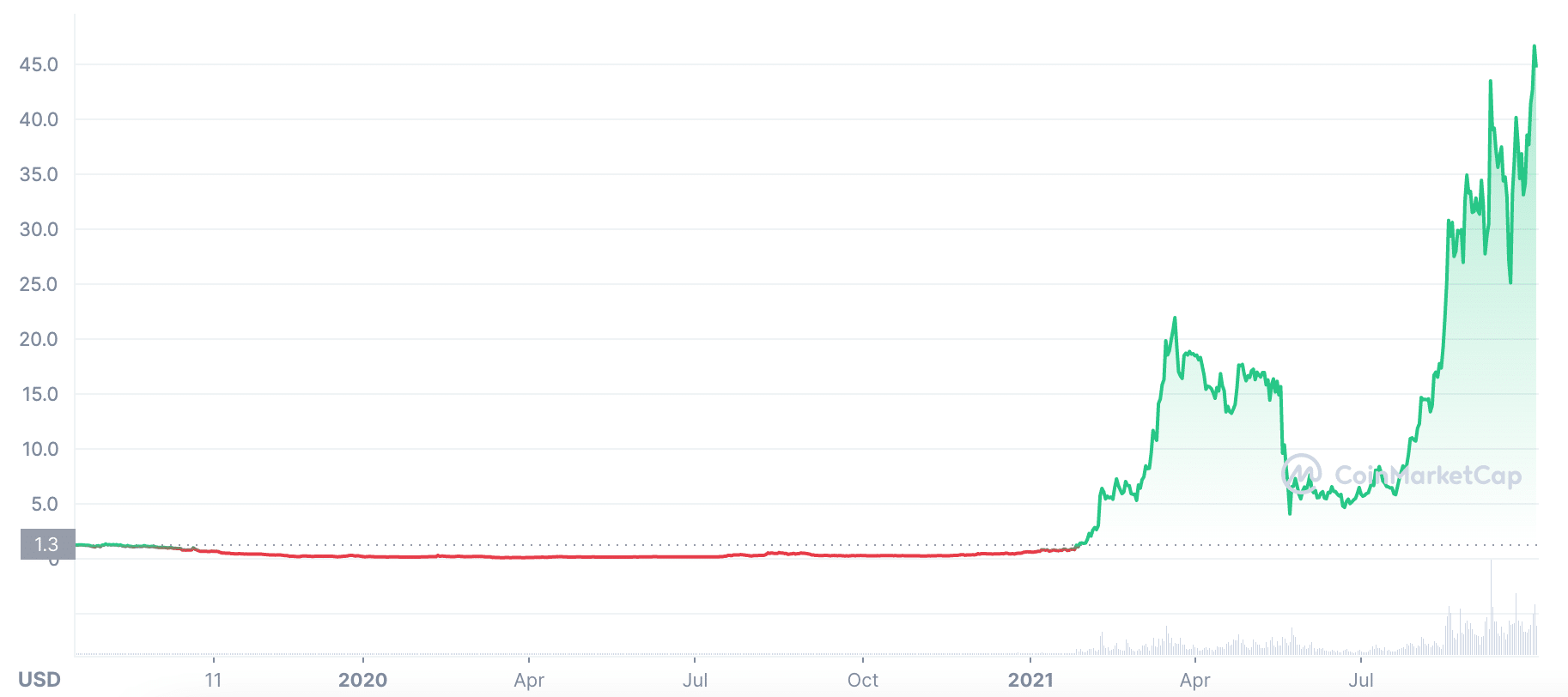 67% of retail investor accounts lose money when trading CFDs with this provider.
Overall, if you wish to invest in LUNA, we'd recommend waiting for a bullish confirmation before doing so. This could come in the form of rejection from a support level or even a rejection of the 50-day EMA. Should this occur, it'll provide added confidence that LUNA is heading back up, giving you a great chance at generating returns.
Where to Invest in LUNA
Before we round off this LUNA forecast, let's discuss the process of buying LUNA. Many major exchanges, such as Binance, now offer the ability to purchase LUNA. Unfortunately, as LUNA is relatively new, many brokers do not currently offer it as a tradeable asset.
So, if you wanted to buy LUNA, you'd have to convert some FIAT currency into Tether (USDT) and then exchange that for LUNA using a cryptocurrency exchange. This can be a pretty complex process, so it may be off-putting for beginner investors. In that case, if you wish to invest in other cryptocurrencies, we'd recommend using eToro.
eToro is a commission-free broker, meaning that you avoid the hefty fees charged by other platforms when you place a trade. What's more, eToro offers a vast selection of cryptocurrencies to choose from, all with a minimum investment of only $50 (£37). Notably, eToro is regulated by numerous top entities, ensuring you're protected when you trade.

Users can fund their accounts via credit/debit card, bank transfer, or e-wallets such as PayPal and Klarna. Deposits are free to make and only have to be a minimum of $50. You can even use eToro's demo account first if you wish, which is free and allows you to practice before trading for real.
Finally, eToro has one of the best trading apps UK, meaning that you can access your investments on the go. The sign-up process is streamlined and takes around ten minutes to complete and can be performed on the app or your computer. For these reasons and the reasons listed above, we recommend eToro if you're ever looking to trade the cryptocurrency market.
LUNA Price Prediction – Conclusion
In conclusion, this LUNA forecast has discussed what LUNA and Terra are and how they can help the cryptocurrency market in the years ahead. Stablecoins like TerraUSD will be vital if the ecosystem thrives, meaning that LUNA is in a prime position to benefit from this demand. If the founders can begin marketing themselves in other countries, we could see some substantial price increases in the years ahead.
So, if you'd like to buy cryptocurrency today, we'd recommend using eToro. eToro is one of the world's top brokers and boasts over 20 million users worldwide. What's more, eToro is regulated by the FCA, ASIC, and CySEC, ensuring you are protected whilst trading.


67% of retail investor accounts lose money when trading CFDs with this provider.
FAQs
What is the price of LUNA right now?
What drives the price of LUNA?
What will LUNA be worth by 2022?
What will LUNA be worth in 2025?