IOTA Price Prediction – IOTA Forecast 2021, 2022, 2025 & 2030
IOTA is an exciting cryptocurrency, aiming to improve on Bitcoin's functionality whilst bringing peer-to-peer payments to the next level. After some safety concerns over the past few years, IOTA seems to have turned a corner in recent times, meaning that now could be an excellent time to consider an investment.
This article explores our IOTA Price Prediction in detail, providing you with all the information you need to invest effectively. We'll touch on what IOTA is and its future outlook before highlighting where you can buy IOTA – commission-free!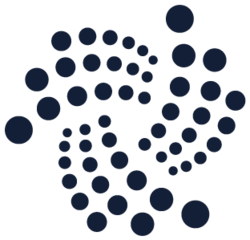 IOTA (MIOTA)
Price
IOTA Price Prediction 2021 to 2022
Throughout this IOTA prediction 2021, we'll cover the various elements that affect IOTA's price and how they may shape the coin's future outlook. However, if you are just looking for a quick overview of our IOTA forecast, look no further. The bullet points below highlight our findings pertaining to the upcoming timeframes:
One Month – If IOTA can find support around the $1.50 level, it'll provide a strong base for a push upwards. If this happens, our IOTA prediction speculates that the price may head to the $2 region within the next month.
Three Months – Assuming some bullish momentum returns to the crypto market, our IOTA price prediction looks more encouraging over the short term. We estimate that IOTA could be worth $2.50 within the next three months.
Start of 2022 – There will likely be some pullbacks along the way, given the crypto market's volatility. With that said, we believe that IOTA has the potential to return to the all-time highs of $2.75 by the start of 2022.
67% of retail investor accounts lose money when trading CFDs with this provider.
IOTA Price History – the Story of 2021 So Far
When investing in cryptocurrency, it's essential to understand what the specific coin does and how it differs from the major players within the market. This is no different when it comes to IOTA, as this altcoin has some clear similarities with Bitcoin – yet also has some apparent differences. With that in mind, let's dive into what IOTA is and how price reached this point.
IOTA is an open-source distributed ledger that aims to provide a quick and low-cost way of facilitating transactions between devices on the Internet of Things (IoT). The technology behind IOTA differs from blockchain-based cryptos, such as Bitcoin and Ethereum, meaning that miners aren't required to power the network. Instead, if you wanted to make a transaction using IOTA, you'd have to verify two previous transactions within the network, which can be done using IOTA's native token, MIOTA.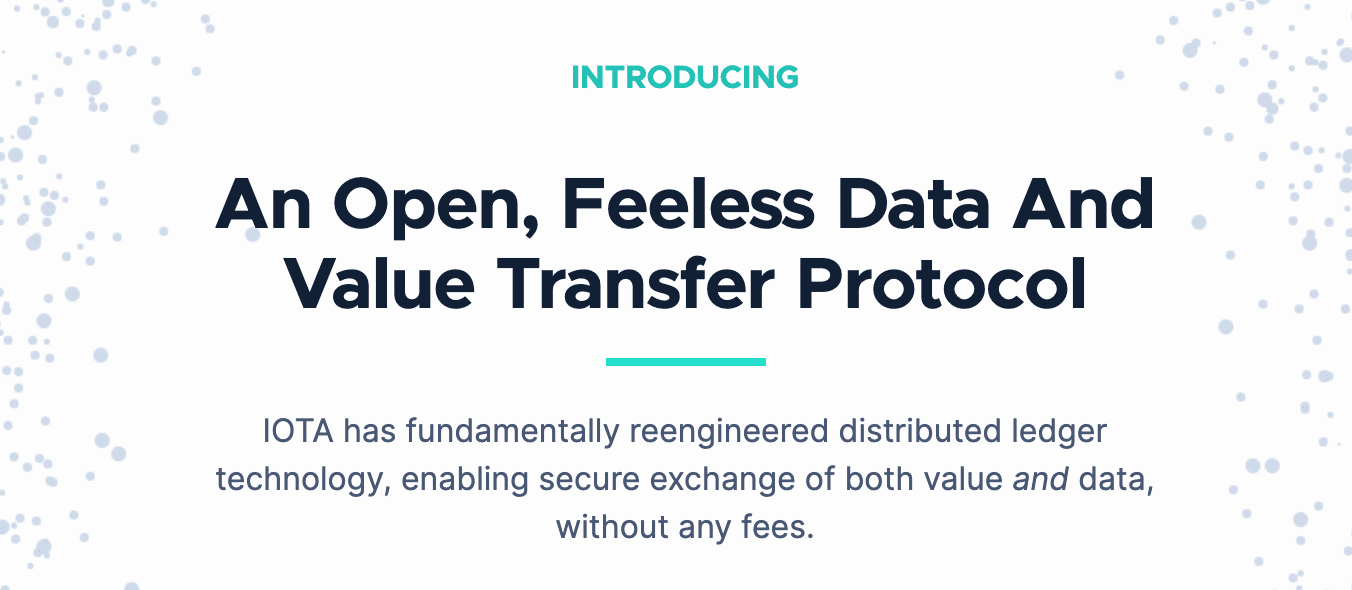 This process of verifying two random transactions acts as a sort of 'consensus algorithm'. The process is defined within the sector as a Directed Acyclic Graph (DAG), although IOTA's developers refer to it as 'the Tangle'. Through this process, IOTA can verify transactions on the ecosystem exceptionally quickly and for free – making it an exciting alternative to other cryptocurrencies.
These transactions will occur between devices on the Internet of Things (IoT). The IoT is basically the network of all devices with a chip and a wireless connection – which is pretty much everything these days! Examples include cameras, coffee machines, and home entertainment systems. IOTA aims to provide a medium for these devices to interact with one another and share resources seamlessly.
IOTA was launched on Binance in 2019, trading at $0.25. From then until January 2021, the IOTA price live traded sideways, showing no real positive momentum. However, this all changed in January 2021, as IOTA rocketed 785% from then until April 2021.
An all-time high of $2.73 was met on 16th April, with many analysts speculating that price could go even higher. However, following a similar trend to other cryptos, price immediately retreated and fell by 78% between April and July.
Momentum returned to IOTA's price again in July, as price gradually began creeping upwards. At the start of September, a 144% price increase occurred in a matter of days, following a virtual event in which a member of IOTA's upper management provided an update on how the platform could be used in the trucking industry. This added further optimism and credibility, adding to the market sentiment.
The current IOTA price has taken a fall from these heights and is hovering around the $1.66 level. Time will tell whether IOTA can return to the all-time highs of earlier in the year – although the signs do look good that this could happen!
IOTA Price Forecast
If you are looking to buy IOTA UK, it's a good idea to get a holistic view of the digital coin and the factors that affect price movements. Technical and fundamental analysis are two of the main elements that shape price, which we can analyse to provide further insight. With that in mind, the sections below break these factors down, ensuring you understand what may happen over the coming months.
Technical Analysis
Technical price analysis isn't just limited to forex trading – it can be used in the cryptocurrency market too. As you can see from the current price chart, IOTA showcased some positive price action over the last two months, highlighting the overall bullish trend. However, the retracement on 5th September does cause concern, although it may just be a pullback before a larger push.

67% of retail investor accounts lose money when trading CFDs with this provider.
Resistance was found at the $1.55 level back in June 2021, with the IOTA price today now testing it as a support level. If we see some confirmation of this (such as a solid bullish close on the daily chart), it provides investors with a good investment opportunity.
On the other hand, if the IOTA price was to fall even further, then it's likely that it'll tap into the $1 level again. This has proved to be strong support in the past, with the added element of being a solid psychological level. The key takeaway here is to be patient and wait for confirmation before making a trading decision.
Fundamental Analysis
Fundamental analysis is a critical component of our IOTA stock forecast, given the platform's unique features. As noted earlier, the IOTA network differs from blockchain-based platforms such as BTC and ETH, as it doesn't rely on miners to power the network. 'The Tangle' allows IOTA to validate transactions seamlessly, offering a viable alternative to its rivals.
IOTA aims to solve the scalability issues that arise from other currencies through the use of The Tangle, as there will be countless nodes operating on the network if IOTA manages to achieve its vision. As each node has to validate two transactions, all nodes contribute some power to the network, meaning that IOTA can facilitate transactions for free.
Overall, IOTA offers a credible alternative to blockchain platforms, which may appeal to companies looking for something different. If the IoT pans out as IOTA's developers predict, then the IOTA platform will be incredibly useful in the future.
IOTA Price Prediction 2025 – Long Term Outlook
As you can see from this IOTA forecast, the platform differs quite substantially from the major players in the market. IOTA coin currently has a market cap of just over $4 billion, making it the 40th largest cryptocurrency globally. This smaller size can be seen as a good thing, as it allows IOTA to pivot quickly and make significant changes that would be difficult to make for major cryptos.
If you were to invest in Bitcoin, you'd be indirectly investing in the blockchain technology underlying it. This technology has taken the world by storm over the past decade, with many companies now using it to secure transactions. However, as IOTA doesn't use this technology, the platform is a sort of 'outlier' amongst the major crypto assets.

Due to this, some companies may opt to be safer and go for one of the well-established platforms. This is one area that IOTA struggles in, as due to the nature of these services, security is a huge concern for any company that adopts this kind of technology. These security issues were evidenced in 2018 when IOTA was hacked, and more than $10 million worth of IOTA tokens were stolen.
The reputational effects of this hack have hampered IOTA – but the platform is still used by major companies such as Dell and Jaguar Land Rover. With these elements in mind, our IOTA price prediction 2025 still predicts that the future is bright for the crypto. Over the coming years, the rise of the IoT will pave the way for IOTA's platform to become more popular. For this reason, we believe IOTA could be worth around $4 by then.

Looking even further ahead, our IOTA price prediction 2030 is similarly encouraging. Over the next nine years, we'd expect IOTA to continue to partner with many more prominent firms. If this occurs, it'll add a considerable level of credibility to the platform – which will inevitably have a knock-on effect on price. Due to this, we believe that IOTA could be worth $7 by 2030.
IOTA Price Chart
By this point, you should have a solid understanding of what IOTA is and the coin's potential. However, before you buy cryptocurrency, it's crucial to understand the chart and put everything together. As you can see, at the time of writing, IOTA is showcasing some strong bearish momentum, which has seen price decrease by around 35% within just a few days.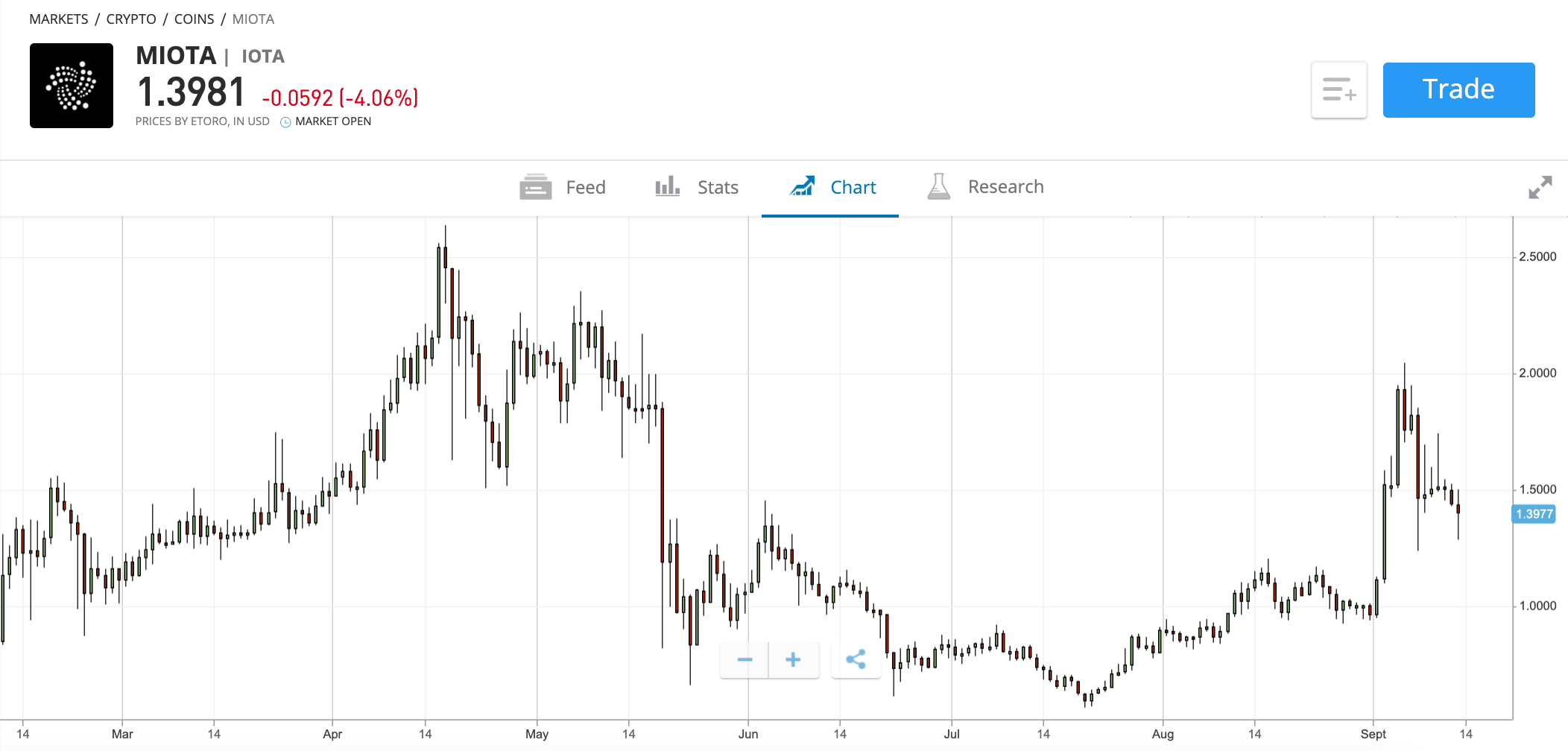 67% of retail investor accounts lose money when trading CFDs with this provider.
However, if you are experienced in the crypto market, you'll know that volatility such as this is not uncommon. Looking at historical price data, you'll easily see days where IOTA's price rises or falls by 10% or more. This is rare in the equity market, although the crypto market is still relatively new, hence its volatile nature.
Overall, we recommend waiting for solid confirmation of the coin's direction before proceeding with an investment. Likely scenarios are that price either rebounds from here or heads lower to the $1 level. Both of these areas will provide a solid chance of generating a positive return.
Where to Invest in IOTA
Now that you have a good overview of our IOTA forecast, let's take a look at the investment process. As you may be aware, many of the best trading platforms UK will now offer IOTA as a tradeable asset. However, each platform will have its own strengths and weaknesses, so it can be tricky to narrow down the options to just one.
Having said that, through our analysis and testing, we've concluded that eToro is the best option when it comes to buying IOTA. eToro has over 20 million users worldwide and is highly regarded within the crypto industry. Users are protected through FCA, ASIC, and CySEC regulation, with the bonus of FSCS protection too.
All cryptos (including IOTA) can be traded using eToro whilst avoiding any commissions whatsoever. The only fee when trading is the spread, which tends to be relatively competitive with other brokers. Aside from commissions, eToro also doesn't charge any monthly account fees or deposit fees.

The minimum deposit threshold with eToro is only $50 (£37), ideal for beginner investors who wish to start small and build their way up gradually. Deposits can be made via credit/debit card, bank transfer, and various e-wallets – including PayPal and Neteller. Notably, eToro even offers a handy demo account feature to help create a risk-free trading experience.
Finally, eToro offers a built-in crypto wallet that safeguards your holdings. This wallet includes high-level encryption and even allows you to quickly exchange one cryptocurrency for another. These factors combine to make us believe that eToro is your best bet when it comes to trading the cryptocurrency market.
IOTA Price Prediction – Conclusion
In summary, IOTA is an exciting platform that has enormous potential going forward. The unique way in which transactions are validated means that IOTA is a great alternative to 'traditional' cryptos, which will appeal to many people. Although there have been some security issues in the past, if IOTA can steer clear of any more, then the platform has a great chance of being adopted by more firms in the years to come.
If you'd like to buy IOTA today, then we recommend creating an account with eToro. eToro offers many of the same features that cryptocurrency exchanges do whilst providing a 0% commission structure. What's more, the minimum deposit is only $50, making eToro ideal for beginner traders.

67% of retail investor accounts lose money when trading CFDs with this provider.
FAQs
What is the price of IOTA right now?
What drives the price of IOTA?
What will IOTA be worth by 2022?
What will IOTA be worth in 2025?