Ethereum Price Prediction 2022 – Ethereum Forecast 2022, 2023, 2025 & 2030
As the second-largest crypto behind Bitcoin, Ethereum has solidified itself in the crypto market over the past couple of years. With exceptional blockchain technology and impressive community backing, the future looks incredibly bright for Ethereum.
In this article, we'll explore our Ethereum Price Prediction in detail. Ethereum projections for the future will be broken down in-depth, with some further analysis on the best place to buy Ethereum this year – with zero commissions!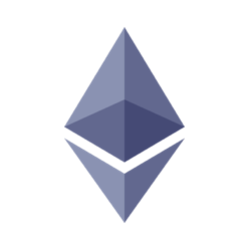 Ethereum (ETH)
Price
Ethereum Price Prediction 2022
If you're looking for a quick breakdown of our Ethereum price prediction, then look no further. This section provides an overview of our Ethereum price prediction 2022, ensuring you have a solid understanding of the coin's prospects in the upcoming months.
One Month – The price of Ethereum has declined gradually since November 2021 and is now hovering around the $3350 area. The recent bullish momentum has provided cause for optimism though, which a price target of $3800 reasonable to expect over the next month.
Three Months – The next port of call would be the highs located around the $4800 level, which is where price was back in early November 2021. If we see some sustained momentum, ETH could reach this level over the coming three months.
End of 2022 – By the end of 2022, our Ethereum projections put the price at the $6500 level. This would coincide with another 'higher-high' in the overall trend and would represent a solid return on investment from today's price point.
Ethereum Price History – the Story of 2021
If you are looking to buy Ethereum, it's a good idea to understand what the digital currency is and how price has arrived at the current point. Researching these elements is known as doing your 'due diligence' and is critical in the investment process. Firstly, we will examine what Ethereum is to provide a broad overview, after which we'll dive into the current Ethereum price for further analysis.
The first thing to note is that Ethereum (ETH) is not the actual 'currency' per se – in fact, Ethereum is the blockchain platform in which the currency Ether can be used. This may seem confusing, but most of the time, the terms are used interchangeably. The idea for Ethereum was produced by Vitalik Buterin in 2013, with the platform being formally launched in 2015.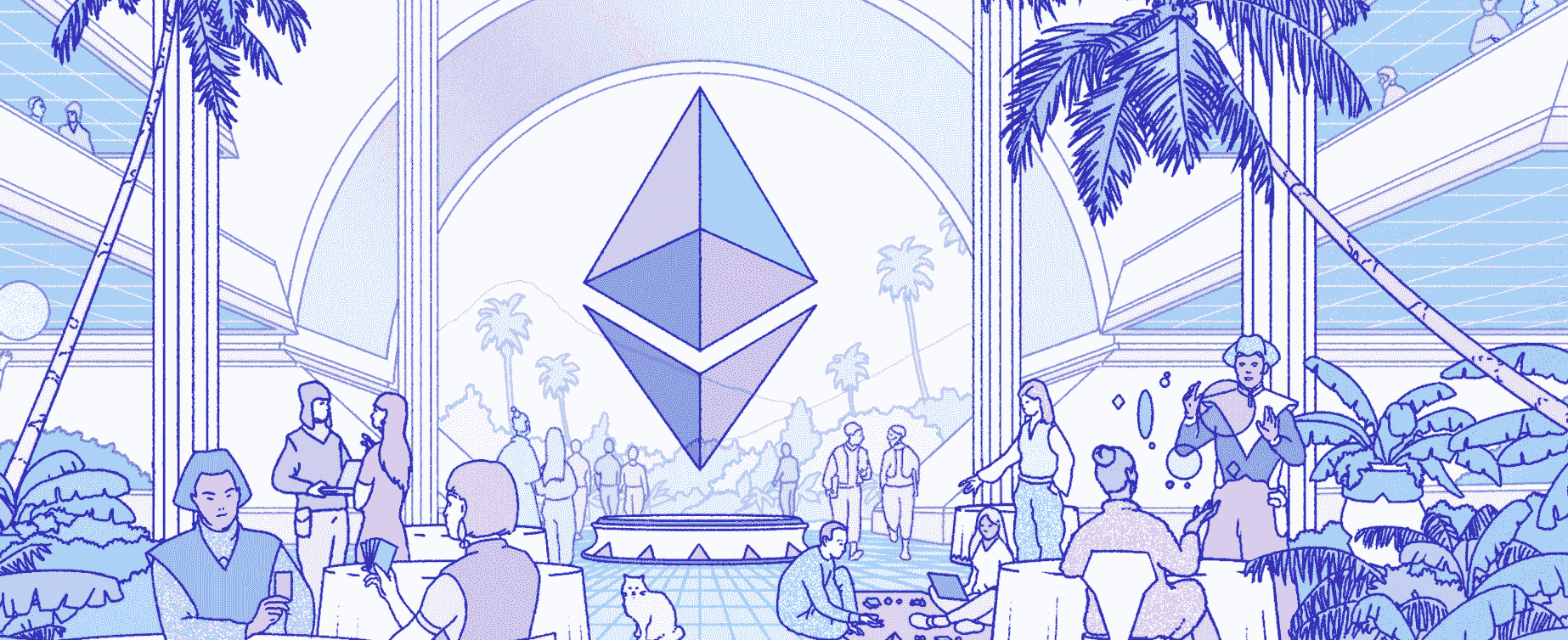 The reason that people choose to invest in Ethereum rather than buy Bitcoin is because of Ethereum's practical uses. The platform allows decentralized applications (dApps) to be run, which provide safer and more anonymous ways of conducting various services. These dApps have become increasingly popular in decentralised finance (DeFi) projects, which have helped remove the need for intermediaries such as banks and brokers.
Over the years, Ethereum has grown immensely as more and more people realise the platform's potential. However, ETH price really only started taking off at the beginning of 2021, when the hype around crypto reached a fever pitch. Between the beginning of the year and mid-February 2021, Ethereum's price increased by a remarkable 166%!
However, the Ethereum price live then took a tumble and consolidated until late-March 2021, when a bull run commenced that saw Ethereum rally 180% to reach a high of $4381. This represented an increase of 496% since the beginning of 2021. At this point, market analysts were optimistic that Ethereum could go as far as it wanted, however this wasn't to be.

Ethereum's price dropped by around 60% in May 2021, which wasn't actually due to factors directly related to them. The crypto market was drastically impacted by China's crypto regulation, which banned financial and payment companies from providing crypto services. This was a massive shock to the crypto ecosystem and prompted most major altcoins to drop significantly.
This drop continued until July 2021, when Ethereum began showing some bullish momentum over the short term. Since then, Ethereum went on to reach an all-time high of $4891.70 on November 16th, 2021. After reaching this peak, the price of ETH began gradually falling and is now trading around 30% less than these highs. However, some bullish momentum seems to have re-entered the market, meaning Ethereum could head higher in the months ahead.
Ethereum Price Forecast
To make an accurate Ethereum stock forecast, we've covered all of the bases when it comes to analysis. Our Ethereum price prediction incorporated technical analysis and fundamental factors to arrive at a forecast that has firm logic behind it. With that said, the sections below cover these elements in detail, giving you a good overview of Ethereum projections for the time ahead.
Technical
As you can see from the price chart below, the Ethereum price today has been the result of a sustained downtrend since November 2021. Price formed a higher-high around the $4800 level and then proceeded lower, with an overall decrease of around 30%. This resulted in the price of ETH trading below the 50-day and 200-day EMA for the first time in months.

67% of retail investor accounts lose money when trading CFDs with this provider.
However, Ethereum's price does seem to be forming a lower-high, which could indicate the start of a new uptrend. As you can see from the chart above, this would be the third point in the trendline, which means price is at a high probability area for a push upwards.
As we advance, our Ethereum price prediction sees Ethereum return to the all-time highs experienced in November 2021. This would represent a strong resistance area, as price struggled here and then retested a few weeks later, both times unable to breach the area. However, if ETH can sustain this upwards trajectory and close past all-time highs, we could see a further upsurge in the months ahead.
Fundamental
Aside from technical factors, it's essential to look at fundamental elements when researching for an Ethereum prediction. As noted earlier, the Ethereum platform has incredible potential in the future and offers a great place to develop and host dApps. Coindesk recently reported that there are over 3800 decentralised apps on Ethereum's platform – with this number expected to grow even further in the months and years to come.
Many analysts state that dApps are set to change how we conduct business in many industries, notably the finance industry. One such service is the one offered by Uniswap, which is hosted on Ethereum's blockchain. Uniswap is a decentralised exchange, meaning that users essentially interact with one another directly. If more and more digital assets continue to use Ethereum's platform, it'll mean great things for the coin's price.
Ethereum Price Prediction 2025 – Long Term Outlook
Due to the factors mentioned in the section above, our Ethereum forecast over the long term is highly optimistic. If you are wondering how to buy cryptocurrency and are considering an investment in Ethereum, then now might be a great time to add this coin to your portfolio. The momentum behind DeFi apps, combined with Ethereum's solid use cases, make this crypto one of the most exciting options in the future.
Unlike Bitcoin, Ethereum has use cases that can aid industries around the world. Due to the nature of Ethereum's platform, major companies are rumoured to be considering a partnership with this cryptocurrency. Consensys.net recently reported that JPMorgan would be using Ethereum for their own digital token, which is a massive boost to Ethereum's credibility.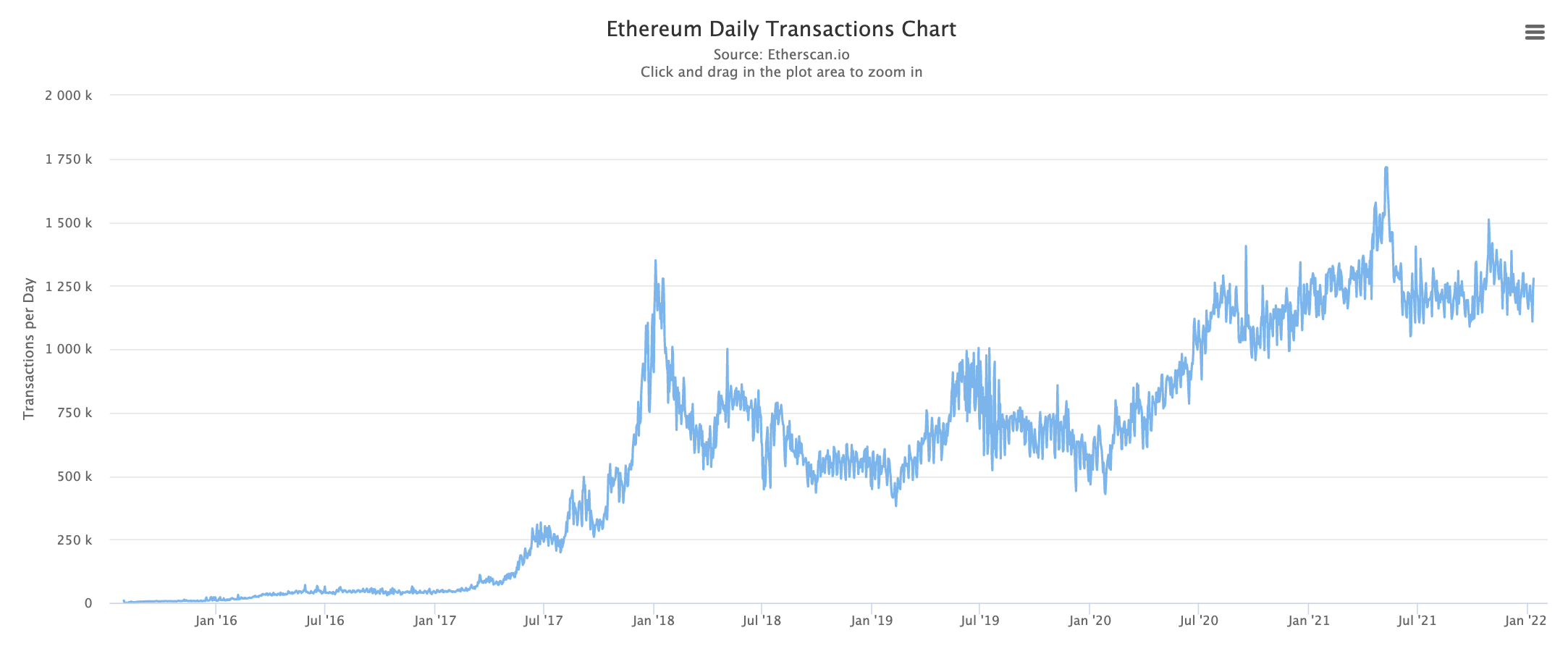 Furthermore, the smart contracts that Ethereum can facilitate (which are vital components of dApps) are prompting more investors to lean towards Ethereum instead of alternatives such as XRP, Cardano, Litecoin, or Dogecoin. Finally, Ethereum 2.0 is set to be released later in 2022, which will see the platform implement 'sharding' technology that will result in increased speeds and lower fees.
With these points in mind, our Ethereum price prediction 2025 estimates that this coin will be valued at $10,000. Although this seems like a huge figure, the potential that Ethereum has in areas such as DeFi and NFTs set this coin apart from many other competitors. We feel that the Ethereum platform has only really scratched the surface in terms of its capability, which could see this cryptocurrency overtake Bitcoin as the most valuable cryptocurrency going forward.

Looking even further ahead, our Ethereum price prediction 2030 sees the currency being valued at the $50,000 mark. By this point, Ethereum's platform should be a significant part of the financial ecosystem, taking the place of many outdated systems. If this comes to pass, our Ethereum projections suggest the ETH price will aim to be much higher than it is at present. Therefore, we firmly believe that $50,000 is a suitable price target for 2030, representing a considerable increase from current levels.
Ethereum Price Chart
As our Ethereum forecast has highlighted, the future looks bright for this coin. When looking at the price chart, you can clearly see the all-time highs posted in November 2021, with immediate bearish momentum following closely behind. However, in the future, the factors are all there for Ethereum to be a great success.
One of the most significant changes for Ethereum going forward will be the shift to Ethereum 2.0, which will see the platform change to a proof-of-stake (POS) system. In its simplest sense, this will increase Ethereum's scalability and allow Ethereum to support thousands of transactions per second with lower fees. Furthermore, Ethereum 2.0 will upgrade the platform's security even further and reduce Ethereum's carbon footprint.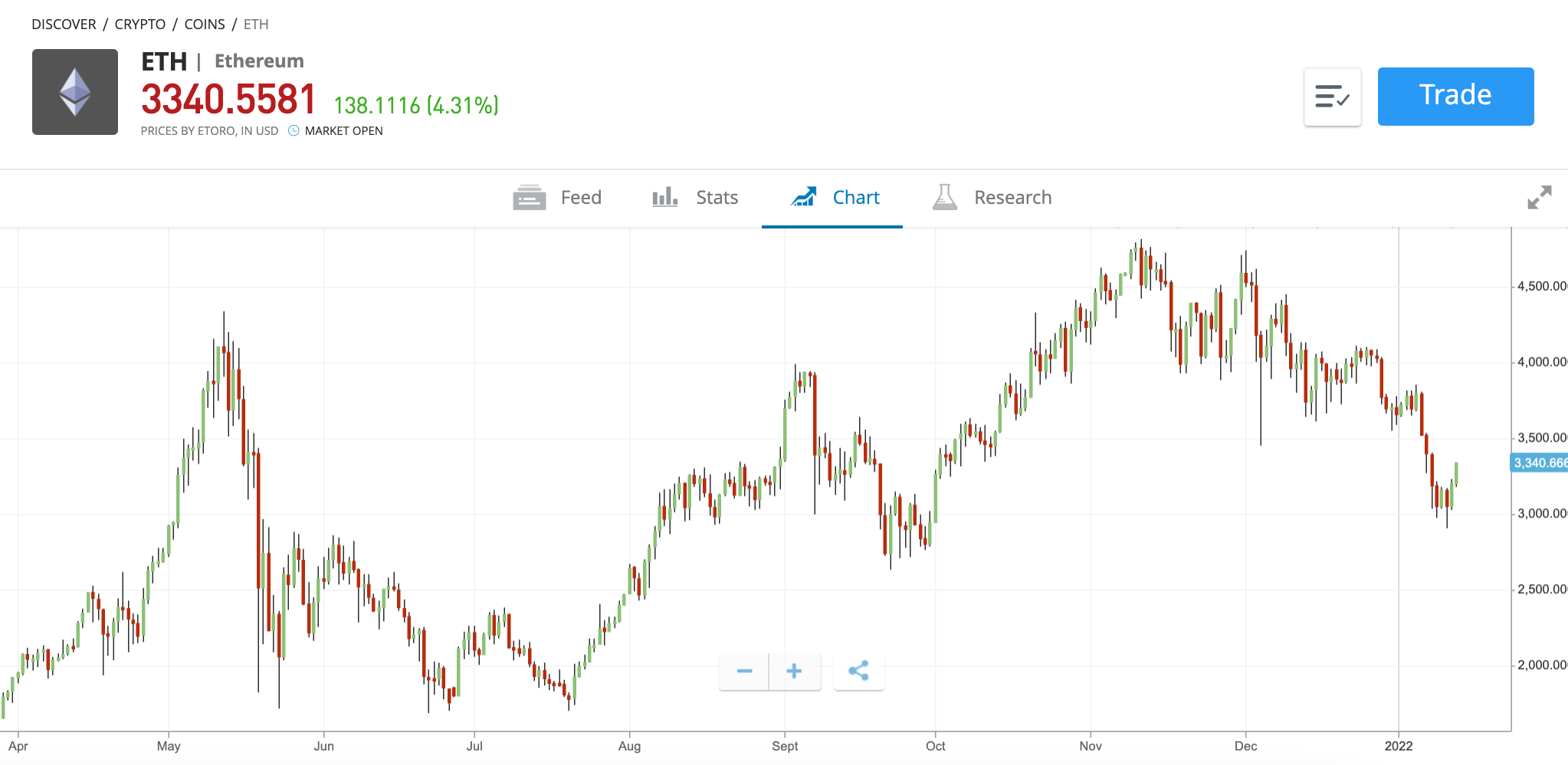 67% of retail investor accounts lose money when trading CFDs with this provider.
These upgrades will cause a ripple effect which will attract more companies to use Ethereum's platform – which will have a great effect on Ethereum's price. Smart contracts will play a huge role in Ethereum's future (and the future of many industries), so these additions to Ethereum's platform puts them in a great place to benefit from industry changes going forward. These factors combine to validate our Ethereum prediction that the coin could be worth over $50,000 by 2030.
Where to Invest in Ethereum
Before rounding off this article, it's a good idea to discuss the process of investing in Ethereum. To invest, you'll need to create an account with one of the best trading platforms UK, as this will help facilitate your transaction safely and efficiently.
As numerous platforms are available on the market, it can be daunting to narrow down the options. However, through our research and testing, we've found that eToro represents the best crypto exchange for purchasing Ethereum this year. We highly recommend using eToro as they are a fully licensed broker, regulated by top entities such as the FCA, ASIC, and CySEC. This ensures that when you trade with eToro, your account will be protected with the highest levels of security.
Unlike many other platforms, eToro does not charge any transaction fees whatsoever. This sets them apart from brokers and exchanges that charge a percentage of the position size as a 'fee'. eToro's fee is incorporated into the spread, which is quoted as 1.90% for ETH trading. Aside from the spread, eToro has no additional hidden trading fees to worry about.
Notably, eToro does not charge any deposit fees or monthly account fees. The minimum deposit threshold has recently been reduced to only $10, meaning that users of all experience levels can invest on the eToro platform. What's more, eToro accepts credit/debit cards, bank transfers, and e-wallets when it comes to deposits – including PayPal!
Finally, eToro's handy smartphone app makes them the best Ethereum trading platform UK for users who wish to trade on the go. The app has all of the functionality that the web platform does, but with added accessibility. Finally, you can even use eToro's free demo account if you are a beginner, which allows you to learn the markets in a risk-free manner!
Ethereum Price Prediction – Conclusion
In summary, this article has covered Ethereum in-depth, highlighting the coin's price history and providing insight into its future prospects. As you will now be aware, Ethereum's platform has enormous potential going forward – and if the developers can capitalise on this great opportunity, we will undoubtedly see some incredible price moves in the months and years to come.
So, if you'd like to buy Ethereum today, we'd recommend opening an account with eToro. eToro has one of the best cost structures for crypto investing, allowing you to make trades with low fees and extensive regulation. What's more, eToro accepts PayPal as a deposit option and allows deposits from as little as $10!


67% of retail investor accounts lose money when trading CFDs with this provider.
FAQs
What is the price of Ethereum right now?
What drives the price of Ethereum?
Where can I buy Ethereum?
Why is Ethereum going up?
What will Ethereum be worth by the end 2022?
What will Ethereum be worth in 2025?