Digibyte Price Prediction – Digibyte Forecast 2021, 2022, 2025 & 2030
Although Bitcoin and Ethereum have led the way in the cryptocurrency market for the last few years, it hasn't stopped other platforms from springing up and attempting to topple their dominance. One of these platforms is Digibyte, which aims to be a faster and more scalable alternative to the top cryptos today.
This guide will explore our Digibyte Price Prediction in detail. We'll discuss what Digibyte is and how the platform works before showing you where you can buy cryptocurrency today – with 0% commissions!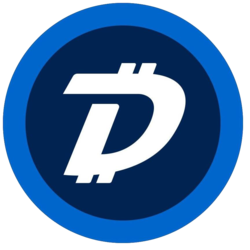 DigiByte (DGB)
Price
Digibyte Price Prediction 2021 to 2022
We'll look at both the short-term and long-term timeframes in this Digibyte stock forecast, ensuring you have all the information you need to make an effective investment decision. However, if you'd like a brief summary of our Digibyte prediction 2021, the bullet points below outline our analysis for the months ahead.
One Month – The current Digibyte price is hovering around the $0.046 area, following a sharp drop in early September. Over the next month, we believe that Digibyte may head lower towards $0.41 to find support.
Three Months – If Digibyte can form a solid support level, it may provide the foundation needed for the coin to begin trending upwards. Should that occur, we could see Digibyte head towards the $0.10 level over the next three months.
Start of 2022 – Once momentum comes into the Digibyte price live, there will be a higher chance of heading back to May's highs. By the beginning of 2022, we estimate that Digibyte could be worth $0.12.
67% of retail investor accounts lose money when trading CFDs with this provider.
Digibyte Price History – the Story of 2021 So Far
If you are experienced at investing in cryptocurrency, you'll be well aware that BTC and ETH are the top two cryptos at the time of writing – and have been for the past few years. However, Digibyte is a viable alternative to these digital coins, offering a faster transaction speed and higher scalability. Let's take a look at what Digibyte is and how price arrived at this point.
Digibyte is a blockchain network that is comprised of three distinct layers. Each layer has its own use case, making the Digibyte blockchain an 'all-in-one' solution for various users. The first layer of Digibyte's platform supports smart contracts and decentralised applications (dApps), while the second layer acts as a public ledger (similar to Bitcoin).
The third layer is the 'Network Layer' and houses the nodes that act as the foundation for the above layers. Through this structure, Digibyte can offer complete decentralization for users with an extremely high level of security. This security is brought about through a unique approach to mining that rivals the one used by BTC.

The Digibyte project uses five mining algorithms instead of one, which is the methodology employed by numerous other blockchain networks. Due to Digibyte using multiple algorithms, this also makes the mining process decentralised. In addition, Digibyte mining doesn't require advanced computers to complete – people can mine Digibyte using standard computers, adding to its level of accessibility.
Digibyte's native cryptocurrency is DGB, which works similar to GAS on the Ethereum network. DGB is used to power the applications built on the blockchain, acting as the platform's 'fee'. In addition, DGB can also be used like BTC, in the sense that users can send it to each other as a digital currency.

DGB coin sprung onto the scene in May 2017, when the price spiked over 6400% in a matter of weeks. Although these highs were short-lived, DGB then went on another large rally in December 2017, increasing nearly 1000%. Much like what happened previously, the price did crash immediately after these highs and went on to trade sideways over the next couple of years.
This all changed in January 2021, as the DGB price rose a staggering 703% between then and May 2021. Price reached an all-time high of $0.1825 on May 1st 2021, with many investors believing that price would keep going up! Unfortunately, this didn't come to pass, and DGB has gradually decreased in value to the price we see today. Right now, DGB is trading at around 73% less than all-time highs.
Digibyte Price Forecast
Now that you've got an idea of what Digibyte is and its history, let's look at our Digibyte forecast. When you buy cryptocurrency, it's a good idea to analyse the various elements that could influence the price. With that in mind, let's examine the fundamental and technical factors that may shape DGB in the future.
Technical Analysis
As this Digibyte prediction has noted, the coin has had a rocky few years, hitting major highs followed by steep lows. The Digibyte coin is now showing bearish price movements on the daily chart, with lower-highs being followed by lower-lows. Due to this, DGB may likely head lower in the short term to create a support level – which could provide an optimal buying opportunity for investors.

67% of retail investor accounts lose money when trading CFDs with this provider.
There is minor support around $0.41 and significant support around $0.33, where price bounced off aggressively earlier in the year. Both of these areas would provide an excellent place to buy Digibyte, although you'll need to wait for some form of bullish confirmation before doing so. This would likely come in the form of a strong bullish close on the daily or weekly chart.
Due to the coin's small market capitalization, there will likely be significant amounts of volatility going forward. However, these price changes could play into investors' favour, as this token's upside potential is enormous. If DGB can break the resistance at $0.77, there's a clear path back to May's highs.
Fundamental Analysis
According to CoinMarketCap, DGB has a market cap of $693 million at the time of writing. In the past 24 hours, the trading volume reached just over $29 million, making DGB the world's 114th largest crypto. The Digibyte ecosystem has a maximum supply of 21 billion coins, with over 14 billion having already been minted.
Right now, DGB is supported by Binance, allowing users to trade the asset easily. However, many major brokers do not currently support DGB, meaning liquidity isn't as high as other altcoins. As such, it's difficult for DGB to reach the height of its peers until it is listed on other major platforms such as Coinbase. If this were to happen, we'd likely see a considerable boost in the DGB price.
Finally, if Digibyte can lean into its advantages and market itself better, it'll help the platform rival its peers. Digibyte is 40x faster than Bitcoin and 10x faster than Litecoin, whilst theoretically 'safer' due to the platform's unique mining algorithm. Furthermore, DGB has minimal fees compared to Ethereum, which is also a good way of sending and receiving value.
Digibyte Price Prediction 2025 – Long Term Outlook
Now let's turn to our Digibyte price prediction over the long term. As you'll now know, Digibyte is an exciting platform that offers upgrades on many of the features that rival platforms provide. As such, Digibyte is well placed to benefit from the rise of crypto going forward – yet is not as popular as these platforms at the time of writing.
People tend to buy Bitcoin as it benefits from being the first mover in the crypto market. Bitcoin's brand appeal and perceived safety are two key elements that explain why people and institutions favour BTC over alternatives. As such, it's difficult for Digibyte to establish themselves at the top of the pile, as so many different stakeholders already use these platforms.

Digibyte's founder Jared Tate has been working on the platform since 2014 and has positioned it as a viable alternative to other major platforms. However, to realise DGB's potential, the platform must market itself better to foster essential partnerships. If this happens, it'll provide much-needed impetus for the Digibyte price.
With that in mind, our Digibyte price prediction 2025 believes that this coin still has a bright future. If DGB can follow the path laid out by Cardano and generate a lot of 'hype' from the community, it'll add that extra level of confidence in the platform. Should this happen, our Digibyte forecast estimates the coin could be worth $0.25 by 2025.

Following this, our Digibyte price prediction 2030 takes a longer-term outlook. The fact that Digibyte supports smart contracts and is more accessible to miners will stand it in good stead in the years ahead. If DGB can begin building some crucial partnerships with reputable entities, we estimate that Digibyte could reach a valuation of $0.50 by 2030.
Digibyte Price Chart
The key to investing in cryptocurrency UK effectively is combining the information from the price chart with the overall evaluation of the platform. The price analysis we presented earlier noted that, although Digibyte may head lower in the short term, the signs are still there that this coin could begin a solid uptrend in the months ahead. The fact that DGB's price is still relatively low is suitable for investors, as it provides scope for huge returns.
The all-time high experienced in May 2021 shows the capability of this coin and provides a solid reference point for speculative investors. As Digibyte is relatively small compared to other cryptos, the DGB price tends to be affected by broader market movements. So, if the market were bullish overall, this would go in Digibyte's favour.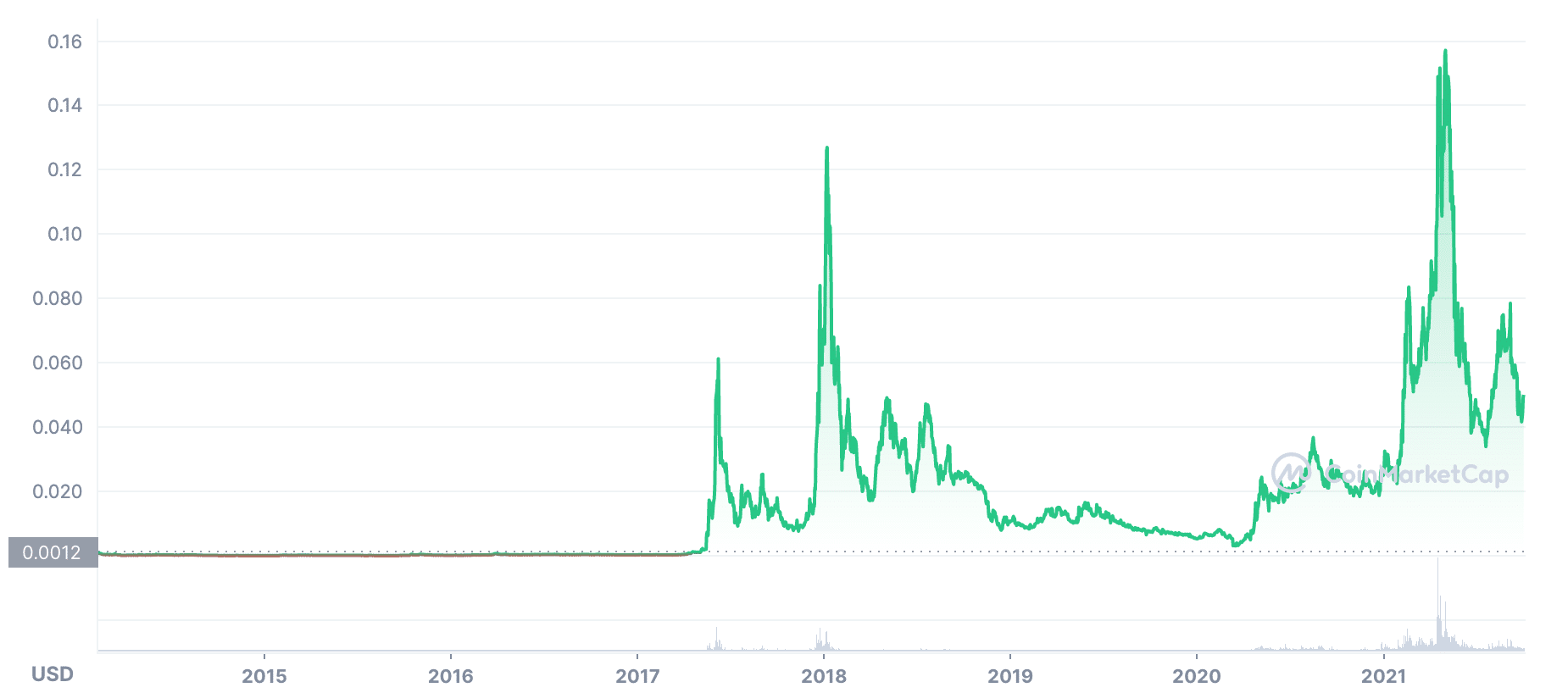 67% of retail investor accounts lose money when trading CFDs with this provider.
We'd recommend being patient with this coin and wait for confirmation before investing. Right now, the overall market is pretty volatile, with no real direction being shown. If we can see some bullish movement towards the end of the year in DGB and the overall market, that'll likely provide the best time to invest in this crypto.
Where to Invest in Digibyte
Before rounding off this Digibyte forecast, let's discuss the process of investing in DGB. Unfortunately, DGB is currently only listed on a few of the best trading platforms, such as Binance. As a smaller coin, many larger brokers do not offer DGB as a tradeable asset at present, making it slightly challenging to invest in the coin.
So, if you wanted to buy Digibyte, you'd need to create an account with one of the cryptocurrency exchanges that offer it and then exchange FIAT (such as USD) into crypto. From there, you'd need to then change your crypto into DGB. Depending on where you do this, there may be certain fees involved, so make sure to double-check this.
However, if you'd like to invest in cryptocurrency more generally, we recommend using eToro. eToro is one of the world's most popular brokers, boasting over 20 million users at the time of writing. What's more, eToro is regulated by the FCA, ASIC, and CySEC – three of the most reputable entities in the industry.
We recommend eToro so highly due to their 0% commission structure. This means that when you place a trade, you avoid the hefty fees charged by other platforms. What's more, eToro charges no deposit or monthly subscription fees, making the trading process extremely cost-effective.
eToro accepts deposits from as little as $50 (£37), with users able to fund their accounts via credit/debit card, bank transfer, and various e-wallets. Notably, eToro is one of the few places that accept PayPal, which is a big plus point for investors. Finally, eToro even offers a free crypto wallet to store your investments in, ensuring your holdings are protected from cyberattacks.
Digibyte Price Prediction – Conclusion
To summarise, this Digibyte prediction has covered what Digibyte is and the platform's prospects for the months and years ahead. As you'll now be aware, Digibyte offers many advantages compared to other platforms, such as faster transaction speeds and a greater level of decentralisation. Although Digibyte doesn't possess the same 'brand appeal' as its peers, there's still scope for this crypto to grow massively in the years ahead.
So, if you'd like to begin investing in cryptocurrency today, we'd recommend using eToro. eToro is regulated by numerous top tier entities and is also covered under the FSCS. What's more, eToro charges no commissions when trading, and you can invest from as little as $50!


67% of retail investor accounts lose money when trading CFDs with this provider.
FAQs
What is the price of Digibyte right now?
What drives the price of Digibyte?
Where can I buy Digibyte?
Why is Digibyte going down?
What will Digibyte be worth by 2022?
What will Digibyte be worth in 2025?