Dash Price Prediction – Dash Forecast 2021, 2022, 2025 & 2030
Since the emergence of Bitcoin, many cryptos have sprung up that have tried to emulate and better Bitcoin's features. One of these cryptos is Dash, which has speedy transactions and a unique governance system – making this crypto a viable alternative to other major coins.
In this article, we'll present our Dash Price Prediction for the months and years ahead. We'll dive into what Dash is and its outlook over the short term and long term before highlighting where you can invest in Dash with 0% commissions!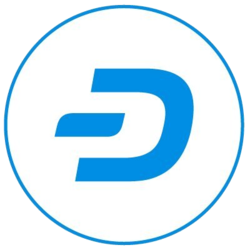 Dash (DASH)
Price
Dash Price Prediction 2021 to 2022
Throughout this Dash stock forecast, we'll cover this altcoin in great detail, touching on its features and what makes it different from other cryptos. However, if you are looking for a quick overview of this coin's prospects, the bullet points below present out Dash prediction 2021 for the upcoming months.
One Month – The current Dash price is hovering around the $190 mark, with no clear direction. However, our analysis estimates that Dash coin may drop into the $175 level to create support before springing up over the following months.
Three Months – If Dash can form a solid support level, we could see a push back up, assuming the crypto market is bullish overall. Our price target over the next three months for Dash would be the $340 level.
Start of 2022 – By the beginning of 2022, we estimate that the Dash price live will return to the highs of May 2021. This would give the coin a valuation of around $450.
67% of retail investor accounts lose money when trading CFDs with this provider.
Dash Price History – the Story of 2021 So Far
Regardless of whether you buy Bitcoin or any other cryptocurrency, it's essential to understand what the coin does and what differentiates it from its rivals. This is also the case for Dash, as this coin does share many similarities with Bitcoin – but a few key differences. With that said, let's look at what Dash is before looking at how the price arrived at this point.
So, what is Dash? The easiest way to think about Dash is as a similar cryptocurrency to Bitcoin. Dash allows for peer-to-peer transactions through its blockchain platform, which originated as a fork from Bitcoin. This fork aimed to enable much faster transactions than Bitcoin could offer, which it still does to this day.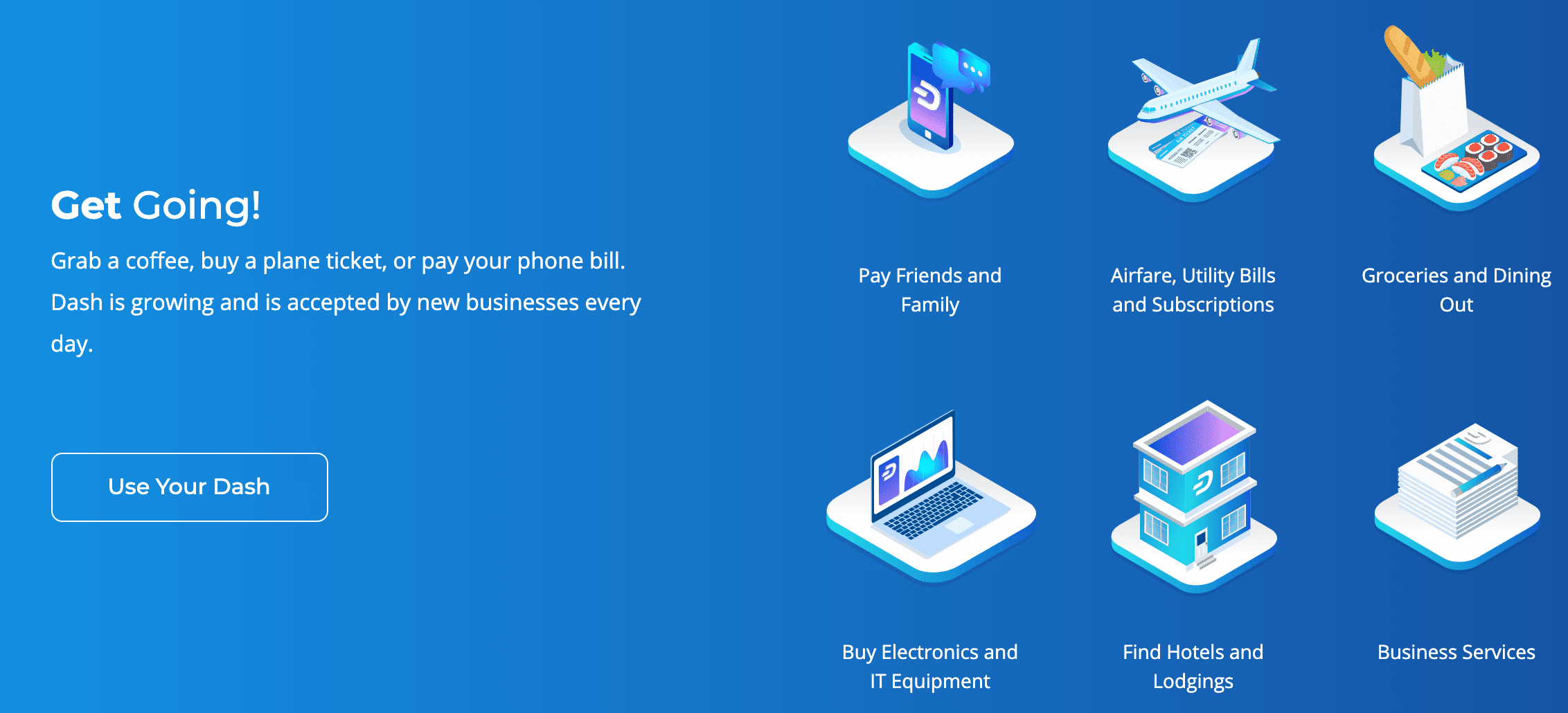 The name 'Dash' is a combination of the words 'Digital Cash', which adeptly explains what this crypto is all about. This digital coin differs from Bitcoin when it comes to mining, as Dash's system is much more efficient and uses less energy. The Dash blockchain employs the use of 'Masternodes', which have a pool of more than 1000 Dash in their system. These Masternodes validate and verify transactions, which allows them to generate a return on their stake.
Dash is capped at 18.9 million tokens, adding a level of scarcity to the coin. Furthermore, the average transaction time for Dash is only 1.85 seconds, compared to Bitcoin's ten minutes. This makes Dash a much more efficient option for sending cash than many other cryptos.
Between March 2017 and December 2017, the Dash price increased a remarkable 9872%, reaching an all-time high of $1625. However, this high was short-lived, and Dash plummeted back down to its original levels by January 2019. The Dash price remained around this level over the next few years, with only a few minor peaks along the way.

Some bullish momentum returned in February 2021, when Dash rose around 374% to reach a high of $476 in May 2021. At this point, many believed that price would continue growing, as the overall trend was solid. However, a drastic price decrease followed, which was furthered by the issues presenting themselves in the broader market at the time.
In July 2021, the price began to rise again, increasing by 157% in a few months. As recently as the 8th September, price dropped sharply over one day, leading to the Dash price today. At present, it looks like the current price may drop slightly more before showcasing some bullish momentum – although only time will tell on this front.
Dash Price Forecast
When you invest in cryptocurrency, a good idea is to look at multiple elements that affect price rather than focus on just one. By taking this approach, you ensure that any price predictions are as accurate as possible, providing a higher chance of investment success. Bearing that in mind, this section discusses the technical and fundamental factors that might shape Dash in the future.
Technical Analysis
Most people relate technical analysis to forex trading, although it is just as crucial for cryptocurrency analysis. As you can see from the price action in the chart, the Dash price has dropped by around 28% since 6th September, which occurred after a bearish breakout of the ascending channel. Following this, price does seem to be creating a bear flag on the daily chart, which tends to signal further downside.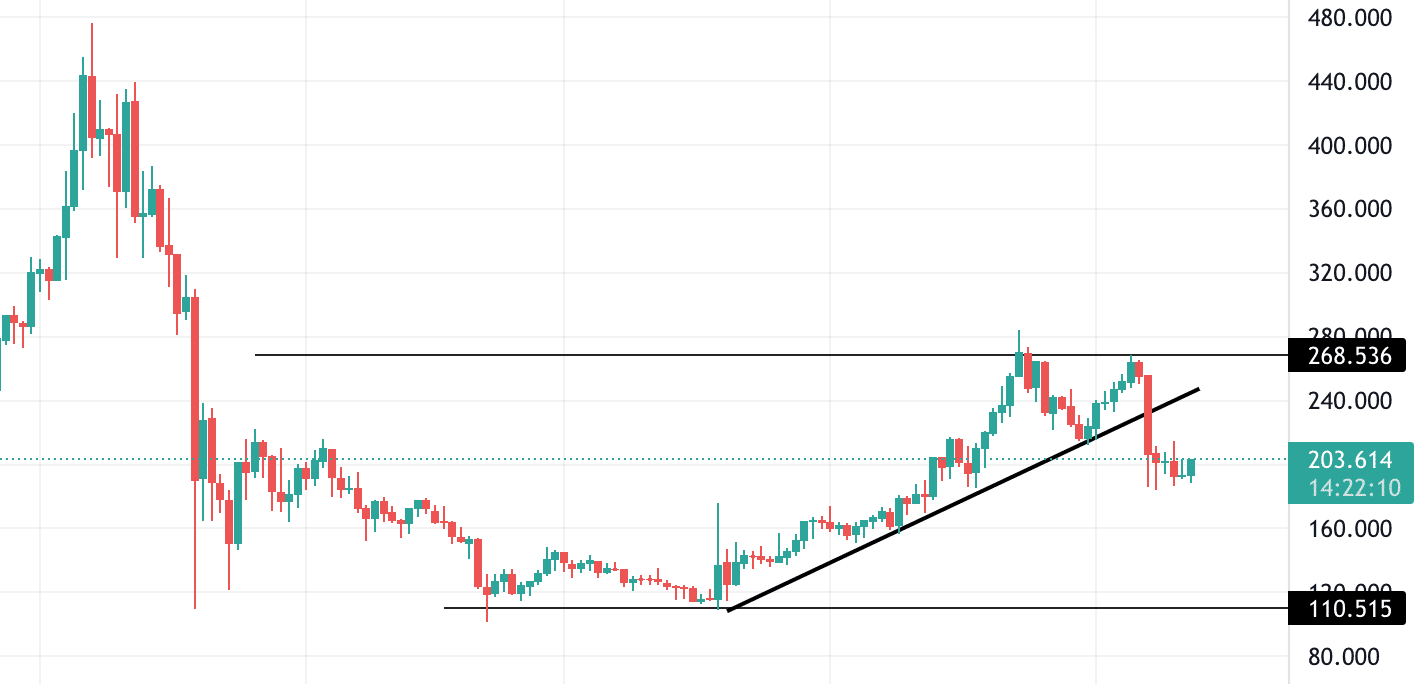 67% of retail investor accounts lose money when trading CFDs with this provider.
If downside occurs, the price could head towards $175 or $120 to find support. Even if the price does head down to the latter, this will provide an ideal opportunity to buy in at a lower price. Every time price has touched $120, it has immediately been rejected, highlighting how strong this level is.
Once we begin to see some bullish momentum on the daily or weekly chart, this will provide a greater belief that we could be heading upwards again. The short-term target would be $270, which was hit in August 2021. If this resistance level can be broken, the future price target would be around the $400 level, which was breached in May 2021.
Fundamental Analysis
Like when you invest in stocks UK, including some fundamental analysis into the equation is critical to investment success. One thing that Dash aims to focus on is user-friendliness. A quick look at the Dash website will highlight how accessible the developers aim to make this platform, which is excellent for targeting first-time crypto users. We believe this could be a key factor in Dash's success going forward.
In addition, the research for this Dash prediction highlighted that the platform's governance system is highly efficient. Dash users can vote on questions that pertain to the whole network, essentially allowing everyone to have a say in what happens. This contrasts to other platforms such as Ethereum, which tend to be handled solely by a development team with no tangible user input.
Finally, the Dash platform is more scalable than Bitcoin and uses less power. Bitcoin is extremely popular these days, making transactions a lot more expensive to make. On the other hand, Dash is the world's 61st largest crypto as measured by market capitalization, according to CoinMarketCap. This leaner profile allows Dash to charge much fewer fees, meaning the coin has a very bright future ahead.
Dash Price Prediction 2025 – Long Term Outlook
Putting the elements mentioned in the previous sections together, we can look at our Dash forecast for the long term. Notably, our Dash price prediction is very encouraging, as the coin does have some great real-world uses that could prove popular in the years to come. The world is becoming more and more digital, meaning platforms such as Dash's look set to become the 'norm' going forward.
Dash places great emphasis on privacy, allowing users to decide whether or not their transactions are private or public. Choosing private transactions will increase the costs slightly, although it will enable you to remain anonymous when sending funds. This contrasts with investors who decide to buy XRP, as this crypto uses a ledger which means all transactions are public.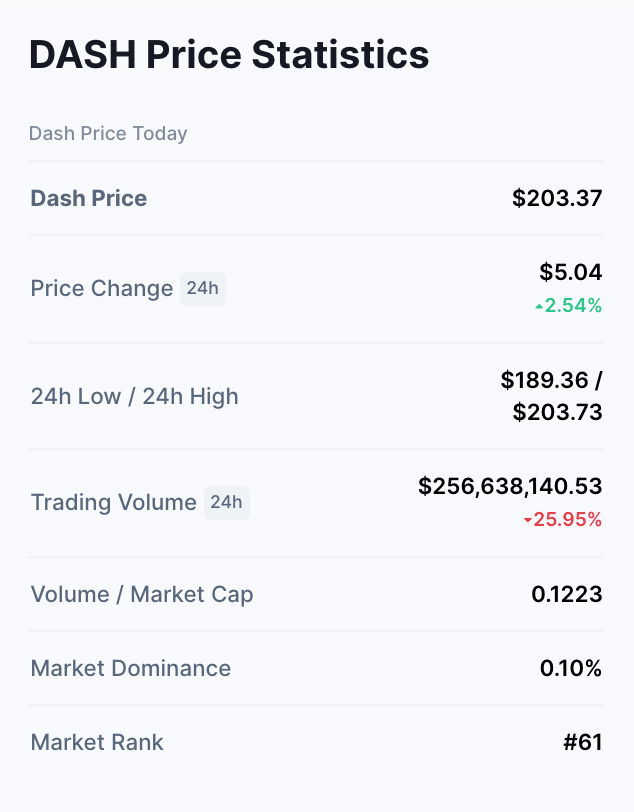 Another element of our Dash forecast that we feel optimistic about is the developers' ambitions for the platform. Over the longer term, the developers aim to make Dash cryptocurrency as easy to use as PayPal, which will appeal to younger users. Furthermore, this level of accessibility will ensure that emerging countries can use Dash instead of volatile local currencies.
Considering these factors, our Dash price prediction 2025 speculates that the coin's value could reach as high as $1200. A critical factor in this rise will be adoption, as Dash will have to partner with credible firms, adding more validity to Dash tokens. We believe this will happen as people gradually gravitate away from Bitcoin to other currencies.

Our Dash price prediction 2030 is similarly optimistic. Throughout this Dash forecast, we've highlighted how scalability and privacy are two elements that Dash focus on – and these will be crucial in the years to come. Due to this, we speculate that Dash could be worth $1800 by 2030, which will be a new all-time high for the coin.
Dash Price Chart
Investing in cryptocurrency is far riskier than investing in bonds or ETFs – that's a given. However, you can mitigate this risk somewhat by studying the price chart and looking at areas of interest. As you can see, price is currently creating a bear flag, which occurs just before a further price decrease.
Although this may seem negative, these decreases are indirect cryptocurrency market effects driven by Bitcoin's price movements. When larger cryptos such as BTC or ETH drop, it tends to drag the rest of the market down. This ensures that the overall outlook for Dash is still encouraging, it's just that the broader market is experiencing volatility.
67% of retail investor accounts lose money when trading CFDs with this provider.
Due to Dash being a smaller crypto, any price increases will likely occur when Bitcoin or Ethereum are rising. Market sentiment will be bullish at this point, which positively affects other cryptos (such as Dash). If this occurs, we could see Dash form a support level and rebound upwards once again.
Notably, our Dash prediction is more long-term in nature – so if you can make your investment at a lower price, then that's ideal. With that in mind, any price drop can be seen as a positive thing, as it provides a great buying opportunity.
Where to Invest in Dash
Rounding off our Dash coin price prediction is a look at the process of purchasing and holding Dash. Due to the market's popularity, a large selection of the best trading platforms UK will now offer crypto trading facilities. The potential brokers to choose from are vast in number, making deciding which one to go for a tricky proposition.
We've concluded through our research and testing that eToro offers the most efficient platform for buying Dash crypto. Firstly, eToro has a stellar reputation worldwide, providing protection via FCA, ASIC, and CySEC regulation. In addition to this, eToro also are covered under the FSCS, which protects users if eToro goes bankrupt.
eToro is one of the cheapest CFD brokers to use when buying crypto, as they do not charge any commissions whatsoever. This is in contrast to other brokers who charge a fee when you place a trade. eToro's fee is included in the quoted spread, which tends to be at its tightest during peak trading hours.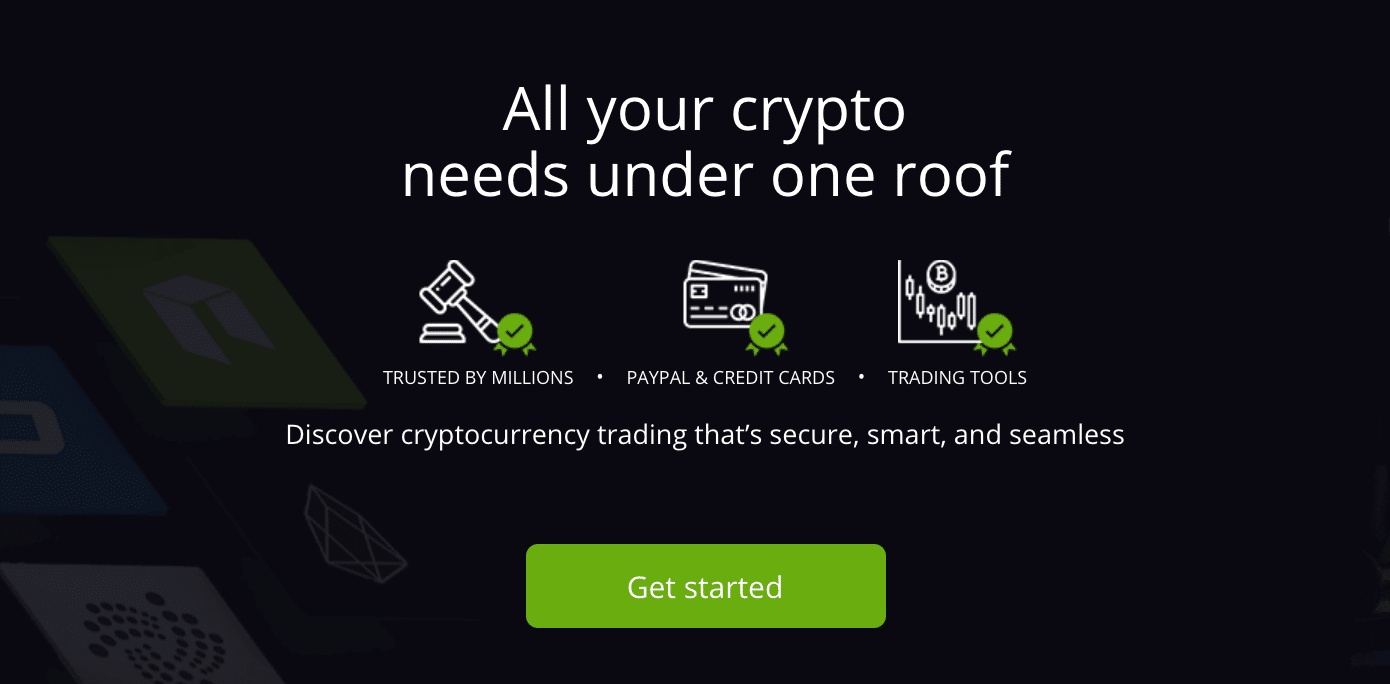 Deposits are also easy to make at eToro. Users can fund their accounts via credit/debit card, bank transfer, or e-wallet. All deposits are free to make, with the minimum deposit only needing to be $50 (£37). PayPal is also offered as a deposit method, adding another level of accessibility for users.
Finally, eToro offers its own crypto wallet for users to store their crypto holdings. This wallet is built into eToro's platform, making it simple to use for newcomers. What's more, users can easily exchange their crypto holdings for other coins directly within the wallet, avoiding the whole process of converting to USD and then repurchasing another crypto.
Dash Price Prediction – Conclusion
Overall, Dash is a fantastic alternative to Bitcoin, thanks to faster transaction speeds and improved scalability. Bitcoin's first-mover advantage is still clear to see in the digital currency market, which is why coins such as Dash are still at the level they are at. However, as time goes on and people realise there are better options out there, we'll likely see Dash become much more popular – which is excellent news for speculative investors.
If you'd like to buy Dash today, we'd recommend using eToro. eToro users can purchase Dash without having to pay any commissions, which is great for active traders. What's more, the minimum deposit threshold is only $50 (£37), with deposits totally free to make!

67% of retail investor accounts lose money when trading CFDs with this provider.
FAQs
What is the price of Dash right now?
What drives the price of Dash?
What will Dash be worth by 2022?
What will Dash be worth in 2025?