Forex Trading Australia For Beginners – What is Forex Trading?
While there are many forex online brokers to pick from on the internet, many new Australian traders may find it challenging to determine which brokers and forex robots are the best fit for them and act as true partners. In Australia, deciding which broker to trade with can be difficult.
Economy Watch is here to assist you in determining who to trust as your trading partner. In this review, we have compiled the most trustworthy, and most sophisticated brokers in Australia.
Forex Trading Australia – Top 3 Forex Trading Platforms
What Is Forex Trading?
The goal of forex trading is to profit from changes in the value of one currency vs. another.

Contracts, like futures contracts or CFDs, are a frequent technique to trade currency (contracts for difference). However, rather than purchasing and retaining foreign currency, the trader deals with a broker to profit from any change in the exchange rate between two currencies. But, of course, the trader stands to lose money if the exchange rate between the two currencies does not move in their favor.
All currencies are quoted in pairs on the worldwide currency market. AUD/USD, GBP/EUR, and USD/GBP are just a few examples of popular currency pairs. When a trader starts a forex transaction (or 'opens a position,') it's as if they're simultaneously buying one currency and selling another. If the value of one of the currencies falls against the value of the other, the trader 'closes out' their position by selling the other currency and purchasing back the one they sold.
Top Forex Brokers Australia
1. eToro – Overall Best Forex Trading Platform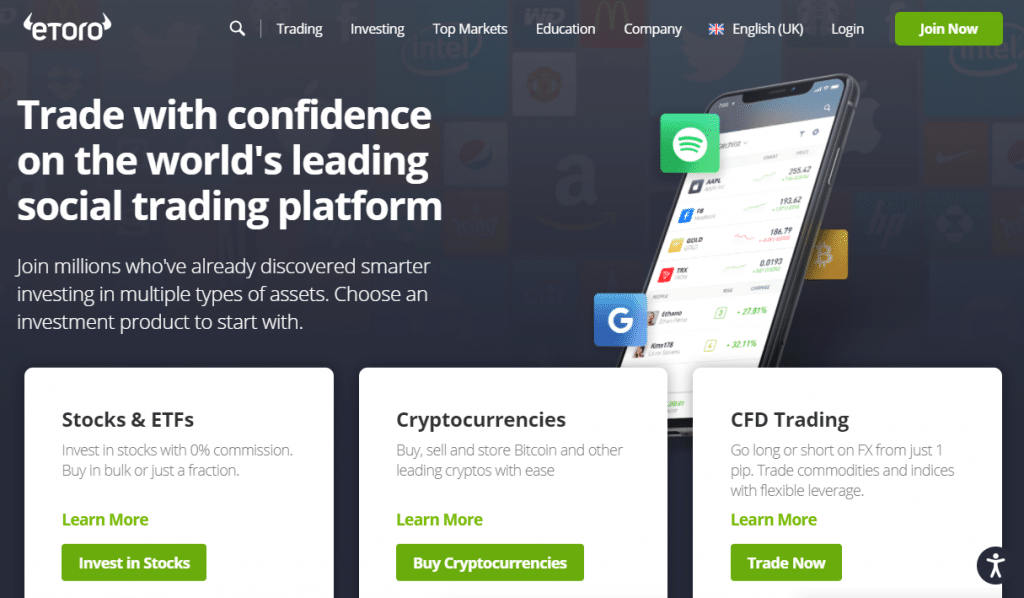 eToro provides commission-free stock trading. eToro also offers ETFs that give you access to bonds if you want to take your diversification approach to the next level. eToro also has a large selection of international equities if you want to diversify your portfolio.
| | |
| --- | --- |
| Pros | Cons |
|  No dealing costs |  There is a 0.5 percent currency translation fee when you deposit. |
|  No yearly costs |  There is a small research and analysis department. |
|  Over 1,700 shares to choose from | |
|  Copy and social trading capabilities | |
|  Buy shares or trade CFDs Access to the UK and foreign equities | |
|  Easy to use | |
|  Accepts debit/credit cards, e-wallets, and bank accounts | |
67% of all retail investor accounts lose money when trading CFDs with this provider.
2. GO Markets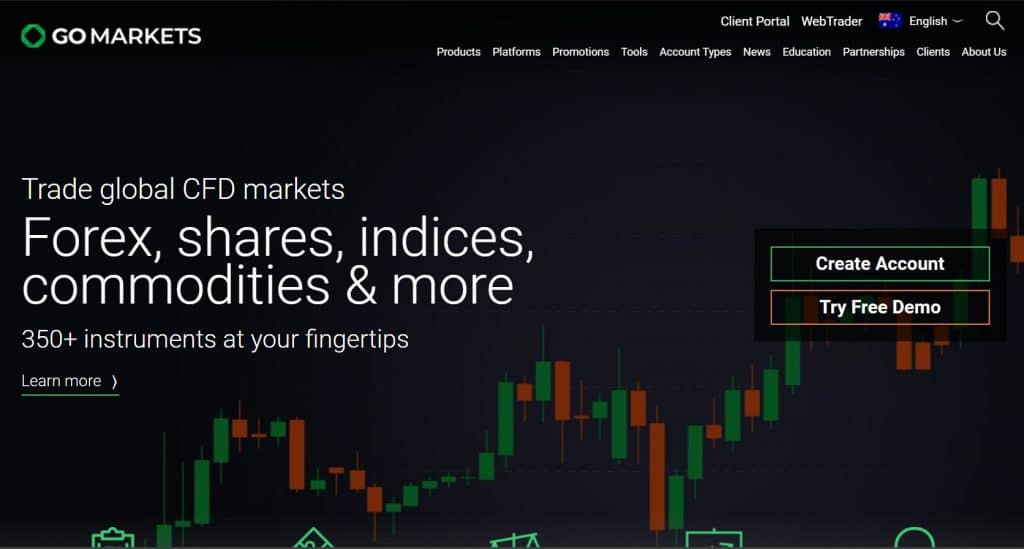 Since 2006, GO Markets Pty Ltd, an ASIC-regulated broker, has been in business. The company's headquarters are in Melbourne, Australia. GO Markets has developed to become a renowned broker with a large client base from over 150 countries over a decade. On the MT4 and MT5 trading platforms, GO Markets offers Forex, stock CFDs, indices, metals, and commodities for trading.
| | |
| --- | --- |
| Pros | Cons |
|  GO Markets is a regulated brokerage firm, which assures that trading conditions are clear. |  Demo accounts expire after 30 days, but there is an option for a non-expiring demo account. |
|  Trade executions are lightning-fast thanks to cutting-edge technology and London-based solid servers. |  Over 35 high-risk and other closely monitored jurisdictions are not allowed, which is a large number. |
|  Trading and analyzing tools such as Autochartist and Trading Central are available. |  All traders have access to only two account types. |
|  Clients' funds are segregated. |  Free swaps are only available in the MENA region. |
67% of all retail investor accounts lose money when trading CFDs with this provider.
3. IC Markets (International Capital Markets)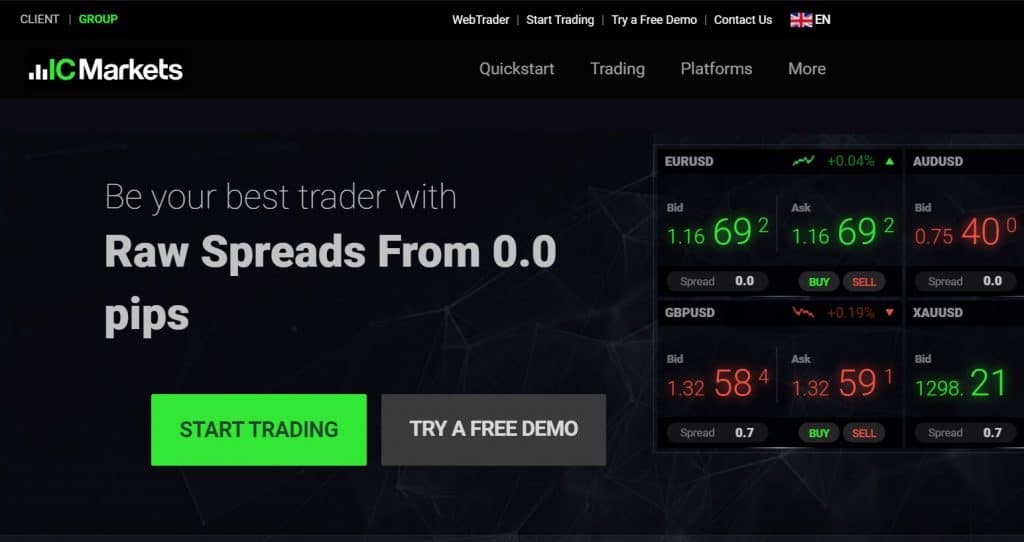 The IC Markets brand was launched in 2007 and is owned by International Capital Markets Pty. The platform operates under the Australian Securities & Investment Commission's AFSL license number 335692. (ASIC). Its headquarters are at 309 Kent Street, Level 6, Sydney, NSW. In addition, the broker has a location in Limassol, Cyprus.
IC Markets provides market access using three major trading platforms: MetaTrader 4, MetaTrader 5, and cTrader. The MT4 and MT5 trading platforms are both tried and true trading platforms with a high level of reliability. The cTrader platform, on the other hand, was created with full ECN connectivity in mind. Low spreads and a high leverage ratio are two more PROS of IC Markets. The broker is also noted for providing a comprehensive instructional facility to its clients.
| | |
| --- | --- |
| Pros | Cons |
|  Customer service is available around the clock. |  There are no perks or cash rebates available. |
|  Spreads that are competitive | |
|  1:500 leverage ratio | |
|  Educational center with lots of resources | |
67% of all retail investor accounts lose money when trading CFDs with this provider.
4. TMGM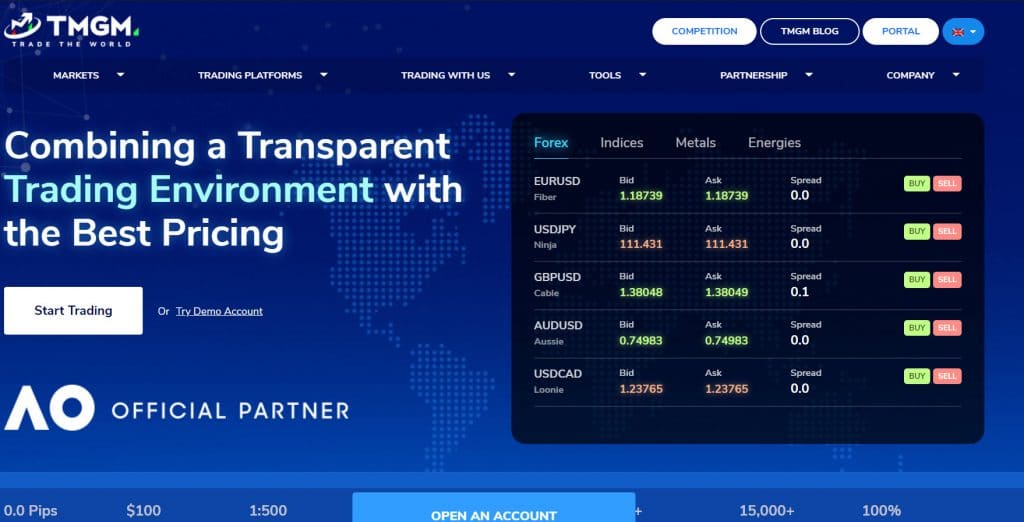 The Australian Securities and Investments Commission (ASIC) and the Vanuatu Financial Services Commission are authorized and regulated by TMGM (VFSC). It also has an Australian Financial Services Licence and keeps customer money separate from its own, with tier 1 Australian banks Westpac and National Australia Bank acting as custodians.
Users can trade on more than 15,000 financial CFD instruments from the US, Australia, and Hong Kong, spanning seven asset classes, including Forex, Metals, Energies, Cryptocurrencies, Commodities, Indices, and Shares. This is possible with two different sorts of trading accounts. The Edge Account offers $7 per round turn commission-based trading with raw spreads as low as 0 pips, while the Classic Account offers commission-free trading with spreads as low as 1 pip.
| | |
| --- | --- |
| Pros | Cons |
|  More than 15,000 financial instruments to trade |  Limited research and education resources for traders. |
|  You can trade without paying a commission. | |
|  Accounts with an electronic communication network (ECN) | |
|  Trading platforms MT4/MT5 and IRESS. | |
|  Customer service is available around the clock. | |
67% of all retail investor accounts lose money when trading CFDs with this provider.
5. IronFX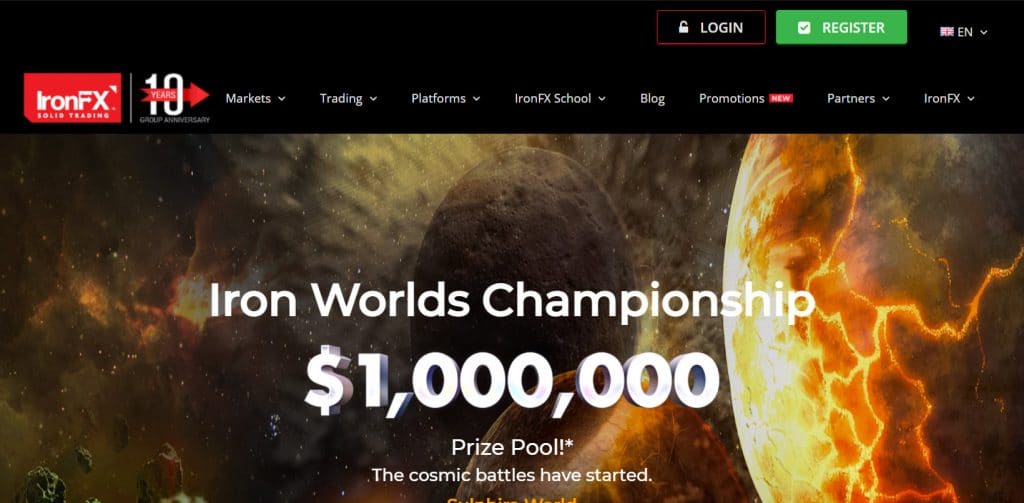 IronFX is a trading name of Notesco Limited, a Bermuda-based firm that was created in 2010. Depending on the user's geographical location, accounts can be opened with the broker's non-regulated firm in Bermuda or the broker's regulated entity under the UK Financial Conduct Authority. This assessment is based on the non-regulated arm, www.IronFX.com/en.
There are seven main types of forex trading accounts available to users. Micro, Premium, VIP, and Zero Fixed accounts all combine live floating and fixed spreads. In addition, ECN/STP trading is available on the No Commission, Zero Spread, and Absolute Zero accounts. Users can choose from various commission-free and commission-based account options, with a maximum leverage of 1:1000, 1:200, or 1:500 depending on the account type.
On the globally recognized MetaTrader 4 trading platform for PC, Mac, Web, Android, and iOS operating systems, users can trade on more than 200 financial products, including Forex, Metals, Indices, Commodities, Futures, and Shares. IronFX also offers free VPS hosting, subject to limits and conditions, as well as my FXbook's AutoTrade duplicate trading service.
| | |
| --- | --- |
| Pros | Cons |
|  Trading Central's technical analysis platform is available for free. |  No financial institution regulates or licenses it (Bermuda-based). |
|  On certain accounts, maximum leverage of up to 1:1000 is allowed. |  MetaTrader 5 is not available. |
|  Trade on more than 200 markets, including Forex, metals, indices, commodities, and stocks. | |
67% of all retail investor accounts lose money when trading CFDs with this provider.
6. FP Markets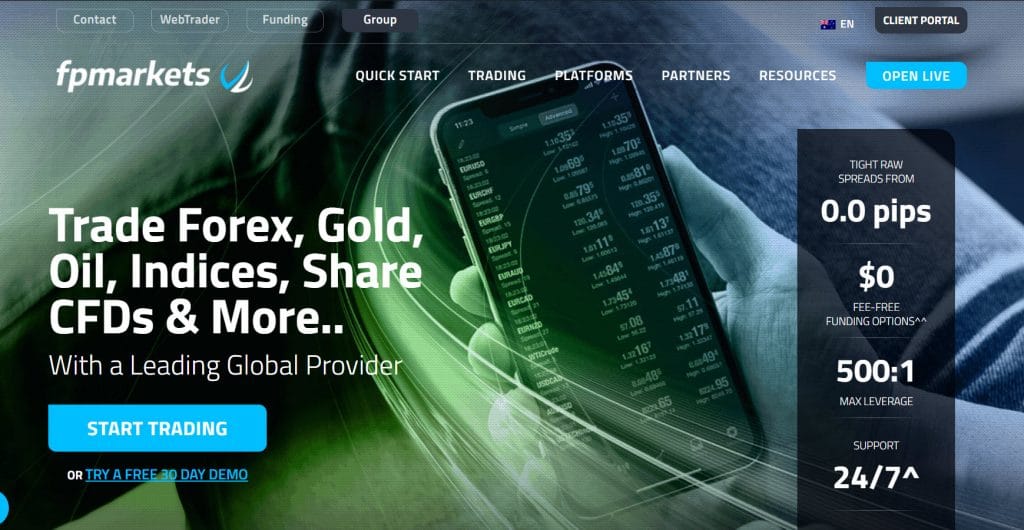 First Prudential Markets Pty owns FP Markets, an online forex and CFDs trading platform. The holding company is headquartered in Australia, with its headquarters at Level 5, Exchange House, 10 Bridge Street, Sydney NSW. FP Markets was founded in 2005 and is governed by ASIC, holding an Australian Financial Services License (AFSL) number of 286354. Aside from the MetaTrader 4 (MT4) and MetaTrader 5 (MT5) trading platforms, the broker also offers the Iress trader platform to its customers.
Thus, the broker claims to offer real ECN connectivity; therefore, spreads start as low as zero pip on FP Markets. In addition, traders at FP Markets have various trading accounts to pick from, whether they want to trade spot forex or CFDs.
| | |
| --- | --- |
| Pros | Cons |
|  There are three different sorts of trading platforms to choose from. |  There are no proprietary platforms; just MetaTrader is available. |
|  Spreads that are competitive |  Assets are limited. |
|  ECN trading is an option. | |
|  A variety of trading accounts to choose from | |
67% of all retail investor accounts lose money when trading CFDs with this provider.
7. AvaTrade – Best Online Forex Trading Platform in Australia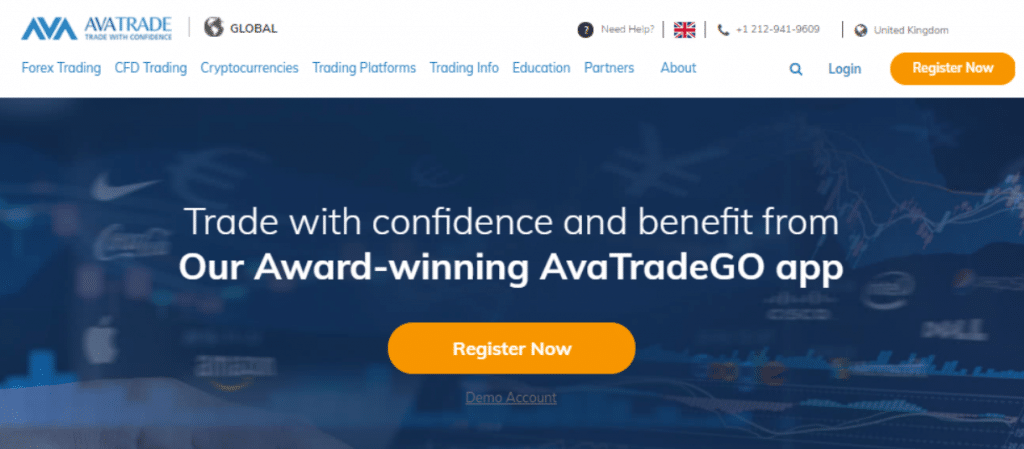 AvaTrade was created in 2006 and is licensed and regulated by the CBI, BVI FSC, ASIC, FSCA, FSA, and ADGM on all six continents where it operates. It is one of the first online Forex and CFD brokers, with a long-standing reputation for excellent customer service, low fees, and tight spreads – all while providing a wide choice of financial products, including ETFs and FX for individuals who want to diversify their holdings.
Users can open various account kinds, including Retail, Professional, Spread Betting, and Options. The distinctions are detailed in the section below on how to open an account. In addition, AvaTrade's web-based platforms, MetaTrader 4 and MetaTrader 5, provide access to over 1,250 financial instruments for retail and professional customers. DupliTrade, AvaTradeGo, AvaOptions, and AvaSocial are other reviewed platforms further down this study.
AvaTrade also provides various market research and commentary, including essential to advanced trading videos, Online Trading Strategies, News, Market Analysis, Economic Calendars, and access to Trading Central, which provides users with market insights and intelligence WebTrader and AvaTradeGO.
| | |
| --- | --- |
| Pros | Cons |
|  CBI, BVI FSC, ASIC, FSCA, FSA, and ADGM are all examples of global regulation. |  Residents of the United States and Iran are not eligible. |
|  An extensive range of platforms for all types of traders, including MT4 and MT5. | |
|  Fees and spreads that are competitive. | |
|  Customer service that is available in multiple languages. | |
67% of all retail investor accounts lose money when trading CFDs with this provider.
8. FXCC (Financial Exchange Clearing Corporation)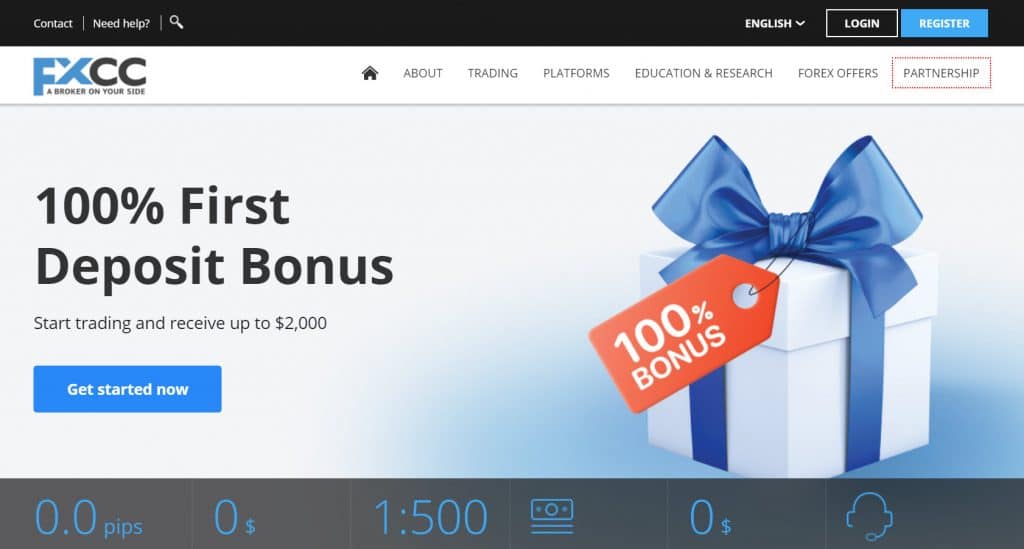 FXCC is a joint brand name of FX Central Clearing Ltd, authorized and regulated by the Cyprus Securities and Exchange Commission (CySEC), and Central Clearing Ltd, licensed and regulated by Vanuatu Financial Services Commission. It was founded in 2010 and operates as a joint brand name of FX Central Clearing Ltd, authorized and regulated by the Cyprus Securities and Exchange Commission (CySEC) (VFSC).
Through the widely used MetaTrader 4 platform, FXCC provides clients with more than 100 financial instruments, including Forex, CFDs for Indices, Metals, Energies, and Cryptocurrencies.
ECN XL is a single account type that offers commission-free trading, a $50 minimum deposit, up to 1:500 leverage, variable spreads starting at 0.0, free funding, and more. There are also Islamic and demo accounts accessible.
| | |
| --- | --- |
| Pros | Cons |
|  Trading with no commissions |  The control of offshore activities. |
|  There are over 100 markets to trade on. |  Exorbitant bank wire withdrawal fees. |
|  A wealth of research and educational resources | |
67% of all retail investor accounts lose money when trading CFDs with this provider.
9. Vantage FX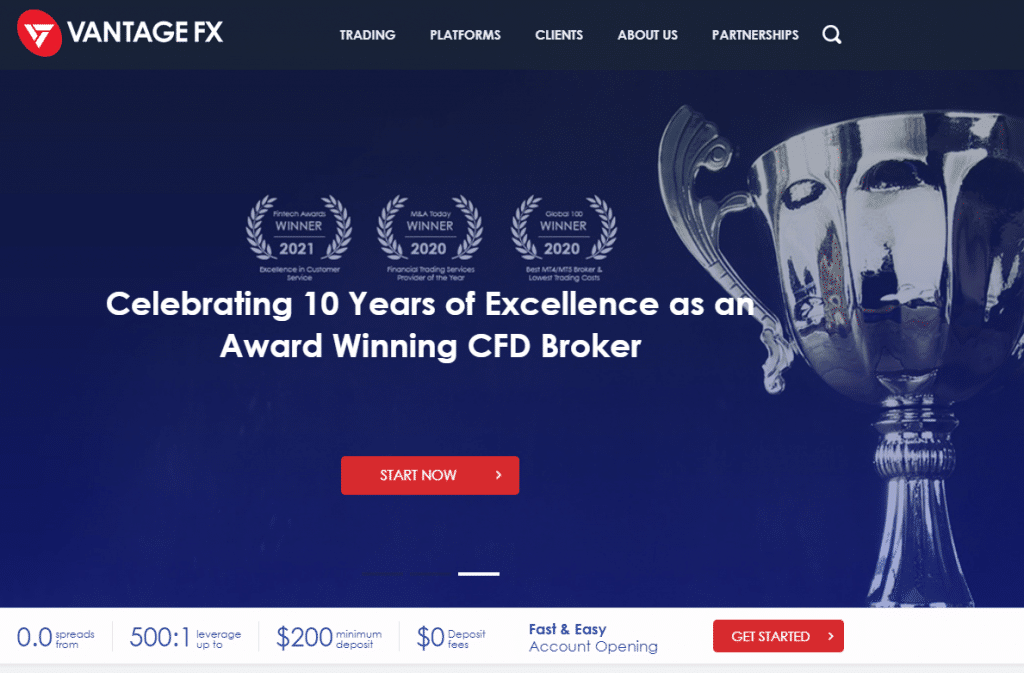 Vantage FX is a forex trading platform launched in 2009 and managed and controlled by Vantage Global Prime Pty Ltd. The broker's headquarters are located at Level 29, #31 Market St, Sydney, NSW. Vantage FX is licensed by the Australian Securities and Investments Commission (ASIC) under the AFSL license number 428901.
MetaTrader 4, MetaTrader 5, WebTrader, ZuluTrade, and MyFXBook Autotrade are among Vantage FX's trading platforms. Because they allow for duplicate trading, the latter two trading platforms are oriented toward novice traders. In addition, vantage FX offers ECN connectivity on its MetaTrader platforms, which lowers the cost of trading. Spreads start at 0 pips and go up from there.
| | |
| --- | --- |
| Pros | Cons |
|  Earn an interest rate of 8.88 percent on your available trade balance. |  The number of assets available for trade is limited. |
|  A wide range of trading platforms to choose from | |
|  Extremely narrow spreads | |
67% of all retail investor accounts lose money when trading CFDs with this provider.
10. Plus500 – Easy to Use Forex Broker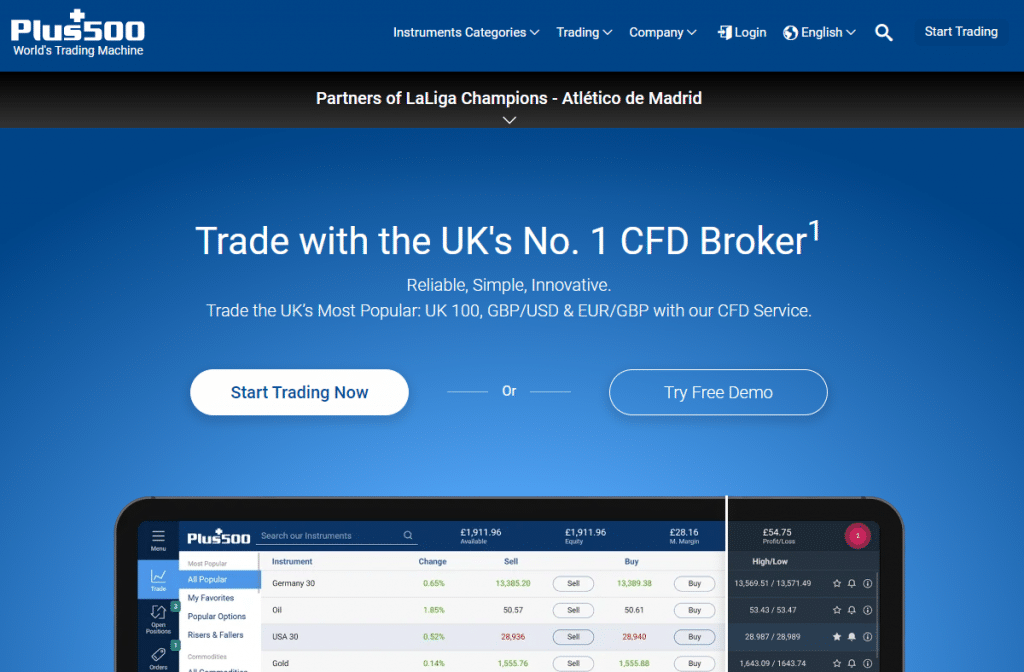 Plus500 has a decade of experience in the brokerage industry. They have 317,000 customers from throughout the world. They are appropriately controlled in four countries: Australia, the United Kingdom, and Cyprus. The trading platforms are straightforward, user-friendly, quick, and safe. For trading in various settings, platforms that may be used across numerous devices and operating systems are available.
There are no teaching materials available, which is a significant disadvantage. There are also no study materials (apart from the economic calendar) or technical analysis available.
| | |
| --- | --- |
| Pros | Cons |
|  Over 2,000 CFD products, including bitcoin CFDs, are available for trading across worldwide marketplaces. |  There is a scarcity of content and news headlines. |
|  Guaranteed stop-loss orders are available. | Clients aren't getting enough trader education. |
|  There are numerous restrictions from various countries. The Financial Conduct Authority (FCA), the Australian Securities and Investments Commission (ASIC), the Cyprus Securities and Exchange Commission (CySEC), and the Monetary Authority | There is no phone support available. |
|  The web platform includes over 100 chart indicators. | |
67% of all retail investor accounts lose money when trading CFDs with this provider.
How Does Forex Trading Work?
Assume you placed a transaction with a broker or forex robots in which you bought Australian dollars and sold US dollars simultaneously. Suppose the Australian currency strengthens against the US dollar in the following days or weeks. In that case, you'll want to complete your position by exchanging your US dollars for Australian dollars, gaining more Aussie dollars than you sold. On forex trading, this is how a profit is made.
Of course, it's vital to note that you don't possess or receive the currencies involved in the exchange at any point during the process. Because its value is dependent on an underlying asset, but the asset is never physically exchanged between the parties, Forex traded in this manner is considered a derivative instrument.
This form of forex online trading is usually leveraged, which means you only contribute a small portion of the trade's overall value. The majority of currency contracts are huge, with a minimum trading size of 1,000 units (for example, $1,000). Because currency conversion rates fluctuate in small increments – usually tenths or hundredths of a cent – this is the case.
To make a considerable profit or loss, you must trade in large quantities. Leveraged trading (also known as margin trading) allows you to invest a small amount of money in a much larger trade, with your broker often covering the difference.
You stand to earn from the entire amount traded, not just your modest stake, if the exchange rate rises in your favour. But, of course, it also works in the other direction, so if the exchange rate swings against you, you are responsible for the total value of the trade's losses.
As a result, forex trading is usually associated with more experienced and risk-averse traders. In addition, forex brokers' trading platforms are fairly sophisticated these days, with various features and tools designed to assist traders in getting the most out of their deals.
Accounts And Platforms
When considering how you will work as a forex trader, there are three factors to consider:
The forex broker with whom you'll be dealing
The trading platform provided by your broker
The approach you intend to take
The most crucial factor to consider when choosing a forex broker is whether or not they are reliable.
How Much Does Best Forex Trading Platforms Cost?
Before you start trading Forex, you should familiarize yourself with the fees that apply, just as you would when trading average shares through an online broker or broking platform. But, first, examine the margins you'll need to meet to conduct a deal with a variety of different providers. This could be 0.5 percent, 1%, or another figure, and it will alter the amount of money required to create a forex position. For example, if your account has a 1% margin, a $100,000 trade will cost you $1,000.
Furthermore, some companies charge a fee for each trade you make. These fees are usually relatively minor, a few cents per thousand dollars in most cases. Some suppliers, on the other hand, do not charge commissions on your trades. Payments made with a credit or debit card may be subject to additional charges.
Finally, the spread, which is the difference between the buy and sell prices for each currency pair and is practically what a brokerage platform will charge you to complete a deal, must be considered. To keep your costs down, look for the best online Australian forex trading platform with tight spreads.
In Which Currency Should I Trade?
Your skills as a forex online trader will help you choose the ideal currency pairings to trade on your account. It's preferable to start with the major and minor pairs if you're new to the game. This is because the markets are more stable, and the spreads are lower. Exotic pairs are more difficult to trade since they are more volatile, and because of their low liquidity, they have greater spreads.
Whatever currency pairs you choose to trade, make sure you keep your risk under control. It's critical to recognize that while exotics offer more opportunities for moves, they also increase your risks if the market swings against you.
Learn Forex Trading Australia Regulations
The Australian Securities Investment Commission is in charge of overseeing Forex trading in Australia (ASIC).
This organization manages Australia's company name registration and provides an online tool for searching those names. The forex market is more open to fraud than other markets since it is not centralized.
If a broker's name appears on the ASIC list, it is regulated. This implies it must fulfil industry standards and be audited and reviewed by the agency regularly.
The foreign exchange market is an OTC (over-the-counter) market. This means that there is no central regulatory entity overseeing the market. As a result, forex trading was mainly confined to an institutional level before it became popular on the retail level, and it is essentially self-regulated. However, as retail Forex trading grew in popularity, financial regulatory bodies in the world's more developed nations began to intervene to defend the interests of small retail investors.
Financial regulatory bodies worldwide have created rules for Forex brokers operating in various jurisdictions, including the requirement that the broker has segregated accounts for their clients and the company's operational cash. This rule ensures that the broker does not misappropriate the trading cash entrusted to it by clients. To put it another way, traders may be confident that their funds will be there in their trading account anytime they wish to place a deal.
Furthermore, having separate accounts protects clients' money from being used to pay the broker's debts if the broker goes bankrupt. In other words, the cash in these segregated accounts cannot be claimed by the broker's creditors as part of the broker's assets that can be used to pay down the broker's obligation. Finally, an authorized forex broker must also maintain a capital adequacy ratio, which is a typical industry requirement. The goal of forcing brokers to maintain a capital adequacy ratio is to ensure that they have enough liquidity to fulfill their contractual obligations at all times.
SEC (Securities and Investments Commission of Australia) (ASIC)
The Australian Securities and Investment Commission is a regulatory body that traders in Australia should be aware of (ASIC). ASIC was established in 1998 under the Australian Securities and Investments Commission Act, 2001, and is mandated by the Corporations Act, 2001, the Insurance Contracts Act, 1984, and the National Consumer Credit Protection Act, 2009 to oversee the following aspects of the Australian financial sector:
Protection of consumers
Corporate Management
Encourage financial literacy
Financial Services Regulation
Insurance Industry Regulation
Securities and derivatives trading must be regulated.
If you are a novice trader who is new to the online forex trading Australia sector, the best place to begin is with ASIC-regulated firms. However, regardless matter how appealing an unregulated forex broker's offer may appear, there's no point in accepting it if you can't get your money back at the end of the day. So instead, consider the PROS of using an ASIC-regulated broker, which can provide you peace of mind.
An excellent customer service policy is another essential feature to look for. You'll undoubtedly have many questions as a novice looking for the most advanced FX trading platform in Australia.
When you choose a broker who is dedicated to providing excellent customer service, you can be assured that they will be willing and able to answer your questions whenever you need them.
Even seasoned traders face technical issues and other challenges, so having a dedicated customer care team will make your entire trading experience much more accessible.
Another essential factor to consider is whether or not the broker you choose offers favorable trading conditions. You must be able to open an account with them without running into any difficulties.
Margin / Leverage
Examine the minimum deposit necessary to open an account. Examine the leverage they provide and whether or not commissions are required.
The amount of money you borrow from the broker is referred to as leverage; it may help you gain more, but it also puts you at risk of losing more.
Spreads
Spreads are also crucial – do they offer fixed or variable spreads? News releases and market volatility do not affect fixed spreads.
Having a proper risk management tool on hand is usually a smart idea because it can protect you from unexpected market behavior.
You should also consider the trading platform(s) that a broker offers. Again, it's best to use a platform with all of the technical tools and statistics you'll need to make informed trading selections.
You might also want to see whether they have a mobile app so you can keep track of your transactions while on the go – most modern platforms do. Finally, examine reviews of different forex brokers and trading platforms to have a thorough grasp of them and to receive unbiased recommendations.
When you've found the correct broker with the greatest platform(s), you'll need to figure out which account type is best for you. Most brokers will provide various account levels, making sure you pick the proper one for your needs.
Time Zone 
Except on Sundays, when it closes, the foreign currency market is open 24 hours a day, six days a week. Throughout the trading day, the trading hours across three different time zones. You'll need to figure out how they fit into Australia's time zones. These are the trading sessions:
Asian (the Sydney market is open from 7:00 a.m. to 16:00 EST, while the Tokyo market is open from 9:00 a.m. to 18:00 EST)
European — from 17:00 to 01:00 EST, the London market is open.
The New York Stock Exchange (NYSE) opens at 22:00 EST and ends at 06:00 EST.
Understanding the forex trading hours in Australia and the overlaps between trading sessions is critical. However, knowing what to trade is only half the battle; to be successful, you must also know when to trade.
Traders must understand how active the market is during various forex trading sessions. The ones that matter most to you will be determined by the currency pairings you're trading.
The first hour after a significant market session begins is considered crucial. This is because this time frame can provide insight into how the rest of the session will unfold.
Most forex systems offer technical analysis, which may be used to break down sessions into charts. However, it's important to remember that when trading hours overlap, liquidity tends to increase. Therefore, when the number of traders in the market grows, many forex brokers using raw ECN market spreads will tighten their spreads.
You should also be aware of when potentially market-moving news is expected. For example, interest rate announcements, employment vs. unemployment announcements, and GDP announcements can impact market movement before and after news releases can be more volatile than typical.
Because news events are highly volatile in the forex market, you must know when such announcements will be made worldwide. You can choose your preferred forex trading times in Australia this way.
How To Open a Forex Trading Account in Australia?
Most forex trading platforms allow you to open an account online in a matter of minutes. While the application procedure varies by provider, you will generally have to fill out an online application and then wait for a response from the provider to see if your application has been granted.
Signup at eToro here to Trade Forex with 0% commission >
You will almost always be required to provide:
Your name
Your date of birth
Your contact information
Your mailing address
Your residence country
Identification, such as a driver's license or passport
Platform And Software For Trading
The performance of trading platforms is the next element to consider when choosing the top forex brokers in Australia to work with. The trading platform is your entry point to the forex market, and you won't be able to trade efficiently unless you have a dependable and efficient trading platform.
Generic Platform
A white-label platform is supplied by numerous brokers and branded to them, such as with their logo. MetaTrader 4 from Metaquotes is the most common version of this. The next most popular white-labeled platforms are Sirix Trader and cTrader.
Look for the following features in your platform:
Determine whether the trading platform is simple to use and executes trades quickly.
Can offer you a wide range of trading tools to help you improve your market analysis.
Examine the quality of the trading charts to see if they can present you with an in-depth view of price fluctuations.
Additional trading tools such as an economic calendar, a currency and pip calculator, an up-to-date news stream, and trading immediately from charts.
If you have any doubts regarding those above, see the list below before choosing a trading platform:
Charts that are comprehensive
Trade execution promptly
Mobile-friendly
Convenient User Interface
A diverse set of trading tools
What To Look For When Choosing A Forex Broker As An Australian Trader
The most crucial thing to look for in a broker is whether or not it is regulated by the Australian Securities and Investment Commission (ASIC) (ASIC). The Australian Securities and Investments Commission (ASIC) is the regulatory organization in charge of overseeing the financial industry in Australia. ASIC is also responsible for consumer protection and corporate governance, ensuring that brokers do not violate your rights as a consumer.
In addition to regulatory oversight, ensure the broker has given you a dependable trading platform. Every trader's entrance to the financial markets is their trading platform, and without one, they will be unable to trade effectively.
Finally, examine the spreads or charges charged by the broker. Your profitability will be harmed if the broker charges hefty spreads or commissions. We've developed a list of recommended brokers based in Australia to help our Australian readers get a jump start.
Australians have proven resourcefulness time and time again in overcoming the myriad challenges of living in such a sparsely populated environment. With China's economy developing at a breakneck pace over the previous decade, Australia's exports have increased, and the Australian dollar has appreciated. As a result, many Australians have turned to retail forex trading to profit from the strengthening of the Australian dollar. This rising interest in retail forex trading helps to explain why Australia's retail forex trading business has been booming in recent years.
What Are Some Of The Most Widely Used Forex Trading Strategies?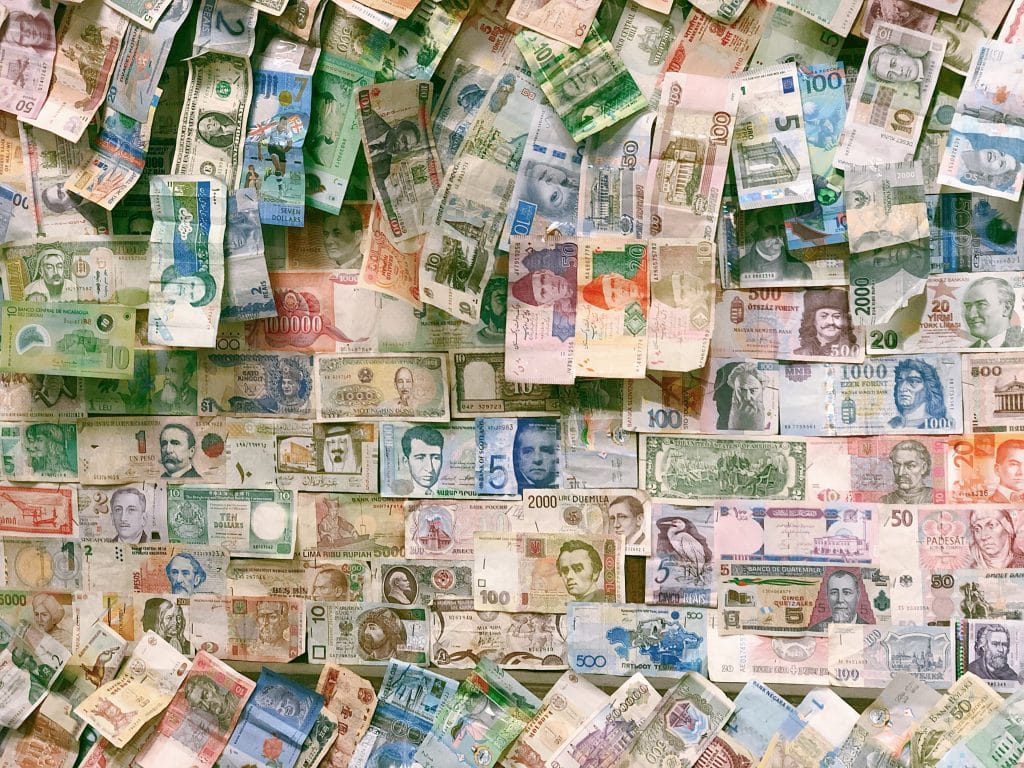 When trading Forex, just like any other kind of investing, various techniques are explored, ranging from the most simple to the most complicated. Technical or fundamental analysis is one approach traders can use to correctly anticipate the future performance of currency pairings.
Another popular technique is the day trading method, which is based on the simple principle that no forex positions should be held overnight. Because the longer you have a position open, the more likely you are to lose money, traders should minimize risk by closing all open positions before the conclusion of the trading day.
Support and resistance levels are a third popular method. This entails looking into a currency's past swings and using them to forecast future price movements. The previous price's resistance limit is its support limit, while its lower limit is its resistance limit. This can assist traders in making an educated bet on when the value of a currency will rise or decline.
The currency market is volatile, with prices fluctuating dramatically from one hour to the next.
Suitable online trading classes will teach you about the technical aspects of forex trading and give you techniques and recommendations for currencies to invest in. But, of course, you must ensure that all of this data is accurate and unbiased.
Many forex brokers offer extensive training materials. However, it may be more beneficial to seek independent instructors to supply you with the information you require.
Numerous books on forex trading provide helpful knowledge and reference material, as well as YouTubers who provide excellent guidelines and recommendations to assist you.
Forums and seminars are also excellent sources of education and training, so broaden your horizons and expand your network. Whatever method you use to learn, the most important thing is never to overlook the value of self-education.
Signals
You may already have a good understanding of the forex market if you're considering it. However, some of the topics to learn are highly detailed, and you should pay special attention to them to ensure that you thoroughly comprehend them.
Forex signals are one such item, and you should be aware of their significance in forex trading. A forex signal is a piece of advice. It can be generated by a human analyst, trading software, or a forex robot.
These signals include crucial information for entering a trade on any currency pair, such as a set price and trade time. In addition, because daily forex signals are updated in real-time, they can be notified in various ways. This will also help to smoothly trade forex online.
SMS, social media, websites, email, and RSS are the most frequent methods of notification. However, a good forex signal service can be a handy tool in helping you succeed in the market.
There are two types of forex signals in general:
The use of manual signals
Signals that are generated automatically
To determine when to purchase and sell certain currency pairs, the person sending the signal must stare at a screen for long periods. The judgments made using this form of the signal depending on the interpretation of that individual (or team), but humans can interpret the market in ways that programs can't.
They can spot unpredictably or unpleasant moves to exit risky transactions, and they can use their knowledge and experience to provide accurate indications.
Additional Services
Most forex brokers aim to give additional services in a competitive market like online forex trading to help them separate themselves from other brokers in the business. The following are some of the extra features or benefits that these brokers may provide:
Trading Alerts for Free
VPS for free
Interest on the balance of a trading account
Trading cost rebates and a loyalty program
Market research and analysis
One-on-one consultation with an expert
Bonuses for registering
Assistance with social trading
Risks
Before you begin to trade Forex online, be sure you understand all of the hazards associated with this type of trading. These are some of them:
Even if you only have to pay a tiny portion of the total value of your exchange upfront, you are still liable for the full amount.
Foreign currency rates are fickle and can suddenly turn against you, resulting in a significant loss of funds.
Because markets are open 24 hours a day, you may need to set up a significant amount of time to monitor any active positions.
Predicting currency markets is challenging since a variety of factors influence them.
Even stop-loss orders, which are designed to restrict your losses, can only provide a limited level of protection against the hazards.
Frauds To Avoid
Because scammers are all-too-common, avoiding them is a crucial element of being a forex trader. However, keep in mind that the issue isn't with Forex; it's with the brokers that want to take advantage of it. Therefore, when considering whether or not to trust a broker, keep the following in mind:
ASIC regulation: As previously said, look for ASIC-regulated businesses. This ensures that a regulatory authority approves them and that their operations are lawful and ethical regularly.
Terms & conditions: It's critical to be transparent. Don't overlook the fine print, and be wary of unnecessarily complicated withdrawal procedures. Anything that appears dubious in the deposit process should be avoided as well.
Marketing: If a broker's promises sound too good to be true, they most likely are. Profits are never guaranteed, and there are no quick fixes for success — anyone who claims otherwise is lying.
Cold callers: If you're contacted out of the blue and asked to join a platform, decline. Another red flag is if you've previously signed up for a platform and a "senior broker" calls you with trading recommendations. Again, cold calling is unnecessary for reputable brokers, and this includes emails.
Managed accounts: If the house makes decisions for you, it's doubtful that they'll be in your best interests. You can't trust brokers to make the best judgments for your needs because they make more money from specific activity in your account.
Channel sales: It's essential to know who you're dealing with, so if you go to one site and it directs you to another, you might want to reconsider working with the broker.
Price manipulation: Brokers must set their pricing against a clear and transparent benchmark based on real-world events. Don't trust a broker who reserves the authority to determine its prices. They're granting themselves the right to distort the numbers in your favour.
Conclusion
Many newbie traders find it difficult to distinguish between the many types of forex brokers due to the explosion of forex brokers on the internet over the last decade or so. Therefore, to assist our readers in making the best decision possible, we conducted in-depth reviews of numerous brokers in the business using the principles outlined in this guide. As a result, this guide is very operative and helpful for Australians who want to learn to trade Forex.
Start Trading Online with eToro, Australia's leading Trading Platform!