5 Best Blockchain Stocks to Buy in October 2021
Blockchain stocks have been on a fire over the last year amid the rally in cryptocurrencies. Bitcoin prices have also risen to a new record high after the launch of the first bitcoin ETF.
Blockchain stocks could be one way to play the cryptocurrency market. Here are the five best stocks that you can buy in October 2021.
Argo Blockchain (NYSE: ARBK)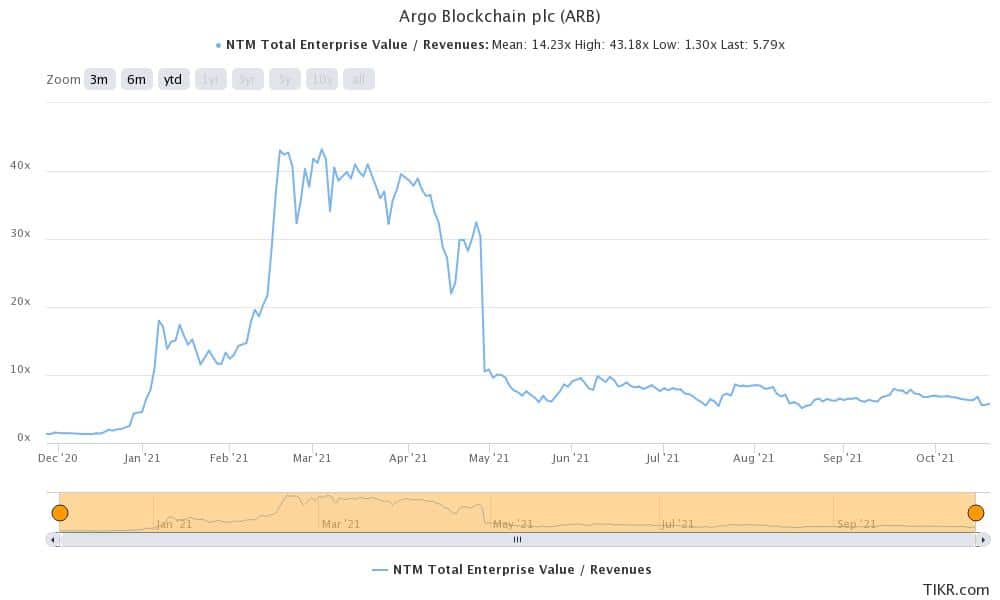 British Blockchain company Argo Blockchain was recently listed on the US markets. The stock trades near the IPO price levels. However, looking at the recent surge in bitcoins, ARBK looks among the best blockchain stocks to buy in October 2021. The company had generated revenues of $52 million in the 12-month period ended 30 June 2021. The revenues would increase exponentially as the company expands its mining activities.
Wall Street finds ARBK as a good blockchain stock
Wall Street analysts have a bullish forecast for ARBK stock. Jefferies, which has a street high target price of $30 on the blockchain stock said "BTC mining should remain a high margin business, and ARBK's margin should improve as they build out in Texas, where power rates (largest OpEx) are half the rate of the in-place portfolio."
Notably, ARBK has its mining infrastructure in North America. The company has been pitching itself as an environment-friendly blockchain company as North America has a high proportion of renewable energy in the total energy mix.
Notably, while other cryptocurrency mining stocks have surged over the last month, ARBK stock has sagged. There is a potential for a catchup trade and ARBK's valuations look compelling as compared to peers. Overall, ARBK looks among the best blockchain stocks that you could buy in October 2021.
67% of all retail investor accounts lose money when trading CFDs with this provider
Riot Blockchain (NYSE: RIOT)
Riot Blockchain is a bitcoin mining company with operations in the US. With China cracking down on bitcoin mining in the country, stocks like RIOT could receive an impetus. In May, RIOT announced the acquisition of Whinstone US which would further enhance its bitcoin mining platform.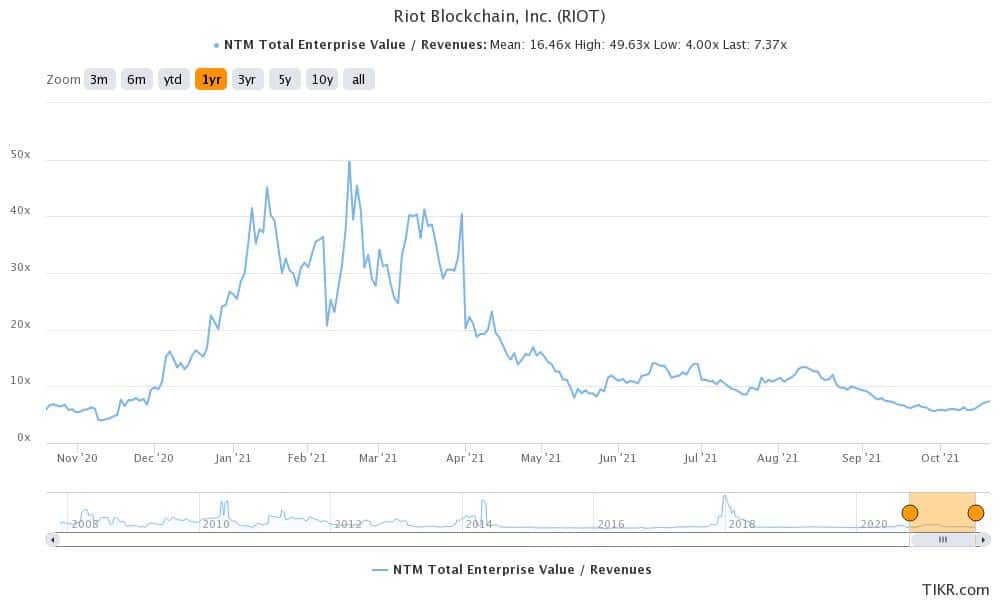 Riot Blockchain stock is up over 90% in 2021. However, despite bitcoin prices rising to a record high, RIOT stock trades at less than half of its 52-week highs. RIOT looks like a good blockchain stock to buy after the recent underperformance.
Riot Blockchain provides September update
Earlier this month, RIOT provided its September operational update. The company produced 406 bitcoins in the month which was 346% higher than the corresponding month in 2020. In the first nine months of the year, Riot Blockchain has produced 2,457 bitcoins which were 236% higher than the corresponding period last year. The company held 3,534 bitcoins on its balance sheet at the end of September which at current prices are valued at almost $230 million. To put that in perspective, the company's market cap is only about $3 billion.
Analysts see massive upside in Riot Blockchain stock
Wall Street analysts also see a massive upside in Riot Blockchain stock. Its median target price of $47.50 is a premium of 51% over current prices. The street high target price of $82 is a premium of 161% while the street low target price of $42 also implies an upside of 33.6%. All six analysts covering RIOT stock rate it as a buy or some equivalent.
With an NTM (next-12 months) EV (enterprise value)-to-sales multiple of only about 7.4x, RIOT looks like a reasonably valued blockchain stock and could see a rerating amid the growing interest in cryptocurrencies. If you are looking at exposure to a bitcoin miner, RIOT looks like a good bet.
67% of all retail investor accounts lose money when trading CFDs with this provider
CME Group (NYSE: CME)
CME Group is not the typical blockchain stock. However, it is a play on the growing popularity of cryptocurrencies as it provides trading in bitcoin futures. The stock has gained almost 20% in the year and has a dividend yield of almost 1.7%. While pure-play blockchain stocks don't pay a dividend and instead invest in growth, CME is one blockchain play that also offers a dividend.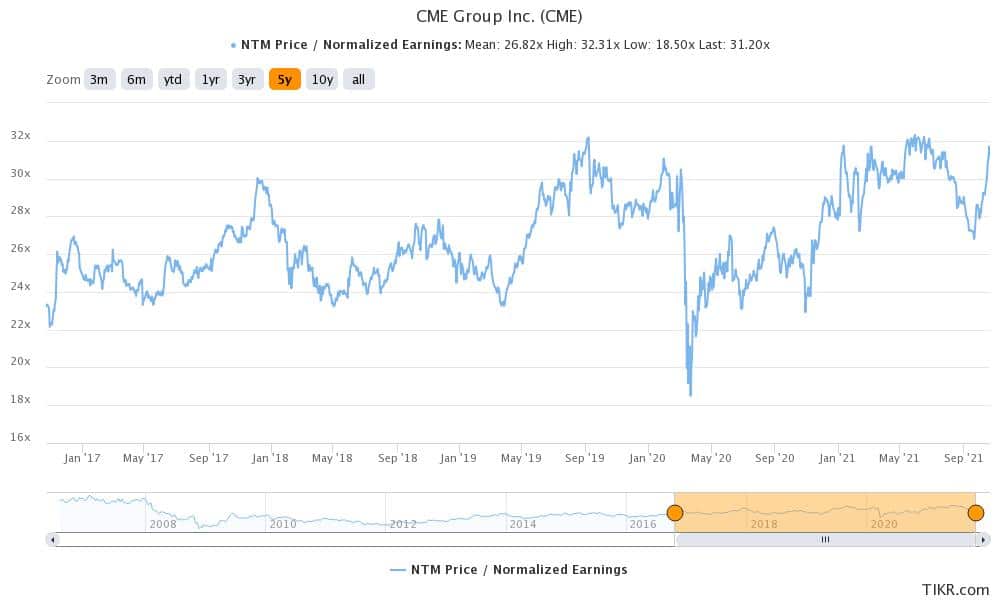 As the popularity of cryptocurrencies grows, CME could launch more products based on them. Meanwhile, Wall Street analysts don't seem too bullish on the stock and its average target price of $216.86 is a premium of a little above 1%. Of the 10 analysts polled by TipRanks, five rate it as a buy while four have a hold rating. One analyst has a sell rating on CME stock.
CME trades at an NTM PE of 31.2x which is higher by historical standards. While CME looks like a good blockchain stock to buy, it looks somewhat overvalued at these levels. However, the stock should be on your watchlist if it corrects another 10% from these levels.
67% of all retail investor accounts lose money when trading CFDs with this provider
Marathon Digital Holdings (NYSE: MARA)
MARA is another blockchain stock that should be on your watchlist with bitcoin prices rising to new record highs. The company produced 340.6 bitcoins in September which took its Q3 2021 production to 1,252.4 bitcoins. The company has produced 2,098 bitcoins in 2021. At the end of September, MARA had 7,035 bitcoins which includes the 4,812.66 bitcoins that the company acquired in 2021 at $31,168 per coin.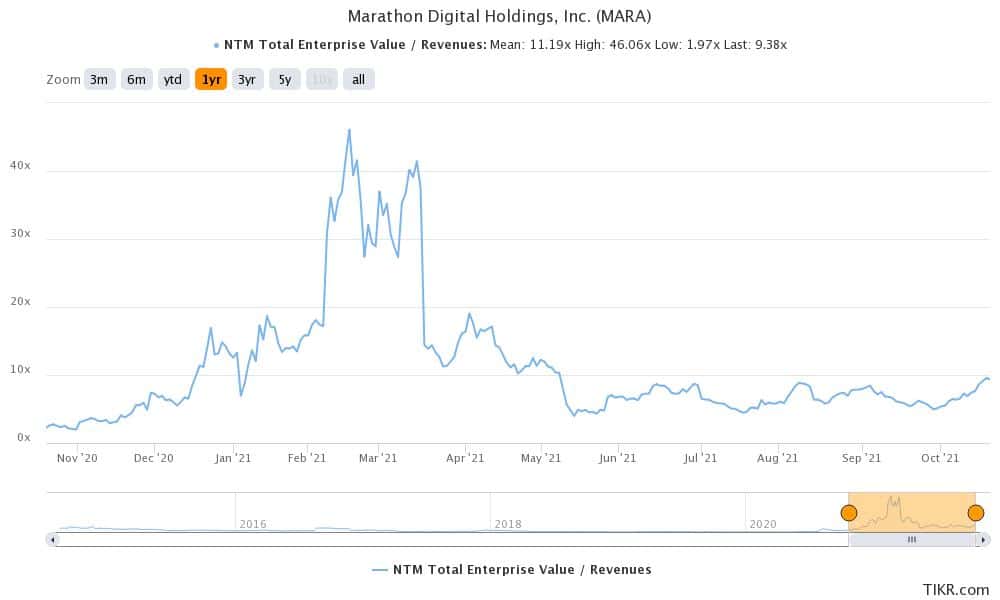 MARA is a blockchain stock with high bitcoin holdings
The company also announced a $100 million line of credit. "Due to Marathon's positive track record, our growth trajectory, our position as one of the largest holders of bitcoin among publicly traded companies in the U.S., and the broader maturation of our industry, we were able to obtain a $100 million revolving line of credit with Silvergate Bank, which is secured by our bitcoin holdings and USD," it said in its release.
Overall, MARA is among the best plays on bitcoin and blockchain looking at the massive bitcoin holdings on its balance sheet. The valuations also look reasonable with an NTM EV-to-sales of 9.4x.
67% of all retail investor accounts lose money when trading CFDs with this provider
Mastercard (NYSE: MA)
Payments processing company Mastercard is another blockchain stock that you can buy. While the company is known globally for its payments solutions, it has been pivoting towards blockchain technology. Earlier this year, the company announced that it would start supporting select cryptocurrencies on its platform.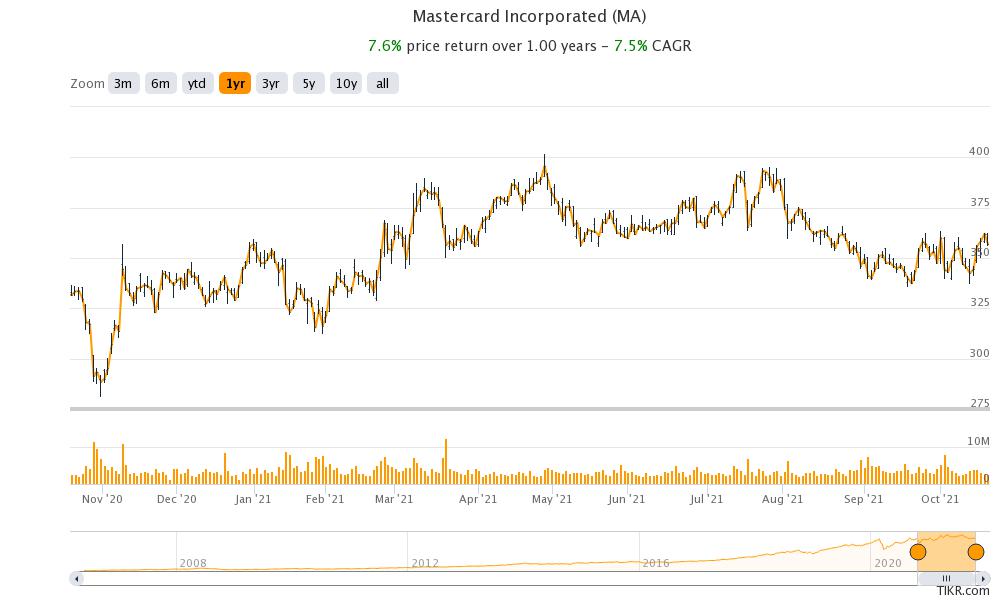 Mastercard is pivoting towards blockchain
In September, Mastercard announced that it would acquire blockchain analytics start-up CipherTrace for an undisclosed amount.  "Digital assets have the potential to reimagine commerce, from everyday acts like paying and getting paid to transforming economies, making them more inclusive and efficient," said Ajay Bhalla, president of cyber and intelligence at Mastercard. He added, "With the rapid growth of the digital asset ecosystem comes the need to ensure it is trusted and safe."
As Mastercard makes further strides in blockchain, and the adoption of cryptocurrencies grows, MA looks like a good blockchain stock to buy. While the stock has sagged in 2021 and is underperforming the markets, consensus estimates call for an upside of 25% over the next 12 months.
Buy MA Stock at eToro from just $50 Now!