Best Crypto ETF to Invest in Right Now – Beginners Guide 2021
Searching for a crypto ETF? Pure crypto ETFs that invest solely in crypto are thin on the ground. And that is because European and US authorities have yet to allow them. Right now in October, 2021 US authorities have just authorised Bitcoin futures, so we are just about to see the first wave of crypto ETFs widely available on the global market.
In the meantime, if you want an Exchange Traded Fund (ETF) that offers crypto exposure, your best bet is a 'blockchain ETF'. A blockchain ETF gives you exposure to companies that develop and implement the blockchain technologies on which all crypto is based.
Below we look at what crypto and blockchain ETFs are available, as well as review the best ETF brokers.
#1 Crypto ETF Broker – eToro
How to Invest in a Crypto ETF – Step-by-Step Guide 2021
To invest in a crypto ETF, follow our simple four-step strategy:
Step 1: Open an eToro account: Go to eToro.com. Click the green 'Join Now' button. Fill out the box that requests a username, email, and password. Click the 'Create Account' button.
Step 2: Verify your Identity: eToro is no exception amongst reputable brokers in having to check a few personal details during sign-up. You will need Proof of Identity as well as Proof of Address. For quickest verification, upload a scan of your passport. You can deposit funds when you have received an email confirming account verification.
Step 3: Fund your account: eToro offers plenty of deposit options including credit/debit card, e-wallet and bank transfer. There is no deposit fee.
Step 4: Invest in a crypto ETF: eToro offers 250+ ETFs. Finding them is easy. As you will see, the eToro interface is not complicated. Click the 'Trade Markets' button on your left toolbar (or 'Discover' button, depending on which browser you use). Then click the 'ETFs' button on the top toolbar.

A list of ETFs will appear. To review an ETF, click on its logo. To explore your investing options, click the blue 'Trade' button.
Where to Invest in a Crypto ETF – Top ETF Brokers
To invest in an out-and-out crypto ETF like the Purpose Bitcoin ETF (BTCC) — which holds $1.7 billion CAD in real Bitcoin — you will need to be based in Canada. That is because the Canadian authorities have beaten the rest of the world to regulating for crypto ETFs. Then you will need to track down a retail broker which offers access to the Ontario Stock Exchange. Most brokers which do have access, though, are the pro trading wings of big investment banks and funds.
Until US and European authorities officially allow crypto ETFs (which is set for 2022), the rest of the world can invest in blockchain ETFs — such as the Amplify Transformation Data Sharing ETF (BLOK) offered by eToro.
When you are looking for an ETF broker, the issue of sovereignty remains key. Many brokers are limited in the clients they can serve, depending on country of residence. Reputable UK broker, Hargreaves Lansdown, for example, can only serve UK clients. Many of the big US brokers are only accessible to investors in the US and Asia Pacific.
The three brokers we review below offer truly global trading options. So, wherever you are based in the world, there is a good chance you will be able to get investing in ETFs.
1. eToro – Best Overall ETF Broker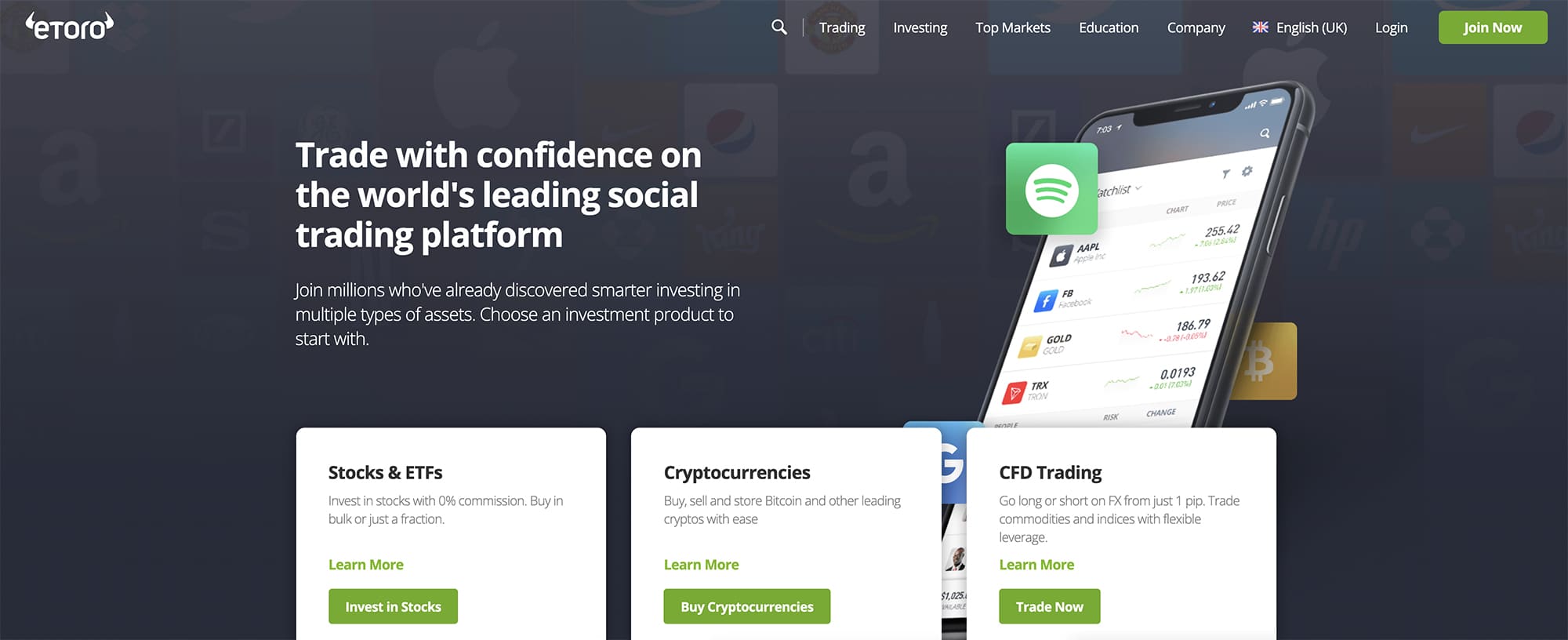 Serving over 20 million investors from over 120 countries, eToro has made a name for itself with 0% commission on many ETFs and a giant selection of 250 ETFs to choose from. Using eToro's simple user interface, you can also trade in stocks, commodities, indices, forex and crypto.
When it comes to the limited global choice of crypto and blockchain ETFs, eToro allows you to mimic the operation of ETFs with its innovative CopyPortfolio function. This allows you to invest — free-of-charge — in groups of stocks (including crypto) exactly as you would with an ETF. More on CopyPortfolios below …
ETFs
eToro offers a popular blockchain ETF called the Amplify Transformation Data Sharing ETF (BLOK). Since March 2020, this ETF has enjoyed a consistent bull run, with its price weighing in at roughly four times the price it was.

80% of BLOK assets relate to blockchain technology. As of mid-October, 2021, BLOK's top ten holdings are:
Hunt 8 MNG Corp New Com (6.45%)
MicroStrategy Inc (6.19%)
Marathon Digital Holdings Inc Com (5.80%)
Silvergate Cap Corp (4.65%)
Coinbase Global Inc (4.37%)
PayPal Holdings Inc (4.14%)
Square Inc (4.11%)
Nvidia Corporation (3.63%)
Hive Blockchain Technologies (3.63%)
SBI Holdings Inc (3.34%)
30% of BLOK's blockchain stock relates to transactions and 28% to crypto mining. The rest of its blockchain allocation is spread across venture, semiconductor, exposure, conglomerate, private blockchain and aggregate.


BLOK is actively managed, which means a real-life manager is keeping an eye on its performance and changing the portfolio when necessary. An expense ratio of 0.71% is offered, which is by no means extortionate for an active fund.
eToro supplies many types of ETFs: index ETFs, real estate ETFs, bond ETFs, commodity ETFs, inverse ETFs and leveraged ETFs.

Want to 'go short' on an ETF? In other words, do you want to bet that the price goes down rather than up? This a tried-and-tested way of making money in bear markets. Inverse ETFs allow you to do exactly that. But you can also go short on any eToro ETF.
Want to gear your investment so that you get double the gains (as well as risk double the losses)? eToro allows that too. This is not a recommended strategy for newbies.
eToro allows both going short on ETFs and adding leverage through offering these transactions as CFDs (Contracts-for-Difference).
CFDs mean you don't get to own the ETF stock that you buy. Rather, you expose your portfolio to changes in its price. CFDs are also used by eToro to offer international ETFs to European and UK investors.
A spread fee of 0.09% applies to eToro CFD ETFs. This compares favourably to the 0.13% CFD ETF fee applied by AvaTrade and the variable CFD ETF fees applied by Capital.com.
Features
eToro boasts a proprietary way of trading called CopyPortfolios that is very similar to buying into an ETF. You can invest in a basket of different stocks in one go, for no extra cost.
eToro boasts a variety of crypto CopyPortfolios. Each takes a different approach to crypto basket investing.
The CryptoPortfolio (cryptos by market cap) allocates holdings in proportion to their market capitalisation in the sector. So, for example, Bitcoin (BTC) is the biggest holding, taking up 21.72% of the portfolio. Cardano (ADA) takes up 14.15% and Ethereum takes the third-largest holding with 13.37%.

Another approach to crypto trading is provided by the Napoleon-X CopyPortfolio, which uses an AI sentiment-based trading strategy to invest in a basket of crypto stocks.
A minimum investment of £1,000 USD is required for Etoro CopyPortfolios.
CopyPortfolio is not eToro's only innovation when it comes to different ways of trading. eToro's CopyTrader facility allows you to copy successful investors. The software will use a preset portion of your funds to match the trades of your copied trader in real-time — at no extra cost. Some copied traders on eToro specialise in crypto. You can instantly review other eToro traders by risk and performance ratings.

Regulation
eToro boasts regulation by FinCEN in the US, CySEC in Cyprus, the FCA in the UK, and the ASIC in Australia.
For investor safety, investor funds are not held in the same accounts as eToro capital.
eToro Fees
| | |
| --- | --- |
| Fee Type | Fee Amount |
| Deposit Fee | $0 |
| Withdrawal Fee | $5 |
| Inactivity Fee | After 1 year of inactivity, a $10 monthly fee applies |
| ETF | $0 – except for CFD ETF transactions, for which a 0.09% spread fee applies |
Pros
20 million investors.
120+ countries served.

Regulated by CySEC, the FCA, the ASIC and FinCEN.

250+ ETFs.
Clear information (stats/charts) for each ETF.
Short-selling and leveraged options for ETFs.

Many crypto CopyPortfolio options (free).

Clear fees.

Great user interface.
Cons
MT4 or MT5 platforms not supported.
A CFD ETF spread fee (0.09%) does apply in some circumstances.
67% of retail investor accounts lose money when trading CFDs with this provider.
2. AvaTrade — Best MT4 & MT5 Broker to buy CFD ETFs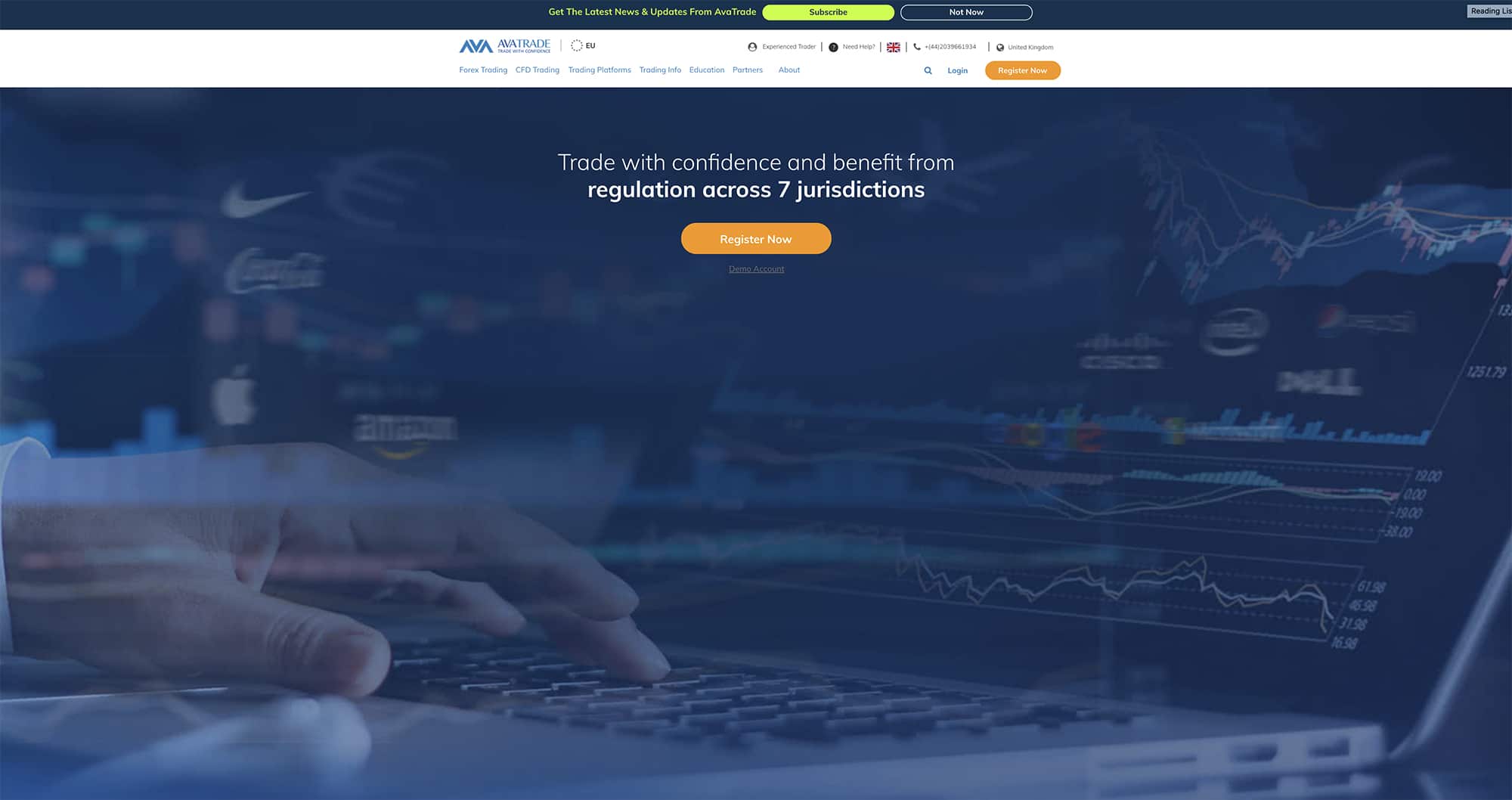 AvaTrade offers regulation in 7 jurisdictions worldwide, excellent global reach and a selection of 60+ ETFs.
As well as offering CFD trading in forex, indices and stocks, AvaTrade is noted for its fantastic platform coverage. You can access MT4, MT5, DupliTrade, ZuluTrade and AvaTrade's own AvaSocial and AvaOptions platforms.
A good range of deposit options are available, with no deposit fee.
Note that AvaTrade is a dedicated CFD trader. This means all trades are leveraged and your account is run on a margin basis. This is suitable for investors with experience. Beginners to investors would be better advised to use eToro, where conventional trading is the norm.
ETFs
60+ETFs are offered by AvaTrade. All ETF buys and sells are treated as CFDs. Thus a standard leverage of 5:1 applies, and a spread fee of 0.13% applies to all AvaTrade ETF transactions.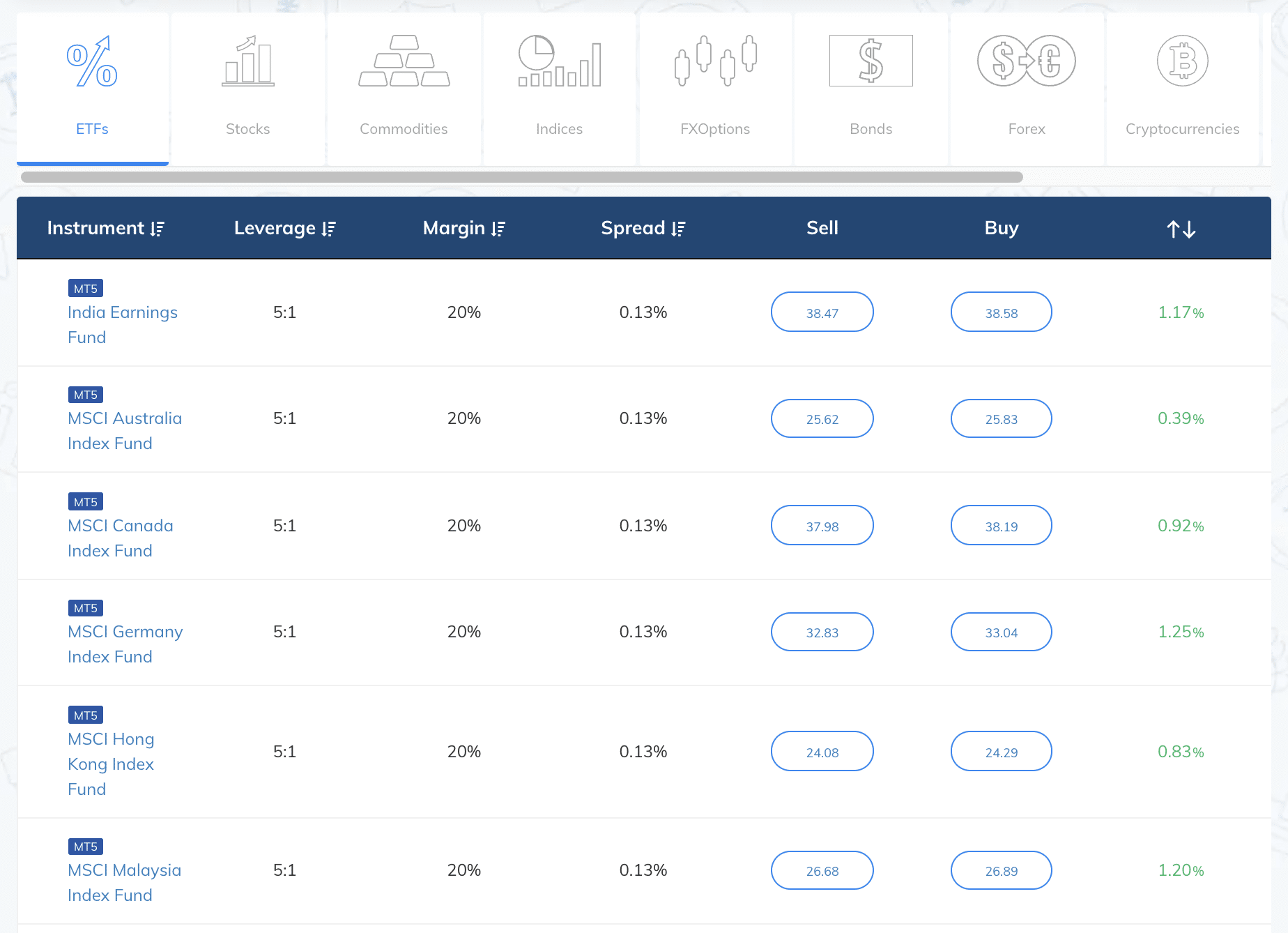 With AvaTrade, you get to trade off an ETF rather than own it. This makes it suitable for positions that are not held for long.
Features
AvaOptions is AvaTrade's own platform, specialising in options trading. This is not for beginners! AvaSocial, on the other hand, is very suitable for beginners. AvaSocial is AvaTrade's mobile app for social and copy trading.
Regulation
AvaTrade is regulated by:
The British Virgin Islands Financial Services Commission.
The FSA of Japan.
ASIC in Australia.
The Central Bank of Ireland.
CySEC in Cyprus.
The FSCA in South Africa.
The FRSA in the UAE.
The ISA in Israel.
AvaTrade fees
| | |
| --- | --- |
| Fee Type | Fee Amount |
| Deposit Fee | $0 |
| Withdrawal Fee | $0 |
| Inactivity Fee | After 3 months inactivity, $50 per quarter |
| ETF Fee | 0.13% spread fee on all ETF trades |
Pros
Selection of 60+ ETFs to trade off as CFDs.
Global regulation.
Excellent platform support (MT4/MT5, ZuluTrade, DupliTrade, AvaOptions, AvaSocial).
Cons 
Relatively-high non-activity fees.
CFD and margin account only.
71% of retail investor accounts lose money when trading CFDs with this provider.
3. Capital.com — Established CFD Broker for ETFs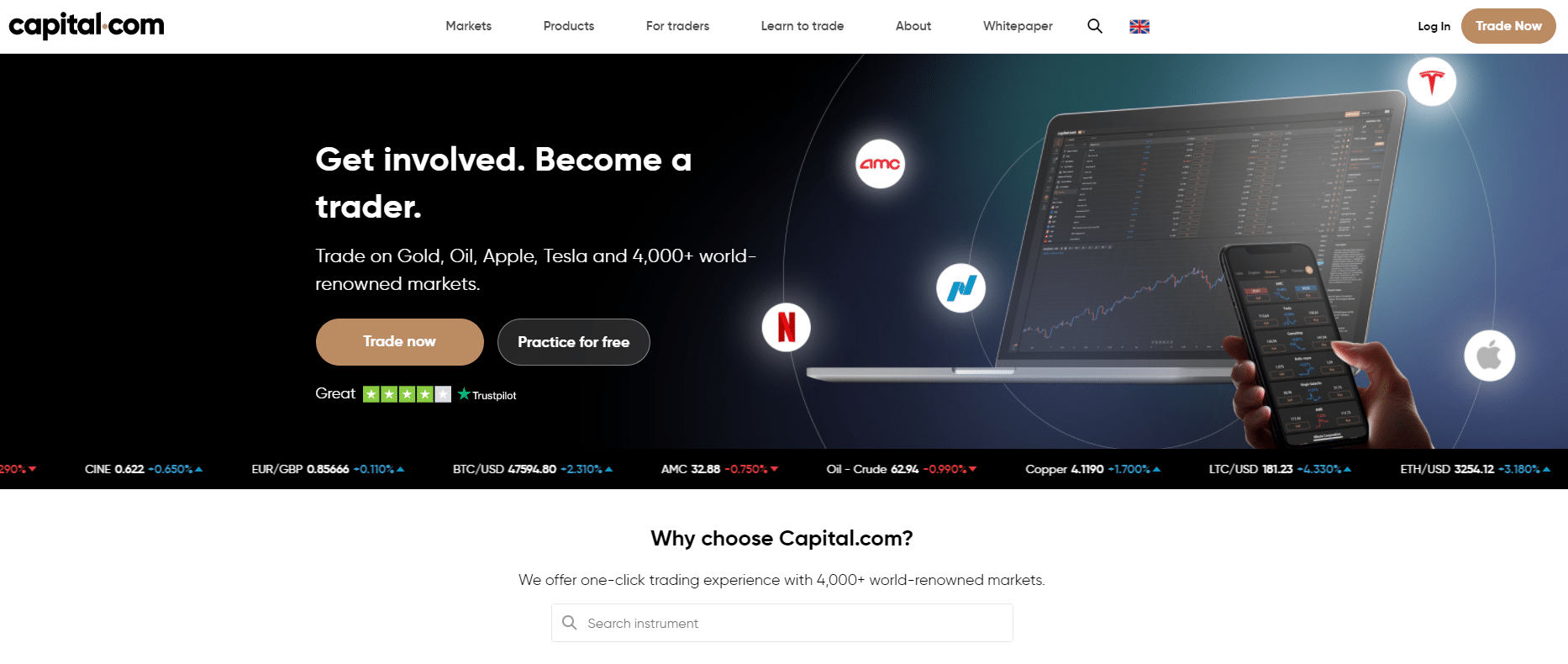 Like AvaTrade, Capital.com is a regulated CFD broker. Capital.com has 800,000 members across 180+ countries. You can deposit your funds in a number of ways, depending on where you live.
ETFs
Capital.com offers approximately 100 ETFs: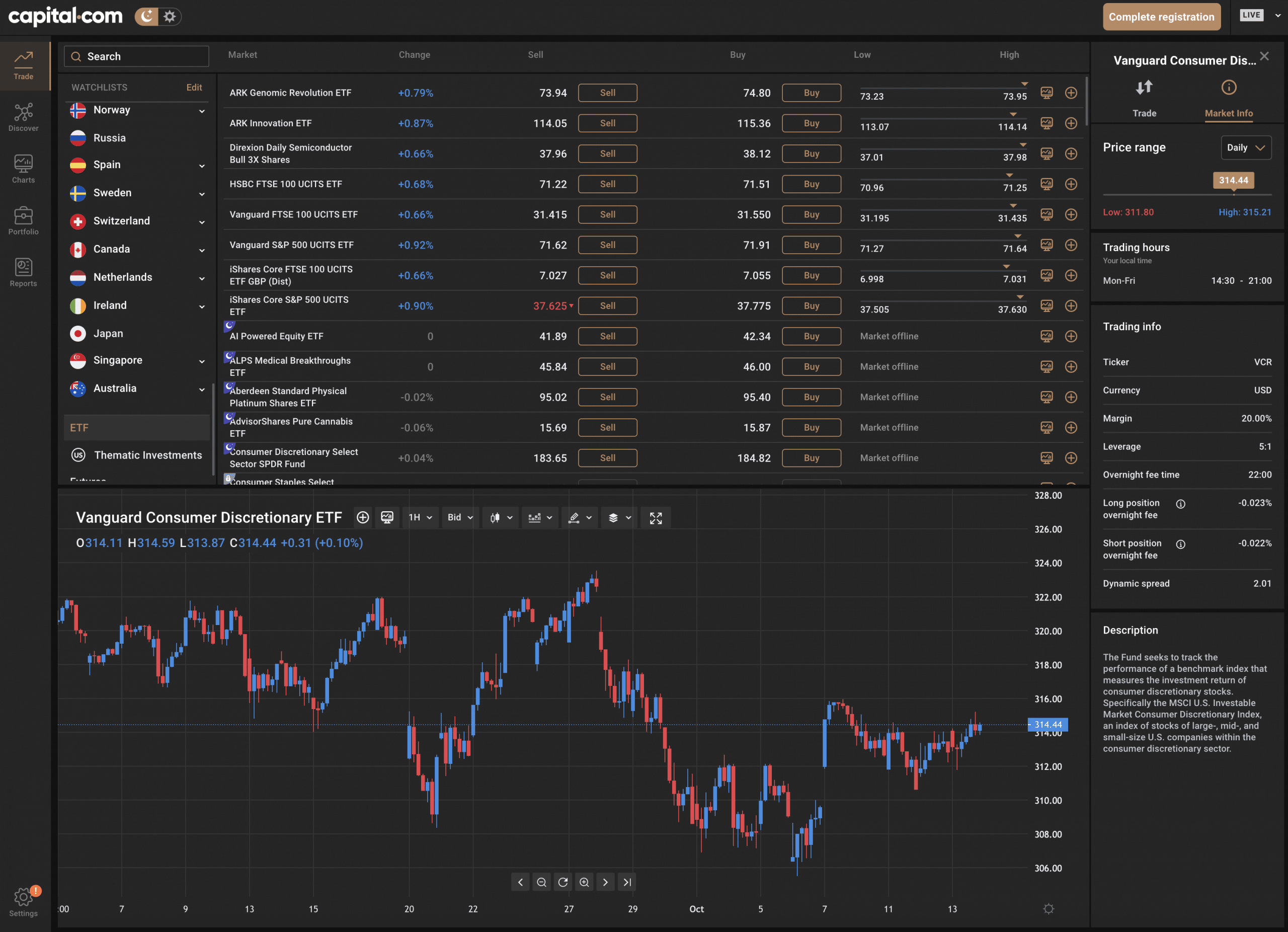 As with AvaTrade, all Capital.com ETF transactions are undertaken as CFDs and accounts are run on a margin basis. This makes eToro a better bet for beginner investors, as well as investors wanting to hold an ETF for a while. A CFD spread fee applies when you buy and sell an ETF. This fee varies depending on the ETF in question, as you can see below: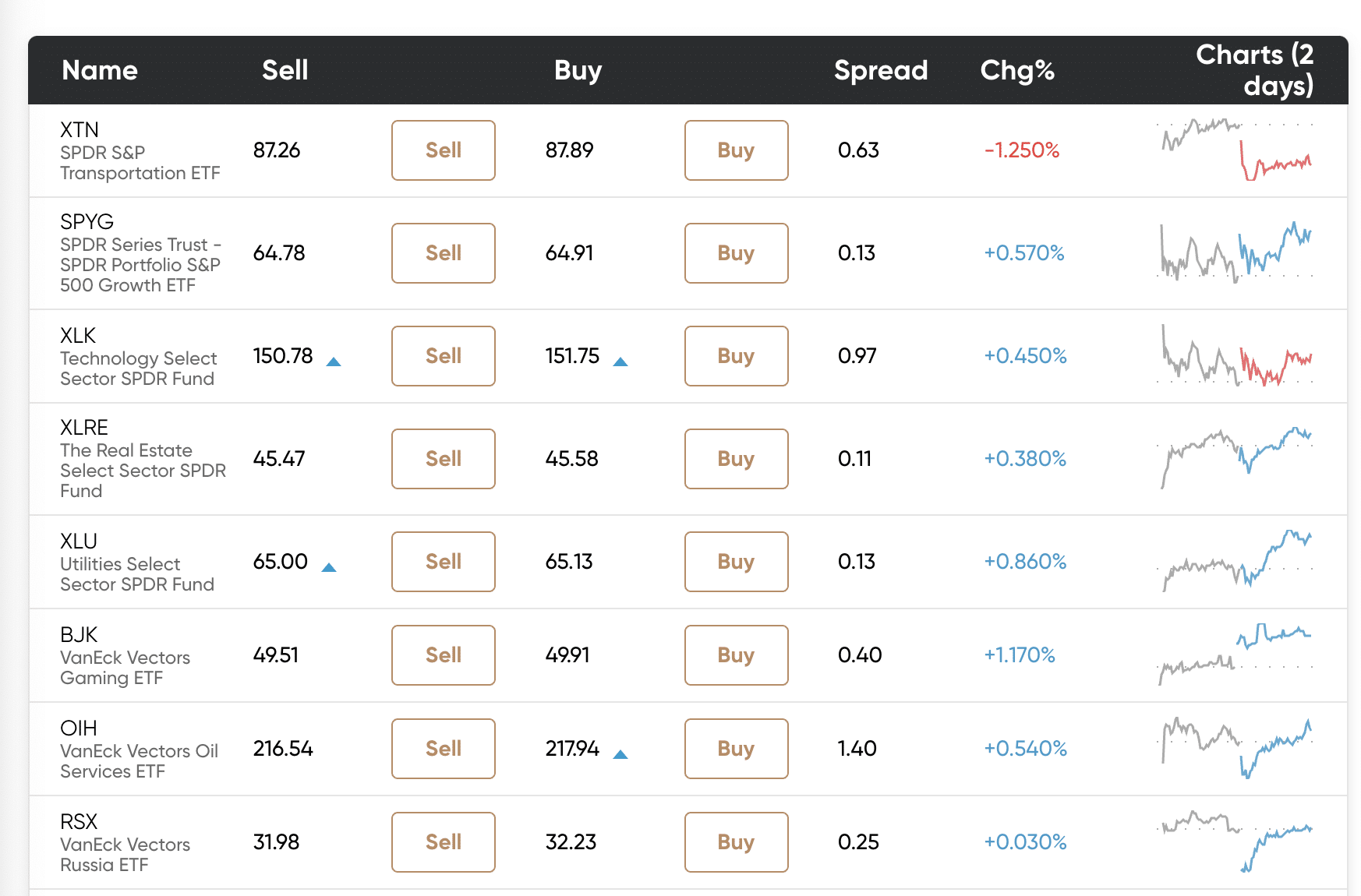 Features
As well as its 100+ stable of ETFs, Capital.com offers strong forex options.
Regulation
Capital.com is regulated by the FCA in the UK, CySEC in Cyprus, the NBRB in Belarus and the ASIC in Australia.
Capital.com fees
| | |
| --- | --- |
| Fee Type | Fee Amount |
| Deposit Fee | $0 |
| Withdrawal Fee | $0 |
| Inactivity Fee | $0 |
| ETF fee | Variable spread fee |
Pros
Global regulation.
Broad CFD options.
100+ ETFs available.
Phone-based customer support for UK customers.
Cons
CFD trading and margin account only.
User interface not as simple as eToro's.
76.7% of retail investor accounts lose money when trading CFDs with this provider.
Invest in Crypto ETFs – Broker Price Comparison
| | | | | |
| --- | --- | --- | --- | --- |
| Broker | ETF Fee | Deposit Fee | Withdrawal Fee | Inactivity Fee |
| eToro | Some ETF transactions are CFDs, and attract a spread fee of 0.09% | $0 | $0 | $10 monthly (after a year of inactivity) |
| AvaTrade | All ETF positions attract a spread fee of 0.13% | $0 | $0 | $50 per quarter after 3 months inactivity |
| Capital.com |  All ETF positions attract a spread fee, which varies depending on the ETF. | $0 | $0 | NA |
Regarding ETF fees, you may come across 'Expense Ratios'. An ETFs Expense Ratio is effectively a fee that all investors get charged. But this fee is factored into every transaction, so it is invisible. Compared to traditional mutual funds, ETF Expense Ratios are low, and rarely exceed 1%. Crypto and ESG (Environmental/Social/Governance) ETFs tend to attract higher expense ratios, whereas index ETFs – like the SPDR S&P 500 Index ETF (SPY) – are far cheaper to run, and therefore charge a lower fee. SPY's expense ratio is, for example, currently 0.09%.
What is a Crypto ETF?
Four out-and-out crypto ETFs are available globally: 3 in Canada, 1 in Germany. These are ETFs which invest directly in Bitcoin (BTC).
| | |
| --- | --- |
| Crypto ETF | Symbol |
| ETC Group Physical Bitcoin ETF | BTCE |
| Purpose Bitcoin ETF | BTCC |
| Evolve Bitcoin ETF | EBIT |
| CI Galaxy Bitcoin ETF | BTCX |
Expense ratios for pure crypto ETFs vary between 0.4% and 1.0%. Remember that ETF fees are included (invisibly) in your transactions, but it is still looking worth out for ETFs which offer lower fees. That is because the expense ratio quoted represents how economically the ETF is run. And the cheaper it is run, the more profit is realised directly to investors.
The US authorities are, in late 2021, on the brink of authorising pure crypto ETFs. 2022 is likely to see a wave of them hit the global market. In the meantime, a range of blockchain ETFs are available. These tend to invest in stocks which either use crypto or develop crypto-related technologies.
| | |
| --- | --- |
|  Blockchain ETF | Symbol |
| Amplify Transformational Data Sharing ETF | BLOK |
| Reality Shares Nasdaq NexGen Economy ETF | BLCN |
| First Trust Index Innovative Transaction & Process ETF | LEGR |
| Innovation Shares NextGen Protocol ETF | KOIN |
Also worth keeping an eye on is the Grayscale Bitcoin Trust (GBTC) provided by Vanguard. Note, though, that rather than being an ETF, this is an ETN (Exchange Traded Note). ETNs carry the risk of default, whereas ETFs do not.
Is Investing in a Crypto ETF a Good Investment? 
One of the drawbacks of conventional crypto investing is that they attract high spread fees. This is not the case with ETFs. With a crypto or blockchain ETF, you can invest in a whole raft of crypto-related companies and the management company will handle all the trading.
Investing in a Crypto ETF – What are the Risks?
The crypto sector is notoriously volatile. There are fears that it will not hit the highs it did in late April, 2020. To mitigate your risk, ensure your portfolio is balanced with investments in conventional stocks and currencies.
If you are based in Canada and can access a pure crypto ETF, one issue currently is that only Bitcoin (BTC) is available. Some companies provide a hedged version of their Bitcoin ETF, which means that some of the portfolio is allocated to conventional currencies, to hedge in the event of a Bitcoin crash. But, generally, a Blockchain ETF is a safer option. That is because blockchain ETFs do not invest directly in crypto, but rather in a basket of related companies.
How to Invest in an ETF with eToro
Here's your four-step strategy to invest in a crypto/blockchain ETF with eToro:
Step 1: Open an account with eToro
Go to eToro.com. Press the 'Join Now' button. Enter a username, email address and a password in the dialogue box. Read the legal documents accessible with the blue text links, and tick the acknowledgement boxes if you are satisfied. To proceed, press the  blue 'Create Account' button.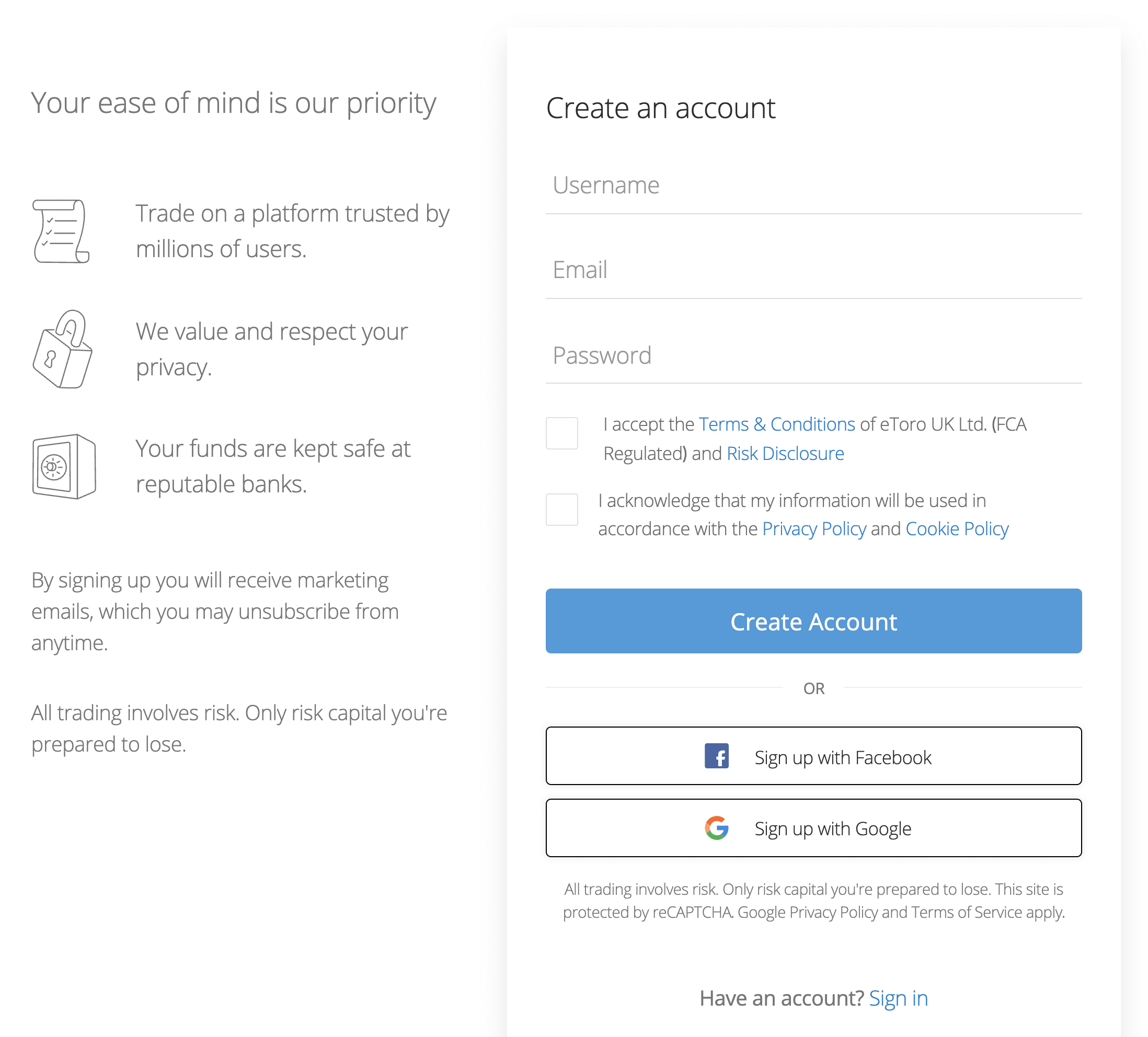 67% of retail investor accounts lose money when trading CFDs with this provider.
Step 2: Verify your account
On the next step, you need to provide scans of Proof of Identity (POI) and Proof of Address (POA). Top tip: to get verified fast, upload a scan of your passport as POI. If that is not possible, you can use an ID card or driving license.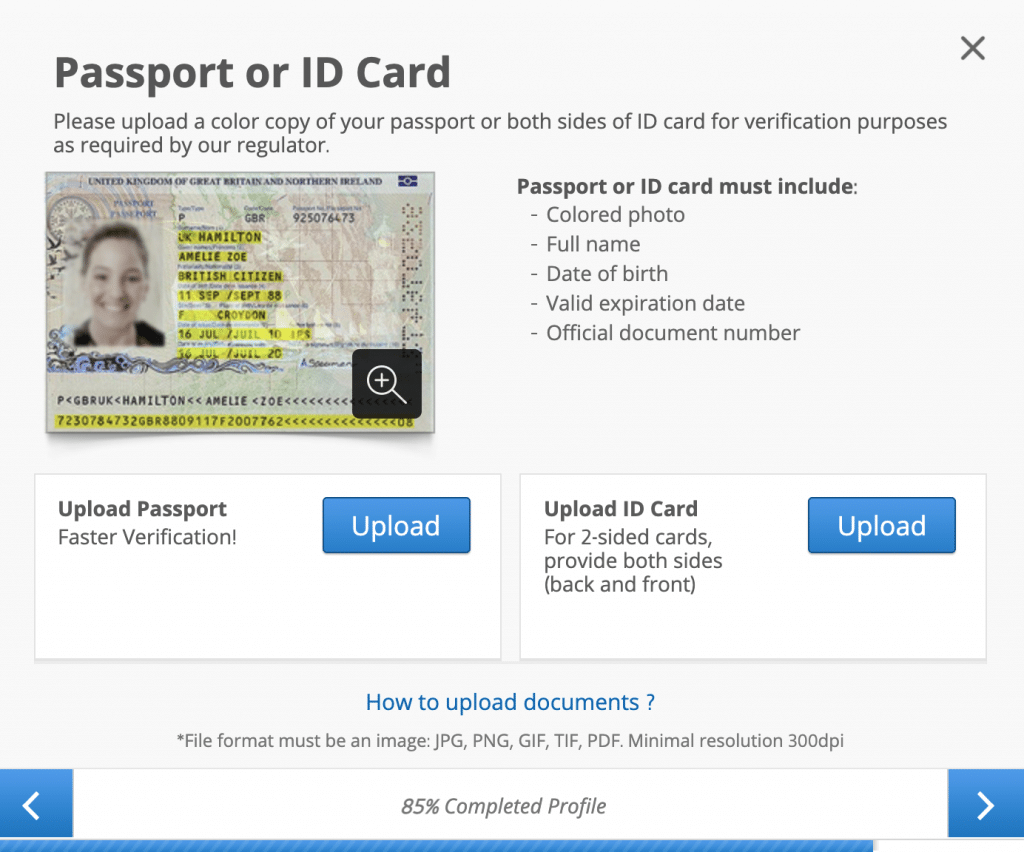 For Proof of Address, you can supply any of the following:
Tax bill/letter.
Gas/water/electricity/internet/phone bill.
Credit card/bank statement.
Letter from your local municipality/council.
Step 3: Fund your account
Once your account is verified, you will receive an email from eToro. You can now deposit funds. Do not be tempted to deposit funds before you get verified, or you may find that you cannot then invest them.
A whole raft of deposit methods are offered by eToro. Which are available depends on your country of residence. Generally, bank transfer and credit card/debit deposits are available. E-wallet and other payment options tend to be more country-specific and include Neteller, Skrill, Rapid Transfer, PayPal, POLi, Trustly, iDEAL and Klarna/Sofort Banking.
Your eToro account is run on a USD basis. All eToro transactions are in USD. But you can deposit in up to 15 different currencies. There is no deposit fee. But a currency conversion fee (charged in pips) does apply to all withdrawals and deposits not made in USD.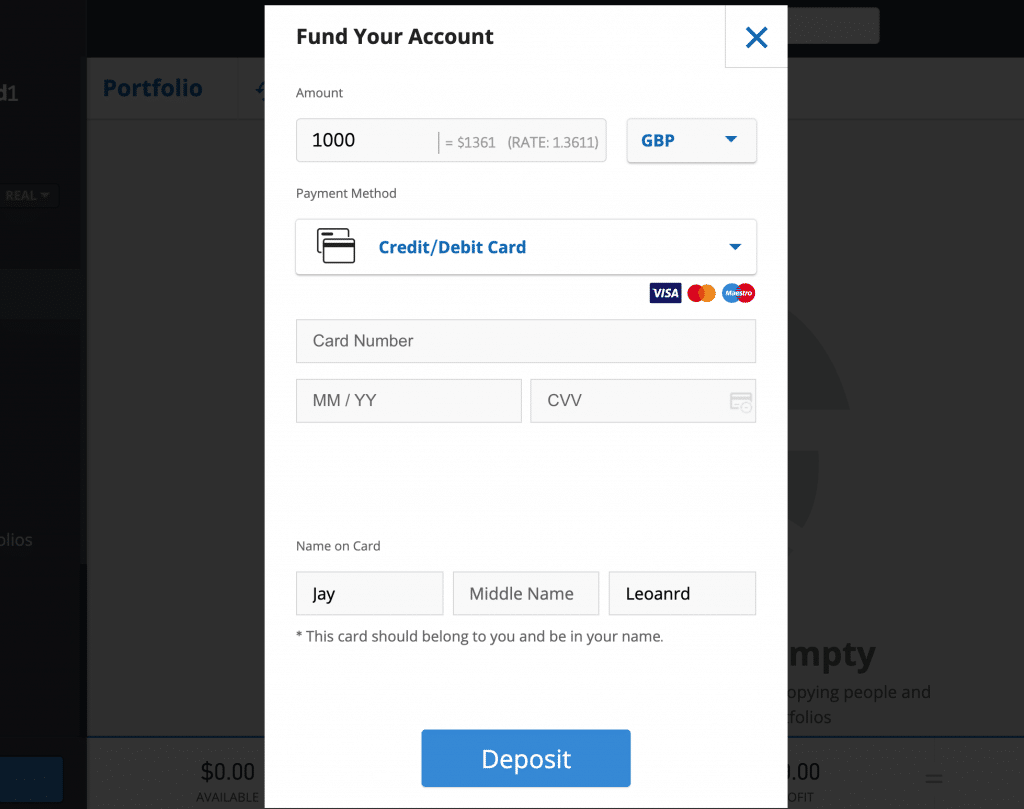 Step 4: Invest in an ETF!
Find eToro's ETF selection with a couple of clicks. At the left of your eToro screen, press the 'Trade Markets' (or 'Discover') button. You will then see a top toolbar with some asset groups to explore:

Choose 'ETFs'. eToro's entire selection of ETFs will come up at once.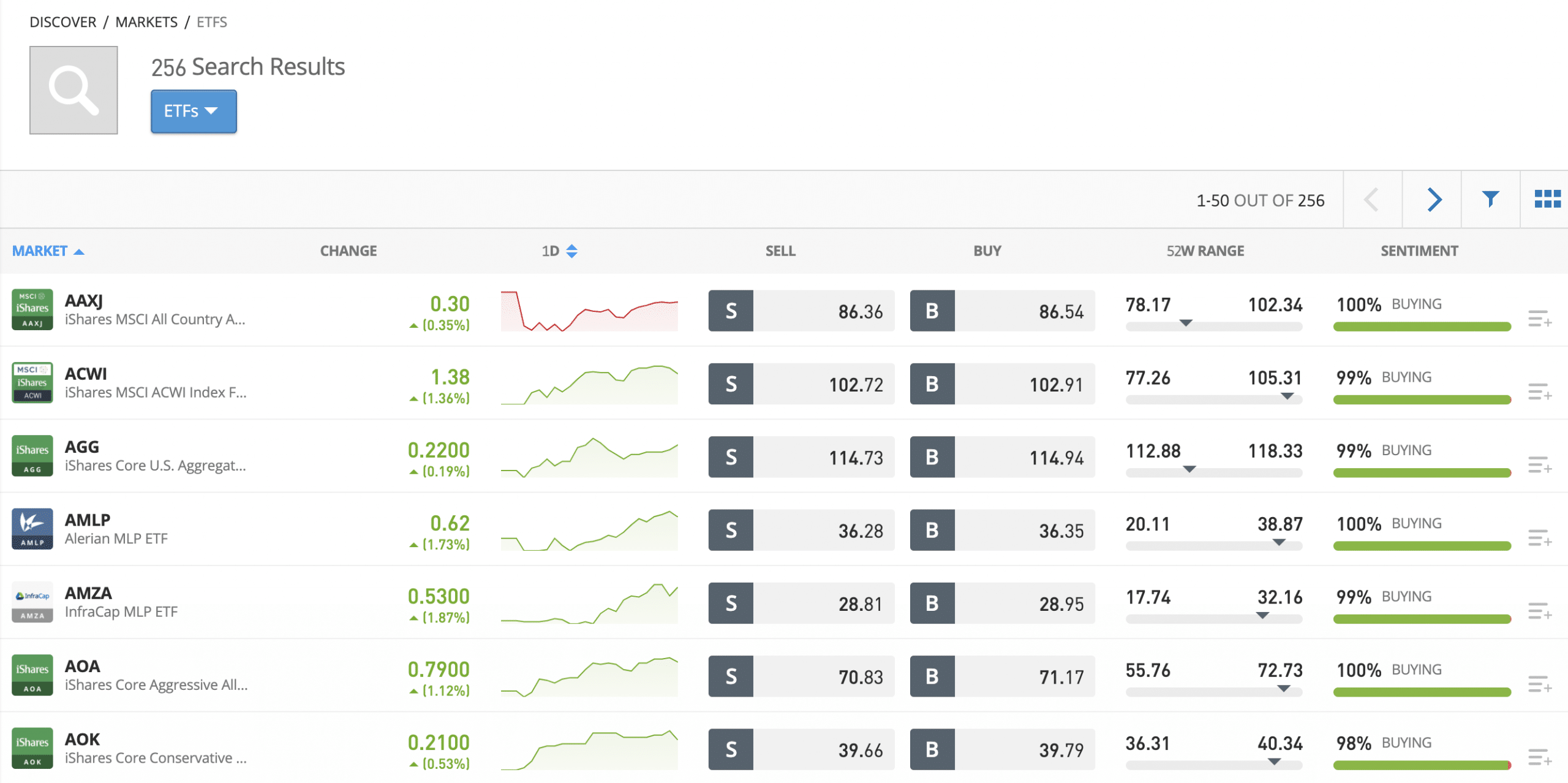 Click on the ETF's logo or graph to access further information, including its price chart (which you can examine using a variety of tools), detailed performance statistics, its dedicated chat thread where you can pick up the latest news and any broker research.
Press the blue 'Trade' button when you are ready to move forward. You will then be presented with a dialogue box: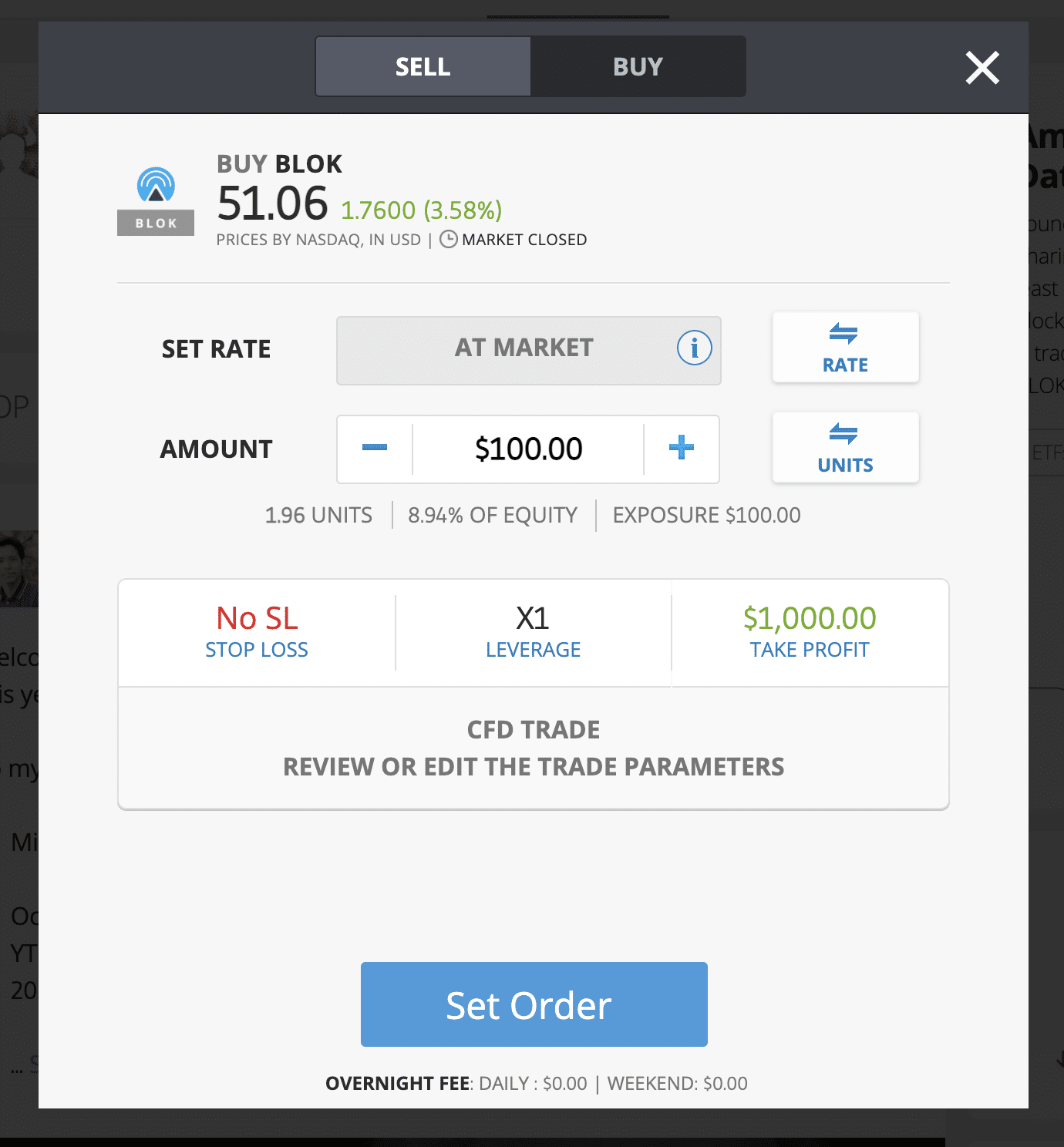 The image above shows your options for the Amplify Transformational Data Sharing ETF (BLOK). You can go long, go short, leverage your investment with gearing as well as set both a stop loss and a profit-taking point.
The ETF used in this example is a US ETF, and is offered here as a CFD trade because the user account is based in the UK. eToro allows European and UK investors to acces a range of international ETFs by providing them as CFDs.
Conclusion
Pure crypto ETFs are on the brink of coming onto the market in their droves. When they do hit the global investment sector, eToro.com is perfectly placed to offer a convenient forum for choosing and buying. In the meantime, blockchain ETFs offer investors exposure to crypto-related companies. With a selection of 250+ ETFs and a really easy way of reviewing and accessing them, eToro.com remains a solid choice as your ETF broker.
Best Crypto ETF Broker – eToro
FAQs
Where can I invest in a Crypto ETF?
Is an ETF safe in the long-term?
What is the advantage of buying an ETF as a CFD?