England is a part of the United Kingdom and shares land borders with Scotland and Wales. Towards its North West, South East and East are the Irish Sea, Celtic Sea and North Sea. England comprises over 100 small islands.
England has a land area of 13,395 square km and a population of 51,446,000 (2008 consensus). The terrain comprises of plains and low hills. England is rich in different naturally occurring resources, such as coal, petroleum, natural gas, tin, limestone, iron ore, salt, clay, chalk, gypsum, lead and silica. This is one major reason that England has been able to adopt the industrial revolution easily and prosper.
England Economy
England's economy is one of the biggest economies of the world. Being a mixed economy, there is active contribution from both the private as well as the government sector. However, amidst a largely capitalistic outlook, England retains the social welfare focus and leads the world in aerospace, arms and the manufacturing segment of the software industry.
Although industrialization is rampant in the nation, there has been a sudden shift towards the services sector. Tourism has therefore become an important segment and attracts over a million people annually to England.
This is how the economy has performed since 2007 (figures in US dollar trillion):
Although the recession brought down the economy significantly and England was one of the worst hit nations in the world, the Brown administration, through nationalizing, tax cuts and other financial instruments, was able to contain the losses.
The services sector helped as well, with its rich contribution to the GDP of 75%, followed by the industry sector and agriculture. The following graph shows the performance of each sector in comparison to the others (in percentage):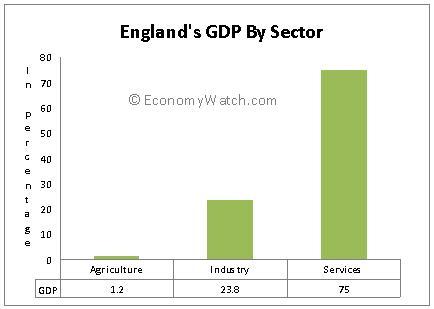 England's capital, London, is the world's largest financial center. This possibly explains why the economy struggled during the financial crisis of 2008 and 2009.