A republic in South America, Colombia is bordered to the east by Venezuela and Brazil. It is bordered to the south by Ecuador and Peru. The Caribbean Sea borders north of Colombia and the Pacific Ocean borders the west; Panama lies in the northwest part of Colombia. Colombia has the 29th largest population in the world with more than 45 million people. Colombia is a part of the Pacific Ring of Fire, a region prone to earthquakes and volcanic eruptions, and is dominated by the Andes Mountains.
The Colombian economy experienced accelerated growth period between 2002 and 2007 due to rise in commodity prices and market-friendly economic policies. Colombia's growth during that period had helped cut poverty and unemployment by 20% and 25% respectively. Reforms in Colombia's hydrocarbon sector and the US – Colombia Trade Promotion Agreement also attracted unprecedented foreign investments. However, economic growth slipped in 2008 and turned negative in 2009 due to global recession. The demand for Colombia's exports went down and exporters were urged to diversify their operations to countries other than the US and Venezuela.
Colombian Economic Profile: GDP and Labor
Colombia's GDP-official exchange rate in 2009 was $228.6 billion. The following chart shows Colombia's GDP (PPP) from 2007 to 2009 (data represented in US dollars).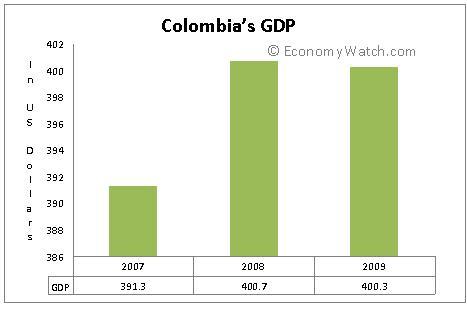 The next chart illustrates Colombia's GDP – real growth rate from 2007 to 2009 (data in percentages).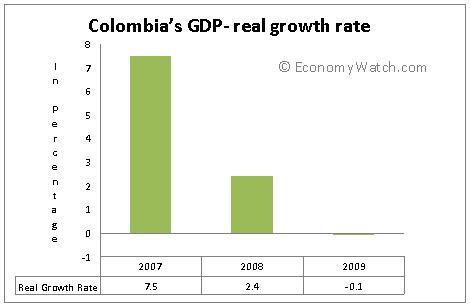 The following chart shows Colombia's GDP-per capita from 2007 to 2009 in terms of US dollars.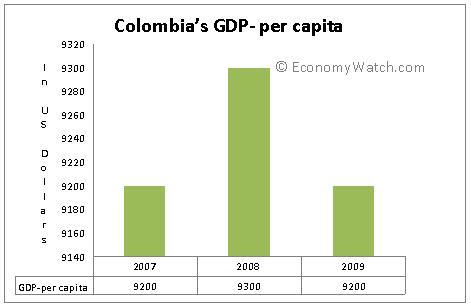 The next chart shows Colombia's GDP – composition by sectors (data in percentages).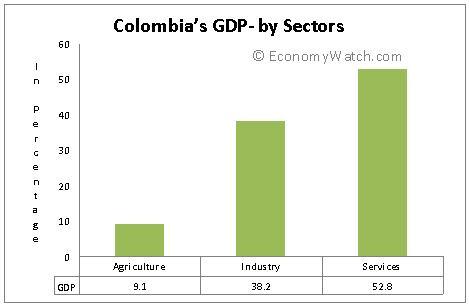 Colombia's labor force was 20.03 million according to 2009 estimates. Colombia's unemployment rate jumped to 12% in 2009 from 11.3% in 2008. The following chart illustrates Colombia's labor force by occupation (data shown in percentages).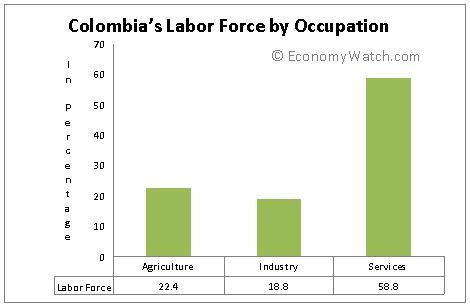 Post Your Free Ads at leading Free Classifieds Colombia site and jobs in colombia.