NAKD Stock Forecast 2021 – NAKD Stock Price Prediction 2021, 2022, 2025 & 2030
The 'meme stock' craze that took hold of the market this year shows no signs of stopping, with social media keen to find the next company to rise to incredible levels. Naked Brand Group (NAKD) could be that company, following a remarkable 900% rice in January, leaving investors wanting more.
In this article, we'll discuss our NAKD Stock Forecast in detail. We'll touch on what Naked Brand Group does and the stock's future outlook before highlighting where you can buy NAKD today – with 0% commissions!
67% of all retail investor accounts lose money when trading CFDs with this provider.
Key Drivers – NAKD Stock Price Forecast 2021 and 2022
If you are looking for the best companies to invest in, it's essential to understand the company's outlook for the future by analysing its business model and fundamentals. In the case of Naked Brand Group, the company has a stellar executive team with decades of experience whilst still retaining a forward-looking mindset in a competitive industry. Let's dive into what NAKD is and the drivers of the stock price.
Naked Brand Group Limited (NAKD) is a business that designs and manufactures specialist lingerie and swimwear. The company owns the rights to sell Frederick's of Hollywood, a 74-year old brand that declared bankruptcy in 2011. However, NAKD managed to secure an agreement to perpetuate the brand, which is now one of the main factors that appeal to consumers.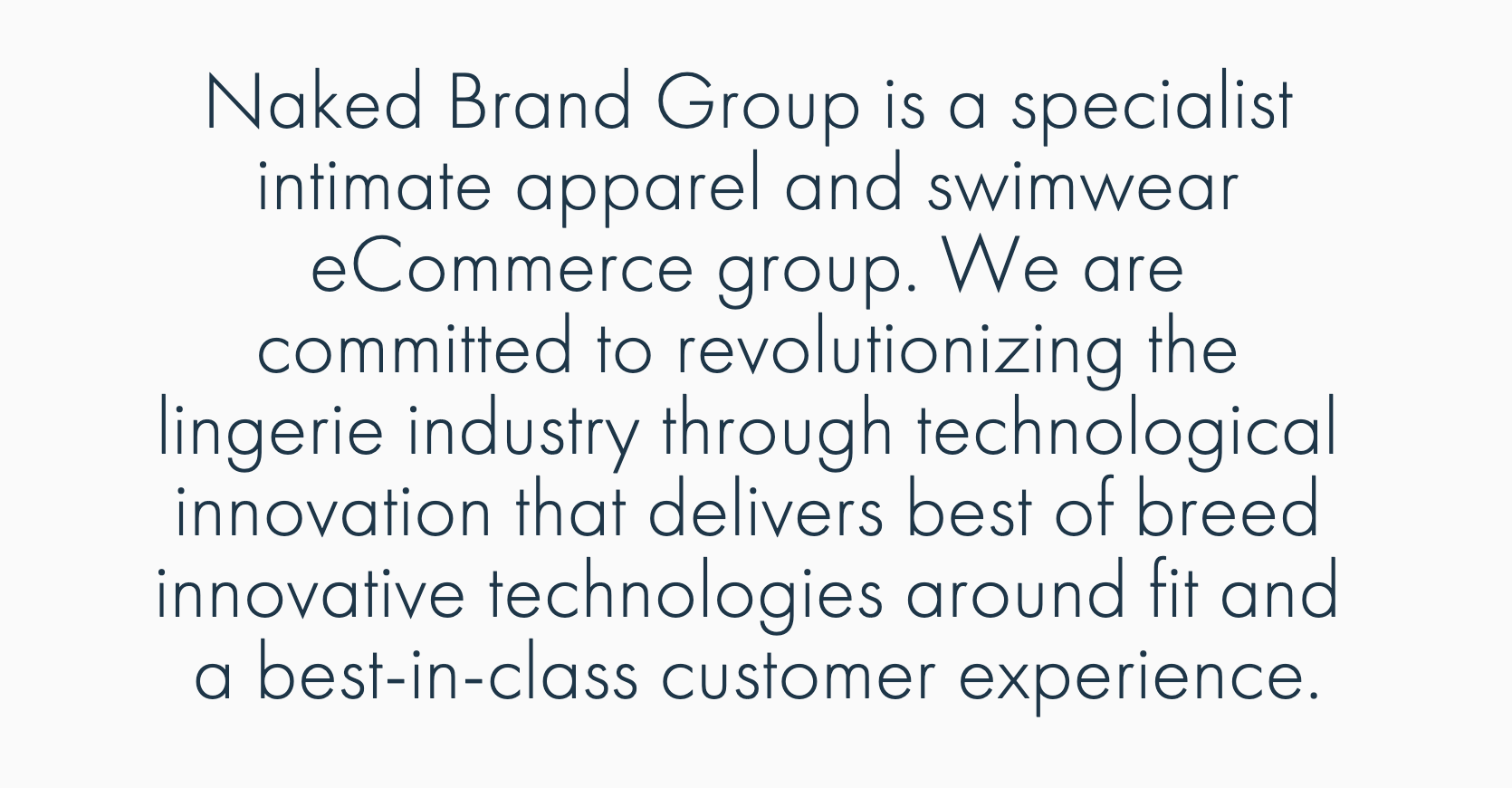 Recently, NAKD got rid of all their retail stores, which were causing the business to haemorrhage money and is now an online-only business. The company states on its website that it focuses on 'specialist digital intimate apparel', which provides a unique selling point in the face of stiff competition from Victoria's Secret and other lingerie brands.
According to Yahoo Finance, NAKD is traded on the NASDAQ and currently has a market cap of $607.4m. Much of the reason that NAKD is in the public eye these days is due to the 'meme stock' craze that saw Gamestop (GME), AMC Entertainment, and some other penny stocks receive incredible hype from Reddit. This hype caused the NAKD share price to rise 900% in the space of two weeks and helped contribute to the controversy surrounding Robinhood's refusal to allow people to trade certain companies.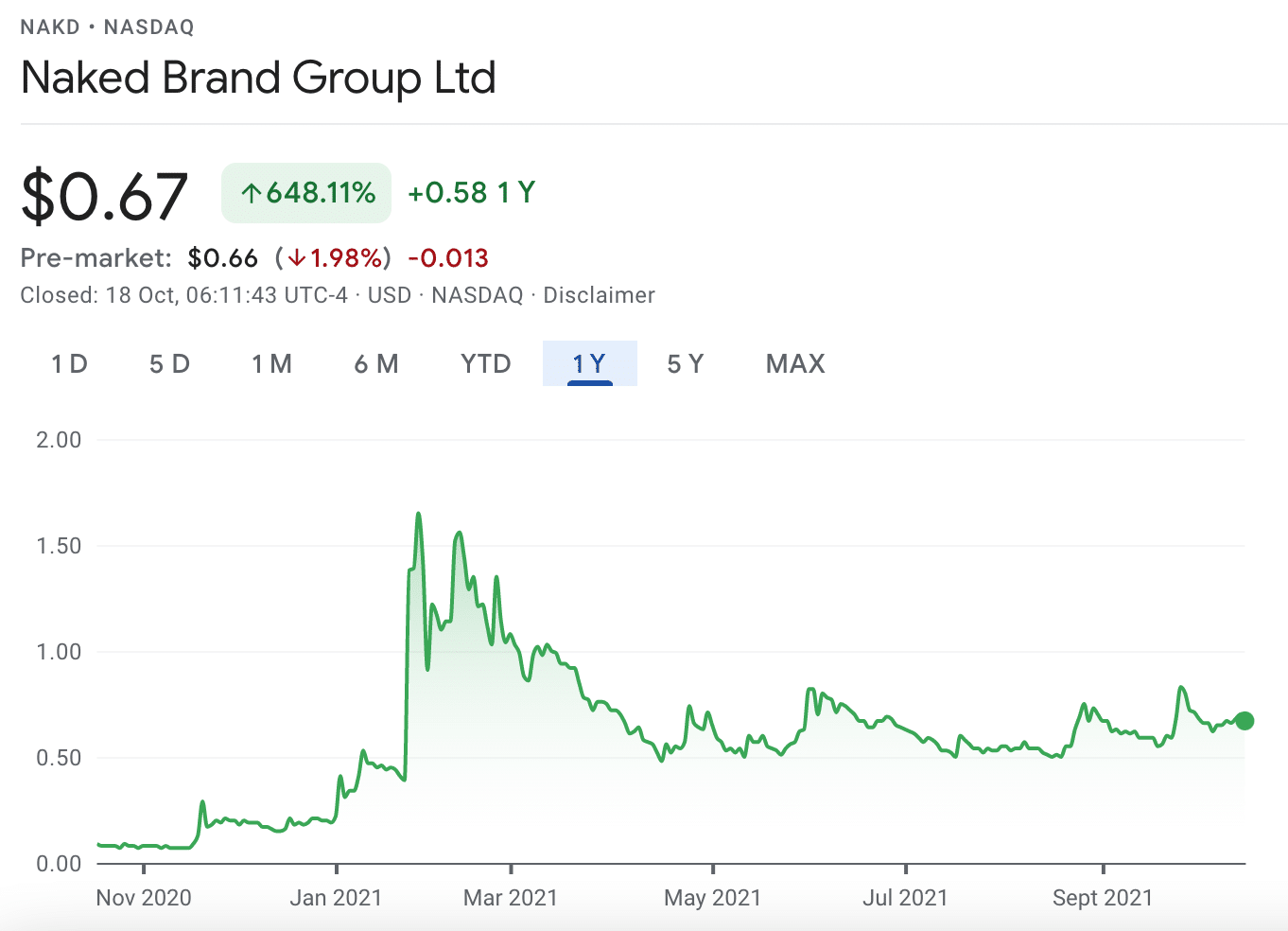 So, now that you have some background on NAKD, let's look at the stock's drivers:
Transition to E-Commerce Only: The company has recently removed its physical retail stores and transitioned to an online-only model. The hope is that this will free up lots of money that the company would have used on employees' salaries and rent, which it can use elsewhere.
Competitive Industry: Data from Statista notes that the global lingerie market is expected to reach a valuation of $78.66bn by 2027. The market is dominated by massive brands such as Victoria's Secret and Calvin Klein, making it hard for smaller companies such as NAKD to generate sales growth.
Reddit Hype: NAKD is known to investors due to the 'meme stock' craze, which allowed NAKD to raise capital through a share offering. The price increase that happened in early 2021 could always happen again if the community rallies behind the stock, which means there's always a chance for a bull run to occur.
67% of all retail investor accounts lose money when trading CFDs with this provider.
NAKD Stock Price History – What's Going On in 2021
If you buy stocks regularly, you'll understand the importance of technical analysis. Relating this to the NAKD price chart, the eye is immediately drawn to the enormous spike that occurred in January 2021. As often happens in 'pump and dump' schemes, this peak was short-lived, and the price immediately retreated by around 86% over the following two months.
Fast forward to the present day, and we can see that the NAKD stock price has created a solid resistance level around $0.95. Price has rebounded from here twice in the past four months and immediately lost around 50% of its value, which shows how strong this area is. The bottom of the range seems to be approximately $0.50, a strong support level for NAKD's price.

One point of optimism is that the 50-day EMA is holding NAKD's price up. This moving average indicator gives an idea of the price's medium-term trend, so as long as NAKD trades above this, there's always scope for some bullish momentum. On the other hand, the Naked Brand Group stock is trading below the 200-day EMA, which measures the long-term trend – this is more of a bearish signal overall.
NAKD Stock Price Forecast – Short Term Outlook
Now let's turn our attention to the short-term outlook for Naked Brand Group LTD. The hype driven by the Reddit craze allowed the company to raise nearly $50 million in capital, which has provided the funds necessary for Naked Brand Group Inc to expand. However, the financials do not seem to be making for good reading over the short term.
When you invest in stocks, the financial side of things is one of the most critical factors that help determine price movements. At present, NAKD is releasing bi-annual financial results – so the six months from January to July should be released shortly. Revenues in the six months to January 2021 totalled $45.4m, over $10m more than the previous six months. However, Naked Brand Group did end up making quite a substantial net loss, ending the six months down by over $49m.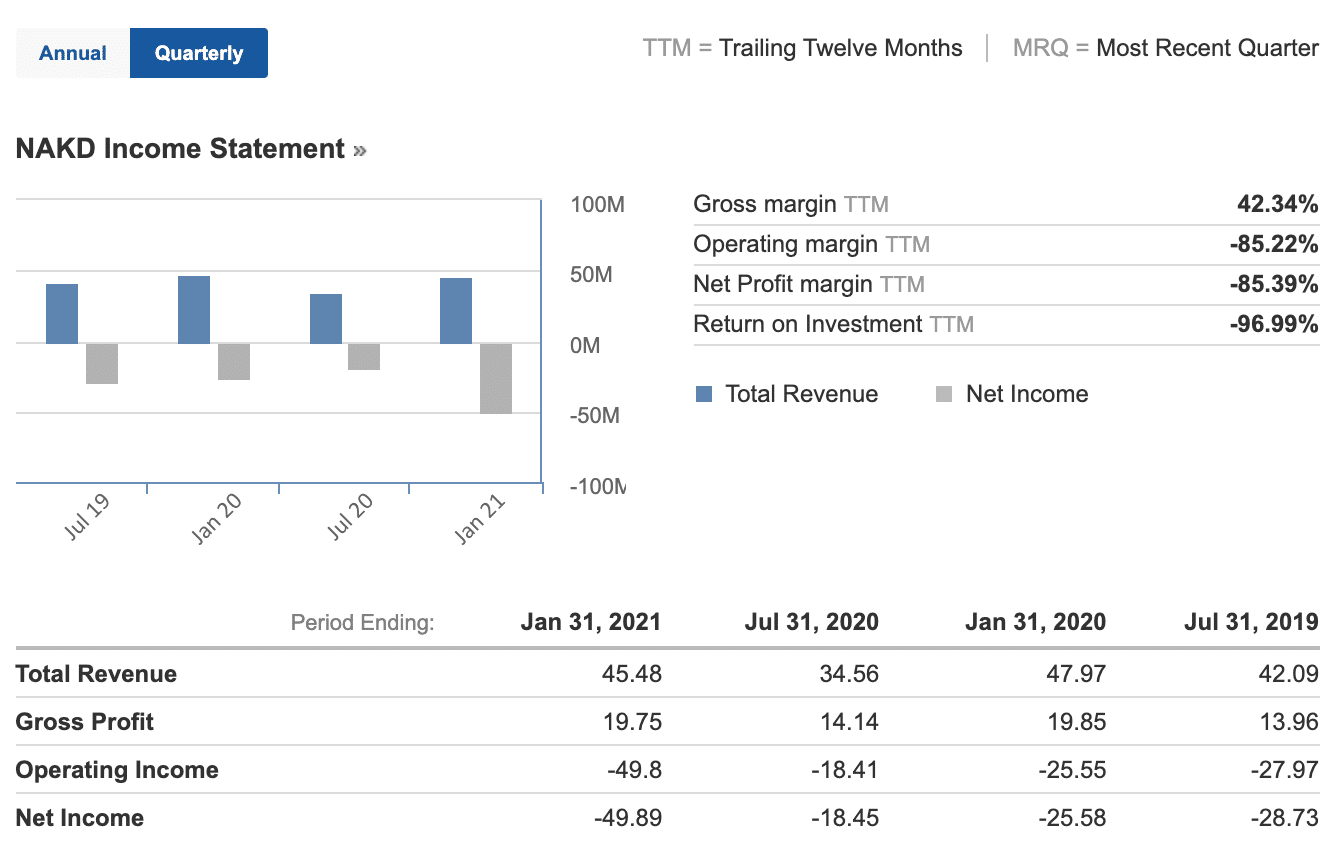 Although revenues did increase, there is some context to this growth. Firstly, e-commerce stores performed admirably during the COVID-19 lockdown, as consumers could not go to physical stores. Now that physical stores are back open, this may lead to reduced sales for NAKD due to them being online-only. Furthermore, NAKD's Frederick's of Hollywood doesn't really have a solid social media following, which could have driven online sales.
However, there have been some encouraging signs in recent months. Yahoo Finance reported that Justin Davis-Rice, the company's CEO, announced that Naked Brand Group is in the final stages of acquiring an unnamed company that represents a "disruptive opportunity in the clean technology sector". This announcement caused a brief jump in the stock price in late September, although this increase was short-lived.
Overall, in the short term, we wouldn't imagine some considerable movements in the share price. The acquisition plan by NAKD is still light on details, so it's hard to go 'all in' on this announcement until we learn more about the project. Furthermore, as six-month results have not yet been released, we won't know for sure whether NAKD is progressing or regressing. So, with all of that in mind, NAKD may be more suitable for long-term investment than a short term one.
67% of all retail investor accounts lose money when trading CFDs with this provider.
NAKD Stock Price Forecast – Long-Term Outlook
When you buy penny stocks, it's wise to take a long-term view of the company's prospects. Going online-only is a big call that should free up some cash flow for NAKD to expand. However, now is a pivotal time for the company, as the next few steps will be crucial for long-term success.
As of the end of March 2021, NAKD had $270million in cash and no debt on its balance sheet. Typically, this would be a sign of an extremely healthy company. However, the slow growth rate in sales compared to industry benchmarks is definitely a worry for potential investors. The e-commerce industry grew quickly in 2020 due to the lockdown, so the fact that NAKD still lagged behind is a worry in terms of its product's appeal.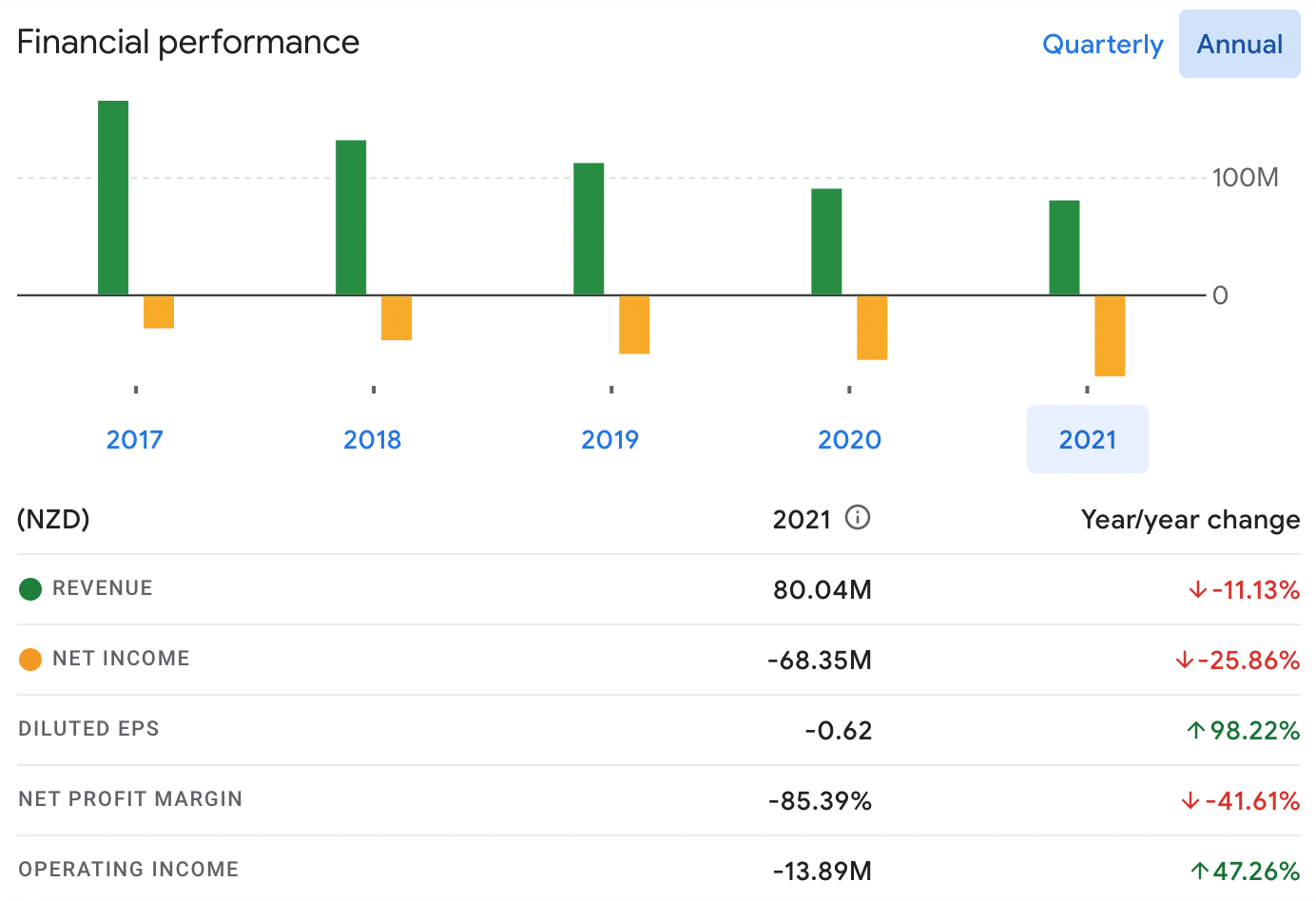 Much of NAKD's prospects hinge on the upcoming acquisition announcement, which investors hope will provide a much-needed boost to revenues over the longer term. NAKD's executive team do have decades of experience in the fashion industry, which is one of the things going in the company's favour. This experience will be vital if NAKD are to compete with the other companies in the lingerie industry that control much of the market share.
Another factor that can't be ignored is the power of social media. NAKD is still talked about consistently on Reddit due to the 'cult status' of the company. The hope for these retail investors is that NAKD benefits from another 'short squeeze', which happened to GME. This is when a company is heavily shorted by institutions so that when the stock price gets hyped and goes higher, these institutions need to open a long position – creating a bullish snowball effect for price.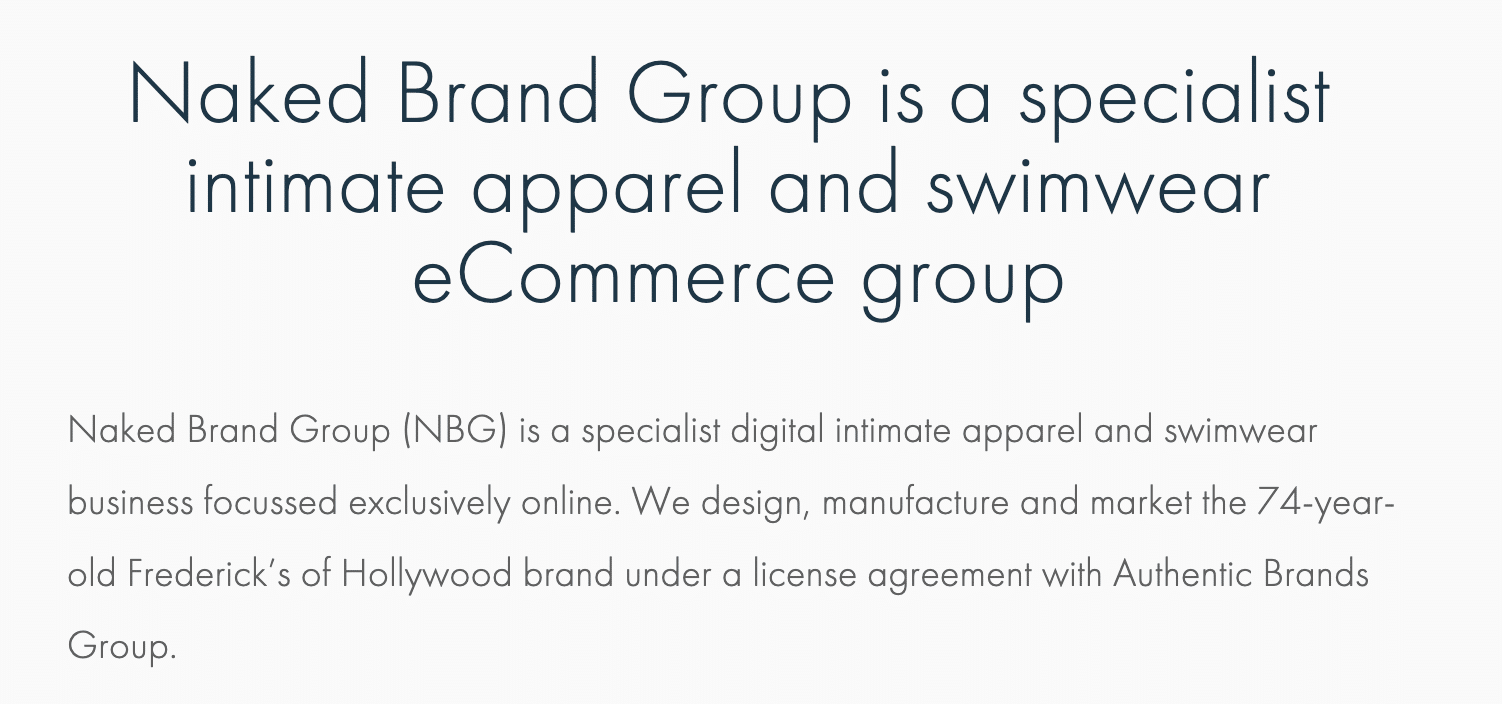 Overall, the long-term prospects for NAKD are much rosier than the short term prospects. The company is cash-rich and has a solid community backing, which goes a long way for penny stocks. If the company's strategic decisions turn out to be beneficial, then NAKD could be one of the best investments UK to add to your watchlist over the coming months.
How to Buy NAKD Stock?
The final section of this NAKD stock forecast will focus on the investment process. To purchase NAKD stock, you'll have to create an account with a licensed and regulated stock broker. These days, there is an abundance of options to choose from that allow you to invest in the stock market, so finding the right platform for you can be tricky.
Not to worry – through our research and testing, we've found that eToro seems to be the best option for buying NAKD stock. This is due to eToro's 0% commission structure and user-friendly platform. With that in mind, found below are the four short steps you need to take to buy NAKD with eToro today.
Step 1 – Sign Up for an eToro Account
Head over to eToro's website on your computer or smartphone and click 'Join Now'. On the next page, enter a valid email address and choose a username and a password for your account.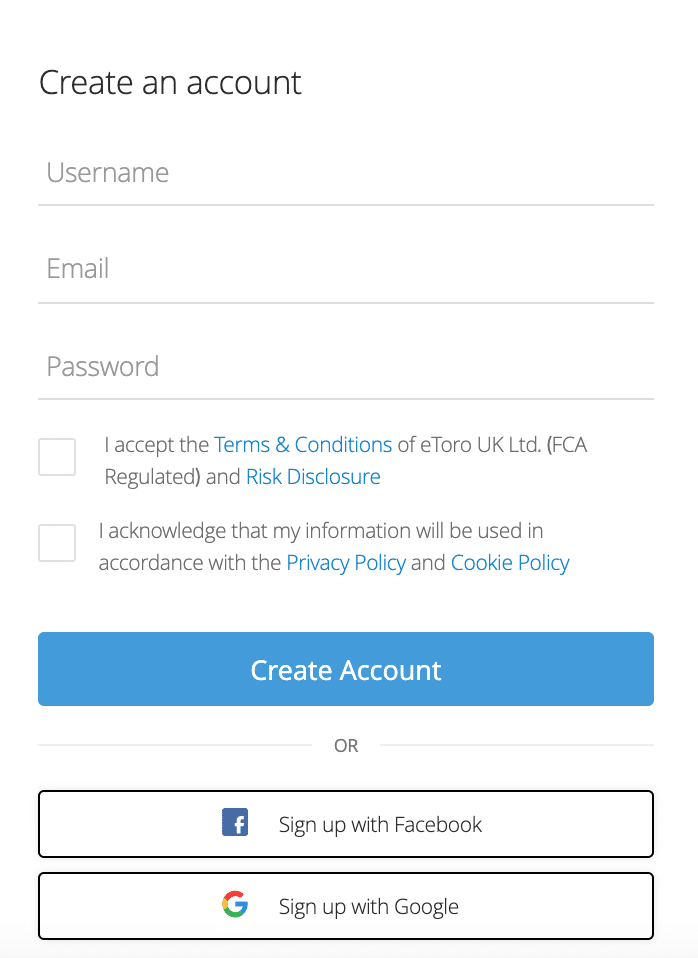 Step 2 – Verify your Account
As eToro is regulated by the FCA, ASIC, and CySEC, new users must verify themselves before trading. To do so, head to your dashboard and complete the KYC checks that eToro requires. You'll also have to upload proof of ID (a copy of your passport or utility bill) and proof of address (a copy of a bank statement or utility bill).
Step 3 – Make a Deposit
eToro allows fee-free deposits (if you fund your account in USD) and from a minimum of only $50 (£37). In terms of deposit methods, eToro accepts the following:
Credit Card
Debit Card
Bank Transfer
PayPal
Skrill
Neteller
Klarna
Trustly
Step 4 – Buy NAKD Shares
Type 'NAKD' (Naked Brand Group's ticker symbol) into the search bar and click 'Trade' next to the first option. An order box will now appear, similar to the one below. Simply enter your desired position size in this box, make sure everything is correct, and click 'Open Trade'.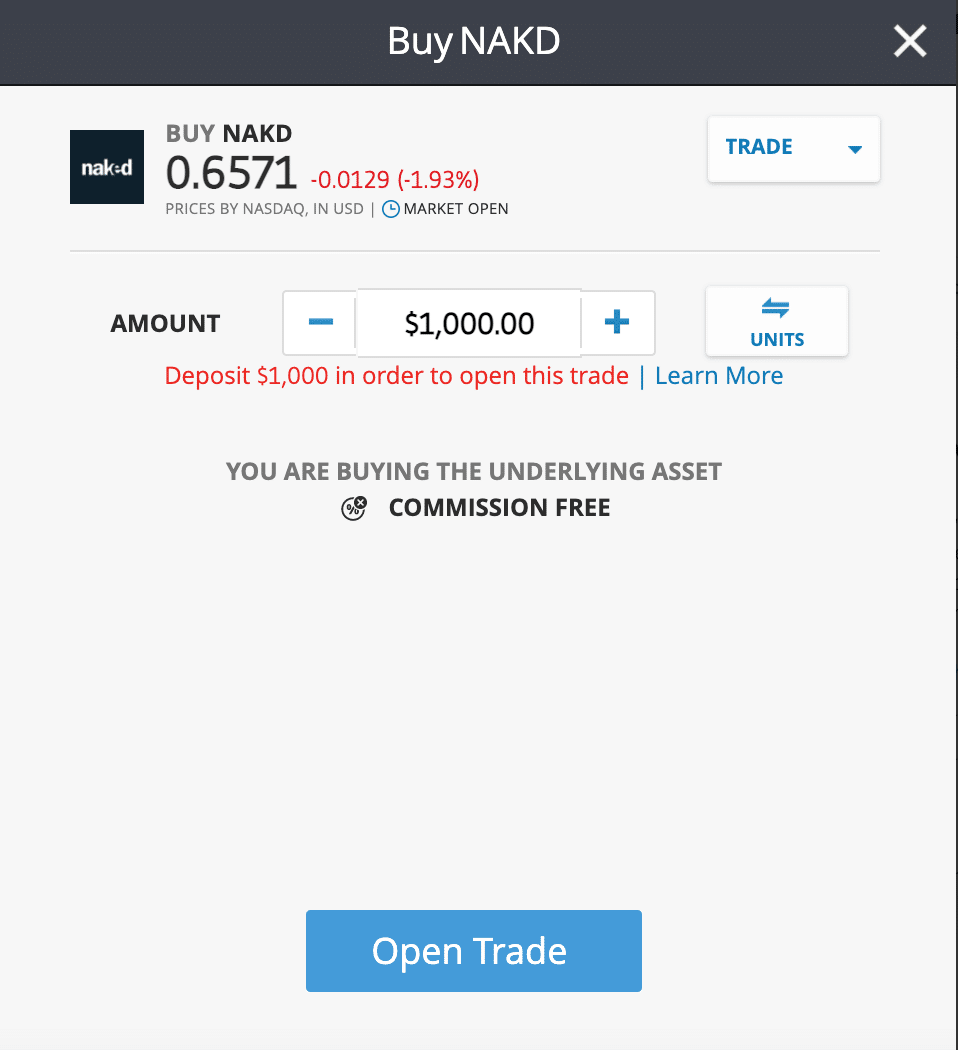 And that's it! You've officially invested in NAKD shares with eToro – without paying any commissions!
NAKD Stock Price Forecast – Final Word
In summary, this NAKD stock forecast has covered what the company does and the stock's outlook over the short and long term. We've also highlighted where you can buy NAKD stock commission-free and in less than ten minutes.
Overall, NAKD stock is an exciting investment opportunity for those looking to buy shares in a small-cap company. Although the lingerie industry is very competitive and dominated by a few giant companies, the potential acquisition that NAKD's CEO has hinted at has given hope the company can carve out a niche of its own. Furthermore, the backing from Reddit is always present with this stock, meaning NAKD may be worth adding to your portfolio over the long term.
So, if you'd like to buy NAKD stock right now, we'd recommend using eToro. This is because eToro is a commission-free broker and allows investments from as little as $50. What's more, eToro is heavily regulated and user friendly, which is ideal for beginner investors.


67% of retail investor accounts lose money when trading CFDs with this provider.
FAQs
Is NAKD a good investment opportunity?
Where can I buy NAKD stock?
Will the price of NAKD go up in the future?