The Islamic Republic of Iran is located in the Middle East and Central Eurasia, sharing its borders with Azerbaijan, Armenia, Turkey, Iraq, Pakistan, Afghanistan and Turkmenistan. Iran's borders also access four seas: the Caspian Sea in the north and the Persian Gulf, the Gulf of Oman and the Arabian Sea in the south.
Iran is a member of the MENA region which collectively controls 60 percent of the world's oil reserves and 45 percent of the world's natural gas reserves. Iran has an abundance of natural resources; particularly oil, natural gas and mineral resources - much of which remain untapped. Iran's proven oil and natural gas reserves are ranked 3rd and 2nd highest in the world respectively. The country is also a founding member of OPEC and GECF (Gas Exporting Countries Forum), as well as an observer at the WTO since 2005.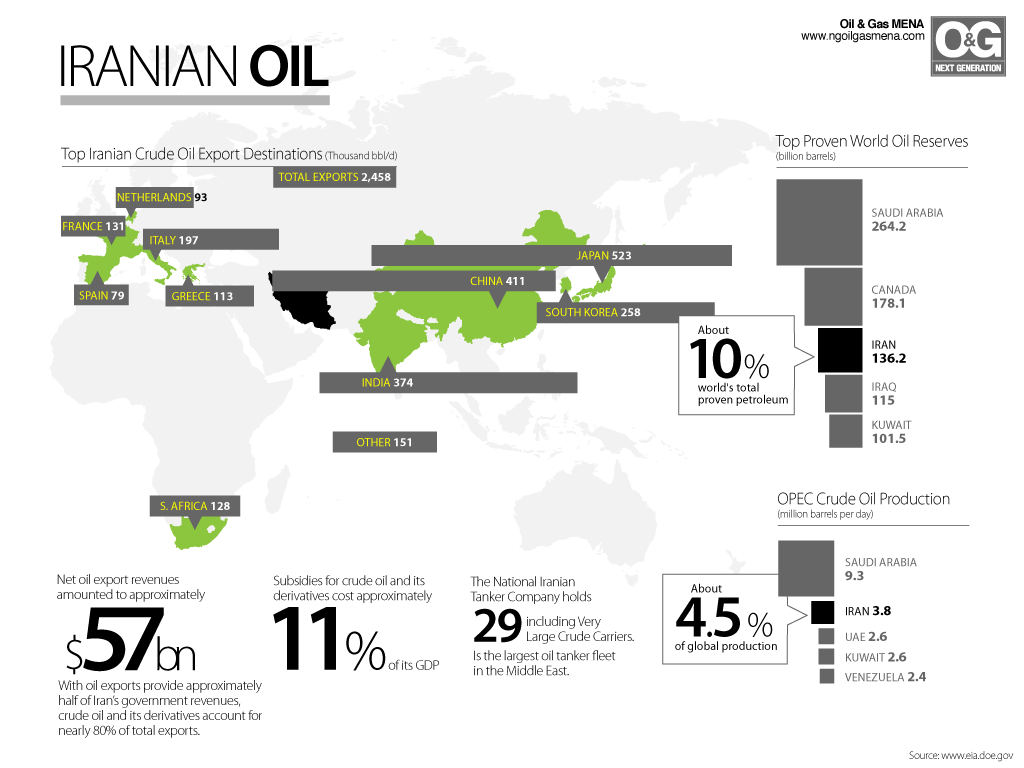 US Sanctions Against Iran
Prior to the Islamic Revolution in 1979 and the Iran-Iraq war that began in 1980, the United States was Iran's main economic and military partner. Contributing to Iran's economic development and infrastructure between 1950 until 1978. Today, the United States is at the forefront of sanctions against Iran, forcing Iran to expand its economic cooperation and trade with China and India instead.
Iran's current primary export partners include China (16.58 percent of exports), Japan (11.9 percent), India (10.54 percent), South Korea (7.54 percent) and Turkey (4.36 percent) - while importing most of its commodities from the United Arab Emirates (15.14 percent of imports), China (13.48 percent), Germany (9.66 percent), South Korea (7.16 percent), Italy (5.27 percent), Russia (4.81 percent) and India (4.12 percent).
Iran's economy is largely dependent on oil and global oil prices. Eighty percent of all of Iran's export earnings and sixty percent of the government's budget is derived from oil and oil-related products.
In 2010, despite the enactment of the Comprehensive Iran Sanctions, Accountability and Divestment Act that was passed by the United States Congress to hinder Iran's oil and petroleum industry and apply pressure to their nuclear program. However rising world oil prices ensured Iran's export revenues continued to increase from US$70.16 billion in 2009 to US$78.69 billion in 2010. In 2010 GDP(PPP) also grew by 2.49 percent from US$810.56 billion to US$830.715 billion.
By 2015, Iran's GDP(PPP) is expected to break the trillion dollar mark and hit US$1.04 trillion.
Iran's Economic Reform Plan
Iran is the 18th largest economy in the world at present. However the Iranian government has recently implemented a five-year economic reform plan to become the 12th largest economy in the world by 2015. The plan also aims to maintain an annual growth rate of 8 percent over the next year, reduce inflation rates to 12 percent and decrease unemployment rates to 7 percent.
Unemployment numbers on the rise is a main concern for the Iranian government with 14.6 percent of Iran's 25.7 million labour force jobless in 2010, compared to 11.8 percent in 2009. Iran's labour force is reported to be experiencing a "brain drain" according to the IMF. More than 180,000 Iranians leave the country every year with no intention to return. Many of the emigrants are highly skilled and educated, seeking suitable jobs and wishing to escape from Iran's social codes imposed by the Iranian government during the Islamic Revolution in 1979.
Besides controlling the social conduct of its citizens, the Iranian government also exerts a strong influence on its economy. Despite an increasing desire to privatise the economy, private sector activity is typically limited to small-scale workshops, farming, and services. The significant industries such as oil and natural gas on the other hand, are state owned.
Price controls, subsidies, and other rigidities also weigh down the economy, undermining Iran's potential in private sector-led growth. However, Iran is still a transition economy, gradually transforming from a centrally planned economy to a free market. The evolution has been a slow and painful process marked by inefficient state policies, poor management of resources as well as international conflicts and sanctions.
Although the Iranian government is keen on foreign investment, Iran ranks among the bottom 10 states in the 2011 Economic Freedom Index and 69th out of 139 states in the Global Competitiveness Report. Nevertheless despite an uncertain business climate and threat of international sanctions, US$7.584 billion of FDI was pumped into Iran in 2010 - particularly in Iran's oil and natural gas industry.
Read more on Iran's economy, including forecasts and trade statistics on EconomyWatch below.