The Republic of Indonesia is an archipelago of over 18,110 islands, of which 6,000 are inhabited. After China, India and the US, it is the fourth most populated country in the world with around 230 million people. It is also home to the largest Muslim population in the world. Jakarta is the capital city of Indonesia. Malaysia, East Timor and Papua New Guinea are its closest neighbors.
Indonesia became independent after World War II, following Dutch colonialism for three and a half centuries. Periods of swift economic change, corruption, natural disasters and a democratization process have made Indonesia a turbulent nation. Its wealth of natural resources is a pillar of its economic strength. However, poverty is the biggest challenge to the Indonesia's economy. Around 53% of the inhabitants earn less than US$2 a day. Indonesia lacks infrastructure development, except in Jakarta and Bali. Indonesia can be easily reached by air. Its major airports are Ngurah Rai (DPS), Juanda (SUB) and Soekarno-Hatta (CGK). One can also reach Indonesia via ferry from Singapore and Malaysia.
Indonesian Economic Profile: Statistics
Indonesia is a member of the G-20 major economies. It features a developing market economy, with strong influence from the government. Over 164 state-owned enterprises are run by the government. The prices of many basic products, such as rice, electricity and fuel, are administered by the government.
Domestic consumption is one of the major driving forces behind the country's economic growth. The economic growth slowed considerably during 2007-08. However, like India and China, Indonesia recorded higher growth during the global financial crisis, compared to the other G20 members.
GDP (purchasing power parity):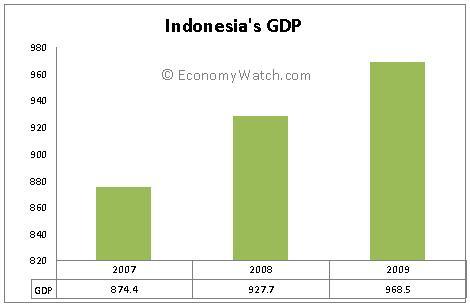 (All figures are in US dollar billion.)
GDP (official exchange rate): $514.9 billion (2009 est.)
GDP - real growth rate:
4.4% (2009 est.)

6.1% (2008 est.)

6.3% (2007 est.)
GDP - per capita (PPP):
$4,000 (2009 est.)

$3,900 (2008 est.)

$3,700 (2007 est.)
GDP - composition by sector:
Agriculture: 14.4%

Industry: 47.1%

Services: 38.5% (2009 est.)

Literacy rate: 92.0%
G20
Indonesia is part of the G-20, Group of Twenty.
Post Your Free Ads at leading Free Classifieds Indonesia site and indonesia online.