Montenegrin economy relies heavily on its trade and foreign investment. The government has, consequently, undertaken several measures to liberalize Montenegro trade regime. According to the Index of Economic Freedom, trade with Montenegro was subject to a weighted average tariff rate of 3.4 percent in 2008. Despite persistent efforts by the Montenegrin Government, the nation's trade balance is bleak as a result of certain import restrictions, high tariffs and weak enforcement of trade regulations. Moreover, Montenegro's significant dependence on foreign direct investment makes the economy susceptible to high trade deficit.
Montenegro Trade, Exports and Imports: Overview
Manufactured goods, raw materials and agricultural produce are the key export commodities of Montenegro. Key import commodities of the nation are fuels and lubricants, machinery and transport, chemicals and manufactured goods. During 2007, Montenegro's major trade partners belonged to the Euro region. The share of Montenegro's export and import partners in its total trade, according to CIA World Factbook reports for 2008, was:
Exports

Imports

Switzerland

83.9%

Greece

10.2%

Italy

6.1%

Italy

10.2%

Bosnia and Herzegovina

1.3%

Germany

9.6%
Additionally, Montenegro's trade balance with EU over the last few years is illustrated in the graph below: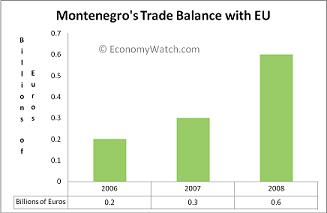 (Source: Eurostat)

Montenegro Trade, Exports and Imports: Agreements
Montenegro, following its independence from the political union with Serbia, is pursuing a separate membership with the World Trade Organization. The nation signed the Stabilization and Association agreement with the EU in October 2007 to facilitate Montenegro trade.
The agreement is intended to create a free trade in the European Union, while ensuring fair, stable and transparent rules. The agreement will also enable Montenegro to harmonize provisions of its existing trade policies and come at par with international standards.
Other salient features of Montenegro's trade agreement are:
Facilitate free movement of workers within the region

Ensure free movement of capital

Protect intellectual property rights
The Stabilization and Association Agreement also includes explicit provisions and procedures for settling trade disputes. The agreement is also a step towards preparing Montenegro for EU accession. Montenegro submitted an official application to become an EU member on December 15, 2008. If and when the application is approved, Montenegro trade is likely to soar at a fast rate.