Southeast Asia, particularly Malaysia, has been a trade hub for centuries. Since the beginning of history, Malacca has served as a fundamental regional commercial center for Chinese, Indian, Arab and Malay merchants for trade of precious goods. Today, Malaysia shares healthy trade relations with a number of countries, specifically the US. The country is associated with trade organizations, such as APEC, ASEAN and WTO. The ASEAN Free Trade Area that was established for trade promotion among ASEAN members also has Malaysia as its founding member. Malaysia has also signed Free Trade Agreements with countries including Japan, Pakistan, China and New Zealand.
Malaysia was once the world's largest producer of tin, rubber and palm oil. Its manufacturing sector has a crucial role in its economic growth. The export industry was hit hard during the late 2000 economic recession drastically dropping to 78% i.e. FDI to RM4.2 billion in the first two quarters of 2009. Total exports fell down to $156.4 billion in 2009 from $198.7 billion in 2008. The imports also reduced from 154.7 billion in 2008 to $119.5 billion 2009.
Malaysia Exports Commodities
Malaysia mainly exports the following commodities:
Electronic equipment

Petroleum and liquefied natural gas

Wood and wood products

Palm oil

Rubber

Textiles

Chemicals
Malaysia Exports Partners
The following graph depicts the shares of various export partners of Malaysia: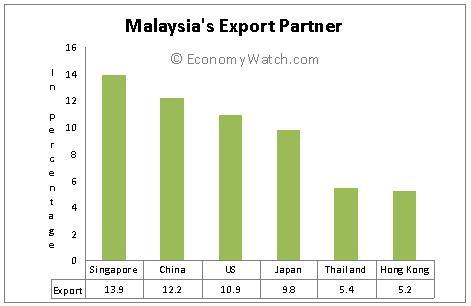 Malaysia Imports Commodities
Malaysia mainly imports the following commodities:
Electronics

Machinery

Petroleum products

Plastics

Vehicles

Iron and steel products

Chemicals
Malaysia Imports Partners
The following graph depicts the share of various import partners of Malaysia: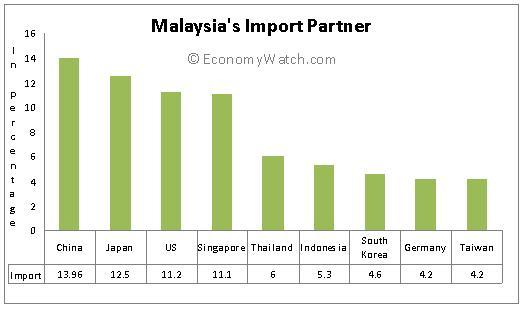 Post Your Free Ads at leading Free Classifieds Malaysia site and jobs in malaysia.