Invest In Ethereum UK – How to Invest in Ethereum in the UK In Under 5 Minutes!
Should I invest in Bitcoin or Ethereum? For most avid cryptocurrency investors this is a question that comes to mind when trying to decide between the world's largest digital currencies. With a market cap of $350 billion and a market price of $3,010.75, Ethereum is the second-largest cryptocurrency dominating 18.4% of the market. 
Some market analysts believe Ethereum will overtake Bitcoin by the end of 2021, securing the top spot ahead of its competitors. Does Ethereum have what it takes to become the dominant blockchain? If you're looking to invest in Ethereum in the UK right now make sure you read on as we reveal the cheapest broker to buy ETH from the comfort of your own home. 
Buy Ethereum on eToro – #1 Broker
How to Invest in Ethereum UK Quick Tutorial
There are hundreds of 'how to invest in Ethereum' searches made on Google every month in the UK. Ethereum's popularity and huge potential appeals to many beginner investors throughout the world. So in this section, we'll cover how to invest in Ethereum right now in a few simple steps. 
Choose a trusted cryptocurrency exchange or broker

– With so many options out there choosing the right platform for your needs can be confusing. As such, we recommend

eToro

as the best online broker to invest in Ethereum UK right now. This leading social trading platform is home to over 20 million traders. 

Open a trading account

– Navigate your way to eToro's official website and click on the button marked 'Join Now'. Provide your email address and phone number and choose a username and password for your new brokerage account. 

Verification

– Verify your trading account by uploading proof of identity and address. These can be in the form of your passport and a recent bank statement. 

Deposit funds

– You can fund your account with a minimum deposit of just $50 using a range of payment methods from credit/debit cards to e-wallets and bank transfers. 

Invest in Ethereum

– Search for Ethereum and click on 'Trade'. Then simply enter the amount you wish to invest and click 'Open Trade'. Additionally, the minimum investment is just $25!
All in all, it takes five simple steps to invest in Ethereum on eToro with 0% commission and market-leading spreads. 
Step 1: Choose an Ethereum Investment Platform
Think of choosing a crypto broker as picking out the best vehicle on the market. You want to select the best one to take from A to B safely, quickly and efficiently. But you also want to choose a car that you can afford. 
Choosing a top-rated broker or exchange is arguably the most important step in your online trading journey. We've researched all the top UK trading platforms and have narrowed the list down to the two best platforms to invest in Ethereum right now. 
1. eToro – Overall Best Platform to Invest in Ethereum UK with Low Fees
Launched back in 2006, eToro has grown to become one of the leading social trading platforms with a client base of more than 20 million. eToro offers a wide range of financial products and markets from stocks and ETFs, to forex, CFDs and cryptocurrencies. On eToro you can buy 28 popular cryptocurrencies including Bitcoin, Ethereum, Ripple (XRP), Dogecoin, Litecoin, Cardano (ADA) and more. You can also trade popular crypto-cross pairs and crypto-to-crypto pairs such as ETH/GBP and ETH/EOS. 
Trading fees and commissions
When you buy cryptocurrencies on eToro you take ownership of the underlying assets. This means you can conveniently store your digital coins on the eToro Money crypto wallet. Furthermore, buying and selling cryptos on eToro is ideal for beginner traders looking for a low-cost broker as eToro only charges the market spreads. This means that when you invest in Ethereum the only trading fee you will encounter is the average 1.90% spread. For those unfamiliar with spreads, this is simply the difference between the bid and ask prices.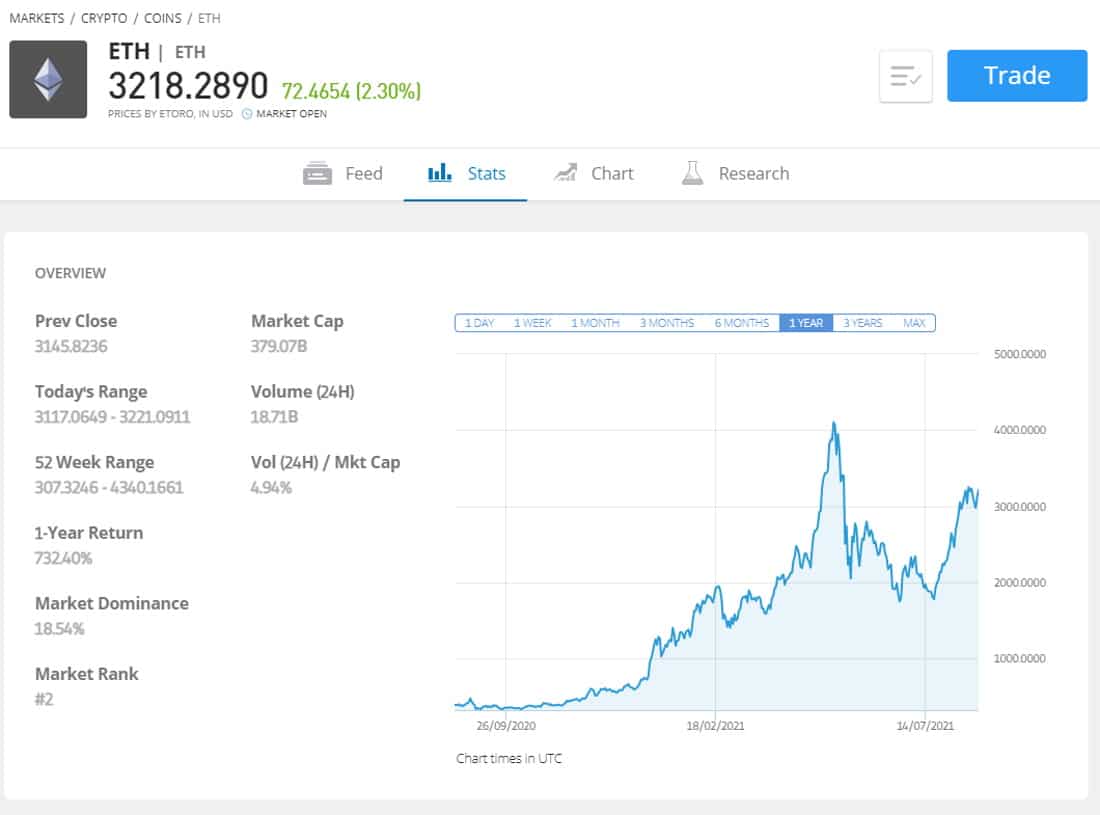 What about payment methods and deposit fees?
As well as zero account fees, there are no deposit fees to worry about when funding your account on eToro. Beginner retail traders will appreciate the low minimum first-time deposit of just $50. Funding your eToro trading account is quick and easy with several convenient payment options at your disposal. These include credit/debit cards, e-wallets (PayPal, Neteller, and Skrill), and bank transfers. 
Is eToro safe?
Yes, eToro is one of the safest and most trusted online trading platforms in existence. eToro is regulated by various top-tier financial institutions including the UK's Financial Conduct Authority (FCA), the Cyprus Securities and Exchange Commission (CySEC), and the Australian Securities and Investment Commission (ASIC).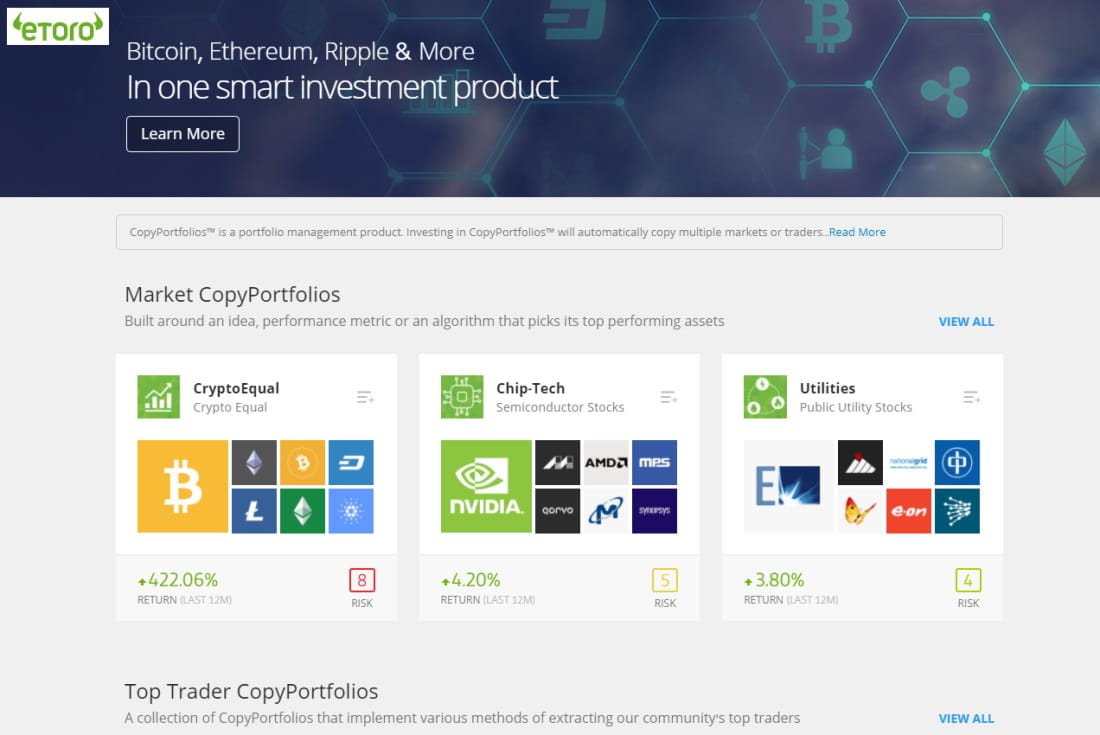 UK-based investors are covered by the Financial Services Compensation Scheme (FSCS). This means that should the broker go into liquidation you can expect to receive up to £85,000 in compensation. 
| | |
| --- | --- |
| Fee Type | Charge |
| Crypto Trading | 0% Commission + tight spreads |
| Cost of buying ETH | Typical spread of 1.90% |
| Account fee | None |
| Deposit fee | None |
| Withdrawal fee | $5 |
| Inactivity fee | $10 after 12 months |
Pros
Buy and Sell cryptos on a spread-only basis
Invest in cryptos with as little as $25 
Home to over 20 million traders worldwide
Fully regulated by FCA, CySEC and ASIC
Wide range of payment methods
Cons
USD is the only supported account base currency
Cryptoassets are highly volatile unregulated investment products. No EU investor protection. 67% of retail investor accounts lose money when trading CFDs with this provider.
2. Binance – Largest Cryptocurrency Exchange for Trading Volume and Liquidity
Based on trading volume, Binance is one of the leading cryptocurrency exchanges with a 15 million client base. Originally based in Hong Kong, Binance's terms and conditions are still regulated by Hong Kong law. Binance has since moved its headquarters to Malta and is widely popular for its crypto exchange services and low fees. 
Fees and commissions
Binance charges a typical trading fee of 0.1% on every trade that a client makes. If you choose to pay using the BNB Binance token you can take advantage of the 50% discount on the trading fee. As such, Binance offers some of the cheapest trading fees across the board. In terms of the withdrawal fees these are variable charges based on the type of cryptocurrency. For example, for Bitcoin withdrawals the charge is 0.001.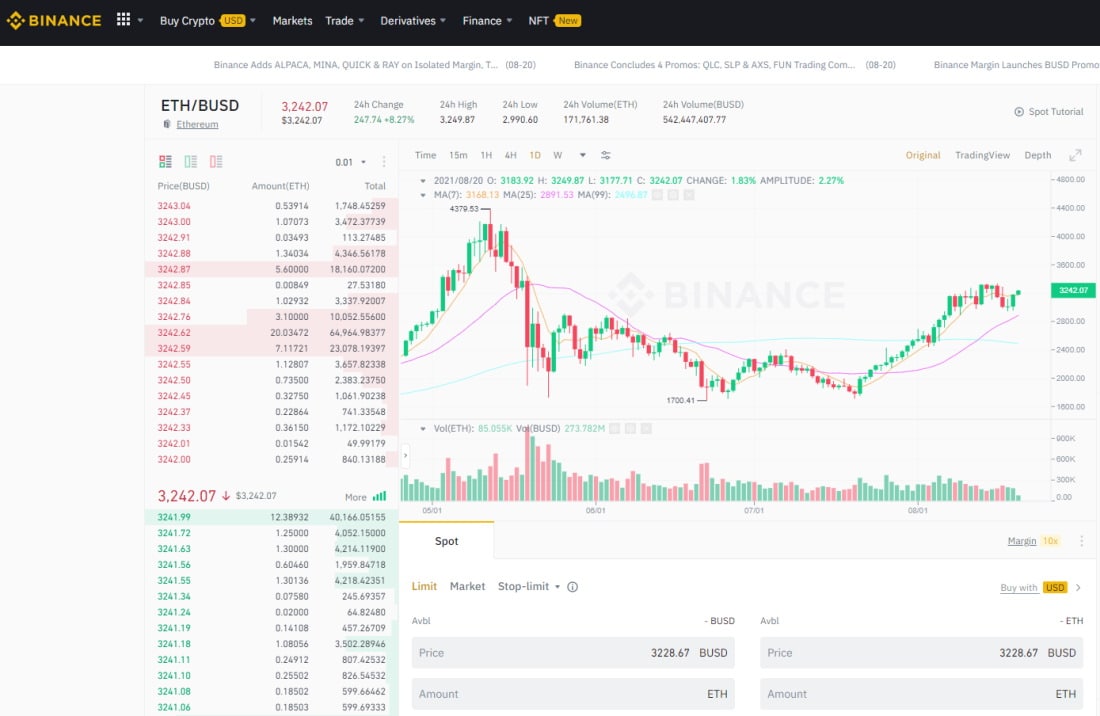 How can I deposit funds into my Binance account? 
If you want to buy and sell cryptocurrencies on Binance you will need to deposit funds. This leading crypto exchange supports both fiat and crypto deposits – with the former depending on your location. You can deposit funds using cryptocurrencies, debit and credit cards, and local bank transfers. If you decide to use a debit/credit card you will need to pay a transaction fee of 1.8%. Another great selling point is that Binance does not charge deposit fees. 
Is Binance safe?
Binance is home to over 15 million crypto enthusiasts from around the world. You can use two-factor authentication (2FA), and for debit/credit card deposits you will need to verify your account by undergoing the standard KYC process.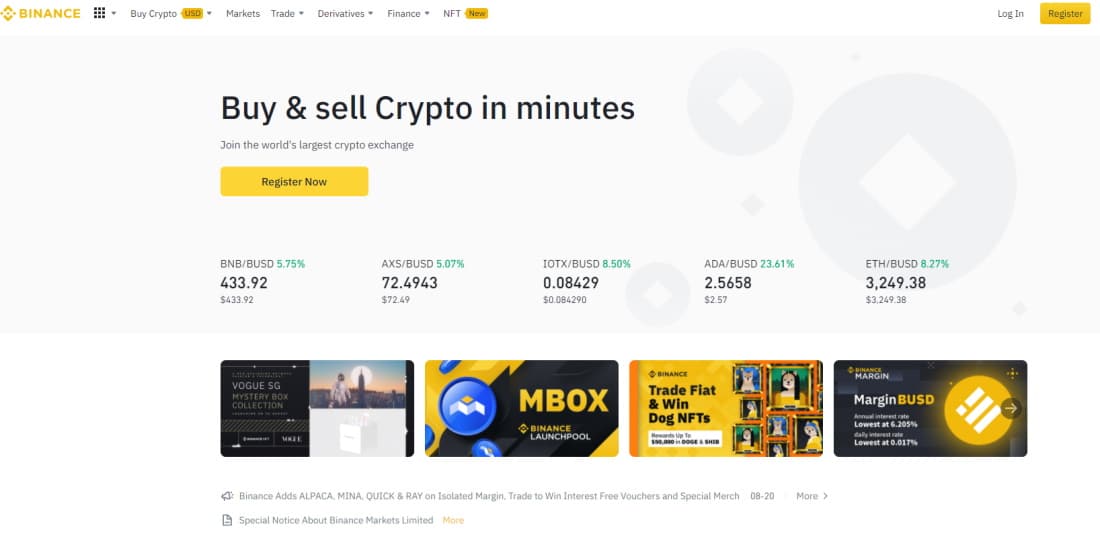 With that said, this leading cryptocurrency exchange has recently been blacklisted by the United Kingdom's Financial Conduct Authority. This means it cannot conduct regulated activities in Great Britain. The move comes after the UK's financial regulator and watchdog became concerned over money-laundering issues. 
| | |
| --- | --- |
| Fee Type | Charge |
| Crypto Trading | Standard fee of 0.1% per trade |
| Instant buy and sell fee | 0.50% |
| Deposit fee | Free |
| Withdrawal fee | Varies depending on the cryptocurrency |
| Inactivity fee | None |
Pros
Standard fee of just 0.1% per trade
Huge range of supported cryptocurrencies
Client base of more than 15 million 
No deposit fees
Access to crypto-cross pairs and crypto derivatives including Bitcoin futures
Cons
High fees to deposit with a debit/credit card
Cryptoassets are highly volatile unregulated investment products. No EU investor protection. 67% of retail investor accounts lose money when trading CFDs with this provider.
Step 2: Research Ethereum Investment
Is Ethereum a good investment? Is it better suited to long-term or short-term trading strategies? To answer these types of questions you need to do your research. And by research we mean checking past performance, fundamental data, price charts and price predictions. With that in mind, let's dive into everything you need to know to buy Ethereum right now. 
What is Ethereum?
Ethereum is the community-run blockchain technology that powers the digital asset ether (ETH) as well as heaps of decentralized applications (Dapps) and projects. In other words, Ethereum is a decentralized technology that allows you to send cryptocurrencies to other users for a small fee.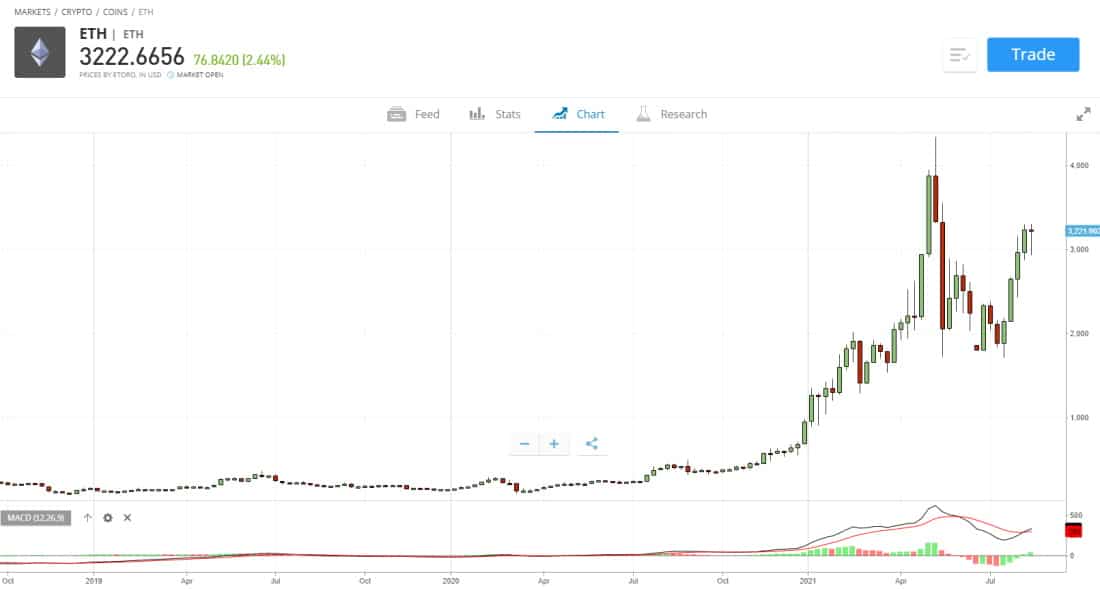 When Satoshi Nakamoto built Bitcoin (BTC) in 2008, it was introduced as a peer-to-peer electronic cash system. Ethereum builds on this innovation, with several key differences. Both blockchains allow you to use digital currency without centralised intermediaries getting involved. However, Ethereum is programmable, meaning you can use the Ethereum blockchain for many other altcoins. 
Furthermore, you can use Ethereum for more than just payments and online digital transactions. Ethereum has paved the way for digital financial services, games and applications that are completely decentralized.
Ethereum vs Bitcoin
As we have briefly discussed, Ethereum is a decentralized blockchain network that's powered by the native Ether token. Ether allows users to make payments, earn interest via staking, use and hold nonfungible tokens, buy and sell cryptocurrencies, and much more. Ethereum is a proof-of-work blockchain but is transitioning to proof-of-stake (PoS) with Ethereum 2.0. The blockchain network wants to improve its scalability and become more environmentally friendly.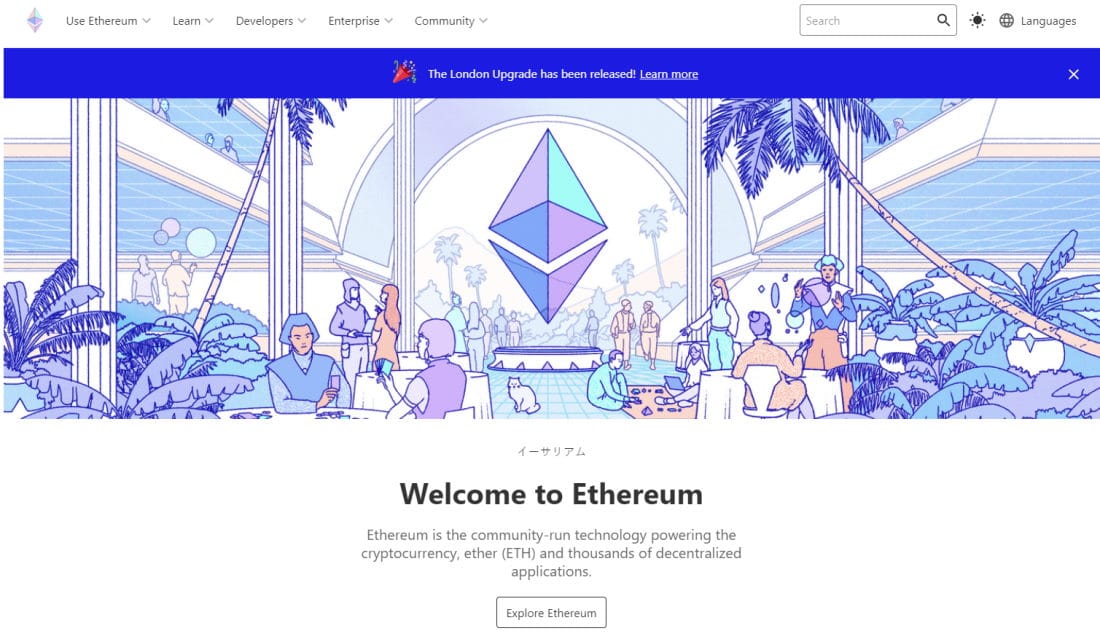 Many alternative cryptocurrencies run on the Ethereum network, which first launched back in 2015. The second version dubbed 'Eth 2' is expected to facilitate more transactions per second, consume less energy and have heightened security. 
One key difference between the two leading cryptocurrencies is that the Ethereum ledger supports smart contracts. Smart contracts are pieces of code that execute an action when specific criteria are met. 
For instance, a smart contract in a digital game could set out what commissions need to be paid once the game is sold. Payments can also be configured to transfer automatically as products progress through stages in a supply chain. 
Ways to Invest in Ethereum
With so many ways to gain exposure to Ethereum in the UK, choosing the right one that suits you can be confusing. As such, we've covered the best ways to invest in Ethereum in the UK right now. 
Buy Ethereum Outright
The most popular way to gain exposure to Ethereum's market price is to take ownership of the underlying digital asset. This means that you own the cryptocurrency and your position is directly impacted by the market's volatility and performance. You can invest in Ethereum right now by opening a live trading account with eToro and depositing funds.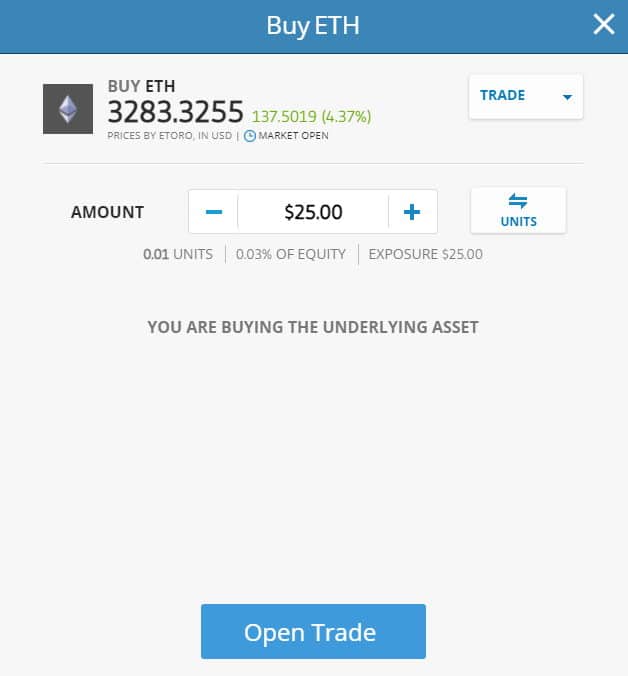 Another advantage of using eToro is that you can invest in a fraction of Ethereum for as little as $25. Alternatively, if you're looking for a more passive investment approach eToro's CopyTrader tool may be of interest to you. CopyTrader allows you to copy the trading strategies of other seasoned traders with the click of a button. This means that you don't have to worry about research and monitoring the volatile crypto market as your portfolio will simply imitate the trading decisions of another experienced eToro trader. 
Invest in a Crypto Portfolio
Another way to invest passively is to invest in a crypto portfolio. These are preset portfolios made up of a combination of cryptocurrencies allowing you to gain passive exposure to the crypto market from the comfort of your own home. eToro offers the widely popular CopyPortfolios that are managed by expert traders, enabling you to build a diversified portfolio and potentially earn a passive income. 
Use an Ethereum ATM
You can purchase Ether tokens with cash by using a designated Ethereum ATM or teller service. As you can see from the screenshot below, CoinATMradar.com can help you locate one closest to you.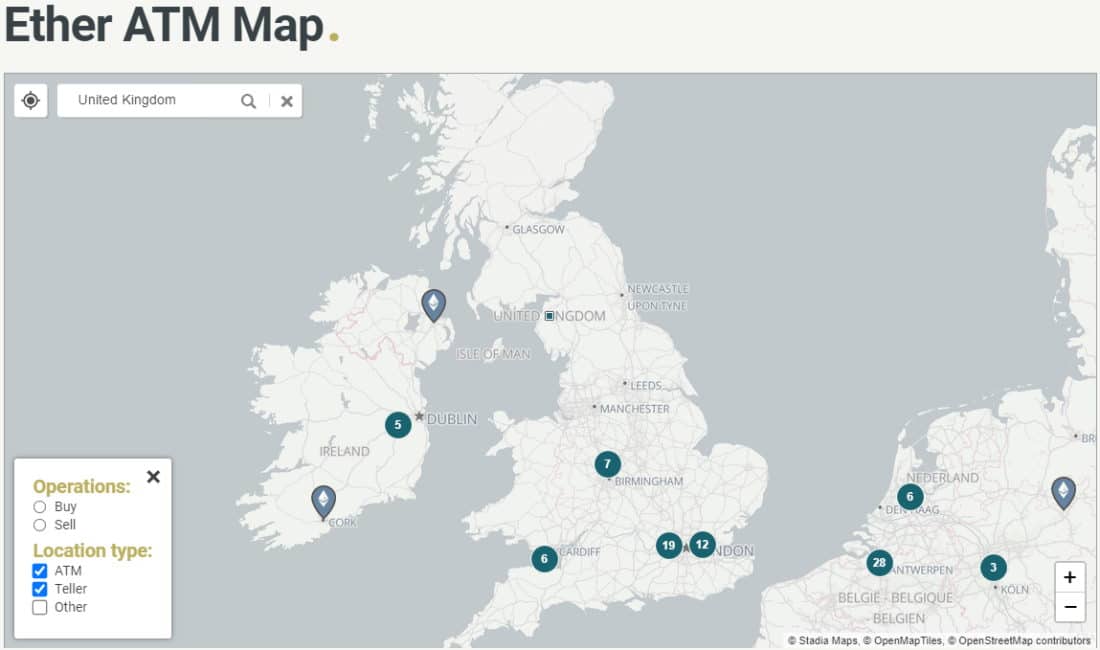 Follow these steps to learn how to use an Ethereum ATM to buy Ethereum with cash:
Make sure you have a trusted Ethereum crypto wallet. Any top-rated Ethereum wallet is fine, from Blockchain.info, Metamask, or Jaxx are some popular examples. 
Locate your closest Ethereum ATM using CoinATMradar.com. 
Place an order – Click on the ATM's touchscreen and follow the onscreen prompts. Choose Ethereum (ETH) as your preferred cryptocurrency. Some ATMs require you to verify your identity when proceeding with large transactions, so you may need your mobile phone at hand. 
Scan the QR code and complete the transaction – Open your Ethereum wallet and access your secure public key. Scan the code using the ATM's camera, then insert the required cash into the ATM and follow the instructions to finalize your transaction. 
Ether will be transferred to your crypto wallet – And you're all done! After the purchase has been confirmed, your ETH tokens will appear in your wallet. 
Is Ethereum a Good Investment?
If you're an avid crypto enthusiast, Bitcoin is probably the first digital asset that comes to mind. But with Ethereum showing such strong potential, the stage is set for the second-largest crypto to give Bitcoin a run for its money.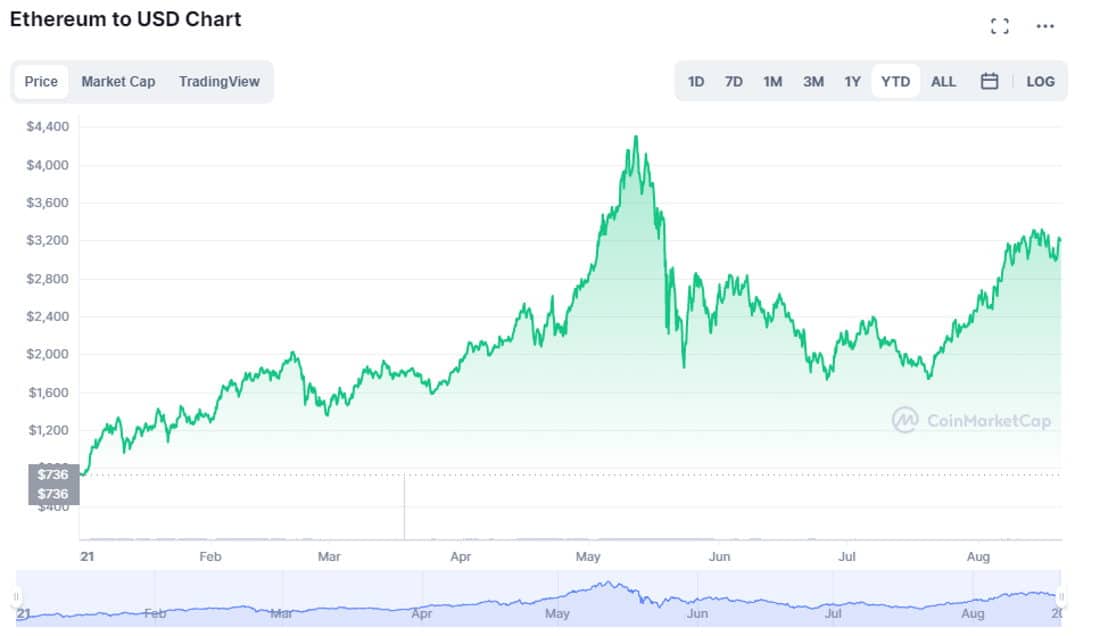 Ethereum to USD chart – Source: coinmarketcap.com
Since the start of this fiscal year, the market price of Ethereum reached its highest peak yet – $4,362.35 on May 12th. It then experienced a steady downtrend, reaching lows of $1,739.53 on July 20th 2021. But since that point, Ethereum's price has been riding a bullish wave as it currently trades above the 3k mark at $3,001.13. 
Furthermore, with an ROI of 106,136.37% it's hard to ignore Ethereum when trying to participate in the crypto market. Some market analysts predict that Ethereum has a lot more to offer especially with its imminent rollout of Ethereum 2.0. 
Ethereum and versatility go hand in hand
Perhaps the greatest benefit of the Ethereum blockchain is its flexibility. While it's primary purpose is for hosting Ether, it's other uses include for enterprise blockchain solutions, and NFTs (non-fungible tokens).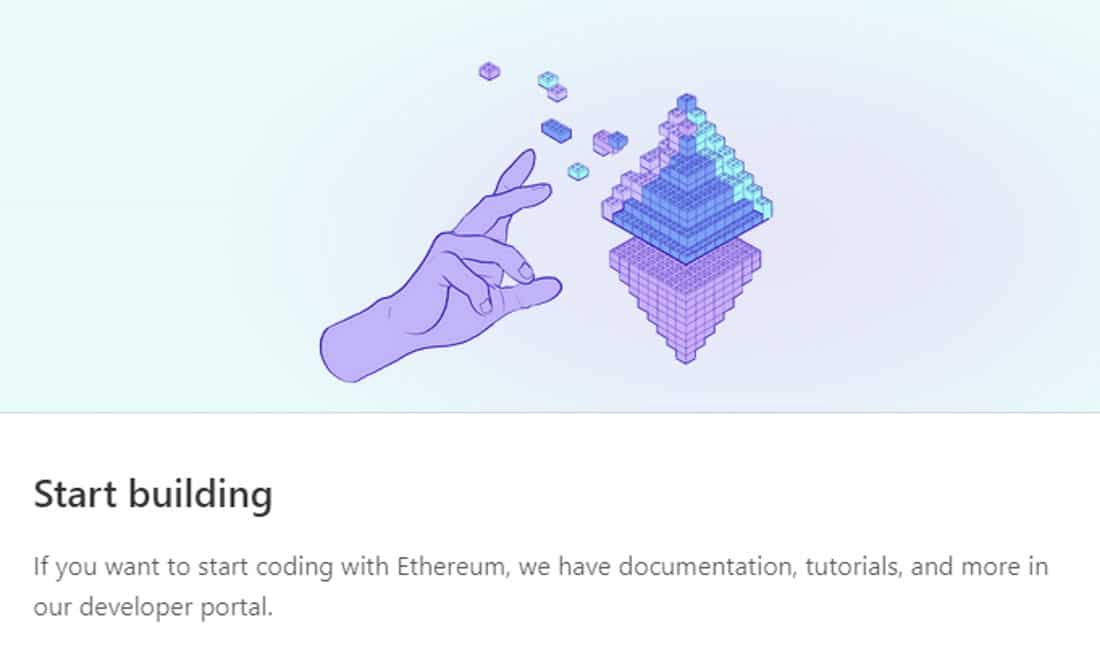 Put simply, the Ethereum blockchain can be applied to projects that transcend the cryptocurrency realm. Whether or not cryptocurrencies, in general, prove to be a good investment in the long run, Ethereum could be here to stay. 
What does Tesla CEO Elon Musk have to say about cryptocurrencies?
Moreover, a major criticism of digital assets, especially Bitcoin, is that they consume vast amounts of energy. As demand for renewable energy continues to grow, this is becoming a common talking point amongst investors and analysts. Professor Brian Lucey from the Trinity College Dublin suggested that "Bitcoin alone consumes as much electricity as a medium-sized European country. This is a stunning amount of electricity. It's a dirty business. It's a dirty currency."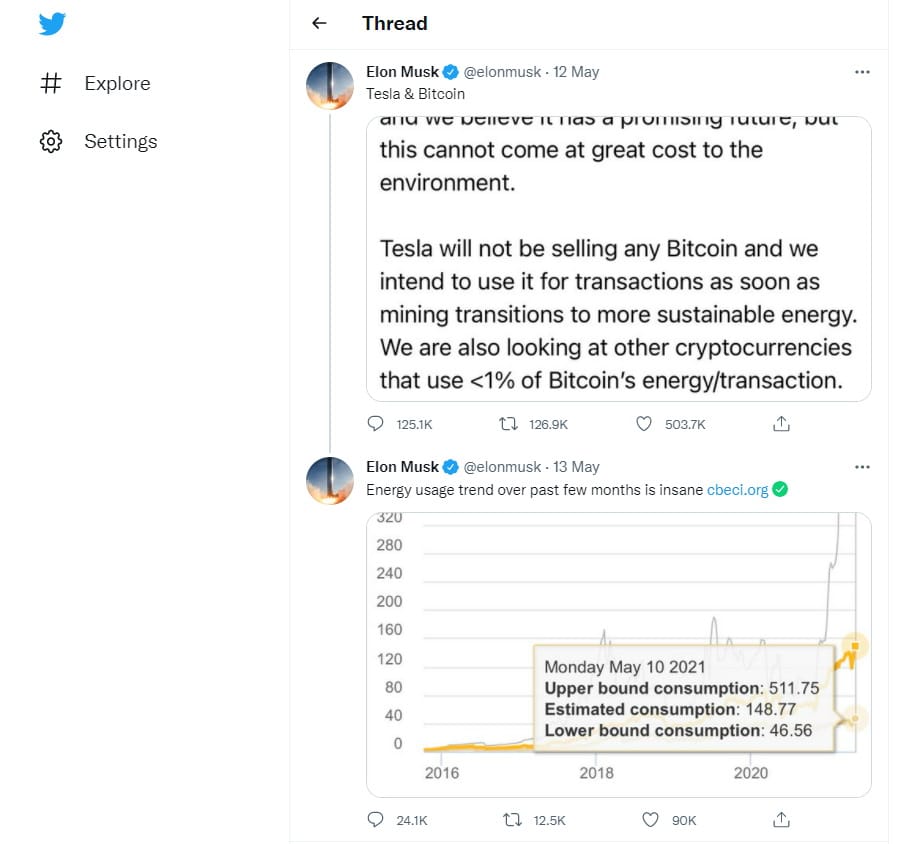 In mid-May of this year Tesla's CEO and founder, Elon Musk, scrapped plans that were hatched in February to make Bitcoin an accepted payment method for his electric vehicles stating on Twitter that "Tesla has suspended vehicle purchases using Bitcoin. We are concerned about rapidly increasing use of fossil fuels for Bitcoin mining and transactions, especially coal, which has the worst emissions of any fuel. Cryptocurrency is a good idea on many levels and we believe it has a promising future, but this cannot come at great cost to the environment." 
Could Ethereum 2.0 kill ETH?
If all goes well, Ethereum 2.0 could cause a huge stir in the crypto sphere, potentially gaining more market dominance from Bitcoin. ETH 2.0 is set to switch from the energy-guzzling mining process to a 100% energy-efficient solution dubbed staking.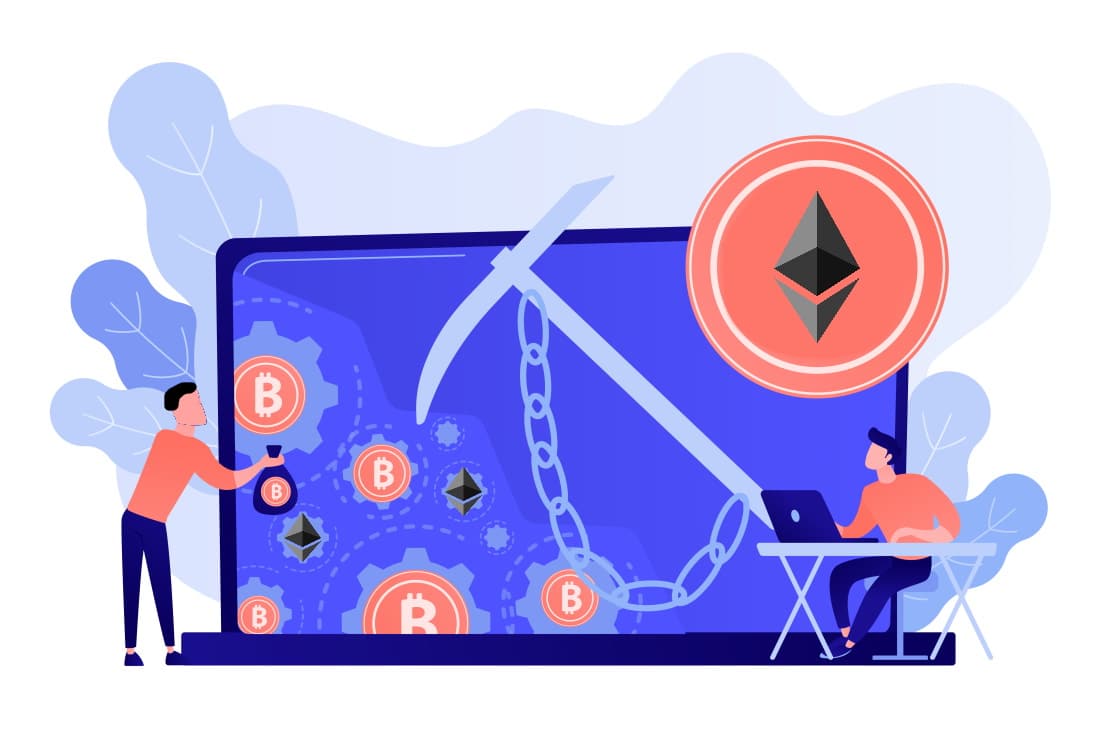 As the popularity of and demand for cryptocurrencies continues to grow, so does the amount of computing power and energy required to mine new tokens. Ethereum's solution to the issue of energy consumption is to use staking, which involves Ether owners storing tokens in their crypto wallets and using them to create new Ether tokens.  
What about smart contract executions?
Finally, once they implement ETH 2.0 successfully, Ethereum will be able to put smart contract executions in place. Smart contracts are fully automated and programmable decentralized contracts that cannot be tampered with. For example, a smart contract could be put in place to execute payments between a service provider and a subscriber, where a contract is signed and then funds from the subscriber are automatically sent to the service provider every month. 
Investing in Ethereum – What are the risks?
Aside from its diversity and array of applications, there are still underlying risks associated with investing in Ethereum. 
Are we in a crypto bubble?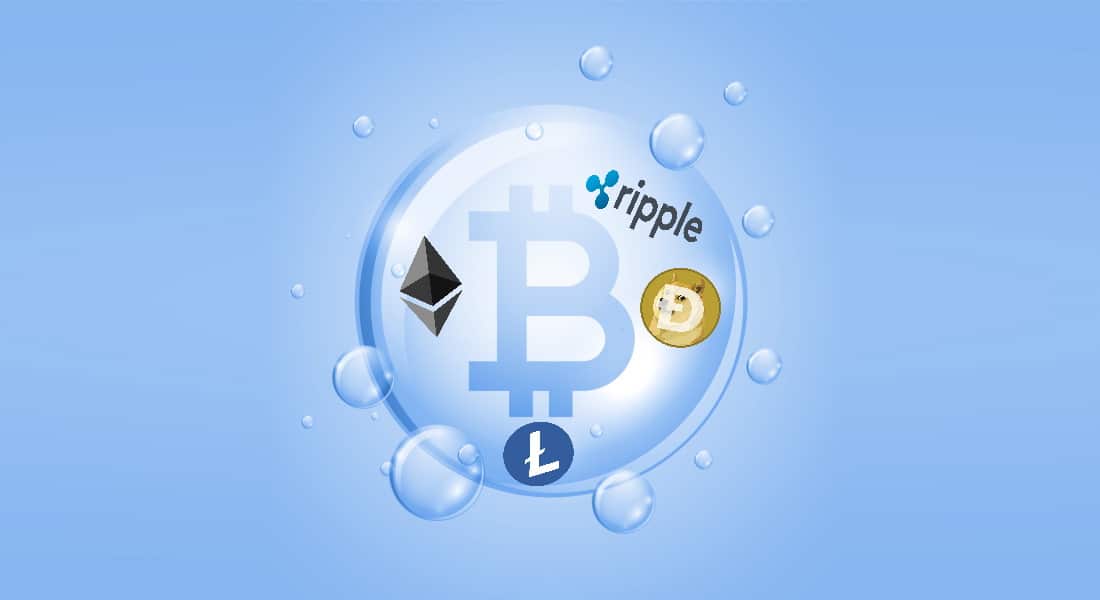 Firstly, it's almost certain that you will experience market volatility, even more so when you invest directly in Ethereum. Cryptocurrencies are a high-risk investment now because they are almost entirely speculative. Some market analysts suspect that we're currently in a crypto bubble. They argue that the hype surrounding digital assets is not aligned with each company's fundamentals, therefore causing many cryptos to be overvalued. If this proves to be true, there could be a landslide in prices should the crypto bubble burst. 
Regulations, regulations, and more regulations
Many centralized authorities including governments and financial watchdogs like the FCA pose a real threat not just to the future of Ethereum, but to cryptocurrencies in general. While financial regulators and governments have no control over decentralized finance, they can increase taxes when cryptos are exchanged for fiat currencies.
Trading conditions could become so volatile that investors will steer clear of this market altogether. This would mean that there would be less liquidity in the market, therefore making it harder for users to open and close positions. 
Portfolio diversification is key
If investing in Ether is something you have your sights set on right now make sure you have a well-rounded portfolio combining a mixture of safe haven and reliable assets. You'll hear many seasoned traders say 'only invest money you can afford to lose', and this runs true especially in the case of cryptocurrency trading. 
How to Invest in Ethereum UK – eToro Guide
Now that we've got a better understanding of Ethereum and the wider crypto market, let's go through how to buy Ethereum right now. This beginner's tutorial will focus on eToro as it's a widely popular broker that allows you to invest in cryptos with as little as $25. 
1. Register Your Account at eToro
The first step requires you to open a live eToro trading account. The onboarding process is user-friendly and fully digital and takes a matter of minutes. Navigate to the eToro official website, click on 'Join Now', provide your details and choose a username and password.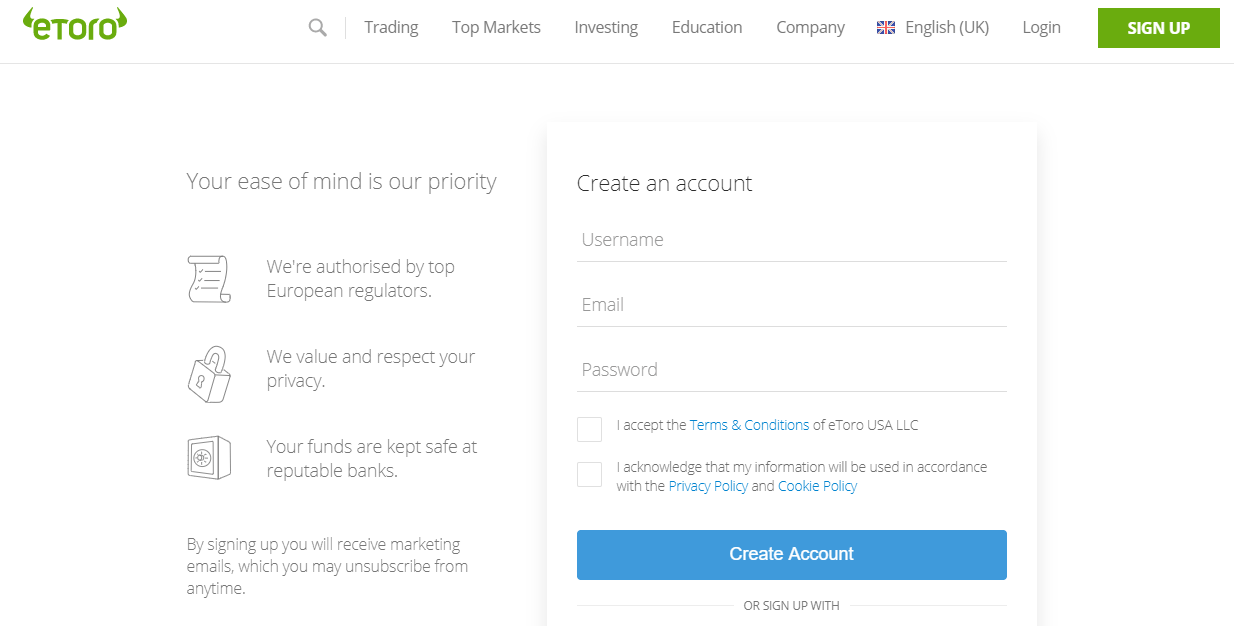 2. Verify your account
As part of the KYC (Know Your Customer) process, you will need to verify your account by providing proof of identity and address. Simply upload copies of your passport, driving license, a recent utility bill or bank statement. You will then be notified when your account has been successfully verified.
3. Deposit funds
As well as not charging deposit fees, eToro supports a wide range of payment methods from credit/debit cards, to bank transfers and e-wallets. If you choose to deposit funds using a credit/debit card or e-wallet like PayPal your funds will be credited to your account instantly. 
4. Search for Ethereum (ETH)
So far we've registered, verified, and deposited funds into our eToro brokerage account. Now from the dashboard search for 'Ethereum' or 'ETH' in the search bar. From the drop-down menu click on 'Trade' next to the relevant result.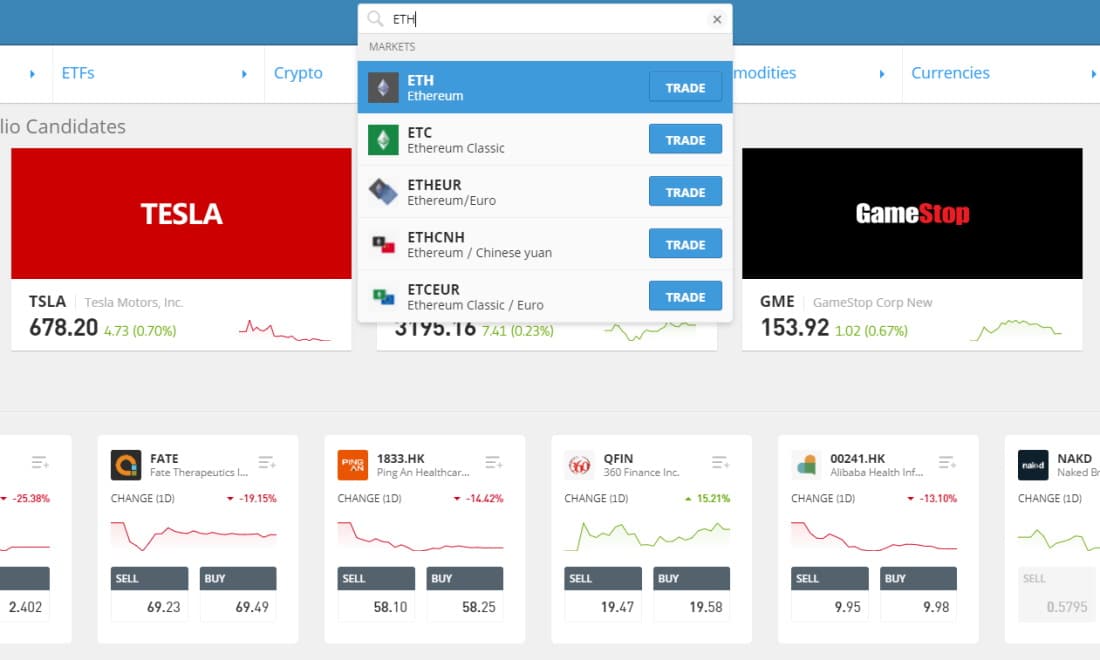 5. Place your Ethereum Trade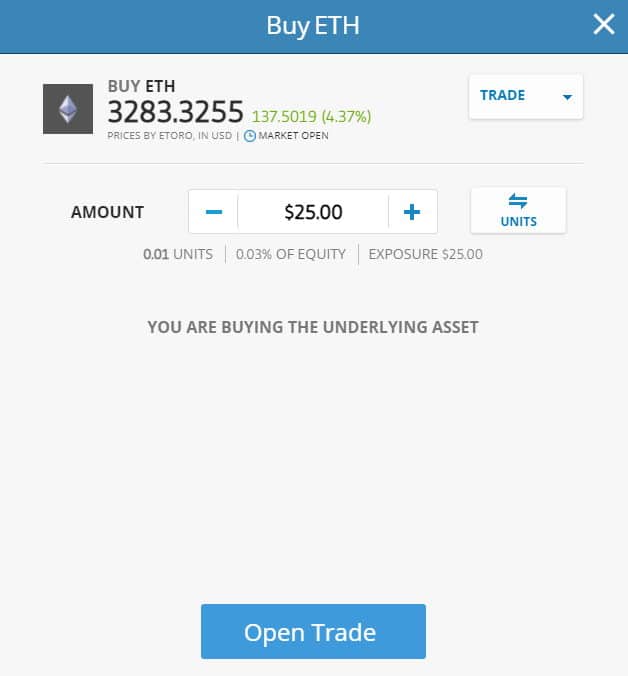 Now an order window will appear where you can specify the amount of ETH you want to purchase. As we already know, the minimum investment starts from a very affordable $25. Once you're happy with your choices, tap on the button marked 'Open Trade'.
6. Transfer Ethereum to your eToro Money Crypto Wallet
You can monitor and manage your cryptocurrency positions from your portfolio on the web-based trading platform or mobile investment app. Moreover, eToro offers a native and secure crypto wallet. Using the eToro Money crypto wallet, you could potentially exchange your Ether tokens for other altcoins. This crypto wallet uses high-level standardisation protocols to provide extra security. 
How to Invest in Ethereum UK – Conclusion
Ethereum has a lot of potential going forward. The rollout of Ethereum 2.0 offers a solution to the issue of the energy-intensive mining process, and better scalability and security for its users. But will regulators and financial authorities make cryptocurrency trading an ambitious ideology that's detached from the current reality? 
Investing in Ethereum comes with risks, as does buying and selling any crypto asset. Be that as it may, we recommend using the leading copy trading platform eToro. This heavily regulated broker is beginner-friendly and allows you to gain exposure to the volatile crypto market with low fees and tight spreads. 
If investing in ETH is for you simply click the link below and open a trading account with eToro right now!
eToro – Best Low-Cost Broker to Invest in Ethereum with a Typical Spread of 1.90%
FAQs
What will Ethereum be worth in 2030?
Where can I buy Ethereum?
Why is Ethereum going up?