Best Bitcoin ETF UK – Top Bitcoin ETF Brokers 2022
Traditionally, investing in an ETF has been viewed as safe and even somewhat boring, although that's not to say ETFs don't have some great benefits, and for many people, they're likely the best way to invest. However, if you're looking for something that offers slightly higher returns than your traditional blue-chip ETF, investing in a Bitcoin, or cryptocurrency ETF may be exactly what you're looking for. By investing in a Bitcoin ETF, you reap the benefits of both worlds, you get to be a part of Bitcoin's exciting future while maintaining a low-risk investment. Throughout this guide, we'll discuss the best Bitcoin ETF brokers, the best Bitcoin ETFs, and explain exactly how you can start investing in a Bitcoin ETF. 
#1 Bitcoin ETF Broker – eToro
How to Invest in a Bitcoin ETF – Step by Step Guide 2022
We understand how difficult it can be to start investing on a new platform, to help make the process as seamless as possible for our readers, we've provided this quick and easy starting guide. If you'd prefer a more in-depth guide, complete with pictures you can find that toward the bottom of the page.
Step 1: Open an eToro account:

Before you start investing, you'll need to register with a broker. If you're undecided on which broker is best, we recommend eToro. To get started just type "eToro.com" into your browser, press "Join Now", and fill in the required details.

Step 2: Verify your Identity:

Any trusted, Bitcoin ETF broker will require you to verify your identity, it only takes a couple of minutes and is standard practice in the industry. All you'll need is a photo ID (passport, driving licence) and proof of address (bank statement, utility bill). 

Step 3: Fund your account:

Once your eToro account has been verified, you'll need to fund it. It's an easy process, all you need to do is click on "Deposit Funds", select a payment method (credit/debit card, bank transfer, or e-wallet), enter how much you'd like to invest, and press deposit.

Step 4: Invest in ETFs:

Congratulations! Now you're ready to invest in a Bitcoin ETF. Type "CryptoEqual" into eToro, click on the relevant option, press invest, enter however much you'd like to buy, and click invest. 
Where to Invest in an ETF – Top ETF Brokers
With all the contradictory information related to Bitcoin ETFs you've likely seen online, it can be extremely difficult to choose a real, reputable broker. To help make our readers' lives that little bit easier, we've included in-depth reviews of the best Bitcoin ETF brokers in the UK.
1. eToro – Best Overall Bitcoin ETF Broker

It's hard to spend much time in the investment space without hearing about eToro, they've been around since 2007 and serve over 20 million customers. They offer an extremely intuitive investment platform, complete with a wide variety of investments. Regardless of your trading experience, you can be sure that eToro will have something for you.
Security & Privacy
You don't cultivate a positive reputation with over 20 million customers by losing their money. It is evident eToro takes its security seriously, they're regulated by the FCA and CySEC (both tier 1 regulators) so you don't have to be concerned about your money or data being misappropriated. To ensure any sensitive information you're required to provide (passwords, banking information, etc) is kept secure while it's being sent from your device to eToro's servers, SSL encryption has been implemented. Additionally, eToro has given all its users the option of enabling 2-factor-authentication (something we highly recommend), it allows you to set up an additional layer of protection for your account and could one day be what prevents you from losing a large amount of money. 
Features
With over 20 million users it makes sense that eToro would need a diverse range of features to cater to all their needs, despite having so many users, eToro has done well to make sure nobody is left out. Beginners can benefit from eToro's CopyTrading which allows you to automatically mirror the trades of more experienced users, allowing a new user to earn a passive income through investing without much effort. Another useful feature beginners can benefit from is CopyPortfolios, this is eToro's way of providing investors an extremely simple way to invest in a range of assets at once. Technical traders aren't left out either, they can benefit from advanced charting tools and a reasonable range of indicators. Overall, eToro has managed to find a nice balance between features for beginners and experienced investors.
eToro Fees
| | |
| --- | --- |
| Fee Type | Fee Amount |
| Commission Fee | 0% |
| Deposit Fee | £0 |
| Withdrawal Fee | £5 |
| Inactivity Fee | £10 (Monthly) |
Pros
Regulated

CopyTrading

CopyPortfolios

2FA

Low fees

SSL encryption

User-friendly interface
Cons
MetaTrader support would be nice

Could benefit from additional indicators
67% of retail investor accounts lose money when trading CFDs with this provider.
2. Hargreaves Lansdown –  Premium Bitcoin ETF Broker
If you're looking for a more personal and premium way to invest in a Bitcoin ETF it's hard to be Hargreaves Lansdown. Since 1989 they've focused on making a premium investing experience accessible to the average person, providing customers with expert advice and a plethora of in-depth research.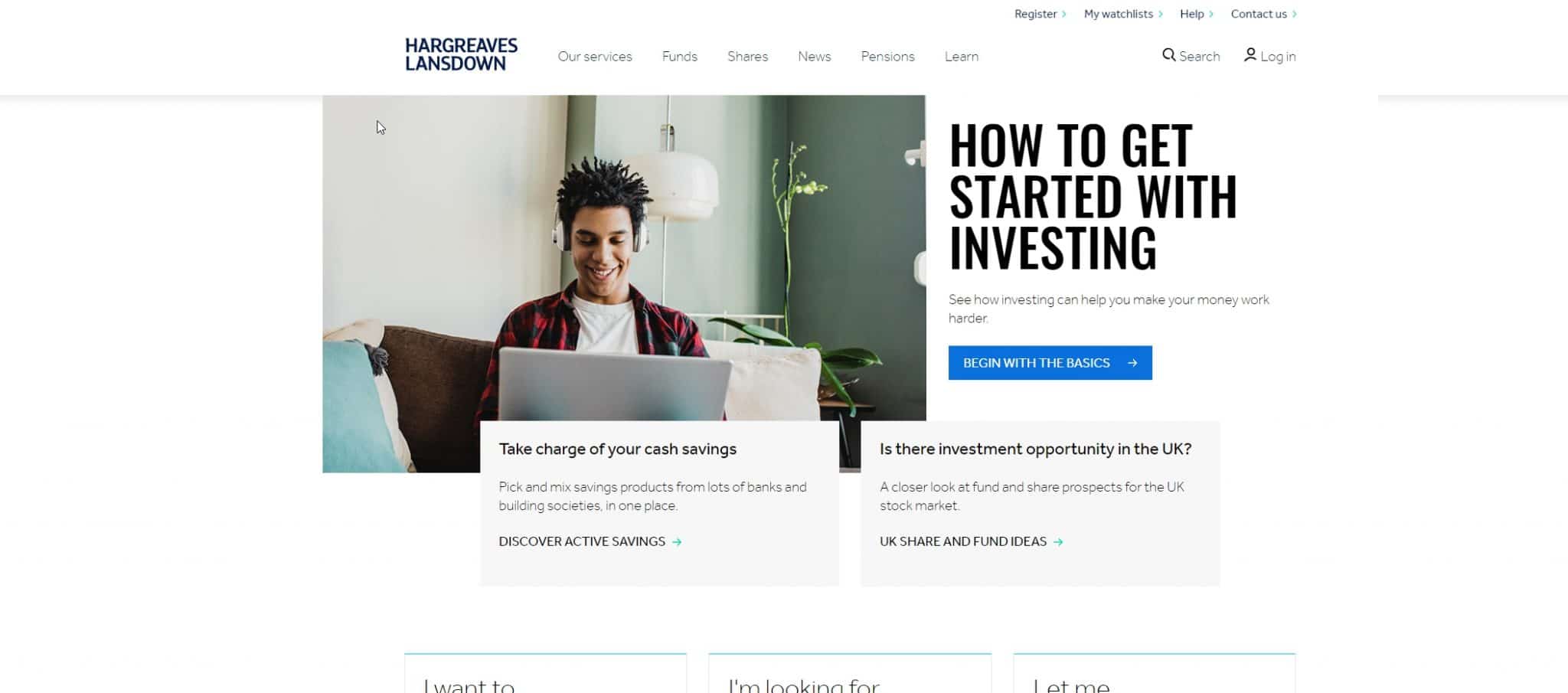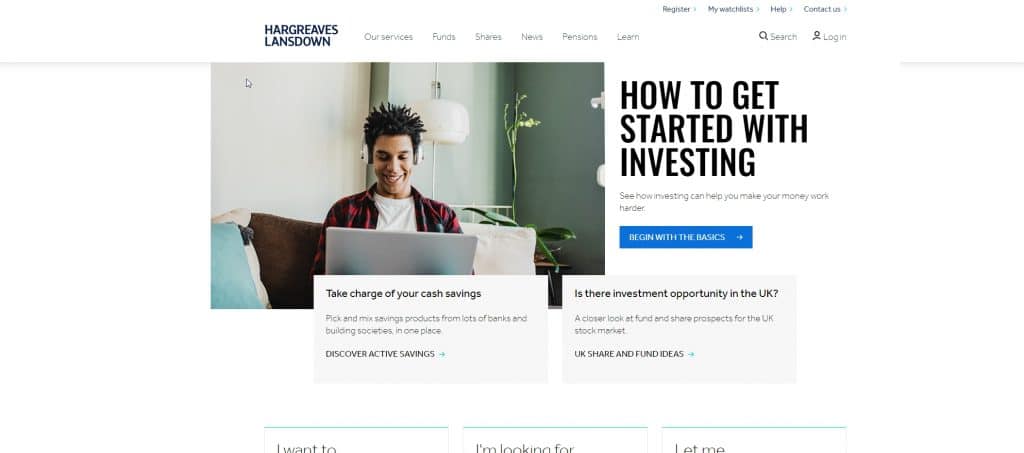 Security & Privacy
To ensure customers are well looked after Hargreaves Lansdown implements several industry-leading security methods. As with any trusted brokerage, HL is regulated, meaning they're subject to regular audits and strict data protection rules. Any UK-based investors are covered up to £85,000 by FSCS insurance, so regardless of what happens to HL, your money is safe. Additionally, Hargreaves Lansdown has created what they call a security centre, designed to educate customers on potential security issues, how to spot a threat, and how to protect yourself.  
Features
As we mentioned Hargreaves Lansdown focuses on providing the regular investor a premium experience. This is achieved through their financial advisors, excellent support, and wide range of financial products. HL offers their customers an investment consultancy service, either via phone or face-to-face meeting, they've made this available to all of their customers, which is great to see, considering most brokerages reserve this for high-value clients. Customer support is the foundation of any business, especially one that manages money on behalf of its customers, HL has email support and a dedicated phone line operating from Monday-Saturday. When investing with HL, you have a huge amount of options, they offer various stocks and funds, as well as accounts for savings and retirement funds. Unfortunately, all these features come at a price, £11.95 per trade to be exact, making it one of the most expensive investment platforms out there (although if you're a frequent trader this drops down to £5.95).
Hargreaves Lansdown Fees
| | |
| --- | --- |
| Fee Type | Amount |
| Commission | £11.95 |
| Withdrawal Fee | £0 |
| Deposit Fee | £0 |
| Inactivity Fee | £0 |
Pros
Premium investment platform

Consultancy services

Plenty analysis tools

Educational guides
Cons
High fees

Only supports GBP 
67% of retail investor accounts lose money when trading CFDs with this provider.
Invest in Bitcoin ETFs – Broker Price Comparison
To give you an idea of how all the platforms we've discussed compare against each other, we've included this easy-reference table.
| | | | | |
| --- | --- | --- | --- | --- |
| Broker | Commission | Deposit Fee | Withdrawal Fee | Inactivity Fee |
| eToro | 0% | £0 | £0 | £10 monthly (after 12 months inactivity) |
| Hargreaves Lansdown | £11.95 | £0 | £0 | £0 |
What Is an Exchange-Traded Fund? 
If you're not familiar with all the financial jargon that gets thrown around when people speak about ETFs, it can be hard to understand the finer points. Put simply, an ETF is a group of assets a fund bundled together for investors. Typically, the assets contained within an ETF will be related, this allows people to invest in a certain market while reducing the amount of risk they're exposed to. Typically investing in an ETF is best suited for those looking for stable, long-term growth, although investing in a cryptocurrency ETF does come with some additional risk. When investing in an ETF it's crucial to remember, despite the fact you may receive dividends (if the fund passes them on), you are not buying any of the underlying assets.
Best UK Bitcoin ETFs to Invest In 
Up until recently, Bitcoin ETFs were something of a grey area, however, now that cryptocurrency is better regulated, some financial institutions are beginning to use them. There are 3 main offerings for UK investors, each working in different ways. To help highlight the differences and assist you in deciding which ETF is best for you, we've done the research and compiled a list of the best Bitcoin ETFs you can invest in. 
CryptoEqual
CryptoEqual, created by eToro, is the first ETF we'll discuss. It's important you understand while eToro's CryptoEqual acts in an almost identical way to a regular ETF, it's more akin to opening a variety of different positions than investing in a fund. In order to minimise risk and maximise returns eToro has bundled 16 different cryptocurrencies, including ADA (18.72%), MIOTA (10.52%), TRX (9.01%), and BTC ( 8.10%). Grouping some of the most promising cryptocurrencies together gives investors huge upside potential for any long-term investments, it would take one taking off for investors to see massive profits. As far as crypto ETFs go, this one is fairly high-risk, but it should be noted, that's primarily due to the fact you'll be directly investing in crypto rather than companies holding crypto. 
INVESCO ELWOOD GLOBAL BLOCKCHAIN UCITS ETF (BCHS)
The INVESCO ELWOOD GLOBAL BLOCKCHAIN UCITS ETF otherwise known as BCHS works very differently from the ETF we previously discussed. When you invest in the BCHs instead of direct Bitcoin exposure, you'll be investing in companies that are actively, or have the potential to participate in the Blockchain ecosystem. This has several advantages and disadvantages when compared to something like eToro's CryptoEqual ETF. The main advantages for investors are a lower risk exposure (the value of a company isn't tied solely to their crypto holdings), and greater diversity (instead of just tokens, you have exposure to mining, finance, and many other sectors) The BCHS covers multiple counties with the top 3 being the US (30.75%), Japan (24.36%), and Canada (16.00%). If you're wondering about what types of companies that BCHS contains, the 3 with the highest weight are Bitfarms LTD (5.83%), Hive Blockchain Technologies LTD (5.83%), and Coinbase Global PLC (4.66%).
Volt BTC Revolution ETF (BTCR) (Upcoming) 
In a landmark ruling the SEC has given the green light for Volt to create the BTC Revolution ETF that will track companies that have a large number of Bitcoins on their balance sheet. This is huge, especially so for US investors, with the SEC officially approving the first US BTC ETF it's only a matter of time before more investment brokerages follow suit and the amount of crypto ETFs skyrockets. Volt Equity is well known to investors for its wide range of ETFs covering many sectors, with its primary focus being tech. With a solid track record, Volt's new ETF could be set to disrupt the investment space in a big way.
Is Investing in a Bitcoin ETF a Good Investment? 
With the SEC's recent approval of Volt's Bitcoin revolution ETF, it's the perfect time to invest before we see prices increase due to an influx of investor funds. With the SEC's approval we're bound to see more and more Bitcoin ETFs start to be released, with Bitcoin becoming a "real investment" in the eyes of the US government,  the next couple of years are poised to be extremely interesting. 
High Growth, Low Risk
For a long time now, ETFs have been seen as a low-risk, low-reward investment; stable, and somewhat boring. The release of crypto ETFs is set to change this, combining the high-risk, high-reward nature of crypto investments and the stability of an ETF, investors can unlock a lucrative, fairly low-risk investment, the likes of which are few and far between. This is likely to be massively popular with investors looking for an ETF with more upside potential. 
Emerging Market
Bitcoin was initially released 12 years ago, in 2009, however, it didn't become a household name until much later, around 2018. From this we can see that Bitcoin, along with the rest of the cryptocurrency market, is still very much in its infancy, imagine how high prices will be once a larger portion of the population starts taking crypto seriously. If you want to get rich from investing then it helps massively to put your money in an emerging market because they have the most potential, once everyone is investing in a certain market high rates of growth are far harder to attain.
Investing in a Bitcoin ETF- What are the Risks
Although ETFs are generally seen as fairly low risk, when combined with the crypto market we see this risk increase a great deal. This is because a Bitcoin ETF lacks some of the characteristics that make a regular ETF such a stable investment. Instead of putting your money into a variety of companies with proven track records of generating their investors profit, you'll be investing in a relatively unproven market, while this comes with larger upside potential, the chance of losing money is far greater.
Volatility
Bitcoin and the whole cryptocurrency market are considered to be very volatile, prices swing wildly, investors can go from £100 to £1000s and back down to £100 in a matter of days. Although somewhat tamed, this volatility will certainly still make its way through to crypto ETFs, particularly for those purely containing tokens rather than companies involved in cryptocurrency. Volatility works in both directions and can help investors make huge profits in a small amount of time, but the vast majority of people investing in an ETF likely want stable, low-risk growth, therefore the idea of a higher-risk ETF may not be as appealing as some think. 
Lacking Regulation
Cryptocurrency is a very young market in the grand scheme of things, which is why until recently regulators largely left it alone. However, with Bitcoin's meteoric rise to fame, they were forced to take a look at the cryptocurrency market and implement regulations before it got so big they couldn't. This has left cryptocurrency in a bit of a grey area, regulators don't really know what to do with it and as such, new rules seem to come into action every week, leaving investors having to hope no negative regulations are put into place. While this is unlikely to cause long-term issues, it drastically increases the amount of uncertainty investors are subjected to, further increasing the risks associated with a Bitcoin ETF.  
How to Invest in a Bitcoin ETF with eToro
If you're looking for a detailed guide on exactly how to start investing in a Bitcoin ETF, you're in the right place. This guide will give you all the information you need to invest into eToro's CopyEqual, bar far the easiest way to add crypto-exposure to your portfolio.
Step 1: Open an account with eToro
The first step of any investment is registering with a trusted broker. You should always make sure to trade on a regulated platform, otherwise, you have little recourse should something go wrong. eToro is regulated by both the FCA and CySEC so you know you're in good hands. Simply type "eToro.com" into your browser's search bar, then press "Join Now", and fill in the necessary information.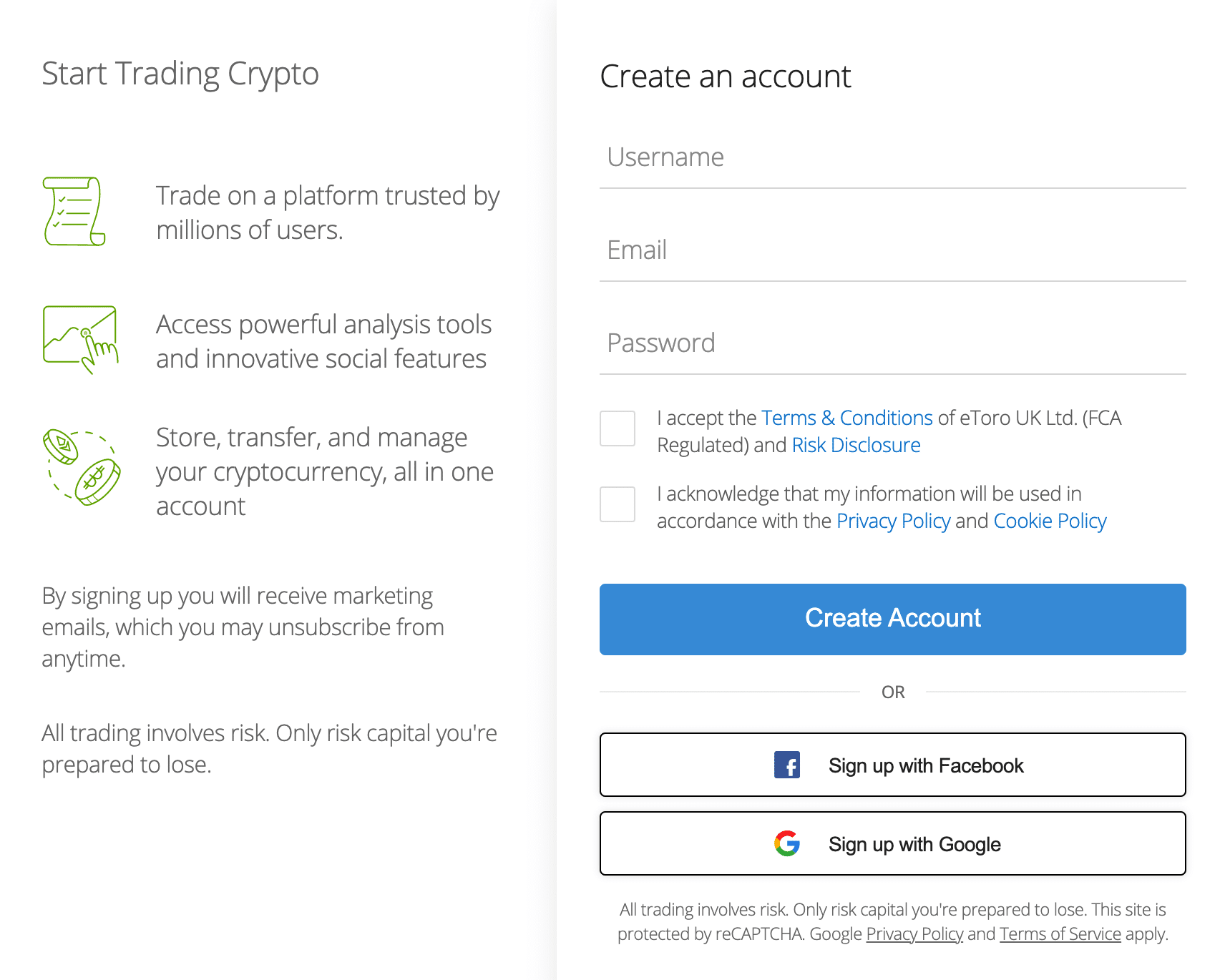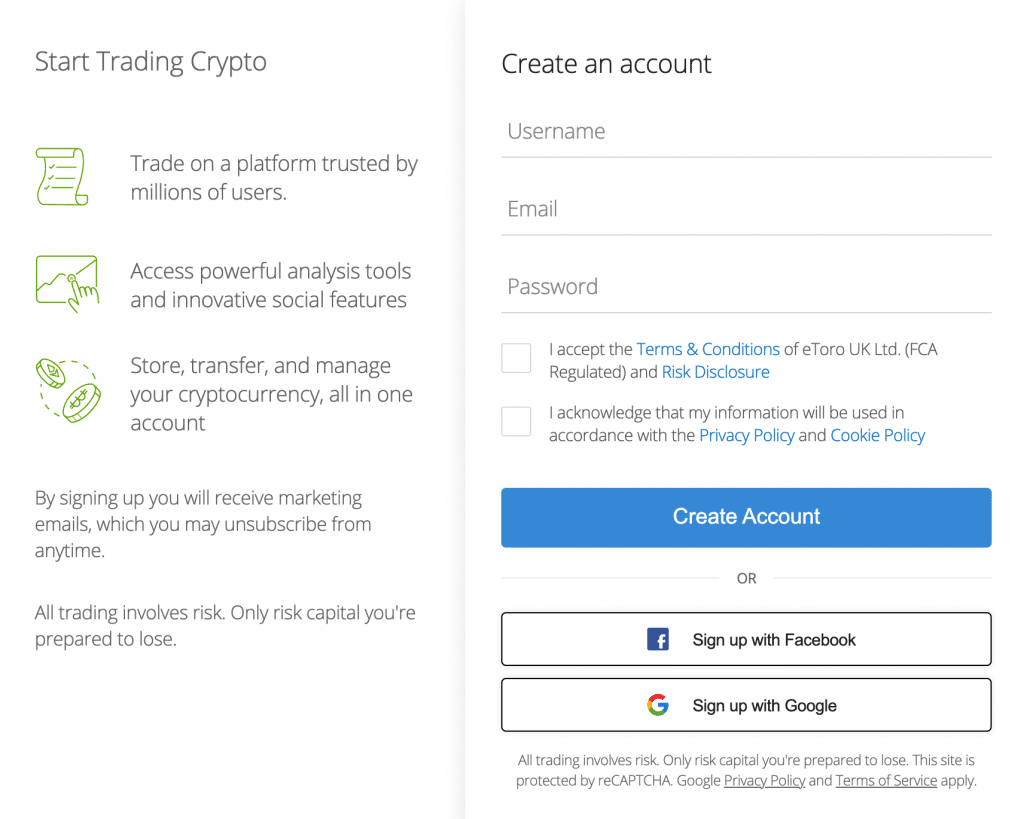 67% of retail investor accounts lose money when trading CFDs with this provider.
Step 2: Verify your account
Because eToro is regulated, they have to go through regular audits and need to comply with strict regulations surrounding money laundering. This means that you'll need to verify your identity before investing with eToro (or any other reputable broker). You only need a couple of documents, these being, a photo ID (passport, driving licence) as well as proof of address (bank statement, utility bill).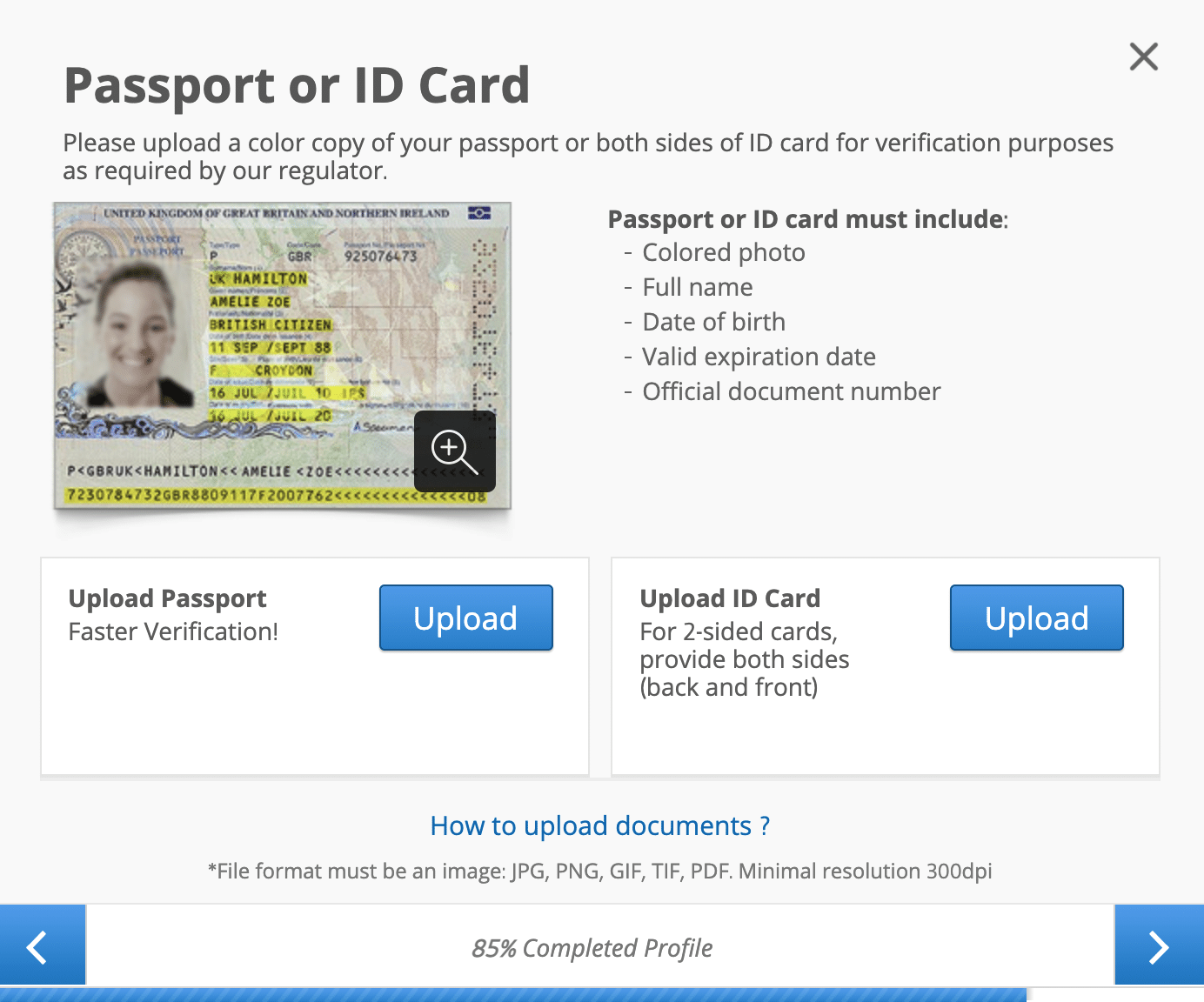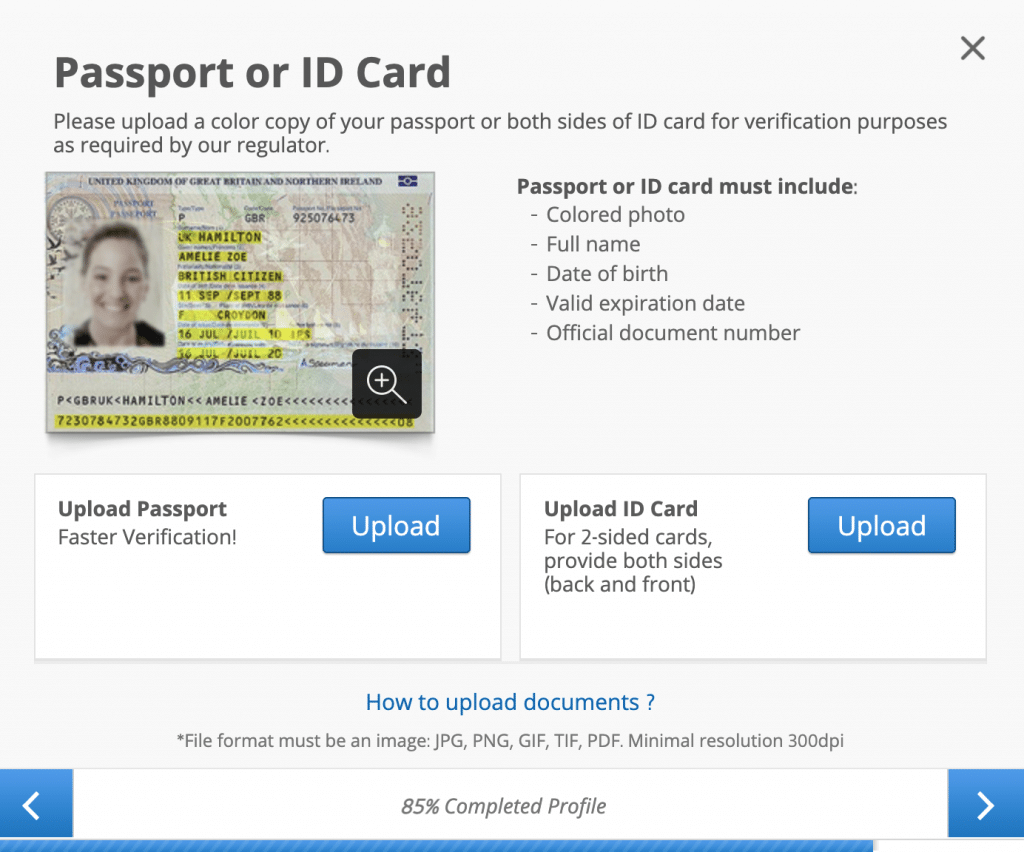 Step 3: Fund your account
Now that your eToro account has been verified, the final step before investing in a Bitcoin ETF is funding your account. Just click on the button marked "Deposit Funds", enter however much you want to invest, and press "Deposit". You'll be able to see your available funds in the "Portfolio" section. eToro supports plenty of different payment methods including, credit/debit card, bank transfer, and e-wallet (Skrill, PayPal, etc).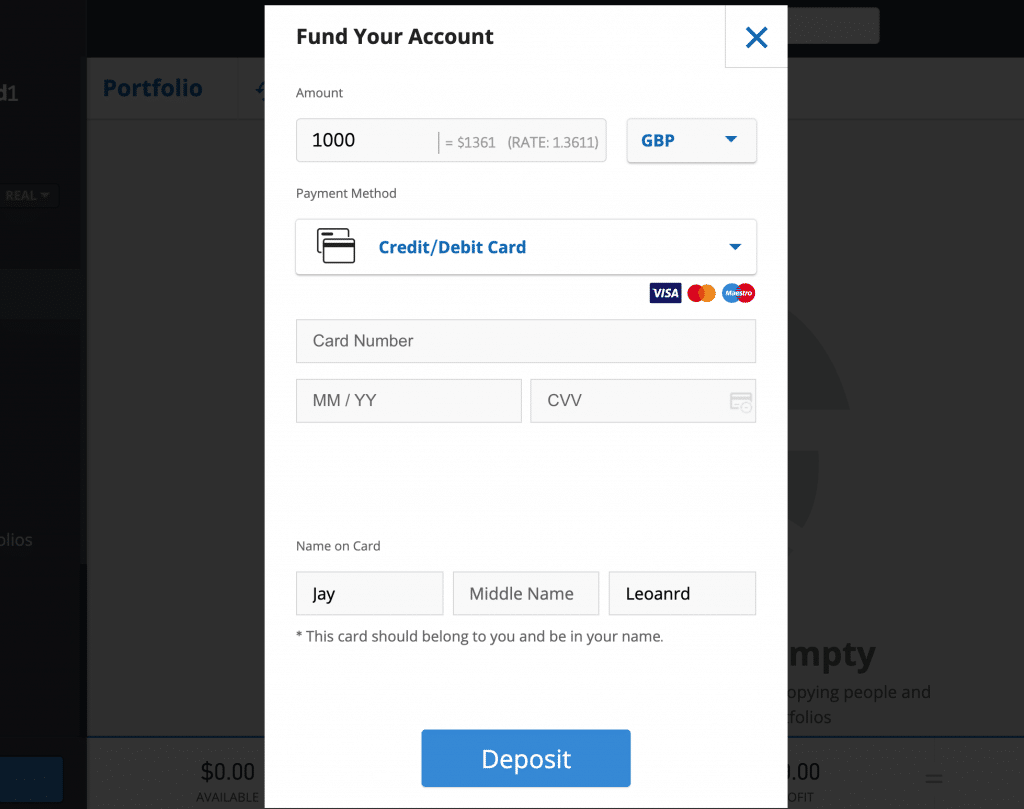 Step 4: Invest in a Bitcoin ETF!
That was easy, wasn't it? Now that you've funded your eToro account you can invest in a Bitcoin ETF. In the eToro search bar, type "CryptoEqual", click on the relevant option, press the blue button marked "Invest", type in the amount of money you'd like to allocate, and press "Invest".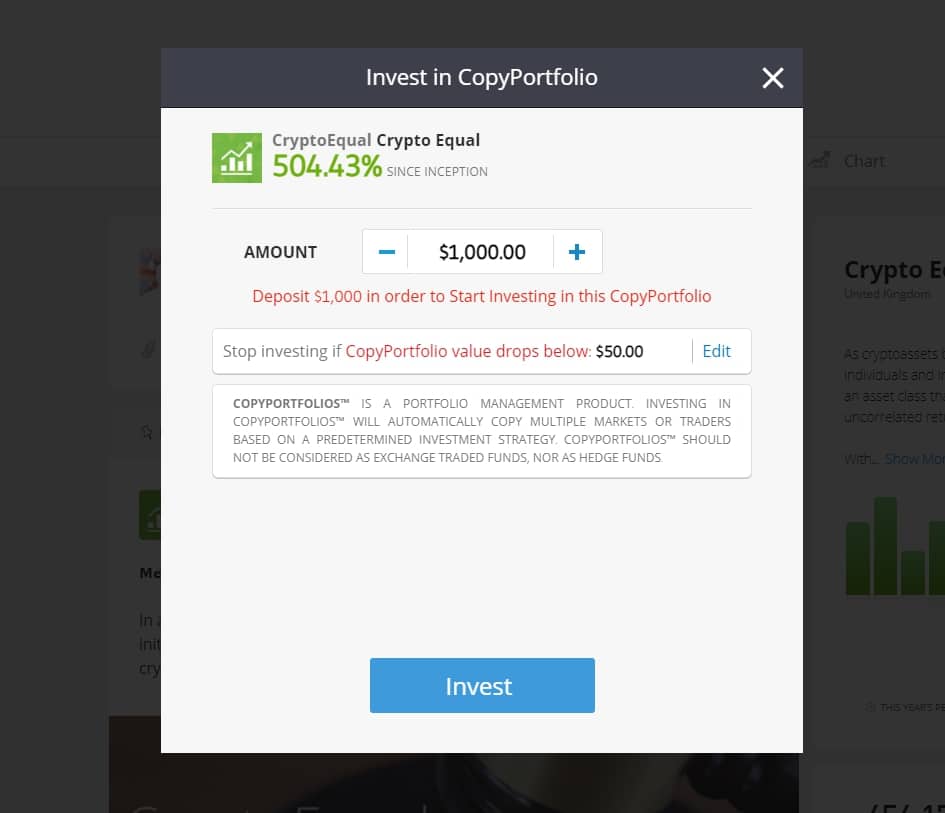 Conclusion
With the SEC's approval of the Bitcoin Revolution ETF, the world of investing will be turned on its head, likely giving way to higher-risk ETFs that have far higher upside potential than blue-chip ETFs. Although options are currently limited, the ETF landscape is due to look vastly different in just a year or two, as regulatory guidance is put into place, it's only a matter of time before large financial institutions want to cash in on crypto ETFs. Once we have the offerings from companies like Fidelity and Vanguard, we'll likely see fierce competition in the crypto space, and as we all know a bit of competition is usually beneficial to investors. After reading our guide you'll be equipped with the knowledge required to choose the best Bitcoin ETF, select a broker that's right for you, and start investing. If you're still undecided on which broker is right for you, we recommend eToro, their CryptoEqual ETF is an excellent entry point for new investors and offers incredibly simple access to the cryptocurrency industry. 
Best Bitcoin ETF Broker UK – eToro
FAQs
Where can I Invest in a Bitcoin ETF?
What is the Future of Bitcoin?
Is an ETF Safe in the Long-Term?
Bitcoin vs Traditional ETF